Spinach and Ricotta Cannelloni is a classic Italian stuffed pasta dish. We'll show you how to make your own easy cannelloni pasta and give you an even easier "cheat" way to make the dish!
Italian Cannelloni
In the States, we think of cannelloni as the dry tubes of pasta we see in the stores that get stuffed with a cheesy filling, but in Italy, cannelloni actually refers to a pasta that is made from rectangular sheets of pasta that are rolled with a savory filling.
These fillings can be spinach and ricotta, meat, or any other creative fillings. The pasta is then covered with a sauce (either tomato or a creamy bechamel) and baked to delicious perfection.
If you've ever tried to work with those dry pasta tubes, you might be excited by this traditional way of making cannelloni, because we find those tubes a PAIN to work with.
Homemade Pasta for Cannelloni and Lasagna
Since cannelloni starts with flat, rectangular sheets of pasta (much like ravioli), is it an incredibly easy pasta dish to make if you want to start learning how to make your own pasta.
And, seriously, making pasta couldn't get any easier.
Flour and eggs are mixed together until they form a soft and pliable dough.
Then the dough is rolled into thin sheets, cut, and rolled with a filled.
These sheets of pasta dough could just as easily be used to make lasagna or filled and cut into ravioli.
So, now you have three super EASY homemade pasta dishes you can make!!
Making Cannelloni Even Easier
Don't want to make your own pasta?
Grab some flat lasagna noodles from the store and boil them just until they are pliable.
Cool them in cold water to keep them from sticking to each other, and then fill these sheets like you would your homemade pasta.
Our Spinach and Ricotta Cannelloni Recipe
Spinach and ricotta cheese is one of the most classic fillings for cannelloni. And, that's the route that we have gone today.
This simple filling comes together in a matter of minutes, making this an easy and very impressive dish to serve your dinner guests.
Cannelloni Ricotta e Spinaci (Spinach and Ricotta Cannelloni)
Make this classic Italian baked pasta dish with your own homemade pasta or with an easy 'cheat' version. It's super tasty either way!
When making your own pasta, it is best to let the dough rest for 1 hour before rolling.
Yield: 1 (8x8) baking dish (8 cannelloni) (Double the recipe to fill a 9x13 dish.)
Ingredients
For The Cannelloni Noodles (or use 8, pre-boiled, flat lasagna sheets)
For The Filling
½

Tbsp

olive oil

¼

onion

, minced

2

garlic cloves

, minced

8

oz

frozen spinach

, thawed and drained

5

oz

ricotta cheese

¼

c

Parmesan cheese

, fresh grated

½

tsp

salt

⅛

tsp

ground black pepper
To Finish It Off
3

c

Tomato sauce

½

c

water*

¼

c

shredded parmesan cheese

(for topping)
Instructions
For The Cannelloni Noodles
Place flour in a large bowl. Make a well in the middle of the flower and add the eggs. Mix well with your hands, until the dough comes together. Then, turn the dough out onto a flat surface and knead for 10-15 minutes, until the dough is pliable but firm. (Add additional flour if the dough seems too sticky.)

Wrap the dough in plastic and let rest for 1 hour.

Divide the dough into 4 even pieces. Roll each piece out on a lightly floured surface into a rectangle that is 1/16 inch thick (roughly 10x6 inches).

Cut the rectangle into two 5 x 6 inch sheets. Set the cut pasta sheets aside on a lightly floured surface while you continue cutting the pasta.
For The Filling
In a large skillet, heat olive oil. Add onion and garlic. Sauté 3-4 minutes over medium heat, until softened.

Add spinach and sauté to remove some of the moisture. Remove the mixture from the heat and let it cool slightly.

Once cooled, add the ricotta and Parmesan cheeses to the spinach mixture. Add the salt and pepper. Mix well.
Putting It All Together
In a medium bowl, mix the tomato sauce and water. Set aside.

Preheat your oven to 400F

Spoon 2/3 of the tomato sauce into an 8x8 baking dish.

Place 2 Tbsp of filling along the short side of each 5x6 inch rectangle sheet of pasta. Roll the pasta sheet from the filled end, creating a tube. Place it in the dish on top of the sauce, seam side down. Continue with all of the pasta sheets and filling, making one layer of cannelloni in the dish.

Spoon the remaining tomato sauce over the cannelloini.

Cover the dish tightly with aluminum foil and bake for 40 minutes, until the pasta is very tender. (Test by inserting a knife into one of the cannelloni.)

Uncover the dish and top with parmesan cheese. Cook for 10 minutes longer.

Remove the dish from the oven and let it stand, loosely covered, for 10 minutes before serving.
Notes
*Omit extra water if using par-boiled, store bought, lasagna sheets as the noodles.
This recipe from 2013 was updated in May 2017. We made the cannelloni even more authentic! Enjoy!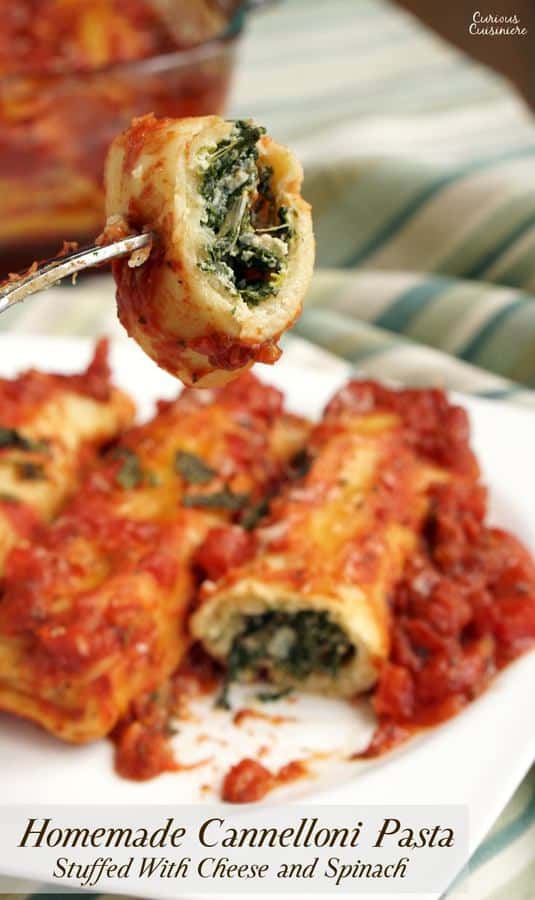 ---
This is one of the recipes from the early days of Curious Cuisiniere. We've updated our pictures since we first made it, but we've left the original images here as a fun throwback and shout out to how far we've come. Enjoy!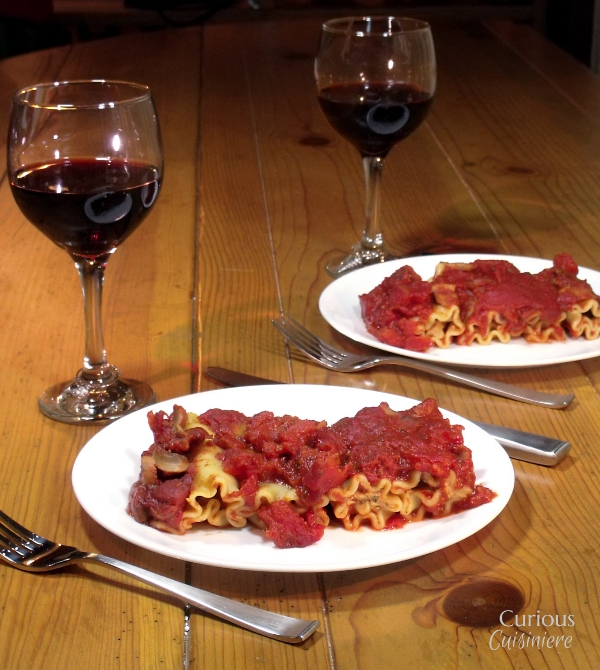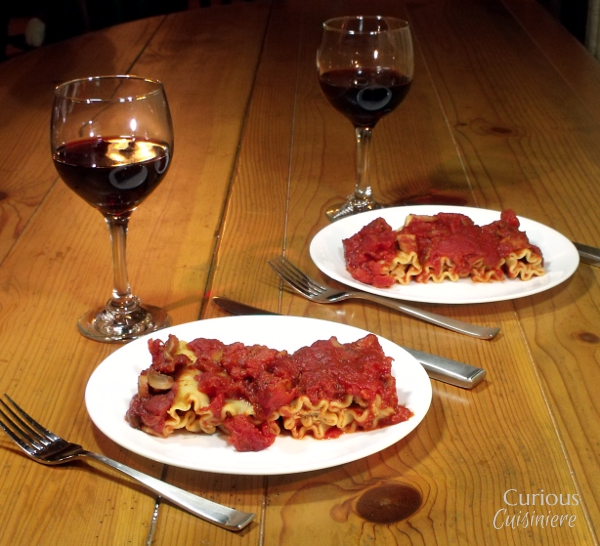 If you liked this recipe, here are some similar dishes you may enjoy!