This lighter version of cheese cannelloni makes a romantic Valentines dinner for two or a nice and hearty family dinner.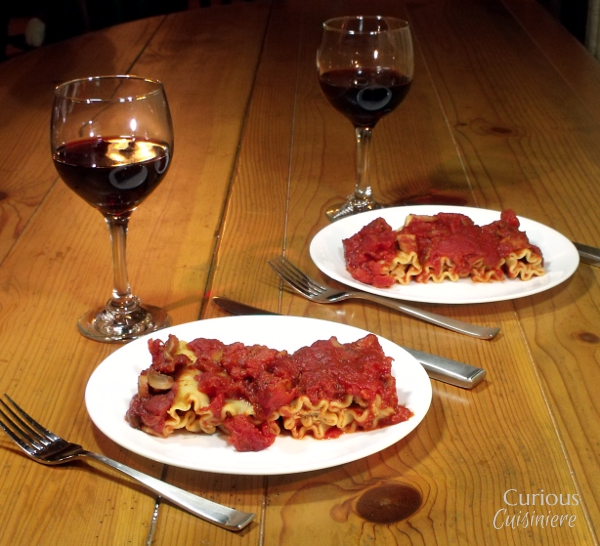 Do you celebrate Valentines day?
Whether it's an excuse to treat yourself, your spouse, our your friends, why not celebrate?
For us, Valentine's day is an excuse to treat ourselves to something out of the ordinary.
Our first Valentine's together we went to a hibachi grill we had been dying to try.  The next year, we treated ourselves to a multi-course sushi dinner.
Apparently, we like to go out to Asian restaurants.
This year we're going Italian.
Italian food is a staple in our house, but filled pasta dishes are a rare treat.  For this one, we even opened a bottle of Italian wine we have been carrying with us for the past four years.  It was a gift from a friend that we kept saying we would wait to open for a special meal.
This meal fit the bill quite well.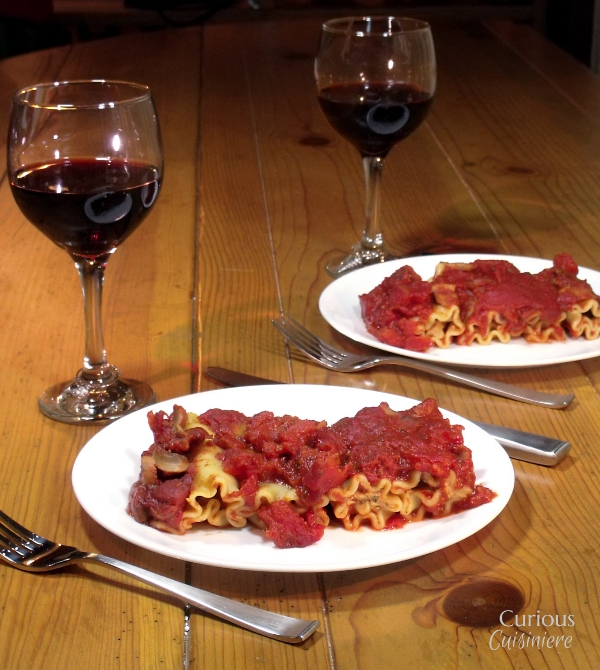 There are a few unexpected things about this dish.
First, instead of using pre-made cannelloni shells as the pasta here, we used lasagna noodles and simply rolled the pasta pieces around the filling. It was quick, easier than stuffing a tube (in my opinion), and we always have lasagna in the pantry.
Second, we chose to make our own 'ricotta' style cheese using blended cottage cheese and bread crumbs.  Yes, it's an extra step, but even if we had used part-skim ricotta, this version cuts the calories in half and brings the fat down even more substantially.  The taste and texture are similar to a ricotta filling, but not spot on.  If those eating the dish didn't know something was different, they may not even be able to pick it out.  And, we thought the slight difference was well worth the calories saved.
Cheese Stuffed Cannelloni
Author:
Sarah | Curious Cuisiniere
Ingredients
Filling
1 c low fat cottage cheese
¾ c bread crumbs
2 Tbsp Parmesan cheese
1 Tbsp parsley
¼ tsp salt
1 egg, beaten
Sauce
2 (14.5oz) cans diced tomatoes, un-drained
1 (6oz) can tomato paste
1 (4oz) can sliced mushrooms, un-drained
¼ c dry red wine
2 tsp onion powder
1 tsp basil
1 tsp savory
pinch of red pepper flakes
Pasta
Instructions
Preheat oven to 350ºF.
In a food processor, puree cottage cheese until smooth. Add remaining ingredients and puree until combined.
In a large pot, bring 8 cups of water to a boil. Add lasagna noodles and boil, uncovered until no longer rigid.
While the pasta is cooking, combine all sauce ingredients in a medium saucepan. Bring to a simmer, stirring occasionally. Remove sauce from heat.
Spread 1 cup of sauce in the bottom of an 8x8 baking dish.
When pasta is cooked, remove from pan and slice each noodle into thirds. Place 1 Tbsp of filling in the center of each noodle section. Gently fold the two sides over the filling. Place, seam side down, in the baking pan. Until all the noodles have been used and the pan is full with one layer of filled pasta rolls.
Cover the pasta with the remaining sauce.
Bake, uncovered for 30 minutes, or until the edges are bubbly.
Serve hot topped with extra Parmesan cheese if desired.
If you liked this recipe, here are some similar dishes you may enjoy!