Soft and fluffy dinner rolls stuffed with a savory beef or cabbage filling. Baked Russian Piroshki are the perfect portable meal.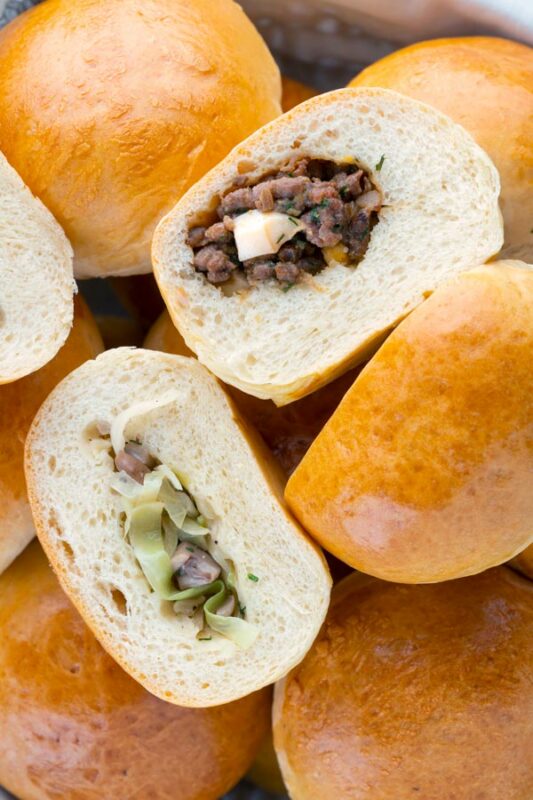 Russian Stuffed Rolls: Piroshki
Piroshki (pronounced PIR-oh-sch-KI) means 'little pirog' or 'little pie'.
A Russian pirog (pie) can have a sweet or savory fillings. And these 'little pirog' are small hand-pies that can be stuffed with sweet or savory filling as well.
(Think about them like a Mexican empanadas with a more bread-y outside, like German bierocks.)
Similar to Mexican empanadas, piroshki can be fried or baked. And while it is slightly more traditional to fry the stuffed rolls, baking makes them just as golden and tasty.
We can't wait to make another batch of these once the weather gets warmer because they would be a perfect, no mess, meal for a picnic!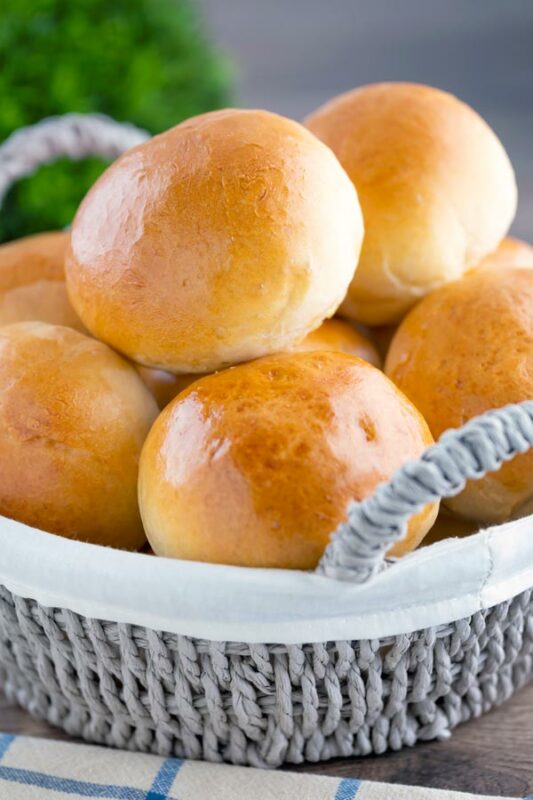 Making Piroshki Dough
What really makes Russian piroshki different from other stuffed rolls is the dough.
Piroshki use an incredibly soft, eggy dough, which creates a soft and fluffy bread casing for your chosen filling.
Since this dough is so soft, we recommend making it in your stand mixer or bread machine set to the dough setting.
If you are very familiar with making bread by hand, feel free to get your hands into this dough, just know that it should be much stickier than a standard yeast dough. (It will be more like the dough for a challah or soft sourdough.)
Once the soft dough comes together, it is smooth and supple, and quite easy to work with.
To form your piroshki, roll a ball of dough. Flatten the ball slightly in the palm of your hand (the dough shouldn't stick to your fingers). Add some filling, then pull the dough up around the filling and pinch it tightly closed!
Pinching the dough tightly is important to be sure that the filling stays sealed inside the roll during baking.

Many Piroshki Fillings: Which will you choose?
Piroshki can be filled with a variety of sweet or savory fillings.
Mashed potatoes, mushrooms, cabbage, and ground beef are very common savory fillings. Stewed fruit or jam are common sweet filling.
Our recipe below includes two, traditional, savory fillings. But, once you get the hang of making piroshki, have fun and get creative with your own filling ideas!

Our Piroshki Recipe: A Great Make-Ahead Meal
One great thing about these rolls is that you can make a big batch and (before you bake them) freeze them for later.
Just pull the shaped, filled rolls out of the freezer an hour or two before you want to bake them to let the rolls thaw and rise.
Brush with some egg wash and bake them the same as you would if they were fresh.
How's that for a super simple freezer meal?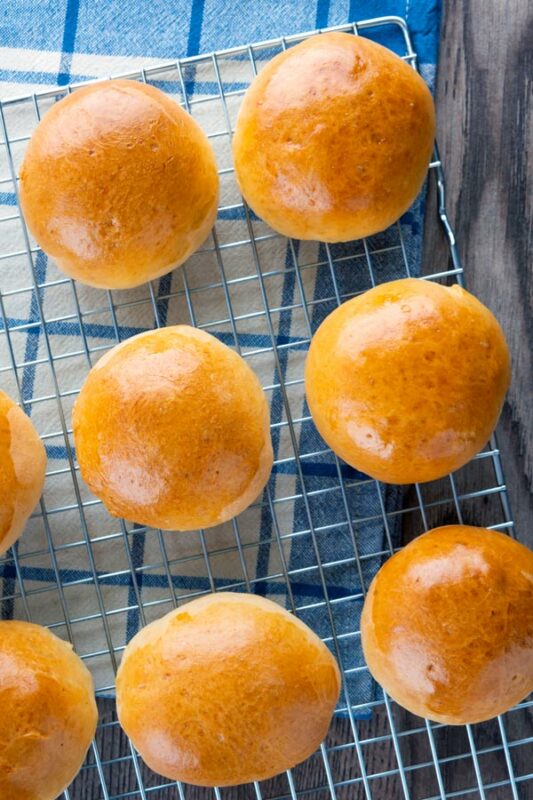 Yield: 16 (4 inch) piroshki
Baked Piroshki (Russian Stuffed Rolls)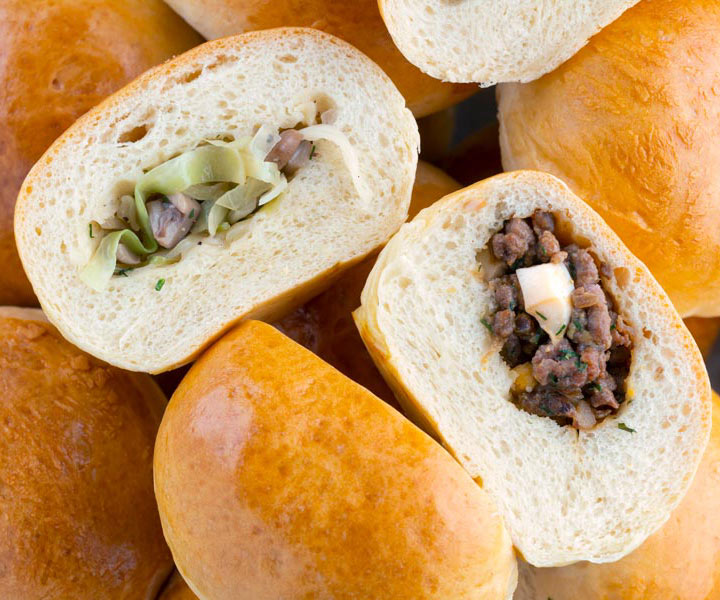 Soft and fluffy dinner rolls stuffed with a savory filling, Baked Russian Piroshki are the perfect portable meal!
Total Time
3 hours
30 minutes
Ingredients
For the Dough
1 c milk, warmed to 90F
1 Tbsp sugar
1 egg,, room temperature
1 Tbsp salted butter, softened
½ tsp salt
1 egg beaten with 1 Tbsp water, (for the egg wash)
Beef Filling
½ lb ground beef, (90% lean)
½ onion, minced
1 Tbsp dill
½ tsp salt
Pinch ground black pepper
1 hard boiled egg, chopped (optional)
For the Cabbage Filling
1 tsp salted butter
½ onion, diced
1 c button mushrooms, chopped
3 c cabbage, shredded
¾ tsp salt
½ tsp dill
¼ tsp ground black pepper
Instructions
For the Dough*
In a bread machine: place ingredients in the machine following the directions for the dough setting. Dough should be soft, sticking slightly to the pan as it kneads. Add a little water or flour to adjust dough consistency during the first knead as necessary.
In a stand mixer: In the bowl of your stand mixer fitted with a dough hook, add warm milk and sugar. Stir until the sugar has dissolved. Sprinkle the yeast over top of the milk. Let stand for 5-7 minutes until the yeast begins to foam. Add 2 c of flour, the egg, softened butter, and salt. Mix everything together. Continue adding the last cup of flour, until the dough starts to come together. Knead the dough with the mixer on low speed for 3-5 minutes. The finished dough should be soft and almost sticky, but it should pull away from the sides of the bowl. (If it is too sticky, add a little more flour and continue to knead.) Remove the bowl from the mixer and cover it with a damp tea towel. Let it rise in a warm, draft-free place for 1 hour, until well doubled.
While the dough is rising, make the fillings.
For the Cabbage Filling
Heat butter in a large, non-stick sauté pan. Add onions and mushrooms and sauté for 3-5 minutes, until soft. Add cabbage, salt, dill, and pepper. Continue to saute until the cabbage has softened, 5-7 minutes. Remove the mixture from the heat and transfer it to a medium bowl. Let the filling cool to room temperature before filling the rolls.
For the Beef Filling
In a large, non-stick sauté pan, brown the beef and onions together with the dill, salt and pepper, 3-5 minutes. Once the beef is cooked through, remove the mixture from the heat and transfer it to a medium bowl. Mix in the chopped hard boiled eggs, if using. Let the filling cool to room temperature before filling the rolls.
Putting It All Together
Once risen, remove the dough from the bread machine or bowl and place it on a lightly floured surface. Roll it into a log and cut the log into 16 roughly even pieces. Roll each piece into a ball and then press it into a 3-4" circle.
Fill the center of each circle of dough with a heaping tablespoon of filling. Gently pull the edges of the circle up and around the filling, pinching the edges to seal the filling inside. (Be sure to pinch the seam well, or else the filling will burst out during baking.
Place filled piroshki, seam-side down on a greased baking sheet.** Repeat with the remaining dough, spacing the rolls 2 inches apart. Brush the tops with the beaten egg. Set them aside to rise until puffy and nearly doubled (30 minutes).
When the rolls are nearly finished proofing, preheat the oven to 375F.
Bake at 375F for 20-23 minutes, or until the tops are golden brown.
Notes
*To Make Dough By Hand: This dough can also be made by hand, but it is quite a sticky dough, so we recommend only working with it by hand if you are used to working with bread dough, and don't mind a slightly sticky dough.
**Freeze for Later: Place the shaped, filled rolls in a single layer on a baking sheet and freeze overnight. Once they are solid, the rolls can be placed in an airtight bag and stored in the freezer for 1-2 months.
To cook from frozen, remove the rolls from the freezer and place on a greased baking sheet. Brush the frozen rolls with egg wash and let them thaw and rise on the baking sheet for 1 hour before baking for 20-23 minutes in a preheated, 375F oven.
Nutrition Information:
Yield:
8
Serving Size:
2 piroshki
Amount Per Serving:
Calories:

724
This is one of the recipes from the early days of Curious Cuisiniere. We've updated our pictures since we first shared it, but we've left some originals here, in case you've found us in the past and are looking for that old, familiar image.


If you liked this recipe, here are some similar dishes you may enjoy!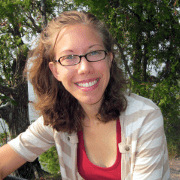 Sarah is one of Curious Cuisiniere's founding duo. Her love for cultural cuisines was instilled early by her French Canadian Grandmother. Her experience in the kitchen and in recipe development comes from years working in professional kitchens. She has traveled extensively and enjoys bringing the flavors of her travels back to create easy-to-make recipes.