Russian Sharlotka is a light sponge cake filled with small apple pieces. It's a simple dessert made with very inexpensive ingredients which most people always have on hand.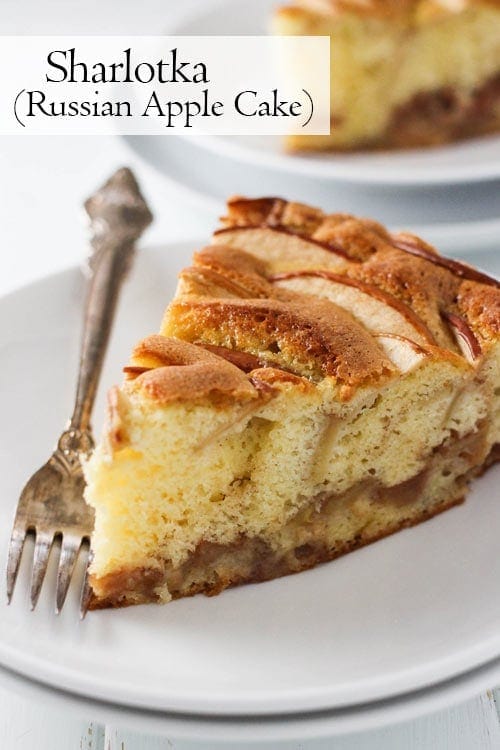 This recipe is so easy to make that Sharlotka can be baked on a weeknight. It's also a much-loved baking project for kids because it's pretty much foolproof.
Despite being so wonderfully uncomplicated, Sharlotka is delicious and versatile. It will fill your home with the aroma of cinnamon, vanilla, and baked apples. You can serve it as a coffee cake or snack cake or indulge in a warm Sharlotka topped with a dollop of vanilla ice cream for dessert.
Sharlotka is perfect for a casual Saturday afternoon, brunch with friends, or a birthday party, and it will please anybody who loves apple-based desserts.
The History of Sharlotka
The legend has it that Russian Sharlotka was invented in London in the 19th century by French chef Marie-Antoine Careme who worked for Russian Czar Alexander I.
In the beginning, the dish was known as Charlotte à la Parisienne (Parisian Sharlotka) and later on, it became famous by the name Charlotte Russe.
The Russian apple pie, as we know it today, doesn't have much in common with Charlotte à la Parisienne. The recipe for the modern day Sharlotka was very much simplified and perfected in the kitchens of frugal home cooks during the Soviet era.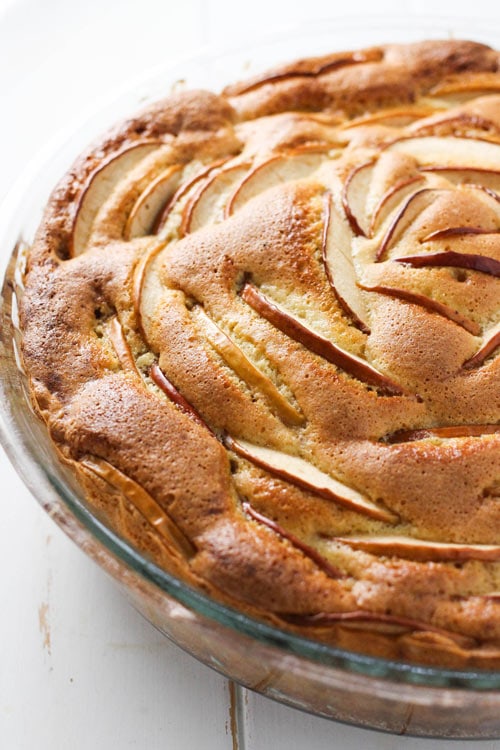 Tips for Making the Best Russian Sharlotka
While Polish szarlotka apple cake is a bit complex to put together, with layers of dough and apples, Russian sharlotka is very easy to make. Even if you are new to baking, you will most likely end up with a delicious apple dessert.
But there are still a few tricks that will help you make the best Sharlotka possible:
Use room temperature eggs. They will beat better because they are less viscous than cold eggs. Cold eggs can also affect the time it takes for the cake to properly bake. If you just decided to whip up Sharlotka and only have cold eggs on hand, break them into a glass bowl and leave them for about 15 minutes before you start beating them.
Use an electric mixer. It doesn't matter if you use a handheld or a stand mixer, just use what you have. An electric mixer will help you incorporate more air bubbles into the eggs so that your Sharlotka will be light and fluffy.
Don't over mix the batter. When you start adding the flour to the eggs, make sure to not over mix it. Just fold the flour gently until it's incorporated. Overmixing the batter will cause the development of gluten which will make the cake tougher.
Use a proper baking form. This recipe is for a standard 9-inch springform pan or an 8-inch round baking dish. It should also work in an 8X8 inch square baking dish as well.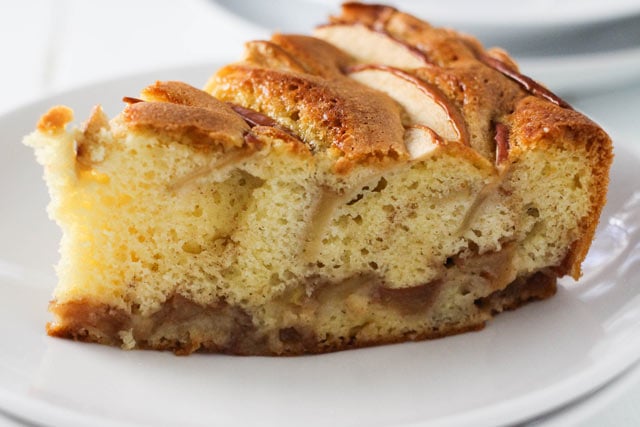 What Kind of Apples Should be Use for Sharlotka?
You can use any apples to make Sharlotka. The apples can be sweet or sour, firm or soft. You can even use different apple varieties for a mixture of textures.
There is also no need to peel the apples. Just make sure to thoroughly wash them first. If your apples are covered in wax, wash them in hot water.
Now it's Your Turn
So, what do you think about this popular Russian dessert? Have you tried Sharlotka before? Is it something you would bake at home? Please share with us in the comments below!
And if you love apple-based desserts, check out my recipe for Healthy Apple Cake. It's based on this Sharlotka recipe but made with spelt flour and less sugar.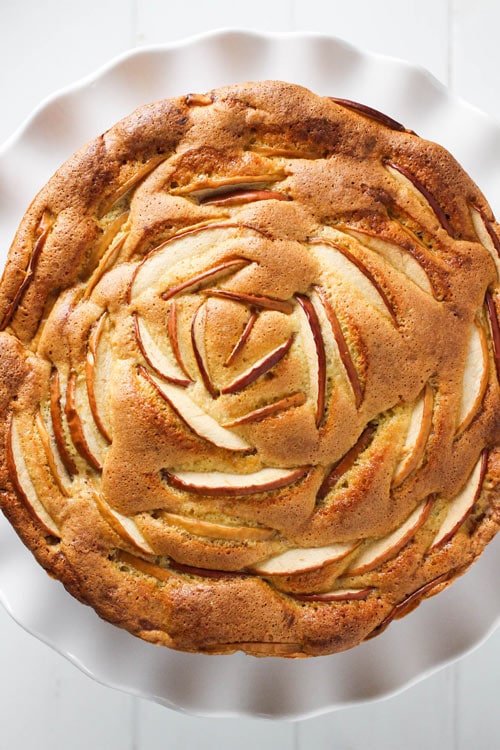 Yield: 1 (9 inch) spring-form pan - 10 slices
Sharlotka (Russian Apple Cake)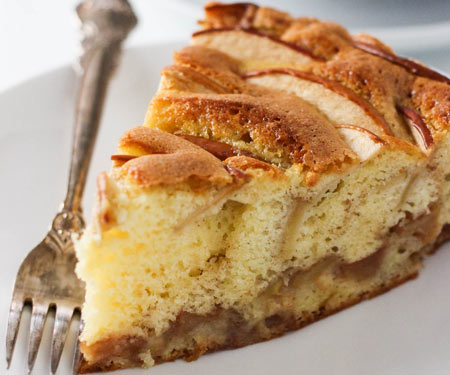 Russian sharlotka is a simple to make apple cake recipe that is made up of a light sponge cake filled with small apple pieces.
Total Time
1 hour
10 minutes
Ingredients
1/2 Tbsp butter for the baking form
3 apples (about 1 1/3 pound)
juice of 1 lemon
1 tsp cinnamon
1 1/4 cup all purpose white flour
1 1/2 tsp baking powder
4 eggs, at room temperature
pinch of salt
1 cup sugar
1/4 cup sour cream
1 tsp vanilla extract
Instructions
1. Cover the bottom of a baking form with parchment paper. Melt the butter and generously brush the inside of the baking form. Alternately, you can also spray the form with a pan release baking spray.
2. Cut two apples into small dice. Place them into a bowl and sprinkle with the lemon juice and cinnamon. Mix to make sure all apples are evenly covered. Set aside.
3. In a bowl, mix the flour and baking powder. Set aside.
4. Preheat the oven to 350F.
5. In a large bowl, add the eggs and a pinch of salt. Beat the eggs with an electric mixer until the egg yolks and egg whites are combined. Add about 1/4 of sugar, increase the speed of the mixer and continue beating the eggs. Gradually add all the sugar. Beat the eggs for about 6 minutes or until the mixture has thickened and turned very pale. It should fall in ribbons from a spatula.
4. Add the sour cream and vanilla extract to the eggs and mix with the electric mixer just until combined.
5. In batches, sift the flour into the egg mixture and gently fold it in with a spatula. Mix just until the batter is smooth and no pockets with flour remain. Make sure to not over mix.
6. Pour 1/3 of the batter into the baking form and evenly spread it with a spatula. In an even layer, add half of the apples. Slightly press the apples into the batter. Add more batter to cover the apples. Spread the batter over apples if needed. Add the remaining apples and cover them with the rest of the batter. Slightly shaking the form will help getting rid of the air pockets.*
7. Slice the remaining apple first into quarters and then into very thin wedges and arrange on top of the cake.**
8. Place in the oven and bake for 50 to 60 minutes or until a toothpick inserted in the middle of the cake comes out clean.
9. Once the apple cake is done, take it out of the oven and let it cool on a rack before removing it from the baking form.
Notes
*Alternately, you can add the diced apples to the batter and mix. However, please note that your batter will be darker from the cinnamon.
**If you don't want to decorate the top of the cake, dice all the apples together and follow the instructions in Step 2.
Recommended Products
As an Amazon Associate and member of other affiliate programs, We earn from qualifying purchases.
If you liked this recipe, here are some similar dishes you may enjoy!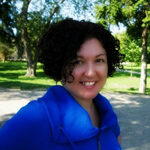 Maria Ushakova is a food blogger and recipe developer who loves creating easy and healthy recipes for her website MariaUshakova.com. When not researching the latest healthy food trends, Maria enjoys cooking Russian and Armenian dishes and exploring international cuisine. Maria is an aspiring food photographer and dog lover. She lives in Toronto, Canada, with her husband Sedrak and their dog Toby. Follow Maria for healthy meal ideas, cooking tips, food photography and more on Facebook, Pinterest, and Instagram.