Russian Chocolate Salami, also called Chocolate Sausage, is a delicious no-bake dessert that is the perfect make-ahead Holiday treat.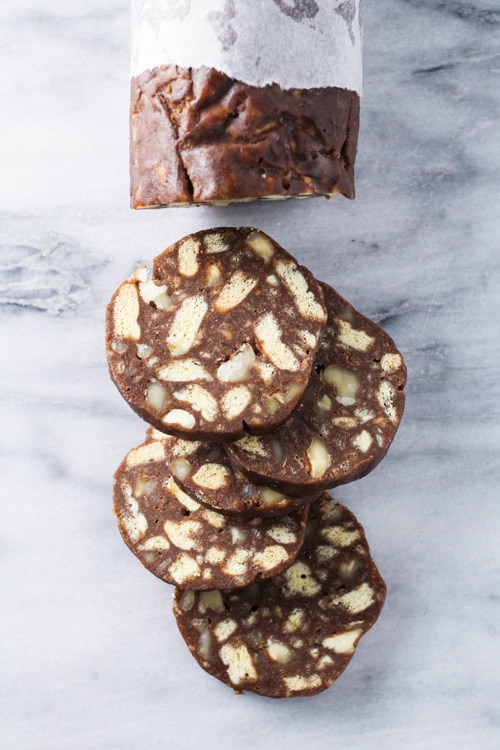 Russian chocolate salami (chocolate sausage) is called "salami" because the dessert resembles real salami sausage, especially when sliced.
The chocolate salami slices are just like chocolate cookies. Only you don't have to bake them.
Chocolate salami can be kept in the freezer for a long time, so it's often made in large batches ahead of the holidays, just in case a friend or family member drops by unexpectedly for a cup of tea.
The History Of Russian Chocolate Salami (Chocolate Sausage)
Russian Chocolate Salami became popular during Soviet times.
The dessert is made with tea biscuits, walnuts, butter, cocoa, sugar, and milk. These are very simple ingredients that most people had on hand or could find in local grocery stores. Chocolate Salami was also sometimes made using leftover homemade vanilla cookies.
Although today the variety of recipes for homemade treats and desserts in Russian cuisine is much more extensive, chocolate salami is still very popular.
Many have childhood memories of helping out in the kitchen to make Chocolate Salami.
What can be better than messing around with chocolate and biscuits and then licking your fingers when you are done?
Older children could even make it themselves without any help from adults. That's why many call Chocolate Salami "a taste of childhood".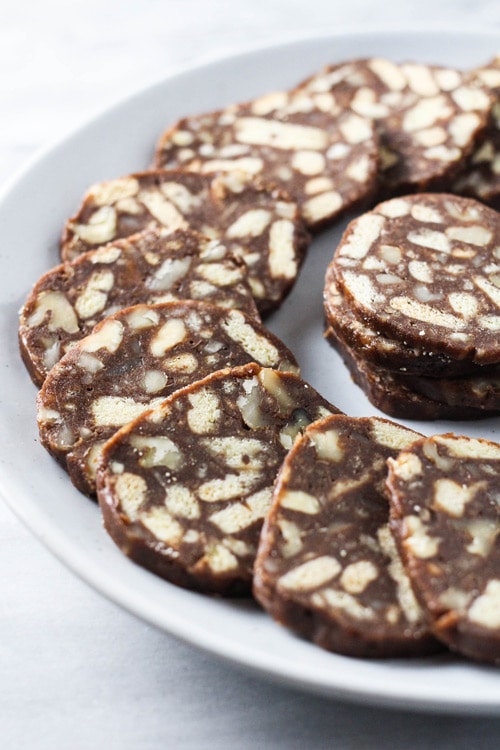 Russian Chocolate Salami vs Others
This is a classic Russian Chocolate Salami recipe.
There are also Italian chocolate salami, a Portuguese version, and some other variations of the recipe. Other versions are made with the addition of different ingredients such as eggs, condensed milk, liquor, and/or dried fruits.
How to Make This Chocolate Salami (Chocolate Sausage) Recipe
Russian Chocolate Salami is so easy to make! When you try it for the first time, you will be wondering why you haven't made it before.
Start by breaking half of the biscuits into small pieces. They will represent "fat flecks" in the Chocolate Salami. Grind the second half of the cookies into coarse crumbs in the food processor.
Place the crumbs, biscuit pieces, and chopped walnuts into a large bowl.
Melt the butter together with milk, sugar, and cocoa powder.
Mix the dry ingredients with the wet ingredients and divide the mixture into three parts.
Place each 1/3 of the mixture on a piece of parchment paper, and form logs resembling a small salami sausage in size. Secure the ends with an elastic and place in the fridge until firm.
Slice into thin slices to serve.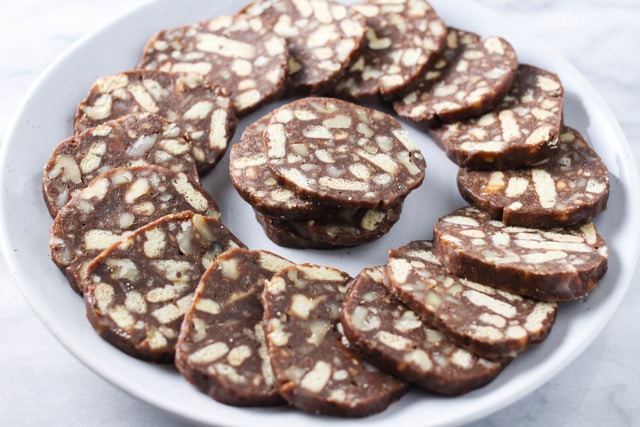 How to Store and Serve Chocolate Salami
Chocolate Salami is a butter-based dessert, so it keeps very well in the fridge.
You can also keep it in the freezer for up to 3 months. When you plan to serve it, take it out of the freezer and leave it in the fridge overnight.
Chocolate Salami Cookies taste best when the sausage is sliced just out of the fridge. The slices become soft if kept for too long at room temperature, so if you are planning to serve Chocolate Salami for a party and need to pre-slice it, arrange the slices on a plate and place back in the fridge until it's time to serve.
Russian Chocolate Salami for Gift Giving
Chocolate Salami is perfect for gift giving!
Wrap it in fun wrapping paper or plain brown paper with a pretty bow or label, and you have a unique homemade gift.
Just be sure to let the person you are giving it to know that it's a chocolate dessert and not a real sausage. (And that it needs to be refrigerated.)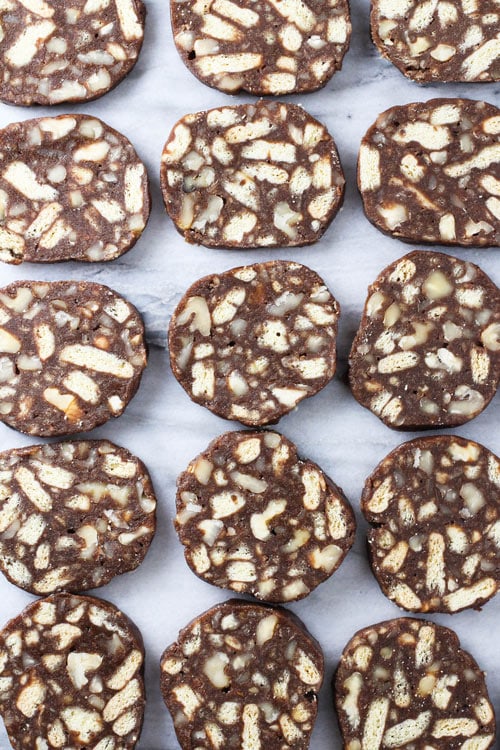 More cultural chocolate cookie recipes
If chocolate, chocolate, and more chocolate is what you crave for desserts, you will want to check out these other chocolate cookie recipes from around the world:
And, while not traditional, our garam masala chocolate spice cookies are still worth mentioning.
Now It's Your Turn
So, what do you think about this Russian dessert?
Have you tried it before? Is this something you would like to make? Please let us know in the comments below.
Yield: 3 chocolate salamis (about 12 slices each)
Russian Chocolate Salami (Chocolate Sausage)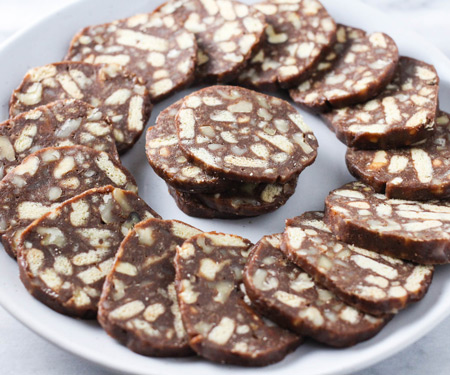 Russian Chocolate Salami, also called Chocolate Sausage, is a delicious no-bake dessert that is the perfect make-ahead Holiday treat.
Total Time
3 hours
18 minutes
Ingredients
12 oz tea biscuits (plain or vanilla), divided
1 ½ c walnut halves
¾ c butter
½ c sugar
½ c milk
3 Tbsp cocoa powder
Instructions
Place half of the tea biscuits into the bowl of a food processor and process until you get coarse crumbs. Break the rest of the tea biscuits into small pieces. (You can do this by hand. You can also place the biscuits into a plastic bag and then roll it with a rolling pin.) Transfer all the biscuits into a large bowl.
Chop the walnuts into small pieces and add them to the biscuits. Mix to combine.
Place the butter, sugar, milk, and cocoa powder into a saucepan and warm it over medium heat. Whisk until the cocoa powder is incorporated and all butter has melted.
Add the cocoa mixture to the dry ingredients and mix with a spatula until everything is incorporated.
Cut 3 pieces of parchment paper about 10 inches long each.
Place about 1/3 of the mixture onto each piece of parchment and roll the mixture into a sausage shape. If your mixture doesn't hold shape, leave it for about 5 minutes to cool slightly. Once you roll the sausages, secure the ends of the parchment paper with strings or elastics.
Place the salami into the fridge and let them cool for about 1 hour. Then take them out and roll them on a smooth surface to make the edges smoother (this step is optional). Place them back in the fridge for another 2 hours, or until the chocolate salami holds shape and can be easily cut with a sharp knife.
To serve, cut the chocolate salami into slices ¼ of an inch thick.
Store the salami in the fridge for up to 1 week or freeze them for up to 3 months.
Nutrition Information:
Yield:
36
Serving Size:
2 slices
Amount Per Serving:
Calories:

119
If you liked this recipe, here are some similar dishes you may enjoy!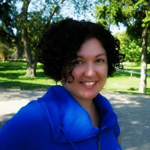 Maria Ushakova is a food blogger and recipe developer who loves creating easy and healthy recipes for her website MariaUshakova.com. When not researching the latest healthy food trends, Maria enjoys cooking Russian and Armenian dishes and exploring international cuisine. Maria is an aspiring food photographer and dog lover. She lives in Toronto, Canada, with her husband Sedrak and their dog Toby. Follow Maria for healthy meal ideas, cooking tips, food photography and more on Facebook, Pinterest, and Instagram.