Crispy on the outside, chewy on the inside, French Chocolate Sable Cookies are the ultimate chocolate cookie! (And they're perfect for keeping dough on hand to have your chocolate craving satisfied in 15 minutes flat!)
What Are Sable Cookies?
Sable cookies are basically France's version of a shortbread cookie, also called a butter cookie. These easy to make cookies are of the slice-and-bake variety. And, with a name like "butter cookie" how can they be anything but tasty?
But, as I was reading up on sable cookies I puzzled over the fact that everyone called the texture of these cookies "sandy". You see "sable" means "sandy" in French. So, it makes sense that their name would come from a characteristic of the cookie.
But, "sandy" doesn't sound like the most inviting descriptor for a cookie.
Crunchy, crisp, chewy, gooey. These all make me want to dive right in.
But sandy?
That's how I feel after taking a sprawl-out dive on the sand volley-ball court.
In my cookie?
Thanks, I'll pass.
But, the French in me knows that the French know what they're doing when it comes to desserts. (Who am I kidding, they have it together when it comes to ALL food. Have you ever met a bad French recipe?)
And chocolate cookies were calling my name.
So, I gave them a try.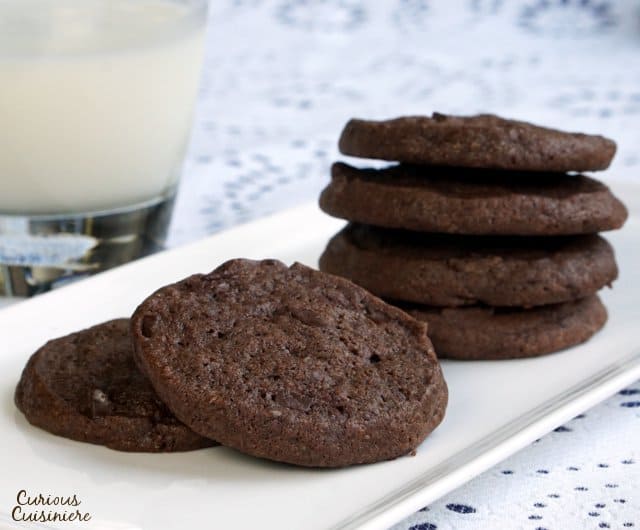 And guess what?
They are sandy.
Not in an "I just tripped over a sandcastle and face-planted" kind of way.
Rather, they are tender and delicately crumble as you bite into them, right before they melt into your mouth.
The exterior has just enough firmness to give way to that characteristic crumble, and the interior is just soft enough to create a double texture experience.
French Chocolate Sable Cookies
So, we've established that a sable cookie is one tasty (not-beach-bomb reminiscent) cookie. But we're about to up the ante.
We're adding chocolate.
And not just a whiff of chocolate.
Nope.
We're adding a double whammy of coco powder and grated bittersweet chocolate for a rich, complex, and intense chocolate flavor.
Because you can never go wrong with intense chocolate.
And, after all, these cookies are French.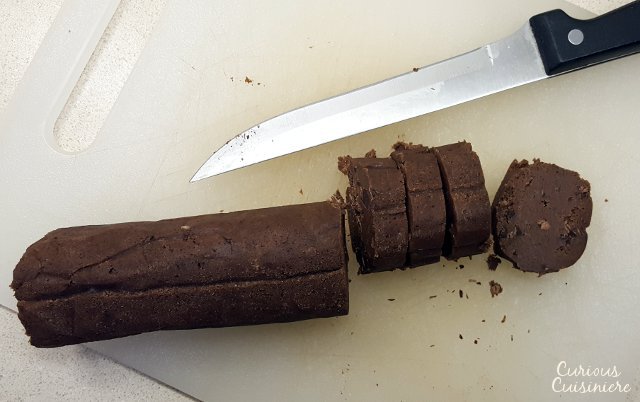 The Perfect Make Ahead Chocolate Cookie
The great thing about these chocolate sable cookies is that the chilled dough will last for months when frozen in an airtight container.
Ever have those days where you just need a good dose of chocolate?
Pop the roll of dough from your freezer. Preheat your oven. Slice off a few cookies and bake those bad boys right up.
Unexpected guests? Called upon for emergency treats?
That little roll of dough in the back of your freezer is your best friend!
More cultural chocolate cookie recipes
If chocolate, chocolate, and more chocolate is what you crave for desserts, you will want to check out these other chocolate cookie recipes from around the world:
And, while not traditional, our garam masala chocolate spice cookies are still worth mentioning.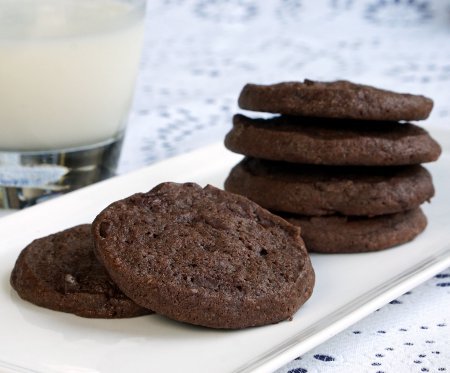 Print Recipe
Pin Recipe
Chocolate Sable Cookies
Crispy on the outside, chewy on the inside, French Chocolate Sable Cookies are the ultimate chocolate cookie!
Yield: 30-40 cookies
Author:
Sarah | Curious Cuisiniere
Ingredients
⅓

c

cocoa powder

½

tsp

baking soda

½

tsp

salt

4

oz

bittersweet chocolate,

chopped to fine bits

8

Tbsp

unsalted butter,

softened

¾

cup

sugar

1

egg

½

tsp

vanilla
Instructions
In a medium bowl sift flour, cocoa powder, baking soda and salt. Mix in chocolate bits.

In a large bowl, beat butter and sugar with an electric mixer until fluffy. Add the vanilla and egg, beat until creamy.

Add the dry ingredients to the butter mixture and mix until combined. Bring the dough together by lightly squeezing it with your hands.

Divide the dough in half.

Place half the dough on a sheet of waxed paper and press into a log, roughly 1 inch in diameter by roughly 8 inches long. Repeat with remaining dough. Place the rolls in an air-tight container or bag and refrigerate for 3 hours (up to 3 days).*

When you are ready to bake your cookies. Preheat you oven to 325F.

Slice the cold logs into 1/2-inch thick rounds and place the cookie rounds on baking sheets lined with parchment paper, spaced with 1 inch in between the cookies. (You will get roughly 15 slices out of a log.)

Bake until the cookies are set on the outside, about 12 minutes. Remove from the oven and let cool on the pans, 5-10 minutes.

Transfer cookies to a rack to cool completely.

Store in an airtight container for 1 week. (If they last that long.)
Notes
*To Freeze: You can freeze the dough roll in an air-tight container for up to 2 months. When you are ready to bake the cookies, you don't need to defrost the dough. Simply slice cookies from the frozen roll, and bake the cookies 1 min longer than stated above.
---
We're celebrating International cookies today – check out all these tasty treats from around the world: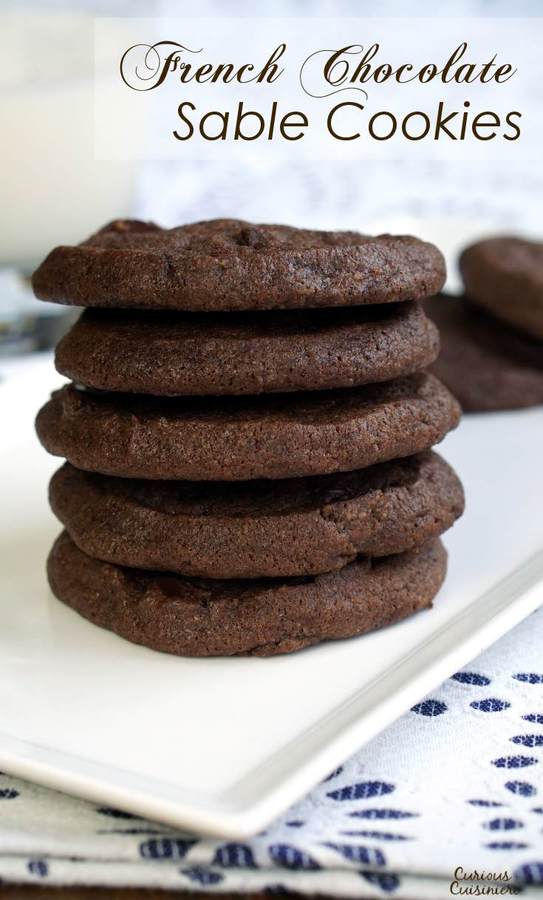 If you liked this recipe, here are some similar dishes you may enjoy!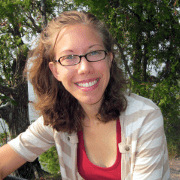 Sarah is one of Curious Cuisiniere's founding duo. Her love for cultural cuisines was instilled early by her French Canadian Grandmother. Her experience in the kitchen and in recipe development comes from years working in professional kitchens. She has traveled extensively and enjoys bringing the flavors of her travels back to create easy-to-make recipes.
Love it? Share it!