This classic Russian fish soup, called Ukha, is delicious and comforting. Fish fillets are gently cooked to perfection together with potatoes and carrots in a rich broth infused with subtle flavors of bay leaf and black peppercorns.
The History Of Ukha
Ukha (also sometimes spelled Uha) is a very old Russian dish that has been around since the 12th century. Nobody knows for sure what the original recipe was, and the way of preparing Ukha has changed over the years.
These days, the recipe very much depends on the region. Every family has their own unique way of cooking this Russian fish soup.
Fishing is a very popular past time in Russia and modern-day Ukha is often cooked over an open fire by fishermen using the freshly caught fish.
My Grandfather was a fishing enthusiast and I remember helping my Grandma cook Ukha while camping on the shore of a scenic river.
Ukha is also a popular soup that people cook at home and you can also often find it on restaurant menus.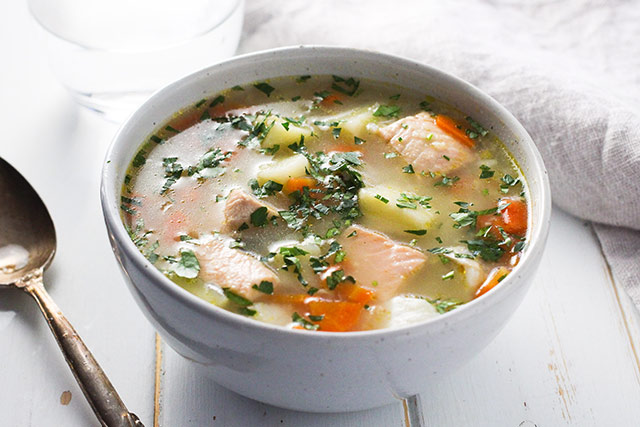 The Main Ingredients in Ukha
Ukha (pronounced OOH-hwha) can be cooked using various types of fish. Those who are lucky enough to have access to freshly caught fish use the catch of the day, others buy fish at a grocery store.
The other main ingredients in Ukha are vegetables such as potatoes, onions, and carrots. Aromatics and spices used are black peppercorns, bay leaf, parsley, and/or dill. Regional recipe variations might include other vegetables and spices.
To make Ukha more filling, some cooks add millet – a whole grain which is very popular in Russia.
The Traditional Way to Cook Ukha
Traditionally, Ukha is cooked with fish stock which is prepared using fish bones, tails, and heads.
When it's cooked outside with a catch of the day, often the smaller fish are cooked first to make the stock and the bigger, meatier fish are added at the end. Or, all ingredients are added at the same time and simply cooked together.
Those who cook Ukha at home can buy frozen fish bones and heads specially packaged to make homemade fish stock.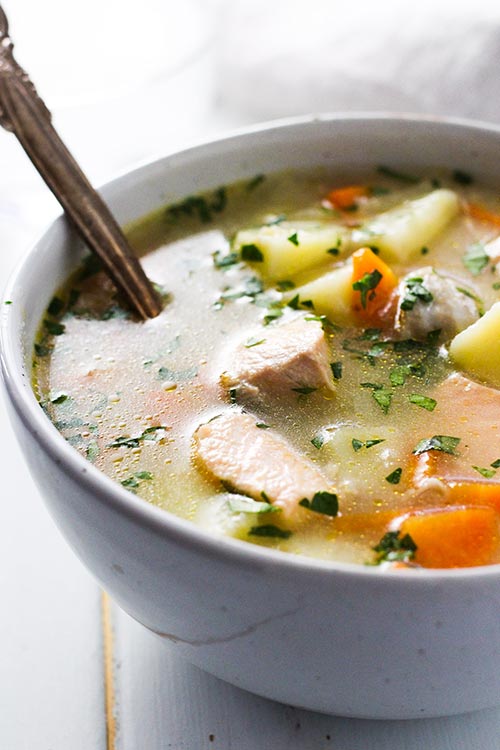 The Simple Way of Cooking Ukha at Home
Making your own fish stock might become problematic if fish bones and heads are not available at your local grocery store. This is the case where I live in Toronto.
Sometimes, you can find a commercially prepared fish stock (which can also be called seafood stock), but again, it's not available everywhere.
However, I found that a delicious Ukha can be prepared with simple vegetable stock, which is readily available in all grocery stores or can be easily made at home.
Another way of simplifying Ukha recipe is by buying fresh fish fillets so that you don't have to spend time dealing with the bones from whole fish.
The flavor loss due to the lack of fish stock is easily compensated by sauteeing onions and carrots in some oil.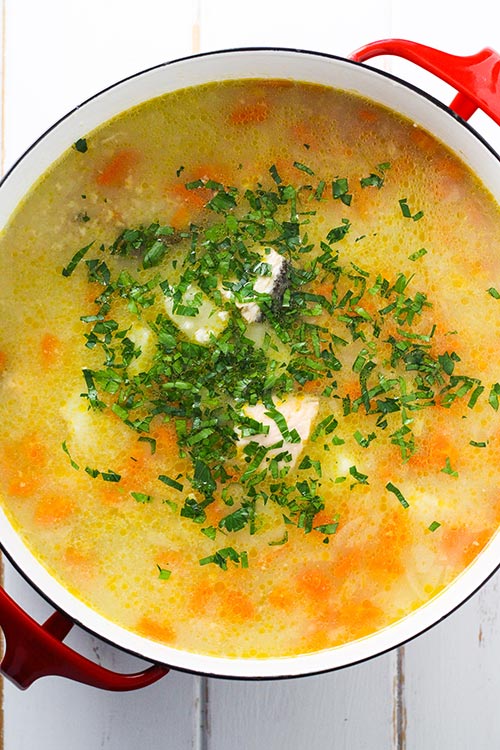 How to Make Homemade Fish Stock
If you happen to have access to good quality fish bones, heads, and/or tails, you can make homemade fish stock.
To make fish stock for Ukha
Place the fish pieces into a pot and add water to cover the fish by about 2 to 3 inches.
Add a small carrot, a small onion, a few peppercorns, and 2 bay leaves.
Bring to a simmer.
Reduce heat, cover and cook for about 30 minutes.
Take the fish pieces out of the broth. Discard the onion, carrot, bay leaves, and peppercorns.
Strain the broth through a cheesecloth to make sure no fish bones were left behind.
If the fish pieces have some fish meat left on them, separate the bones and add the edible parts of the fish into the soup before discarding the bones.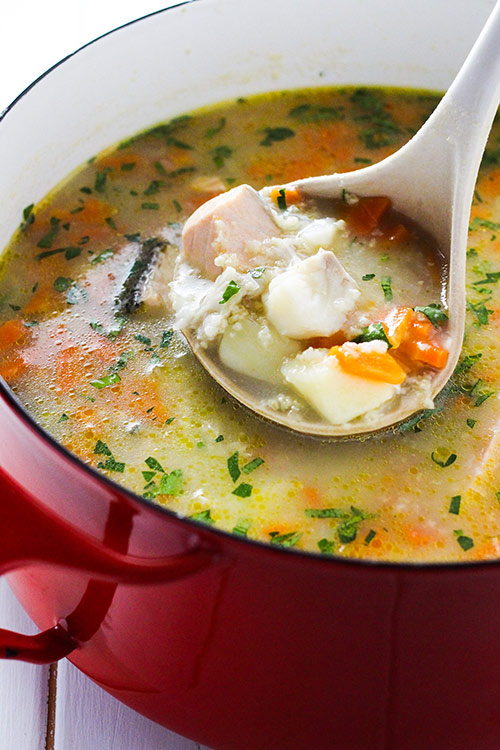 How to Cook Fish Fillet in Soups
To cook fish fillet in a soup, first, slice the fillet into 3/4-inch cubes. When all your other ingredients are cooked through, add the fish to the soup.
Fish cooks very fast and can become tough when overcooked, so don't walk away.
Gently stir the soup, making sure all the fish pieces are submerged in the soup liquid.
Bring the soup to a simmer. The fish fillet pieces are done when they are opaque and can easily be flaked with a fork. At this point, take the pot off the heat.
Also, keep in mind that the fish will continue cooking while the soup is still hot.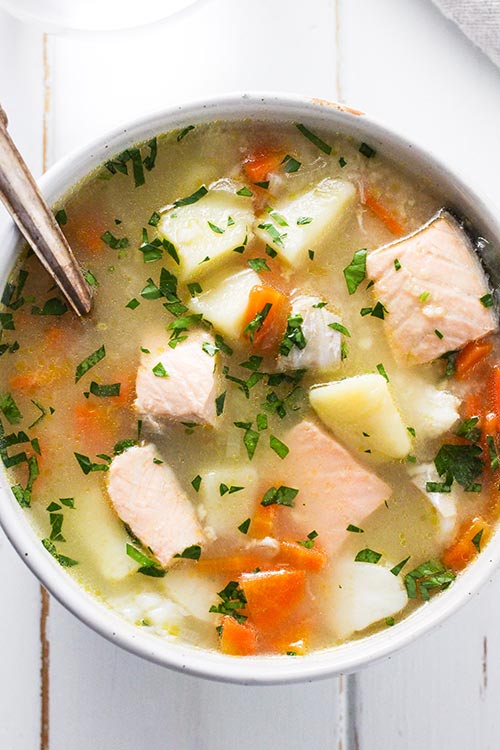 More fish and seafood stew recipes from around the world
If you love fish and seafood then you will want to check out these recipes for soups and stews that are a comforting way to serve seafood in the cooler months.
Now It's Your Turn
What do you think about this Russian fish soup?
Have you ever tried it before? Is it something you would consider cooking at home?
Please share your thoughts with us in the comments below.
Ukha (Russian Fish Soup)
Ukha, Russian fish soup, is delicious and comforting. Fish is gently cooked with potatoes and carrots in a rich broth seasoned with bay and black pepper.
Ingredients
2

Tbsp

olive oil

1

medium

onion,

thinly sliced

2

medium

carrots,

thinly sliced

4

cups

fish stock

(or vegetable stock)

4

cups

water

3-4

medium

potatoes,

peeled and cubed

3

bay leaves

10

black peppercorns

Salt

(to taste)

1/3

cup

millet *

1/2

pound fresh

cod filet, **

cut into cubes

1/2

pound

salmon filet, **

cut into cubes

Handful

fresh dill and/or parsley

(for serving)
Instructions
In a medium pot, heat the olive oil over medium-high heat. Add the onions and cook, stirring occasionally until the onions start to caramelize. Add the carrots and cook until the carrots start to soften, about 4 more minutes.

Add the stock, water, potatoes, bay leaves, and black peppercorns. Season with salt and bring to a boil. Reduce heat, cover and cook for 10 minutes. Add the millet and cook for 15 more minutes until millet and potatoes are cooked.

Gently add the fish cubes. Stir and bring the soup to a simmer. The fish will cook through very fast, so make sure to not overcook them. They are done when the flesh is opaque and flakes easily.

Garnish the soup with chopped fresh dill or parsley before serving.
Notes
*You can skip the millet. Just reduce the amount of liquid used by 1 cup. Without millet the soup will be more brothy.
** Instead of cod and salmon, use any other type of fish available.
Nutrition
Serving:
6
servings
|
Calories:
287.6
kcal
|
Protein:
23.1
g
|
Fat:
8.7
g
|
Fiber:
3.3
g
|
Sugar:
3.2
g
If you liked this recipe, here are some similar dishes you may enjoy!