Cacciucco, a hearty Tuscan seafood stew, is served over toasted bread croutons for a fun and comforting meal. 
Cacciucco: A robust seafood stew
It is said that a traditional Cacciucco has five different types of seafood in it:  one for each 'c' in the name. It was the fisherman's way of cleaning out his boat after market day. Whatever was left in the bottom of his boat went into this hearty stew that is seasoned with garlic, red pepper flakes, and red wine vinegar.
One of the unique elements to this stew is that it is spooned over toasted bread. The bread sops up the light broth that the fish is cooked in, and adds a nice hearty complement to the stew.
The Italian Feast of Seven Fishes
Christmas in Southern Italy brings the Feast of Seven Fishes, or the Festa dei Sette Pesci, to start the two-day feast celebrating Christ's birth. Traditionally, Catholics in the region would fast on the eve of this special holy day, breaking the fast in the evening with a seafood feast made up of seven different seafood dishes. Cacciucco is one of the dishes traditionally served at this feast.
Why seven fish dishes?
Some families say it's for the seven Sacraments of the Catholic Church, while others say it's for the seven hills of Rome. Still others say it represents the seven days of creation or stands as a reminder of the seven deadly sins. Whether it stands for one (or all) of these, it is evident that seven is a special number in the Catholic faith.
A Christmas dish that's good all year 'round
Sure, it's not quite Christmas, but we find this flavorful Tuscan seafood stew appealing any time of the year.
For our Cacciucco, we chose to use a mixture of two types of fish, shrimp, mussels, and scallops. This is a dish that can really become your own 'bottom of the boat' stew. It's a great way to use up the little bits of fish and seafood that inevitably end up in the freezer or leftover from other meals.
While this stew can be spicy, feel free to adjust the amount of red pepper flakes to suit your family's tastes.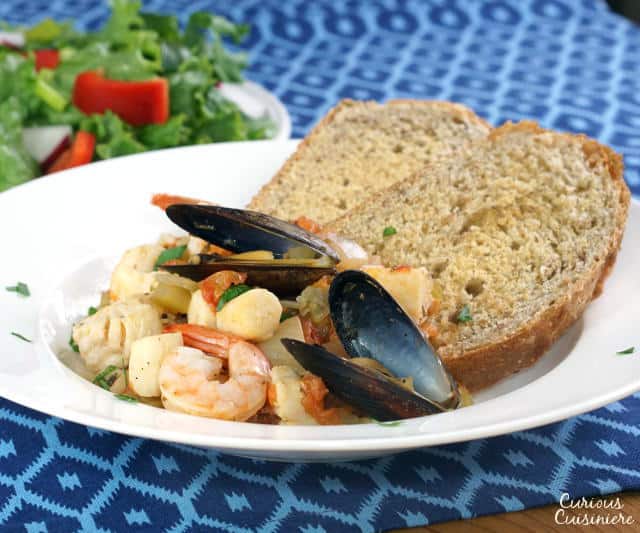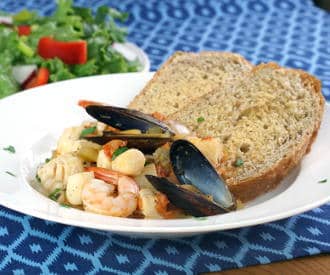 Cacciucco (Tuscan Seafood Stew)
This chunky seafood stew will transport you to Tuscany. Get ready for a great trip!
---
Ingredients
1

loaf

artisan bread

(roughly 12 slices)

1

tsp

garlic powder

1

tsp

olive oil

2

onions,

diced

4

garlic cloves,

minced

6

celery stalks,

diced

2

Tbsp

parsley

2

tsp

sage

1

tsp

red pepper flakes

(less if you are sensitive to heat)

4

tomatoes

diced fine, (roughly 4 c)

1 1/2

c

water

1/4

c

red wine vinegar

1

tsp

salt

3

lbs

mixed fish and/or seafood,

cut to bite-sized pieces (shrimp, mussels, clams, scallops, etc)
Instructions
Preheat oven to 275F.

Cut bread into 1" cubes. Place cubes on a baking sheet. Spray the bread lightly with cooking spray and sprinkle with garlic powder. Toast in the oven for 20 minutes, or until dry.

In a large cast iron pot (or other soup pot) heat oil. Add onions, garlic, celery, parsley, sage, and red pepper flakes. Sauté over medium heat until onions begin to soften, 5 min.

Add tomatoes, water, vinegar, and salt, and bring to a simmer.

Chop seafood into bite sized pieces, and add to the soup. Simmer until the fish is cooked through, 10-15 min. (If using clams or mussels add in the last 5 minutes of the cooking time.)

To serve, place croutons in the bottom of each bowl and ladle warm stew over top.
---
If you liked this recipe, here are some similar dishes you may enjoy!