This recipe for New England Seafood Chowder creates a versatile and tasty soup, that is perfect for warming up on a cold winter day. Use whatever seafood you like to fit this chowder to your family's tastes.
Classic New England Chowder
When you think of the States that make up New England, there are many foods that come to mind, but one of the first is a chowder. Clam chowder, corn chowder, even Manhattan Chowder.
Any kind of chowder, and you automatically think of those North Eastern States.
A Fisherman's Stew
The word 'chowder' comes from the Old English word for a fish peddler, 'jowter,' and the French word 'chauderée,' which is a thick fish soup that has been common in the coastal regions of France as far back as the 16th and 17th centuries.
Long-simmering fish and vegetable stews were a staple dish of poor fishermen in nearly any region with a strong fishing heritage.
French fish stews most likely made their way to the New World with the French fishermen who settled on the Canadian coast. As the people migrated south, they brought their recipes with them.
Why Do We Serve Chowder with Crackers?
From the beginning, a chowder was different from these traditional fish stews because chowder made use of salt pork and ship's biscuits (think saltine crackers) for flavor and as a thickener.
As milk and cream began to be added to the stew (giving extra flavor) and a butter roux became a more common thickening agent, the crackers were no longer needed for their flavoring and thickening properties.
However, you still see them used as a topping today for a steaming bowl of chowder.
I personally love the crunch and extra saltiness they give!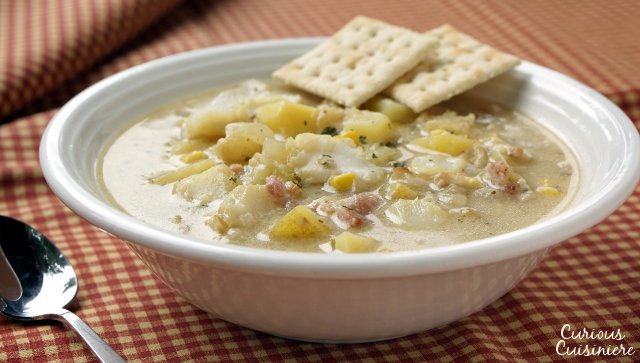 Seafood Chowder: A Versatile Family Meal
Since, my Mom is from Maine, chowders were a winter staple in our house growing up.
We would have the classic corn chowder, clam chowder, or even fish chowder, but it was always a treat when she would make a seafood chowder.
We never knew what seafood was going to find its way into the chowder, but we always had fun trying to identify which bits belonged to which seafood variety.
That's the great thing about this seafood chowder. You can add in whatever seafood you have on hand or whatever your family prefers!
It's great for using up seafood leftovers, or those little bits here and there that are left from making another dish. Anything seafood really is fair game.
And, because of that, the chowder is rarely the same twice, making it a perfect dish to put into the family dinner rotation.
When we were kids, my brother and I loved crunching up saltine crackers or floating oyster crackers on top of the creamy broth.
Nowadays, eating a steaming bowl of chowder always makes me think of family dinners, and reminds me of our family's New England Heritage.
New England Seafood Chowder
This recipe for New England Seafood Chowder creates a versatile and tasty soup, that is perfect for warming up on a cold winter day. Use whatever seafood you like to fit this chowder to your family's tastes.
Yield: 2 quarts of chowder
Ingredients
2

slices

bacon ,

diced

1

onions,

diced

1

celery stalk,

diced

1 ½

lbs

potatoes

(roughly 3 large), peeled and chopped

4

c

milk,

room temperature

3/4

lb

fish

(cod, haddock, or salmon)

½

lb

seafood

(optional; clams, oysters, scallops, crab meat, baby shrimp all work well)

½

c

corn,

thawed if frozen

1

Tbsp

fresh parsley

½

tsp

salt

¼

tsp

ground black pepper
Instructions
Sauté bacon in a large soup pot over medium-high heat until crispy, 3-4 minutes. Remove the bacon from the pot and place on a plate. Drain all but 1 Tbsp bacon grease from the pot. Add diced onions and celery to the bacon grease in the pot. Sauté over medium heat until soft, 3-4 minutes. Add potatoes. Saute 1-2 minutes.

Reduce the heat to low. Add the flour and stir, cooking until the flour is completely moistened.

Add the milk and increase the heat to medium. Heat the soup until it is steaming, but just before it starts to boil, stirring often. Keep the soup at this point until the potatoes are nearly tender, uncovered, 10 minutes. (Reduce the heat if the milk starts to foam.)

Add the fish and other seafood, and corn. Add the cooked bacon back to the pot. Continue to heat, just below boiling for an additional 10 minutes, until the fish is cooked through.

Add the parsley, salt, and pepper. Taste and adjust seasonings as needed.

Chowder can be made a day ahead and re-heated to let the flavors come together a little more or it can be served immediately.
---
This is one of the recipes from the early days of Curious Cuisiniere. We've updated our pictures since we first made it, but we've left an original here, in case you've found us in the past and are looking for that old, familiar image.
 
---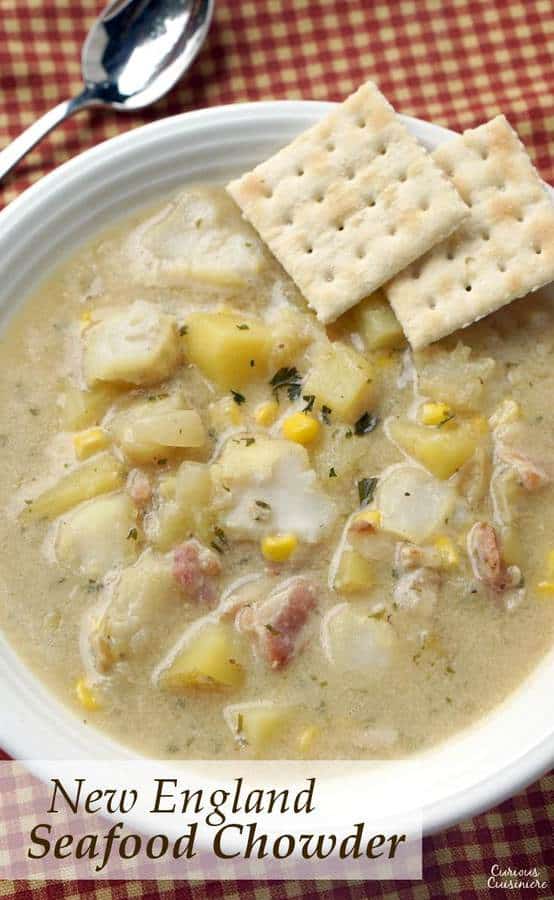 If you liked this recipe, here are some similar dishes you may enjoy!