Soft and fluffy New England Hot Dog Buns are the only way to serve leftover lobster in the form of a tasty New England lobster roll.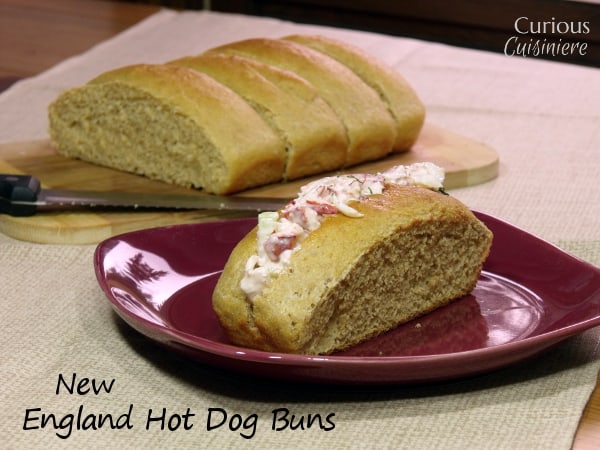 When I told Tim that we needed a special type of hot dog bun for our lobster rolls, he thought I was crazy.
If you know what I mean by "New England" Hot Dog Bun, have you ever tried describing what's different about these buns to someone who has never come in contact with one?
It's trickier than you would think.
New England Hot Dog Buns
So, what makes New England style hot dog buns so different (and, THE BOMB!)?
The New England Hot Dog Bun Pan
These top-loading rolls are baked close together to keep them nice and soft. Some people prefer to use a special pan to make the rolls, but we simply use a 5×9 baking dish with 2 inch sides. Any oven-proof dish you have that is 5-6 1/2 inches long on one side, with at least 2 inch high sides will do.
The Dough For New England Hot Dog Buns
Another difference is the dough. New England Hot Dog Buns have a dough that is a bit looser than your typical bun. This allows the buns to grow together nicely. But, they do need the support of the other buns to give them their shape. If the buns are placed too far apart, you will end up with flat bread sticks, rather than lofty buns, fit for stuffing.
The soft, straight sides of these buns make them perfect for brushing with a little butter and toasting up on the grill or in a hot pan before stuffing.
But, the goodness doesn't end there.
The Key Ingredients In New England Hot Dog Buns
This dough uses potato flakes, dry milk, an egg and just a little butter to create a soft and fluffy bread that hugs whatever filling you choose and toasts up to a crisp-on-the-outside soft-on-the-inside kind of perfection.
Making Lobster Rolls
As for the lobster salad we're stuffing our rolls with today. This is the stuff seaside dreams are made of!
Just one bite takes me back to walking along the beach after hitting up a small fish shack somewhere on the Maine coast.
We've lightened up the traditional method of making this salad by combining plain, non-fat yogurt with just enough mayo for that desired creamy texture. Lemon juice and celery bring this salad to the perfect flavor combination I remember from childhood.
New England Hot Dog Buns
To cook these buns, you will need a baking pan with 2" sides that is 5-6 ½" long on one side. You want your buns to fit snugly into the pan, or else they will not rise properly. Use multiple, smaller baking dishes if necessary.
Yield: 10 buns
Ingredients
1

Tbsp

sugar

1

c

water,

warmed to 90F

1 ¼

tsp

active dry yeast

1

Tbsp

unsalted butter,

melted and let cool

1

egg,

beaten slightly

¼

c

non-fat powdered milk

¼

c

potato flakes

1

tsp

salt

1

egg beaten with 1 Tbsp water

(for brushing the rolls)
Instructions
In a large mixing bowl, dissolve sugar in warm water. Add yeast and let stand for 5-10 min until the yeast becomes soft and foamy.

Mix in cool, melted butter and beaten egg.

Add 2 cups of flour, powdered milk, potato flakes and salt. Mix until the dough comes together.

Turn the dough out onto your counter top and add the last cup of flour. Knead the flour into the dough until a smooth, soft dough forms, 8-10 min.

Place the dough into a lightly greased bowl, coating the dough with the grease as well. Cover with a tea towel and let rise in a warm (70-80F), draft-free place until the dough has doubled in bulk, 1 to 1 ½ hours.

Punch down the dough and divide it into 10 roughly equal pieces. Shape each piece into a 6"long log, and place into a greased baking pan, ¼" apart.

Brush the dough gently with 1 egg beaten with 2 tsp water.

Cover the pan with a tea towel and let the dough rise for 20 min.

Preheat your oven to 350F.

Place the risen buns in the over and bake for 25-30 minutes, until buns are golden. (Not sure if they're done? Inert a thermometer as close to the center of the buns as you can. If it reads around 200?F, they're done!)

Remove the pan from the oven. Let the buns cool for 5-10 minutes before de-panning the buns and placing on a wire rack to cool.

Once cool, you can tear(or cut) the individual buns apart and slice them 2/3 of the way through from the top of the bun.

Stuff with your desired filling!
Nutrition
Serving:
1
roll
|
Calories:
165
kcal
|
Carbohydrates:
30.6
g
|
Protein:
6.5
g
|
Fat:
2.4
g
|
Saturated Fat:
1.1
g
|
Cholesterol:
36
mg
|
Sodium:
274
mg
|
Fiber:
1.2
g
|
Sugar:
3.1
g
New England Lobster Salad
A visit to New England isn't complete without a taste of an authentic Lobster Roll. This recipe captures the flavor of the lobster rolls of my childhood.
Yield: Lobster salad for 3 lobster rolls
Ingredients
8

oz

cooked lobster

1 ½

Tbsp

mayonnaise

1 ½

Tbsp

plain non-fat yogurt

1

celery stalk,

minced fine

½

tsp

lemon juice

1/8

tsp

ground white pepper

Pinch

salt
Instructions
Chop lobster to desired chunk sizes. Place chopped lobster in a bowl and mix with remaining ingredients. Adjust salt and pepper to taste.

Use the salad atop a bed of lettuce or use it to fill a New England Hot Dog Bun!
Nutrition
Calories:
101
kcal
|
Carbohydrates:
2.5
g
|
Protein:
14.8
g
|
Fat:
3.1
g
|
Saturated Fat:
0.5
g
|
Cholesterol:
112
mg
|
Sodium:
479
mg
|
Sugar:
1.1
g
---
DISCLOSURE: This post contains Amazon affiliate links. These links are provided to help you find some of the more specialty products we mention in the recipe. If you make any purchase clicking through our links, we receive a small commission from Amazon, at no extra cost to you. Thank you for supporting Curious Cuisiniere!
If you liked this recipe, here are some similar dishes you may enjoy!