Our easy Fig Newton recipe brings the deep sweetness of figs together with a tender cookie crust. You might just trade in the store bought version for these babies!

Where did Fig Newtons come from?
Fig Newtons as we know them today in America were invented by Charles M. Roser, a cookie maker from Ohio.
He sold the recipe to Kennedy Biscuit Co. (now Nabisco) in Cambridge, Massachusetts, and they began producing the filled fig cookie in 1891.
The cookies were named after Newton, a city just outside of Boston.
As a side note, have you noticed that Nabisco's cookies aren't called "Fig" Newtons any more?
In 2001, Nabisco dropped "fig" from the cookie's name. Apparently figs, like prunes, are too often associated with laxatives and elderly people to make for an attractive cookie.
Poor figs. We still think you're attractive.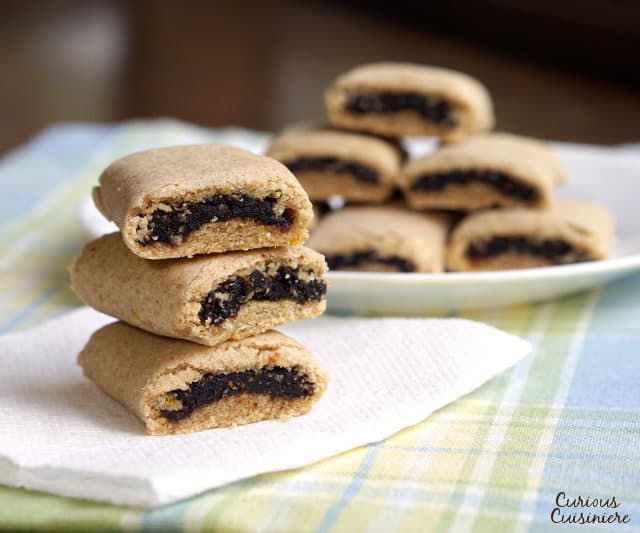 We don't know where Roser got the idea for his fig-filled cookie, but what we do know is that they seem incredibly similar to a classic British pastry: the fig roll.
The classic British fig rolls have a more crumbly, pastry-like cookie surrounding the filling, rather than the chewy, cakey cookie of Roser's Fig Newtons.

How to make homemade Fig Newtons
Homemade Fig Newtons are quite simple to make.
The dough is soft and easy to roll. The filling comes together quickly in the food processor.
Some recipes will tell you to use a pastry bag to pipe the filling onto the rolled out dough, however we found that our filling was a bit too stiff to pipe. So, we just dove right in and used our hands to arrange the filling.
The dough is then folded over the filling and the cookies are baked just long enough to dry out the outside, while still keeping the inside chewy and the cookie tender.
These cookies are unique from other rolled cookies in that they are not cut until after they are baked. This keeps the edges nice and moist.
Our Fig Newton recipe
For our Fig Newton recipe, we found a nice balance between classic American Fig Netwons and the traditional British version.
A mixture of wheat and all purpose flours gives the cookie a nice heartiness and nutty flavor.
Our version isn't overly sweet either. We liked the way the light sweetness of the filling and cookie really made the flavor of the figs shine through.
It is easy to over-bake these cookies, resulting in a Fig Newton that is more crumbly than cakey.
We found that the best remedy for a slightly crumbly Fig Newton is to put them in an airtight container while they are still slightly warm. This way, they will steam just enough to soften to the perfect consistency by the time they are cooled.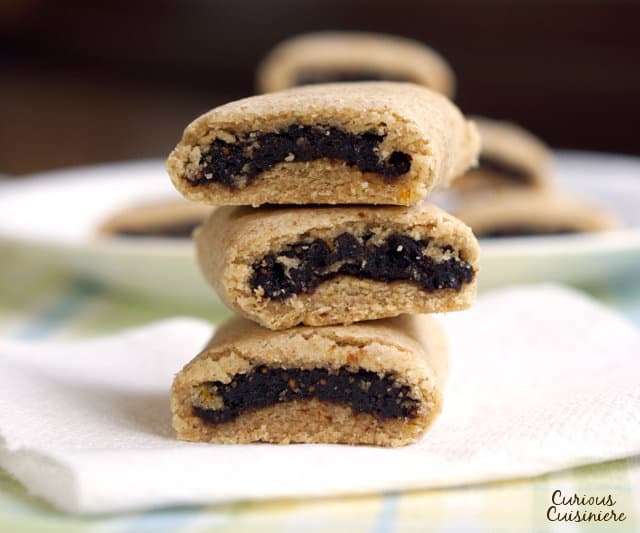 Can I make fig newtons with fresh figs?
This recipe uses dried figs to make fig newtons, simply because dried figs are more easily available any time of year where we live.
However, we tested these cookies during the short season when we can get fresh figs, and we are happy to report that if you happen to live somewhere that fresh figs are in abundance, you can definitely make these cookies with fresh figs too.
You will make some slight adjustments to the filling recipe, which we get into in the "notes" section of the recipe below. Basically, you are making a very thick fresh fig jam to fill your cookies with.
How to store homemade fig newtons
We find that these cookies last very well for a week on the counter kept in an air-tight container.
If you'll be storing them for longer than that, they keep very well in the refrigerator for a couple of weeks.
And, if you want to really make them ahead of time, they store incredibly well for a month or more in the freezer too.
Yield: 24 cookies
Homemade Fig Newtons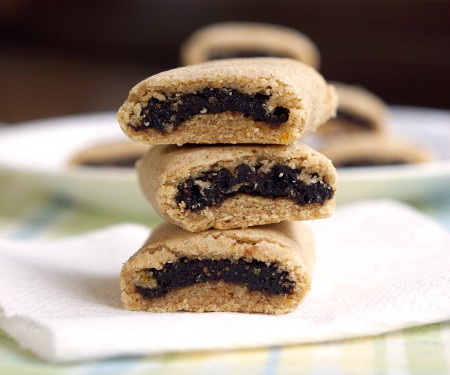 Our easy Fig Newton recipe brings the deep sweetness of figs together with a tender cookie crust. You might just trade in the store bought version for these babies!
Total Time
2 hours
17 minutes
Ingredients
For the Cookie Dough
8 Tbsp salted butter, softened
¼ c brown sugar, packed
1 egg
1 tsp pure vanilla extract
1 tsp fresh orange zest
½ tsp baking powder
¼ tsp salt
For the Fig Filling*
6 oz dried figs
¼ c water
2 Tbsp orange juice
⅛ tsp cinnamon
2 tsp honey
Instructions
For the Cookie Dough
In a large bowl, cream the butter and sugar until light and fluffy using an electric hand mixer, 2-3 min. Beat in the egg, vanilla extract, and orange zest until well combined.
Add the flours, baking powder, and salt. Mix until a soft cookie dough forms. With your hands, shape the dough into a ball. Wrap the ball in plastic wrap and refrigerate until firm, 1 hour.
For the Filling
While the dough is chilling, make the filling. In a small saucepan, place the dried figs, water, orange juice, and cinnamon. Cover and simmer over low heat for 10 minutes, until the figs begin to plump.
Remove the mixture from the heat and allow it to cool for a few minutes. Then, transfer the mixture to the bowl of your food processor. Add the honey and blend until a thick paste forms. Set the filling aside.
Putting It All Together
Preheat oven to 325F.
Line a large baking tray with a baking mat or parchment paper. Set aside.
On a floured surface, roll the chilled dough into a 10 inch x 14 inch rectangle. Use a knife or pizza cutter to make the outer edges even.
Cut the dough lengthwise into three strips, roughtly 3.5 inches x 14 inches.
Divide the fig filling paste between each strip of dough, forming it into a line down the center of each strip. Press the filling to roughly 1-inch wide.
Carefully fold each edge of dough over top of the fig paste, making a log. Press the top to seal the dough slightly.
Place the logs, seam side down, onto your linked baking sheet, spacing them about 2 inches apart.
Bake the cookies for 17-20 minutes, until the logs feel dry and slightly firm when touched. Remove the cookies from oven and cut each log into 8-9 cookies while they are still warm.
While still warm, place the cut cookies into an airtight container. (This will soften the cookies as they cool.)
Store the cookies in an airtight container on the counter for up to 1 week.
Notes
If you want to make your filling with fresh figs, this is your filling recipe:
1 lb fresh figs, stems removed and quartered
2 Tbsp orange juice
1/2 c sugar
1/8 tsp cinnamon
Heat everything together in a saucepan over medium-low or low heat, stirring often, until the figs are soft. (30 minutes) Transfer the mixture to a blender or food processor and blend until smooth. Transfer back to the saucepan and heat over low of 15-20 mintues, stirring constantly, until very thick. Your finished "jam" should be so thick that it holds soft peaks.
This yields roughly 1 1/3 c of fillig, which is more than you will need for this recipe, but now you can enjoy a batch of fig jam too!
Nutrition Information:
Yield:
12
Serving Size:
2 cookies
Amount Per Serving:
Calories:

169
If you liked this recipe, here are some similar dishes you may enjoy!