Brussels sprouts and red onions add a winter spin to this hearty and healthy succotash.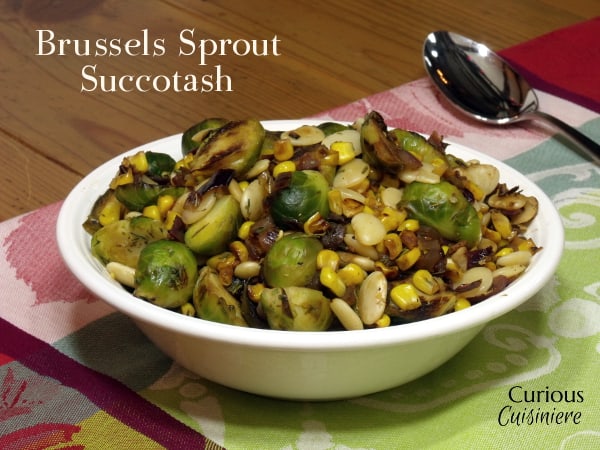 As promised, today we're sharing the recipe for the winter Brussels Sprout Succotash that you saw earlier this week with our Broiled Grouper with Lemon and Thyme.
What Is A Succotash?
A succotash is a dish made up primarily of sweet corn and lima beans (or other, typically white, beans).  Other vegetables are then added to this base, along with milk and butter, depending on what part of the country you are in.
It is a common dish all around America, from New England to the South. However, in many cases, the actual dish has been lost, and the word 'succotash' has come to refer to any mixture of vegetables.
The history of the succotash goes back to the Native Americans, who first taught the settlers how to make succotash. (The word 'succotash' actually comes from an Algonquian word meaning 'broken or boiled corn kernels.') Native American versions often included a more wide variety of ingredients than today's succotash, including meat, squash and nuts.
The mixing of corn and beans brings together two types of protein, that together make up a complete protein. (Those Native Americans were smart!)
Those of you who garden might notice another complement in this pairing. Corn and beans are ideal growing mates, since corn takes nitrogen from the soil and beans put nitrogen back in.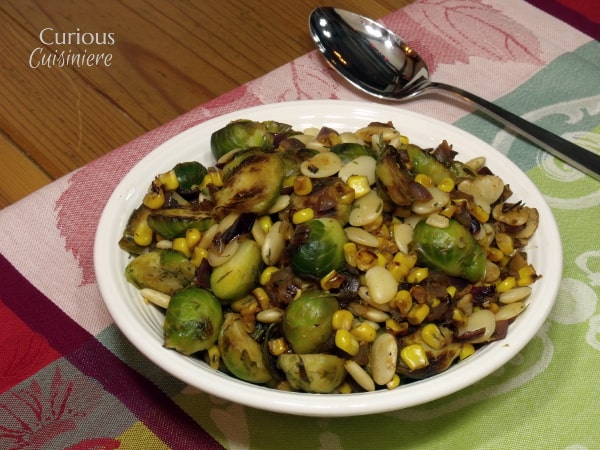 Our Brussels Sprout Succotash Recipe
We've taken the traditional succotash and added a winter spin with Brussels sprouts and red onions.
The addition of these wintry vegetables creates a hearty and healthy side that would go great with lighter mains like fish or poultry.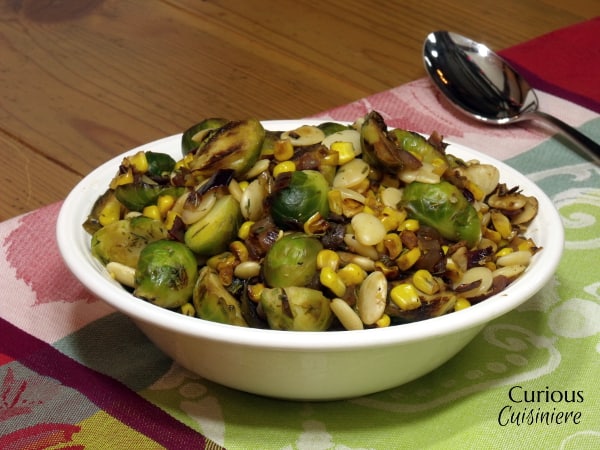 Brussels Sprout Succotash
Brussels sprouts and red onions add a winter spin to this hearty and healthy succotash.
Yield: 4 cups
---
Ingredients
½

tsp

salted butter

½

large

red onion,

diced

3

garlic cloves,

minced

½

lb

Brussels sprouts,

fresh or thawed if frozen, halved

1

c

sweet corn

1

c

lima beans,

boiled from dry or thawed if frozen

1

tsp

thyme

½

tsp

parsley

¼

tsp

salt

1/8

tsp

ground black pepper

1

small

lemon,

juiced, (roughly 2 Tbsp)
Instructions
In a large (cast iron or non-stick) skillet, melt butter. Add onions and garlic and sauté over medium-high heat until golden, 2-3 minutes.

Add Brussels sprout halves and continue to sauté, stirring occasionally, until the sprouts begin to turn golden, 3-5 minutes.

Add remaining ingredients and sauté until the corn and beans are heated through, 5-7 minutes.

Serve warm or chilled.
---
If you liked this recipe, here are some similar dishes you may enjoy!