Classic New England Chowder takes on a healthy, fall spin in this Pumpkin Corn Chowder recipe.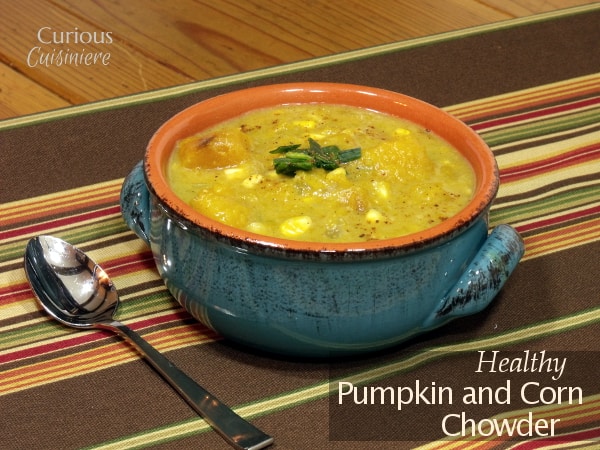 Finding the perfect healthy chowder
With my mom being from New England, I have a weak spot for chowder.
Clam chowder, corn chowder, potato chowder, fish chowder. Give me anything chowder, and I'm sure to love it.
What I don't love so much is all the butter and cream that makes those soups so darn delicious.
This winter, one of our goals is to create a good, middle ground chowder. One that we can feel good about eating, but still fills that creamy, comfort-soup need.
We've taken a first step in the healthy direction with this Pumpkin Corn Chowder.
Our pumpkin corn chowder recipe
While not your traditional corn chowder, the pumpkin adds a nice sweetness, nutrition and color to the soup. Instead of using whole milk and cream as the base for the chowder, we've used veggie broth and skim milk. As the soup cooks, some of the pumpkin chunks break down into a soft puree, creating a creamy base that mimics the creaminess of a classic chowder.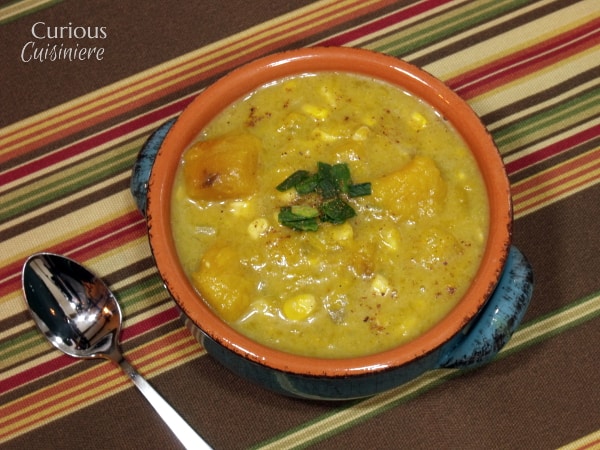 It's like pumpkin soup and corn chowder came together in one delicious bowl of fall goodness.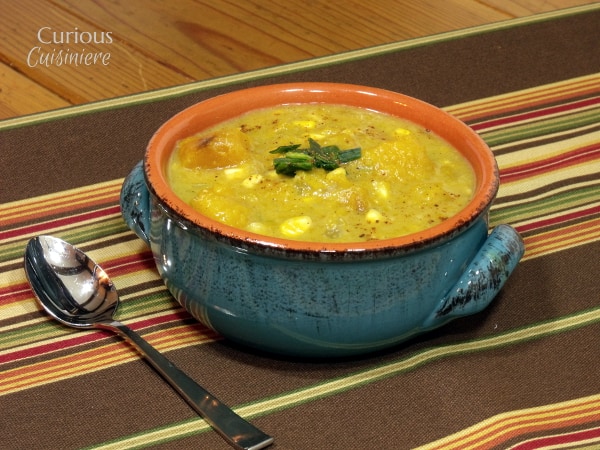 Healthy Pumpkin and Corn Chowder
Classic New England Chowder takes on a healthy, fall spin in this Pumpkin Corn Chowder recipe.
Yield: 6 cups
---
Ingredients
1

Tbsp

salted butter

or bacon grease

½

c

leeks,

sliced

1

celery stalk,

diced

6

c

pumpkin

(roughly 1 -3 lb- pie pumpkin), peeled, seeded and diced into 1-1/2" cubes

3

c

vegetable broth

(we prefer low sodium)

1

tsp

sage

1

tsp

salt

1/8

tsp

ground white pepper

1

c

milk

1 ½

c

corn
Instructions
In a medium soup pot, heat butter. Add leeks and celery. Sauté for 5 minutes over medium-high heat, until they begin to soften.

Add raw pumpkin cubes, broth, sage, salt and pepper. Cover and bring to a simmer. Reduce heat to medium-low and simmer for 10 minutes, until the pumpkin is tender.

In a small bowl, whisk together milk and flour until smooth. Add the milk mixture to the soup along with the corn. Return the soup to just below a simmer and continue to cook for 20 minutes, stirring occasionally. (The more you stir the chowder, the more the pumpkin will break apart and thicken the soup.)

Serve warm with crusty, artisan bread.
---
---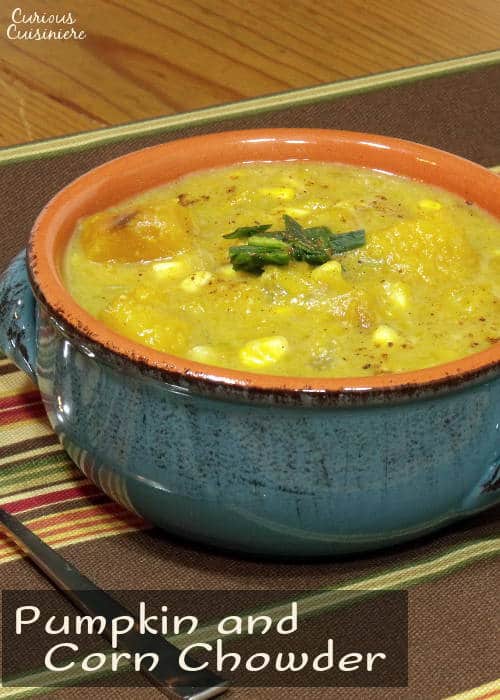 If you liked this recipe, here are some similar dishes you may enjoy!