Manhattan Fish Chowder is the tomato broth-based fish stew that is New York's take on the traditional, creamy New England chowder. Where do you fall in the great chowder debate?
Which Chowder Is True Chowder?
Having family from Maine, as long as I can remember there was only ever one type of chowder. No matter if it was clam chowder, corn chowder, or seafood chowder it was always the creamy, New England chowder that won out in our house.
And then, someone mentioned Manhattan Chowder.
Things just didn't seem right.
Why would you even think to use tomatoes in chowder?
The Origin Of Manhattan Seafood Chowder
It is thought that the tomatoes in Manhattan chowder come from the influence of Italian and Portuguese immigrants in New York in the mid-to-late 1800s.
But, while Italian and Portuguese home cooks may have been making fish stews with tomatoes, there is no official mention of "Manhattan" Clam Chowder until the 1930s.
(Cream-based chowders, on the other hand, can be traced back to the mid-1700s.)
Those from Maine, who love their creamy chowder, would have none of New York's tomato-y creation. And, apparently, in 1939 a bill was introduced by an assemblyman to the Maine legislature to make it a statutory and culinary offense to put tomatoes into chowder.
Let it never be said that Maine folk aren't serious about their food!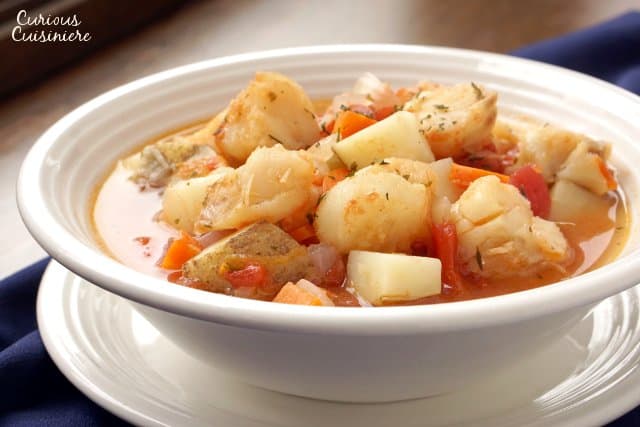 Our Manhattan Fish Chowder Recipe
Traditionally, you will find chowder made with clams. But some people have a bit of an aversion to the texture of clams, and we find that a fish chowder is always a welcome addition to a table on a cold winter evening.
This chowder is an easy fish stew. A little sauteing and a little simmering, and then you're done.
It's a perfect quick weeknight meal!
And, while I don't think Manhattan chowder will ever be what I think of when I hear 'chowder', even I have to admit that Manhattan fish chowder makes for one pretty darn good fish soup.
What are your thoughts on the great chowder debate?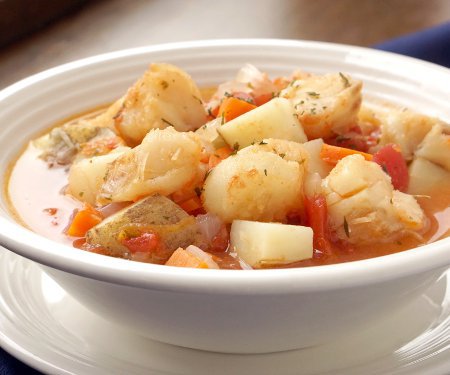 Manhattan Fish Chowder
Manhattan Fish Chowder is the tomato broth-based fish stew that is New York's take on the traditional, creamy New England chowder.
---
Ingredients
2

slices

bacon,

diced

1

onion,

diced

1

clove

garlic,

minced

2

carrots,

diced

1

lb

potatoes,

cut into 1/2" chunks

1

stalk

celery,

diced

3

c

water

1

(14.5 oz) can

diced tomatoes,

un-drained

2

tsp

parsley

1/2

tsp

thyme

1/2

tsp

salt

1/4

tsp

ground black pepper

1

lb

white fish

(pollock, haddock, cod), cut into 1/2" - 1" pieces
Instructions
In a medium soup pot, saute the diced bacon over medium high heat until nearly crisp, 1-2 min.

Add the onions and garlic and saute until the onions are soft, 3-4 minutes.

Add the carrots, potatoes, and celery. Saute for 1-2 minutes.

Add the water and tomatoes, scraping up any stuck bits from the bottom of the pan.

Add the seasonings and fish and bring the soup to a simmer. Reduce the heat to medium low and simmer for 15-20 minutes, until the vegetables are tender and the fish is cooked through.
---
Recipe Notes
This recipe from 2013 was updated in January 2018. We made the chowder even tastier! Enjoy!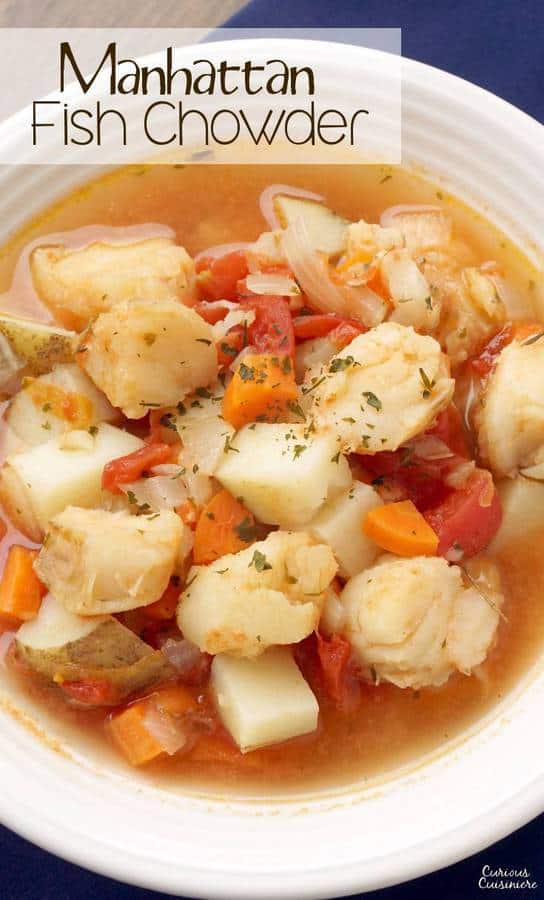 ---
This is one of the recipes from the early days of Curious Cuisiniere. We've updated our pictures since we first shared it, but we've left some originals here, in case you've found us in the past and are looking for that old, familiar image.
---
If you liked this recipe, here are some similar dishes you may enjoy!