A light and tropical Brazilian Fish Stew, Moqueca brings coconut milk and citrus together in a tasty dinner recipe.
Moqueca: Brazilian Fish Stew
Moqueca (pronounced mo-KEY-kah) is a Brazilian recipe that comes from the Northeastern region of Bahia.
You'll find many variations on the dish using different types of seafood from fish to shrimp, even crab, but the basics are always the same: onion, garlic, cilantro, tomatoes, and a lightly creamy sauce from coconut milk.
The fish stew is traditionally served with white rice to soak up all the delicious broth.
The stew gets a nice brightness from the lime and tomatoes, but it's the coconut milk that really brings this stew together. Creamy enough to round out the flavors, but light enough to keep the stew from getting too heavy, the coconut milk really does make this a perfectly comforting stew for this time of year!

Choosing Fish For Your Moqueca
The name Moqueca refers to the sauce, so you can have a Moqueca with any number of different types of seafood.
The main thing you want to keep in mind when you are choosing your fish is that it should be firm so that it doesn't fall apart in the simmering broth. Haddock, cod, grouper, striped bass, red snapper, mahi mahi, and swordfish are all great choices. Shellfish is also often mixed into the stew. Shrimp, prawns, lobster, crab meat, mussels, etc are great choices.
We kept our stew simple, just using some nice firm haddok. But, feel free to use this recipe as a starting off point, and throw in whatever seafood sounds tasty to you.
Palm Oil or No Palm Oil in Moqueca?
Traditionally, Moqueca is made using palm oil, which has a natural reddish color that gives this fish stew its characteristic red hue. Since sustainable palm oil can be difficult to find, we've substituted olive oil and added a bit of paprika to the recipe to achieve the characteristic color.
Pairing Wine with Fish Stew
We'd recommend pairing this stew with a light white wine, like a Sauvignon Blanc or Pinot Grigio, that has a bit of acidity to complement the lime and tomatoes in the stew.
More fish and seafood stew recipes from around the world
If you love fish and seafood then you will want to check out these recipes for soups and stews that are a comforting way to serve seafood in the cooler months.
Moqueca (Brazilian Fish Stew)
A light and tropical Brazilian Fish Stew.
Ingredients
For the Marinade
2

limes,

juiced or ¼ c lime juice

2

garlic cloves,

minced

½

tsp

salt

½

tsp

ground black pepper

1 ½

lbs

firm white fish

(halibut or cod), cut into 2" pieces
For the Stew
2

tsp

olive oil

1

onion,

chopped

1

green bell pepper,

chopped

1

red bell pepper,

chopped

2

garlic cloves,

minced

¼

tsp

red pepper flakes

2

large

tomatoes

or 1 14oz can of diced tomatoes, undrained, diced

4

scallions

chopped

¼

c

fresh cilantro,

chopped (plus extra for garnishing)

1

tsp

paprika

2

cups

fish stock

or clam juice, vegetable broth, or equal amounts of both

1

bay leaf

1

c

light coconut milk
Instructions
In a small bowl, mix together lime juice, garlic, salt, and pepper. Place the fish in a flat dish with high sides. Add the marinade, turning the fish to coat it with the marinade. Marinade the fish for 15-30 min.

Start the rice. Place the dry rice in a saucepan with 3 cups of water (or as much water as specified on the package directions). Add the salt. Cover the saucepan and bring the mixture to a boil. Reduce the heat to medium low and cook for 10-15 minutes, until the liquid has been absorbed. When done, remove the rice from the heat and let stand, covered for 10 minutes, or until the stew is done.

Once the fish is marinating and the rice is cooking, heat the olive oil in a large Dutch oven or 2 quart soup pot, over medium-high heat. Add the onion, green and red bell peppers, garlic, red pepper flakes. Sauté until the veggies begin to soften, about 5 - 6 minutes, stirring often.

Add the diced tomatoes, scallions, chopped fresh cilantro and paprika. Mix well. Nestle the marinated fish pieces into the veggie mixture and pour in all of the remaining marinade. Add the fish stock and bay leaf. Bring the mixture to a boil. Reduce the heat to medium low and simmer, covered, for 10 min.

Remove the bay leaf and add the coconut milk. Bring the mixture back to a boil and simmer 5 min, uncovered. Taste the Moqueca and season with salt and pepper if your tastes desire.

Serve the soup over top of the white rice, sprinkled with fresh cilantro.
If you liked this recipe, here are some similar dishes you may enjoy!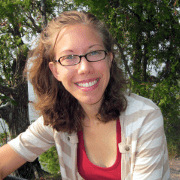 Sarah is one of Curious Cuisiniere's founding duo. Her love for cultural cuisines was instilled early by her French Canadian Grandmother. Her experience in the kitchen and in recipe development comes from years working in professional kitchens. She has traveled extensively and enjoys bringing the flavors of her travels back to create easy-to-make recipes.