Jewish braided bread, Challah, is light and fluffy egg bread with a glowing crust. It is perfect for special celebrations, weeknight dinners, and everything in between.
Traditional Challah Bread
Challah a light and eggy bread, similar to brioche, that is traditionally eaten by Jews on Shabbat (Sabbath) and on some holy days.
While challah is similar in taste and texture to brioche, the doughs are a bit different. Both use eggs, however brioche uses more fat than challah. And, while brioche uses milk and butter, challah uses water and oil in keeping with Jewish dietary customs.
Baking any bread at home means that the house will smell amazing, but something about this combo of eggs, oil, and sugar that means you will have a completely unique and intoxicating smell wafting from your oven. We won't blame you in the slightest if you sit down on the kitchen floor, close your eyes, and just let the heavenly scent take you away to a seriously happy place.
Braided Challah Bread: A Rich Tradition
The word challah (plural challot) can be traced back to the Torah. In Numbers 15:20 it says: "The first portion of your dough (challah), you shall separate a loaf for a gift; as in the case of the gift of the threshing floor, so shall you separate it."
Technically, the term challah simply means "loaf of bread" and any bread made from wheat, barley, spelt, oat, or rye fits the term. However, the word challah has come to refer to this particular bread that is eaten on special Jewish holidays and Shabbat.
Traditionally a piece of dough is separated from the loaf before baking and burned. This recalls the portion of dough that was to be set aside as an offering to God.
The Many Shapes of Jewish Challah Bread
Challah takes on different forms depending on the occasion it is served. A traditional 3 – 6 strand braided bread is used for the weekly Shabbat meal. The dough is shaped into a spiral and sometimes studded with raisins for holiday.
Traditionally, two loaves of challah (challot) are baked for the Shabbat table as a way to recall the double portion of manna that the Israelites wandering in the desert received from God. This is a reminder that God will always provide.
The Beautiful Golden Challah Bread Crust
Many loaves of challah have a beautiful, completely golden, glistening crust. In order to get that classic crust, the key is to brush the loaves twice with egg wash:  once before the last rise and again before putting the loaves into the oven. You can even brush your loaf with a little extra egg wash halfway through the baking time, after it has expanded in the oven to ensure a perfectly even, golden crust.
You'll notice that our crust isn't perfectly golden. That's because we're a bit partial to the two-toned effect that happens when you only brush the loaf with egg wash once.
But, either way, you can't deny that these loaves are beautiful!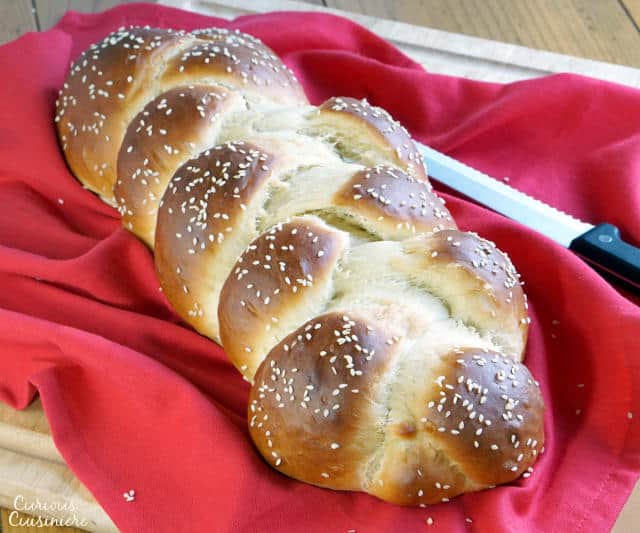 ---
---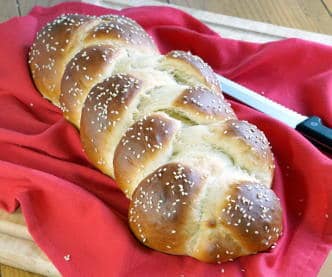 Challah
Light and fluffy braided Challah bread is a delicious egg bread that is perfect for special celebrations, weeknight dinners, and everything in between.
Yield: 1 (14 inch) loaf
---
Ingredients
To Top
1

egg white beaten with 1 Tbsp water

(from the 1 yolk above)

Poppy seed or sesame seeds

(optional)
Instructions
Place the warm water in a large bowl. Add the sugar and mix to dissolve. Sprinkle the yeast over top of the water and let it stand for 10-15 minutes, until the yeast starts to foam.

Add 2 cups of flour and the salt to the yeast mixture. Mix well. Add the oil, eggs and egg yolk and stir to mix.

Add the remaining flour ½ cup at a time, stirring after each addition, until a soft dough comes together.

Turn the dough onto a lightly floured surface and begin to knead by hand, adding flour as necessary, until the dough is smooth, soft and slightly tacky (but not sticky), 7-10 minutes. (Alternately, mix the dough in a stand mixer using a dough hook. Knead with the dough hook for 2-3 minutes.)

Transfer the soft dough to a clean, greased bowl. Cover with a damp tea towel and place the bowl in a warm, draft-free place to rise for 2 hours.

Punch down the dough and divide it into 3 equal pieces. Shape each piece into a ball and roll each ball into a rope. Pinch the three ropes together at one end and braid them, being sure to pinch the other end to seal the braid when finished.

Place the braided loaf on a parchment paper lined baking sheet.

Prepare your egg wash and brush the loaf with the wash. Top with seeds as desired.

Let the bread rise for 25-30 minutes, until puffy.

Preheat your oven to 375F

When the dough has finished proofing, brush it with another coating of egg wash, if desired, and place it in the oven. Bake for 25-30 minutes, turning the pan 180? halfway through cooking time. (If you want a very even and glossy crust, brush the loaf with a little more egg wash when you turn the pan.)

The loaf is done when it is golden and sounds hollow if you tap it, (If you have an instant read thermometer, you can take it out when it hits an internal temperature of 180 degrees.)

Remove the loaf from the baking sheet and let cool on a wire rack.
---
If you liked this recipe, here are some similar dishes you may enjoy!