Avoid the deep fryer with these Baked Scotch Eggs, this easy recipe is perfect for a fun lunch or picnic.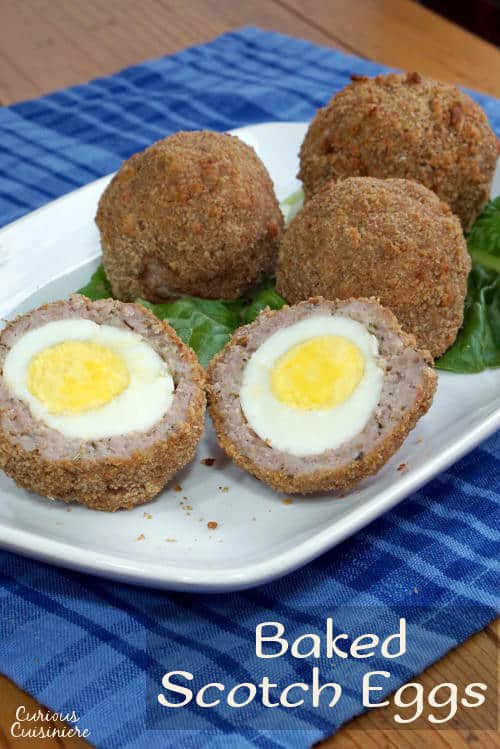 Not Scottish?
Contrary to popular belief, Scotch Eggs have nothing to do with Scotland. Actually, these little, hand-sized snacks originated as a British picnic staple. It is only recently that they have begun to make their way into pubs and restaurants worldwide. (As one of our readers mentioned, Scotland is a part of Britain, but the origin of the dish is tied more closely to England, in the southern region of Great Britain.)
The original Scotch Egg is said to have been invented by the British department store Fortnum & Mason in 1738. The name "Scotch" didn't come as a reference to Scotland at all, rather, it came from the term "scotched" which refers to the preparation method of coating something with breadcrumbs and frying it.
Layers of Flavor
The perfect Scotch Egg is all about layers. A crispy exterior, flavorful sausage, and a slightly soft-yolked hard-boiled egg. The result is a combo that is strangely addicting.
What's not so addicting is the belly-bomb that the deep-fried version can be. Yes, traditionally all Scotch Eggs are deep-fried, but since Tim and I have an aversion to deep-frying at home (Don't get us started on that that oil smell that lingers for days…), we wanted to find a way to make these treats while avoiding the excessive use of hot oil.
Making the Eggs
The Eggs: There is quite a bit of debate about what type of hard-boiled egg should be used for Scotch Eggs. Some like their eggs runny, other like them barely soft, others prefer them to be hard-cooked. Whatever your preference, keep in mind that the eggs will continue to cook in the oven. So, boil them for a smidge less than you typically would. (For example, our go-to hard-boiled eggs get 5 minutes of simmering after coming to a boil from cold water. So we cooked them for around 4, and you can see that the yolks still ended up quite well done.)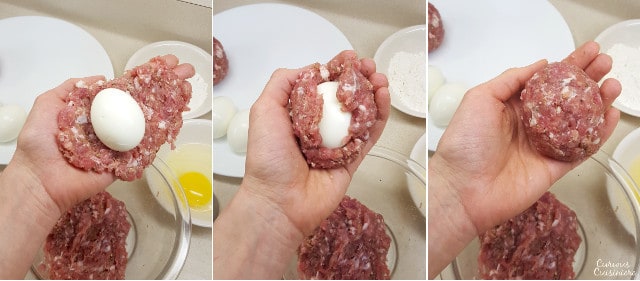 The Sausage: As for the sausage, we like to season ground pork roast and make our own sausage. But, to make the Scotch Eggs even simpler, just use a roll of your favorite breakfast sausage. We won't tell. In fact, our recipe below includes both methods, so pick your favorite.
The Breading: Don't skip the three-step breading process. Rolling the sausage in flour helps the breading to adhere better. Feel free to use your favorite bread crumbs, seasoned or unseasoned. Panko crumbs would also work very well.
Have A Picnic
These really are great to take along on the go. It might seem strange, but they are just as tasty at room temperature or cold as they are fresh from the oven. Serve them with a nice salad for a perfectly complementary lunch or dinner.
Baked Scotch Eggs
Avoid the deep fryer with these Baked Scotch Eggs! Perfect for a hearty breakfast, a take-along picnic lunch, or a fun appetizer!

Yield: 6 Scotch Eggs
Ingredients
6

hard boiled eggs,*

large
For the Meat
1

lb

ground pork

or a pre-seasoned breakfast sausage roll

4

tsp

bread crumbs

1

tsp

thyme

1

tsp

parsley

1

tsp

fennel

½

tsp

garlic powder

½

tsp

salt

¼

tsp

nutmeg

¼

tsp

ground black pepper
Instructions
Preheat your oven to 400F.

Peel the hard-boiled eggs and set them aside.

Place the ground pork into a large bowl. Add the breadcrumbs and seasonings and mix well with your hands until combined. (If you are using pre-seasoned sausage, then just add the bread crumbs.)

Place the flour in a shallow bowl. Set aside.

Crack the raw egg into a second shallow bowl. Beat it slightly and set aside.

Place the breadcrumbs into a third bowl. Set aside.
To Assemble the Eggs
Flour your hands and scoop a scant ? cup of the pork mixture into your hands. Flatten it into a patty. Wrap the pork around one egg, pinching it together to seal any seams.

Roll the pork covered egg first in flour. Then, dip it in the beaten egg. Finally, coat it in bread crumbs.

Set the coated eggs on a well-greased parchment or silpat lined baking sheet.

Once all the eggs have been coated, spray them generously with cooking spray and place them into the preheated oven.

Bake the eggs for 20 minutes, until they are golden and the pork is cooked.

Serve the Scotch eggs warm, cold, or room temperature.
Notes
*To hard boil the eggs: Place them in a large pot full of cold water with 1 Tbsp of salt. Bring the water to a hard boil over medium heat. Turn off the heat and let the eggs stand in the water for 5-7 minutes (depending on how firm you want your yolks). Move the pot to the sink and fill it with a couple changes of cool water, to cool the eggs down. Dry the eggs. Hard boiled eggs can be stored in the refrigerator (be sure to make the container as Hard Boiled) for up to 1 week.
If you liked this recipe, here are some similar dishes you may enjoy!