The classic grilled Reuben Sandwich, is crave-worthy comfort food. It's the perfect combination of crispy toast, flavorful corned beef, tangy sauerkraut, and creamy Russian dressing. Transform those corned beef leftovers!
The Reuben Sandwich: Made For Leftover Corned Beef!
The week after St. Patrick's Day, we always find ourselves with leftover corned beef.
We never complain though, because that means it's an excuse to make Reubens; which might be one of our all-time favorite sandwiches.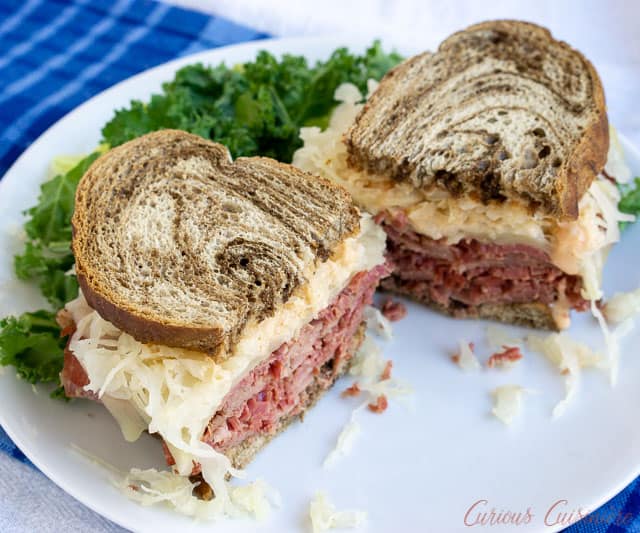 What Is A Reuben?
You know the players in a classic grilled Reuben.
The History Of The Reuben Sandwich
Some say the Reuben sandwich was the creation of a Lithuanian grocer in Omaha, Nebraska. Apparently he came up with the sandwich for poker night at a local hotel.
The sandwich then grew to local fame when it the hotel put it on their restaurant's lunch menu.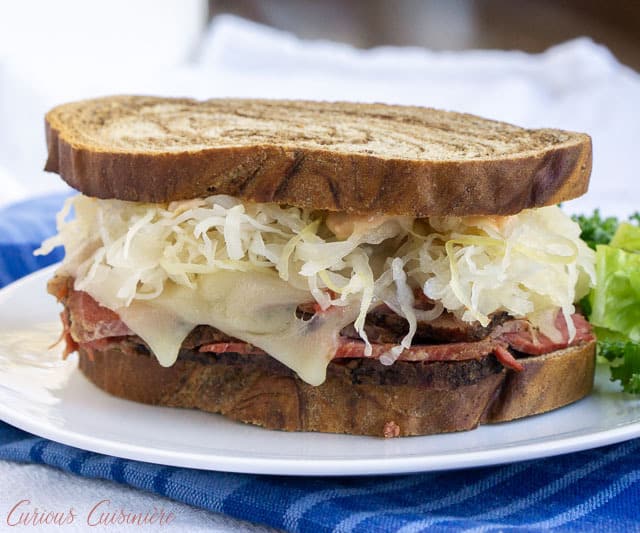 Another account maintains that the sandwich was created by the German owner of Reuben's Delicatessen in New York City. It is said that this owner threw the sandwich together one evening for a famished actress.
Famous actress or poker night, the sandwich's fame grew.
Can you really blame it?
The combo of salty corned beef, tangy sauerkraut, and sharp Swiss cheese has stayed a classic since the 1920s.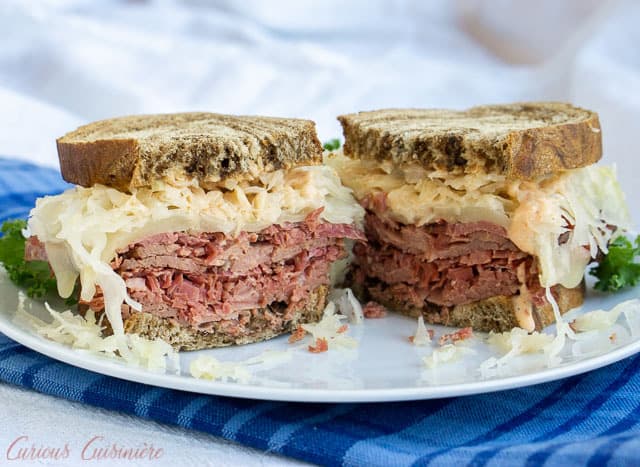 How To Cook A Reuben Sandwich?
Now that we have the Reuben sauce taken care of, we need to address the biggest issue that we always run into when making a Reuben Sandwich.
It just gets SO tall!!
There are two methods we like to use to remedy the situation and cook our Reuben Sandwiches to perfection.
One way is to, toast up the sandwich under the broiler, one or two layers at a time, so that each layer reaches crispy, warm, melty perfection. (This is the method in the recipe below.)
But, we have also been know to also make our Reuben Sandwiches on the griddle.
Or… on a makeshift griddle.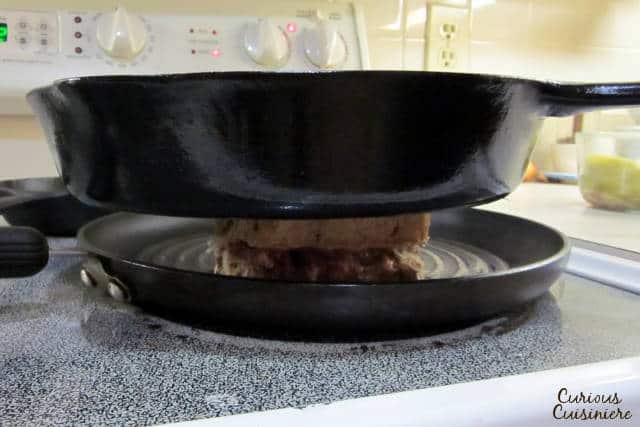 Since we don't have a panini press (which would be ideal) we make our own press with two cast iron skillets.
Hey. We like to improvise!
Broiled or grilled, a reuben is a simple sandwich to make, and it is made even better when you serve it with your own, homemade Russian Dressing!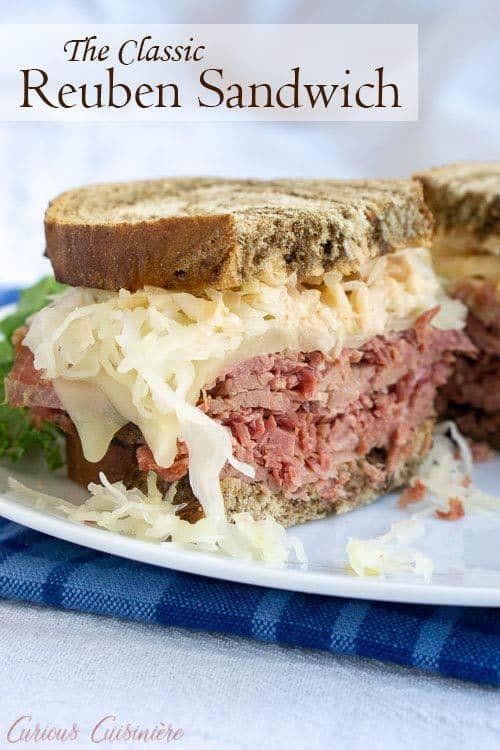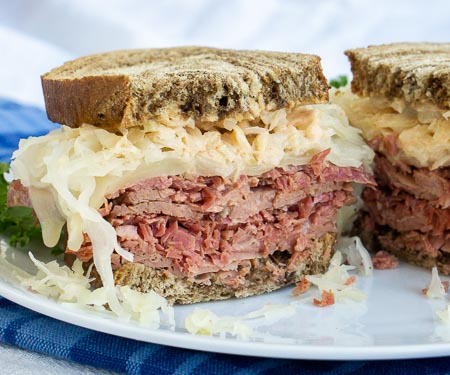 The Classic Reuben Sandwich
The classic grilled Reuben Sandwich is the perfect way to use up leftover corned beef.
Yield: 4 sandwiches
---
Ingredients
8

slices

of rye bread

1

lb

cooked corned beef,

sliced

8

oz

sauerkraut

4

slices

Swiss cheese,

roughly 1oz

1/4

c

Russian dressing

(see our recipe below)
Instructions
Preheat your oven's broiler to low, and move your oven rack to the highest position.

Place four slices of bread on an aluminum-foil lined baking sheet. Distribute corned beef slices evenly among the four slices of bread. Place in the oven and broil 3-4 minutes, until meat is warm.

Remove from oven and top each sandwich with sauerkraut and a slice of Swiss cheese. Return to oven and broil 2-3 minutes, until the cheese is melted.

Remove from oven. Spread one side of the remaining slices of bread with a tablespoon of Russian Dressing. Top each sandwich with a slice of bread, dressing side down. Return to the oven and broil for 1-2 minutes, until the top bread is toasted.

Serve warm with additional sauce for dipping.
---
---
This is one of the recipes from the early days of Curious Cuisiniere. We've updated our pictures since we first shared it, but we've left some originals here, in case you've found us in the past and are looking for that old, familiar image.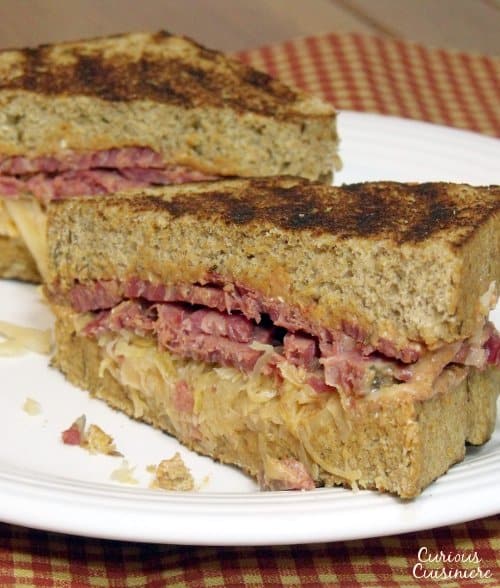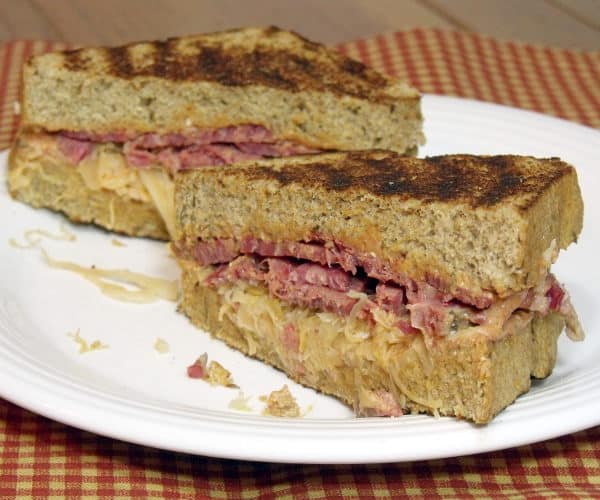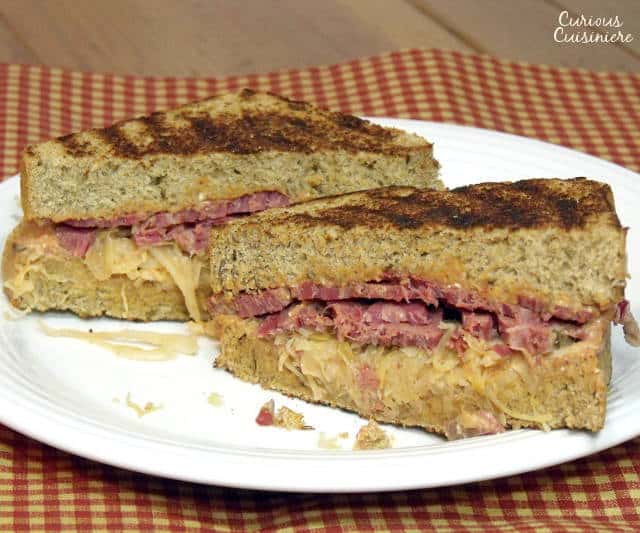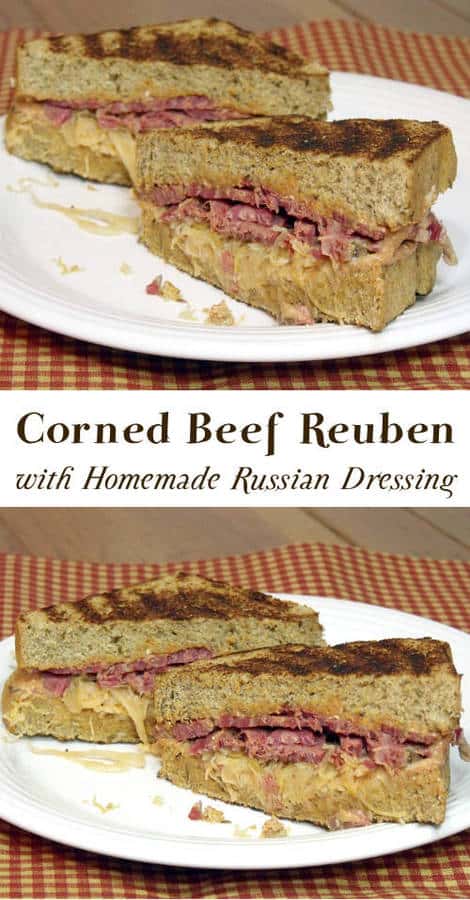 If you liked this recipe, here are some similar dishes you may enjoy!