Making pizza is incredibly simple when you make the pizza crust in your bread machine! This Bread Machine Whole Wheat Pizza Dough recipe is so easy, you'll want homemade pizza every night! 
For the Love of the Bread Machine
As much as I love getting my hands into a big hunk of bread dough and finding that zen kneading place until I've worked the flour into a smooth and elastic mass, it takes time. Particularly when you're working with 100% whole wheat.
Sometimes, I just won't make bread because I don't think I have the time.
And then, there are the days that I remember a wonderful wedding gift we received: our bread machine.
Using Your Bread Machine Dough Cycle
The dough cycle on our bread machine is probably one of the best tools we have, that we never think to use.
The machine does all the kneading work for us, AND keeps the dough proofing at just the right temperature. (Which is great, because there hasn't been anywhere in this house that has been over 75 degrees since winter. And, sometimes you can't be checking the oven temperature to be sure it's sticking at a low 80-85.)
If you don't have a bread machine, don't fret. You can still make this pizza crust in your stand mixer, or give those arms a good workout, too. We've included instructions for both methods below.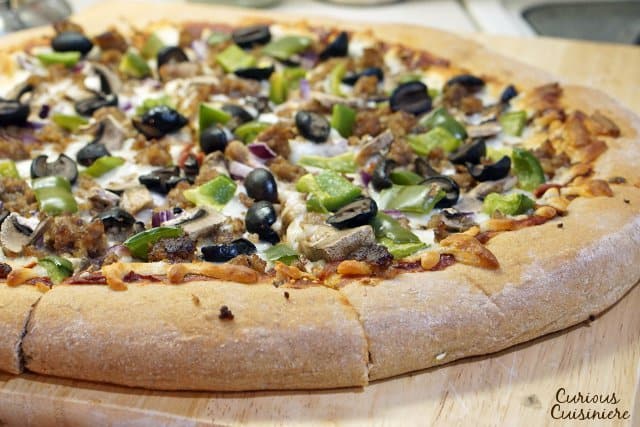 Our Bread Machine Whole Wheat Pizza Dough Recipe
One good thing about a whole wheat crust is the fiber.
We tend to find ourselves eating fewer slices when the crust is whole wheat. The fiber that the wheat brings to the crust fills you up faster. And, since each slice is heartier, a side salad becomes a really nice and light addition to a slice (or two).
What Is Vital Wheat Gluten?
When making anything 100% whole wheat, we add in some vital wheat gluten protein.
Since the whole wheat grains are so coarse and heavy, adding 1 Tbsp of gluten per cup of flour gives the dough the extra protein it needs to create the elasticity that will result in the super chewy crust that we all love.
Bread Machine Whole Wheat Pizza Dough
This Bread Machine Whole Wheat Pizza Dough recipe is so simple, you'll want homemade pizza every night!
Yield: 1 (14 inch) pizza
Ingredients
For the Whole Wheat Pizza Dough
For the Pizza
Olive oil

1 1/2

c

mozzarella cheese

Toppings:

mushrooms, tomatoes, peppers, onions, and black olives, etc
Instructions
Whole Wheat Pizza Dough In A Bread Machine
Add crust ingredients (in the order listed) to the bread pan of your bread machine. Process according the manufacturer's instructions for the dough setting. (Don't be afraid to open the lid to check on it. The dough should come together to a nice, soft and slightly tacky ball after a little knead time. If the dough looks too moist, add more flour a teaspoon at a time. If it looks too dry, add warm water a bit at a time.)

When the dough is done, remove it from the bread machine.
Whole Wheat Pizza Dough In A Stand Mixer
Mix all ingredients well with a dough hook for 5-7 minutes, until a nice elastic ball forms. Cover and place in a warm place to rise until doubled (1 hour). Knock back the dough and let rise, covered, a second time, until you are ready to make your pizza.
Making the Pizza
Preheat oven to 375F. Generously dust your pizza stone with cornmeal (or grease your pizza pan.


Roll out into a 14 inch circle. Place dough on your baking stone, prick the dough with a fork so that it doesn't bubble and brush lightly with olive oil. Cover and let rise 20 min.

Place in the oven and par-bake for 4- 5 minutes.

Remove from oven. Add sauce and toppings.

Bake for 10-15 minutes, until cheese is melted and crust is golden.
Notes
Make Pizza Dough Ahead: The dough may be wrapped in plastic wrap and refrigerated for up to 10 days after making. Or, it can be frozen for up to 3 months. Let the dough come to room temperature before rolling out to make your pizza. (For refrigerated dough this takes about 30 minutes on the counter. Frozen dough should be placed in the refrigerator for 12 hours, before setting on the counter for 30 min.)
Nutrition
Calories:
332
kcal
|
Carbohydrates:
63.5
g
|
Protein:
8.9
g
|
Fat:
4.4
g
|
Saturated Fat:
0.6
g
|
Sodium:
442
mg
|
Fiber:
2.6
g
|
Sugar:
3.2
g
---
DISCLOSURE: This post contains Amazon affiliate links. These links are provided to help you find some of the more specialty products we mention in the recipe. If you make any purchase after clicking through one of our links, we receive a small commission from Amazon, at no extra cost to you. Thank you for supporting Curious Cuisiniere!
---
This is one of the recipes from the early days of Curious Cuisiniere. We've updated our pictures since we first made it, but we've left an original here, in case you've found us in the past and are looking for that old, familiar image.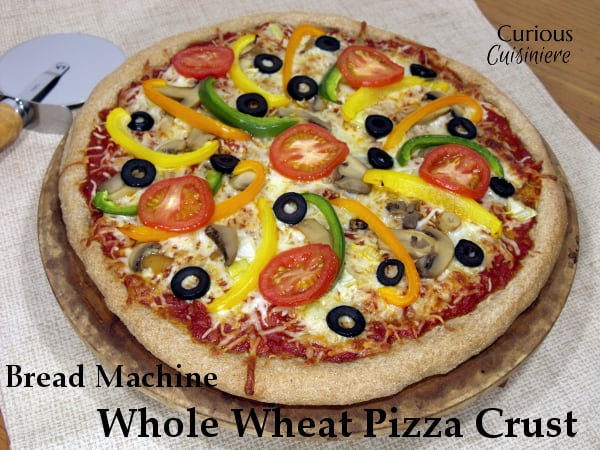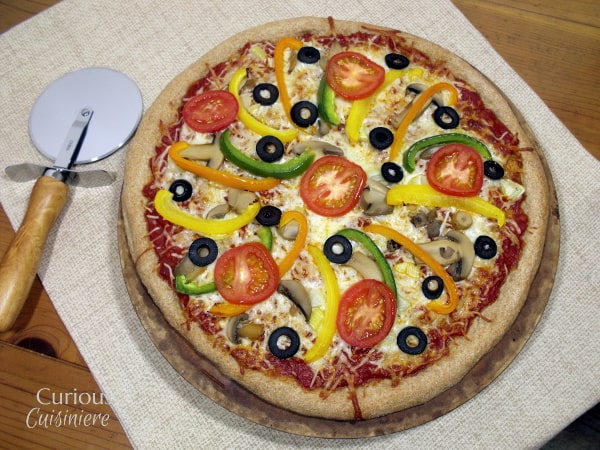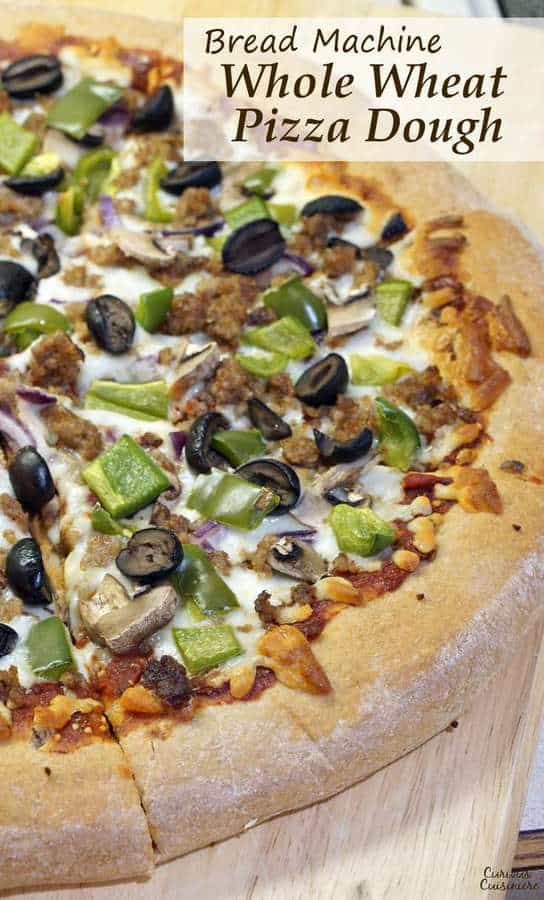 ---
Save
If you liked this recipe, here are some similar dishes you may enjoy!