Don't reach for that jar! Our Easy Pizza Sauce Recipe is the only recipe you need to make super-tasty homemade pizza sauce!
As Italian as… Tomato Sauce?
Here in America, we tend to think of tomato sauce when it comes to Italian food.
Actually, the tomato came to Italian cuisine relatively late, all things considered. See, it was the Spanish who really introduced the tomato into Italian cooking. And, when tomato sauces first began appearing in Italian cuisine in the late 1600s, they were referred to as sauces that were made "in the Spanish style".
And Then, There's Pizza
Pizza, as we think of it today, didn't come into being until the early 1800s.
It was thought up in Naples, Italy when some clever fellow decided to spread (that Spanish influenced) tomato sauce on focaccia bread. (Which was, and still is, commonly eaten with added toppings.)
Peasants loved the easy food and nobility loved that it was something different.
It became an instant hit!
Authentic Italian Tomato Sauce
To be truly authentic, you would be starting your homemade pizza sauce off with fresh or canned tomatoes. These would get pureed and then cooked down with some oil and a pinch of salt.
Super tasty. Super fresh.
But also, not super quick.
Our Easy Pizza Sauce Recipe
We make our pizza sauce with tomato paste. We love the deep and robust tomato flavor that paste gives to a sauce.
And, all you have to do is thin it out to a spreadable consistency and add a few seasonings, and you have yourself one stellar pizza sauce.
Make This Homemade Pizza Sauce Your Own!
Another thing we love about this homemade pizza sauce recipe is that it works as a great base for any pizza you want to use a tomato sauce with.
Going for a Margherita pizza? Take out the oregano and add extra basil to really accentuate the flavors in your pizza.
Want something spicy? Add some red pepper flakes, cayenne, or hot sauce.
Like a sweeter sauce? Double the sugar.
It's all up to you and how creative you want to get with your pizza night!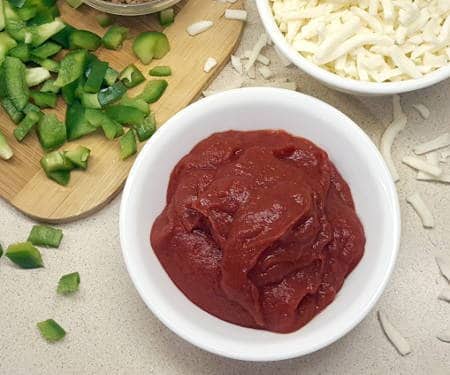 Easy Pizza Sauce
This recipe makes enough sauce for one 12-14" pizza.
---
Ingredients
1

can

tomato paste

6oz

1/3

c

water

½

tsp

oregano

dry

½

tsp

basil

dry

¼

tsp

garlic

¼

tsp

salt

¼

tsp

sugar
Instructions
Mix all of the sauce ingredients together in a small bowl.

Spread over pizza crust after par-baking.
---
Recipe Notes
This sauce can be made ahead of time and refrigerated for up to a week before using.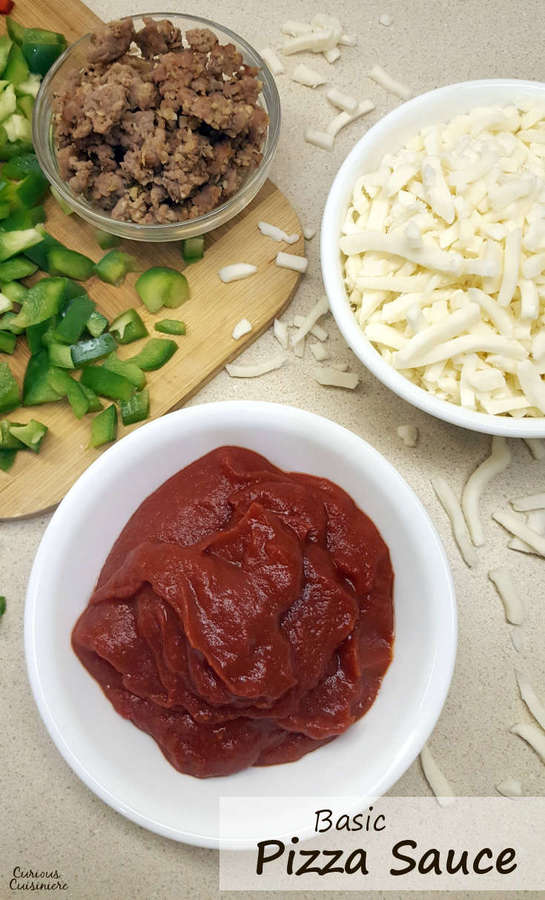 If you liked this recipe, here are some similar dishes you may enjoy!