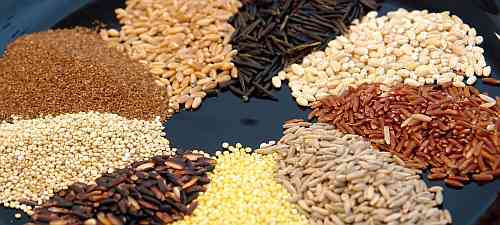 Last week we talked about wheat flours to start getting us prepared for holiday baking. Wheat is one in a long list of whole grains, and using whole wheat flour starts you off on a great food to increasing your whole grain intake.
But, there are many other whole grains besides wheat, and many people are looking to other whole grains in everyday cooking and to use as alternate flours in baking.
So, today we're going to dive into the wonderful world of whole grains and take a look at some of the common and not so common grains.
Amaranth
Not a true grain, these tiny seed-like kernels have a nutritional profile similar to a 'true' cereal grain. It can be eaten as a cereal, popped like popcorn or ground into a flour. It has a slightly peppery taste and has a high and very complete protein content.
Barley
A wild grass with a history as long (if not longer) than wheat. Cracked versions can be eaten as oatmeal or ground into a flour. Most baking use today comes in the form of malt. Pearled barley has some of the original bran missing from the tough outer hull, but it is still full of fiber and cooks much more quickly than whole or hulled barley. (Barley is naturally gluten forming.)
Buckwheat
Not a grain, but a plant related to rhubarb, however buckwheat has nutrients, a nutty flavor and appearance similar to members of the grain family. Is is traditionally used to make Japanese soba noodles, crepes in Brittany, and Russian kasha. Buckwheat is high in antioxidants.
Corn
Cornmeal – Look for whole corn meal and avoid labels that say 'degerminated'.
Cornstarch – primarily a thickening agent.
Massa harina – hominy (corn that has been soaked to crack the shell and then dried) used to make tortillas and tamales. Nutritionally it is superior to cornmeal because of the soaking process. Whole grain corn (including popcorn) has the highest level of antioxidants of any grain.)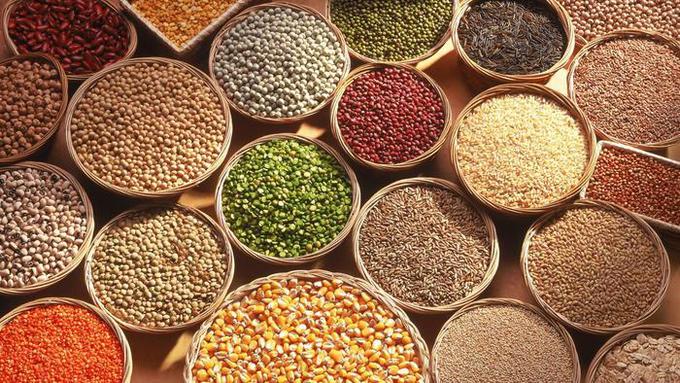 Millet
Nutritionally similar to wheat, but with high levels of protein and antioxidants, these small grains can be used like rice or to add texture and crunch to your baked goods.
Oats
Unlike other grains, oats almost never have their bran and germ removed during processing. For more information on the types of oats you may find, take a look at this post. (While oats are naturally gluten free, many oats are processed in plants that also process wheat.)
Quinoa ("Keen-wah")
Although not technically a grain (it's actually related to Swiss chard and beets), this staple of the Incas packs a complete protein. It has a fluffy texture and nutty flavor and can be used like rice in soups, pilafs, salads or even baked goods.
Rice
While white rice has been refined to have both the germ and bran removed, whole-grain rice is typically brown, but can also be black, red or even purple. Brown rice is lower in fiber than many whole grains, but it is one of the most easily-digested grains.
Rye
Typically associated with Northern Europe and Scandinavian regions, because rye grows best in those climates. It is common to find rye in whole berry form, flakes (similar to oats), and flour. If used on its own, rye flour will create an incredibly dense loaf of bread, so it is typically combines with other flours. Rye tends to have a lower glycemic index than most grains, making it especially healthy for diabetics. (Rye is naturally gluten forming.)
Wild Rice
Not rice at all, but the seed of an aquatic grass cultivated by the Native Americans. It has a strong flavor (and can be pricy), so it is typically found in rice blends. It has twice the protein and fiber of brown rice.
This list is not comprehensive, simply some of the more common whole grains. Is there another grain you are curious about? Leave a comment!
If you liked this recipe, here are some similar dishes you may enjoy!