The cool weather of fall brings apple season! Apples are used in many different ways around the world. If you're looking for a unique recipe to make with apples, why not try a cultural recipe?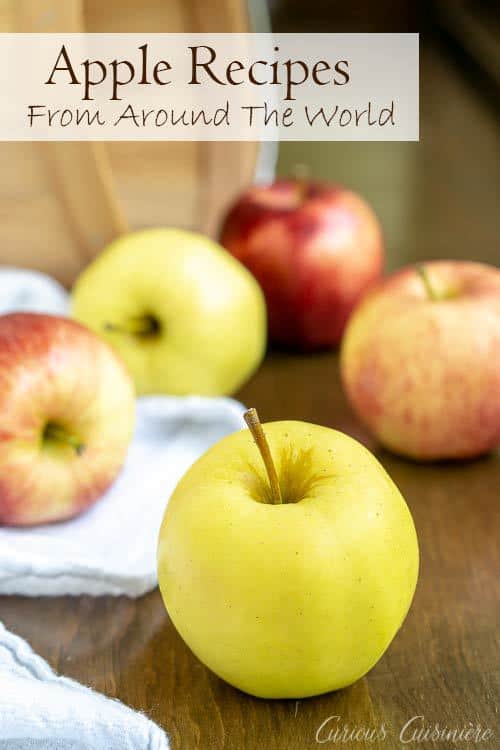 For people around the world, apples are a core part of fall (excuse the pun). They're grown in many countries around the world and are enjoyed as snacks and in lots of recipes, both sweet and savory.
Read on to learn more about the favorite fruit and how it is used in cultural cooking!
A Little History Of Apples
Apples are the oldest cultivated fruit. They are believed to have originated in an area that is now in Turkey.
They were introduced to North America by colonists in the 16th century, with the first being grown in the Boston area.
Over time, new varieties have been bred in North America, and elsewhere, and there are now over 7,500 known cultivars/varieties.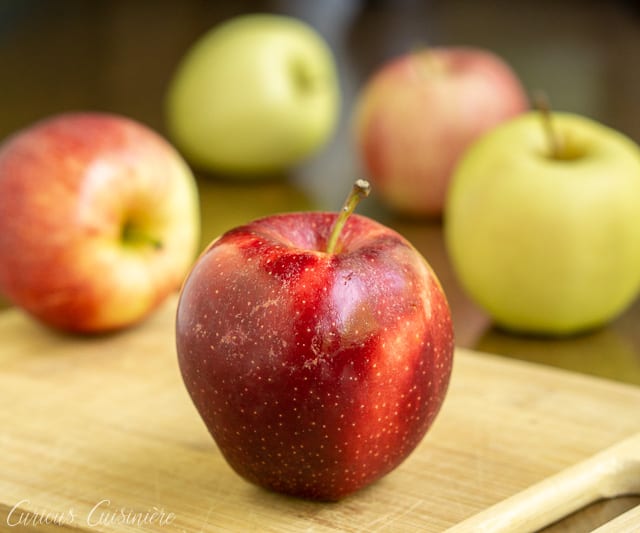 Growing And Breeding Apples
Apples are part of the rose family which includes pears and quinces.
While they grow best where there is a colder winter and temperate summer, apples can actually be grown in hot and tropical climates as well. The range of varieties that will grow is just a bit limited.
Seeds were originally taken from one place to another to spread the growing of apples, but these days that's less common. The reason is that the plant that grows from the seed (if one grows) isn't necessarily the same variety as the parent plant.
Instead, nowadays, plants are typically grafted to create new apple trees of a consistent variety. Trees normally take 3 to 4 years to be able to bear edible fruit, so being sure of your variety is a good thing!
New varieties are either created by accident from growing from seed or by crossing cultivated varieties.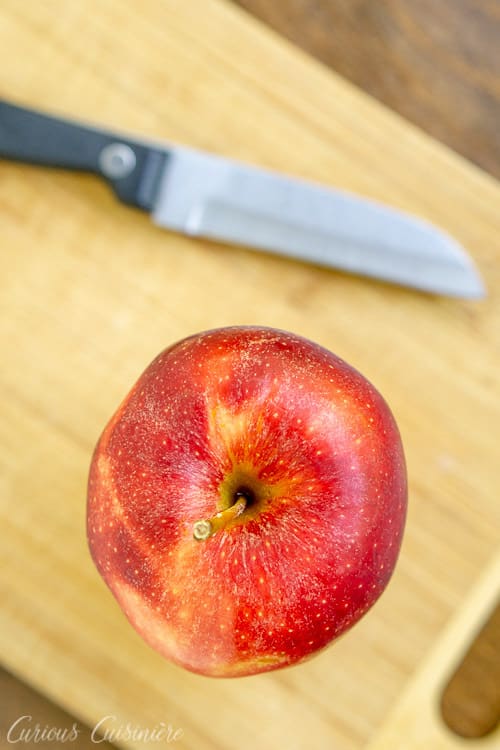 Apples In Religion And Mythology
Apples hold a great deal of significance in a range of beliefs.
They hold importance in old Norse mythology, as well as Greek mythology, where its symbolism includes youthfulness, love and being as a 'forbidden fruit'.
This extended into Christianity with the story of Adam and Eve, although the apple was added by artists in representation of the story as opposed to being in the original. Because of this, apples grew to represent temptation, knowledge and sin.
In Judaism, apples are central to Rosh Hashanah and apples dipped in honey are believed to signify a sweet new year to come.
Apples In Global Cooking
With such a long history, and one steeped in different beliefs, not to mention how adaptable apples are, it's no surprise apples appear in recipes around the world.
They can be made into drinks, pureed for sauce, dried, made into vinegar, as well as cooked into many dishes.
Apple Drinks Around The World
In the United States, when you think of apple drinks you most likely think of apple cider, made from pressed apples, but 'cider' in most other parts of the world is an alcoholic drink made from fermented apple juice. It is particularly common in Southwest England and Northern France, where it is known as 'cidre'.
Apples are also distilled to make other alcoholic drinks including the French calvados and German apfelwein.
Cider can be mulled with spices to make a warm drink, and a variation, wassail is a traditional British drink combining apples with orange, cinnamon and nutmeg.
International Apples Pancakes
Pancakes are a popular breakfast or dessert in many parts of the world, and apples are a common addition.
Why not try some Polish apple pancakes or German apple pancakes and compare the two!
Unique Apple Cake
Apples are also a common addition to cakes, whether in pureed form or as slices/chunks.
One of the best known is apfelkucken, German apple cake, but many others exist elsewhere such as in France and Denmark.
A Danish apple cake, aeblekage, is made with slices of apple, nuts and spices.
Variatio
ns Of Apple Pie
When you think of apple pie, you probably think of the all-American apple pie, one of the most common desserts for Thanksgiving.
But, there are many more variations!
The American version draws on the British version of apple pie, using pastry under and over an apple filling that also often includes dried fruit.
A Polish apple pie, szarlotka, has a dense, cake-like base and thick crumble topping.
A Dutch apple pie consists of a pastry bottom crust and a streusel topping.
Meanwhile a French apple tarte tatin, named after the place that first made it, is made upside down. The apples caramelize in a pan which is then topped with pastry, and finally inverted to serve. (This beetroot tarte tatin follows the same principle to make a savory version.)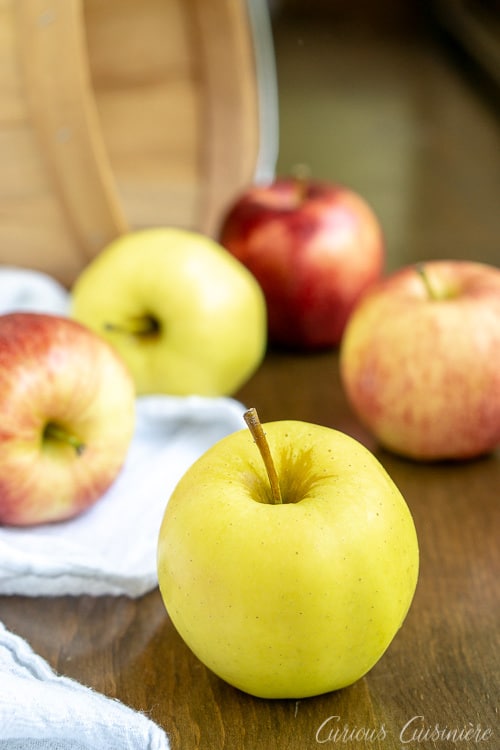 Other Apple Desserts Around The World
Apples are used in so many other desserts around the world as well.
Here are a few to hunt down and try:
A classic apple crumble or crisp, from the UK/US, where a layer of apples, often spiced and sweetened, is covered with a layer of sweetened crumbs, sometimes with oats.
German/Austrian apple strudel made with delicately thin pastry around gently spiced apples and raisins.
Caramel or toffee apples, where apples are dipped in caramel/toffee that then hardens to form a sweet crunchy coating. 
Tufahije, a Bosnian dessert, where walnut stuffed apples are stewed in water and sugar.
Medimurska gibanica from Croatia is a type of layer cake with puff pastry and layers of cheese, nuts, apples and poppy seeds.
Savory Apples Recipes Around The World
Apples also work well in a number of savory dishes.
They go particularly well with pork. Which is a common combo in British cooking. While this is not a completely traditional recipe, these cider braised pork chops are based on common British ways to cook both together.
In Germany, braised red cabbage with apples is a popular German way of cooking cabbage, as is sauerkraut with apples.
Both go well with sausages, roast pork and other roast meats.
In northern France, chicken Normandy it is common dish where chicken is served with a sauce made from apple cider and brandy.
What are some of your favorite ways to use apples? Let us know in the comments below! 
If you liked this recipe, here are some similar dishes you may enjoy!