Tender and creamy Poulet à la Normande (Chicken Normandy) brings apples, mushrooms, brandy, and cream together into one seriously comforting and easy-to-make French dish.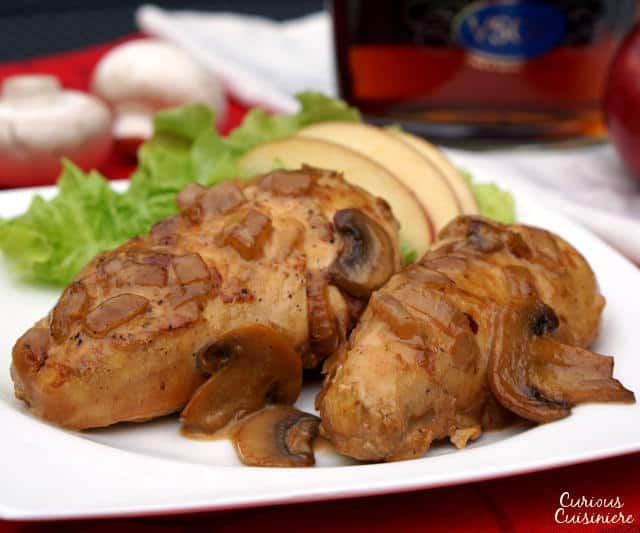 Today, July 2, kicks off, arguably, the most well-known bicycle race in the world: Le Tour De France.
Le Tour De France
For those not familiar, Le Tour De France is a multi-stage race held mostly in France.  This year the roughly 3,500 km (2,200 mile) route also takes a pass into the Catlan region of Spain and into Western Switzerland. The 21 stages of the race will be ridden over 22 days, ending in Paris on July 24th.
Take a look at this year's route: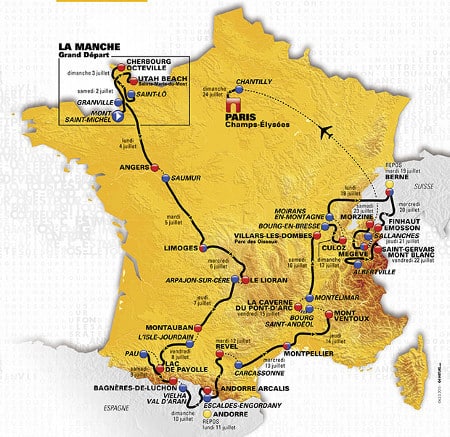 Our Culinary Tour de France
While we can't make it to France to cheer the racers on in person, we're cheering them on in spirit by joining together with a group of food bloggers to explore the cuisines of the regions they will be biking through.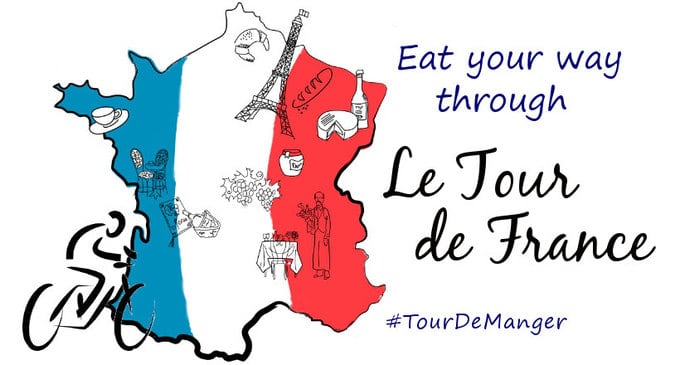 Each talented blogger has made a dish that is representative of one of the regions on the race route. Take a look!
North Western France/Normandy (Mont St Michel) – Chicken Normandy from Curious Cuisiniere
Loire Valley (Angers/Saumur) – Rillettes de Tours from The Petit Gourmet
South Western France/Midi-Pyrénées – Walnut Cake from Sew You Think You Can Cook
Catalonia, Spain (Andorra) – Escalivada from Culinary Adventures with Camilla
AND Coca de Espinacas a la Catalana from Manu's Menu
South France/Languedoc-Roussillon (Montpellier) – Tapenade from Caroline's Cooking
Western Switzerland (Bern) – Meitschibei (Swiss Hazelnut Horseshoe Pastries) from Tara's Multicultural Table
Paris – Three easy dishes for a taste of Summer in Paris from Confessions of a Culinary Diva
Be sure to visit each one to learn more about the regions on the route and to enjoy a taste of the cuisine! Show us how you plan to eat your way though Le Tour de France all month long with the hashtag #TourDeManger !
Normandy, France
We're excited to share a dish from the starting point of the race: Normandy, in the North West of France.
Normandy is a beautiful, coastal region that is well known for the World War II D-Day landings. We have had the opportunity to drive through Normandy and visit the D-Day beaches (Omaha beach is shown below) as well as the famous monestary island Mont Saint-Michel (shown above).
The food of Normandy
Seafood
As a coastal region on the Atlantic, Normany is, of course, know for its seafood. Oysters and scallops are easily found, and quite delicious! Moules Marinière (mussels with white wine and shallots) is a common dish to find at beach resorts.
Dairy
In addition to being known for seafood, Normandy is famous for its dairy products. Normandy cows can product up to 7 gallons of milk a day. And, it's known to be the creamiest milk around! It's no surprise that butter, milk, cream, and cheese all play a major role in the cuisine of this region.
If you've ever heard of Camembert, then you know the most famous cheese from Normandy!
Apples
Normandy is also very well known for its apples. These apples make their way into desserts, like the famous Tarte Normande (apple tart). But, the apple influence doesn't stop there, as the fruit makes its way into many savory, meat dishes as well. (Read on for more about that!)
Not just fresh and cooked fruit, apples are also made into the most well known drinks from Normandy:  cidre (hard cider) and apple brandy, Calvados.
Escalope de poulet à la Normande: Chicken Normandy
What we loved about Chicken Normandy is that it brings together so many elements of classic Norman cuisine. The chicken is simmered with mushrooms and onions in an apple and brandy sauce until cooked tender. Then, cream is added to give it that rich, Normandy-style flavor and feel.
If you're unsure about the combination of apples and cream in a savory dish, let us put your mind at ease. The apples give the dish a light sweetness, while the caramelized onions and brandy give the sauce a nice depth of flavor. The cream brings everything together into one, beautifully balanced dish that is the perfect main to serve over pasta.
For our version of the dish, we used all natural apple cider with a splash of traditional brandy. If you have apple brandy or Calvados stocking your home bar, feel free to use it in place of the brandy called for in this recipe. It will give a more authentic flavor and the apple notes in the dish will pop even more.
This dish is so good, there's no use waiting until apple season to give it a try. But, it would be the perfect comfort food for a cool fall evening.
---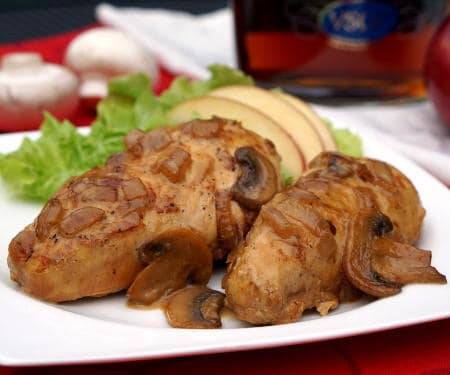 Escalope de poulet à la Normande (Chicken Normandy)
A wonderfully classic French chicken dish from the Normandy region.
---
Ingredients
4

chicken breast

(roughly 2.5 lbs)

2

Tbsp

salted butter

1

onion,

diced

8

oz

button mushrooms,

sliced

1

garlic clove,

minced

½

c

chicken stock

(we prefer reduced sodium)

1

c

all-natural apple cider

¼

c

brandy

or apple brandy

¼

tsp

ground black pepper

¼

c

heavy cream

¼

tsp

salt
Instructions
In a large sauté pan with high sides, brown the chicken breasts over medium high heat until lightly golden on all sides. Remove the chicken from the pan and set aside on a plate.

Add the butter to the pan and reduce the heat to medium. Add the onions and sauté for 4-5 minutes, until golden.

Add the mushrooms and garlic. Sauté for 2-3 minutes, until the mushrooms are golden.

Remove the pan from the heat and add the flour. Mix well until the flour is moistened. Return the pan back to the heat.

Add the stock to de-glaze the skillet, scraping up any stuck bits.

Add the cider, brandy, and pepper.

Return the chicken to the pan, nestling them among the onions and mushrooms. Simmer, uncovered for 20 minutes, over medium low heat, until the chicken is cooked.

After 20 minutes, mix in the cream and the salt. Taste the sauce and adjust the salt and pepper to taste. Simmer, uncovered, for 10-20 minutes over medium low heat until the sauce has thickened to your liking.
---
Recipe Notes
This recipe was updated in 2018. We made the sauce a bit thicker. Enjoy!
---

Save
Save
Save
Save
Save
Save
Save
Save
If you liked this recipe, here are some similar dishes you may enjoy!