Bring the flavors of fall to your table with these slow-baked apple cider pork chops and flavorful red cabbage.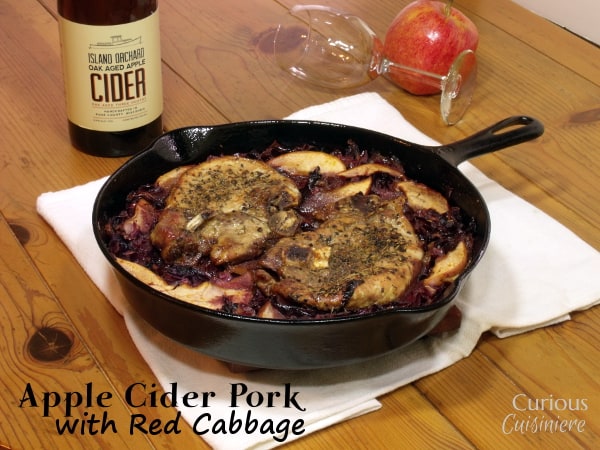 Come apple season, all we think about is apples (and maybe the occasional pumpkin), so it's no surprise that when thinking about fall fruits for this month's Wine Pairing Weekend, our first thoughts went to cider.
American Cider vs French Cidre
Now, we're not talking about the "cider" most widely known in the US and Canada. That's just pressed apple juice that is sometimes mulled with spices.
There's nothing wrong with fresh cider. Actually, we couldn't get through the fall without it.
But it's not true cider.
When I traveled to France for the first time, one of the things I fell in love with was cidre. It was bubbly, like champagne, and had just enough apple sweetness to curb the bite of a dry white wine.
I haven't been able to find anything quite as good as Normandy Cidre since.
On a recent trip to Door County, WI, we heard about a winery that made cider in the Normandy fashion.
Of course, we had to stop.
Island Orchard Cider uses apples grown on Washington Island, an area with a similar climate to Northern France. We tend to love anything aged in oak, so we weren't surprised when their Oak Aged Apple Cider was our clear favorite. The oak adds just a hint of charchoal-y depth to round out the slight sweetness of the apples, like putting a dash of molasses in your mulled cider. This is a dry cider, closer to a brut champagne, but it paired extremely well with the sweetness of the pressed apple cider we used with our pork.
Our slow cooked apple cider pork recipe
There is something almost too perfect about apples and pork. And, when you slow cook them together, the end result is bound to be astounding.
Red cabbage adds such a beautiful color to this dish. Even if you have cabbage haters in the family, test this dish out on them. We have found that slow-cooking cabbage takes away much of the bitterness that turns so many people off to cabbage. And, slow-cooking in apple cider makes things even sweeter!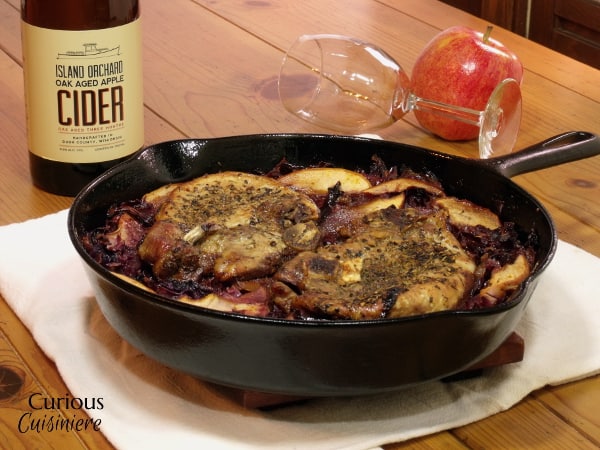 Apple Cider Pork with Red Cabbage
Bring the flavors of fall to your table with these slow-baked apple cider pork chops and flavorful red cabbage.
---
Ingredients
1

lb

bone-in pork chops

1

tsp

thyme

¼

tsp

salt

¼

tsp

ground black pepper

1

Tbsp

salted butter

1

onion,

sliced

1

lb

red cabbage,

shredded

1

sweet baking apple

(like Gala), sliced

2

c

pure apple cider

2

Tbsp

apple cider vinegar

2

tsp

prepared mustard
Instructions
Preheat your oven to 350F.

Heat a cast iron skillet or Dutch oven over medium high heat.

Sprinkle both sides of the pork chops with thyme, salt and pepper. Press the seasonings into the chops.

Place the pork chops in the hot pan and sear until golden, 2-3 min each side. Remove the pork from the pan and set aside.

Heat 1 Tbsp of butter in the pan and add onion. Saute over medium heat until they begin to caramelize, 5-8 min. Add cabbage and apple slices, sautéing 2-3 minutes after each addition.

Remove the pan from the heat and nestle the pork chops into the cabbage mixture.

In a small bowl, mix together cider, vinegar and mustard. Pour over the ingredients in the pan.

Place in the oven and cook for 1 hour, uncovered, basting halfway through with the juices in the pan.
---
---
Wine pairings for fall fruits!
Savories
Sweets
Surprise!
David of Cooking Chat started this event in June of 2014, and every month since then this group of wine and food lovers have had a great time! For more background, check out the original post announcing Wine Pairing Weekend. You can see the full list of past and upcoming #winePW events here.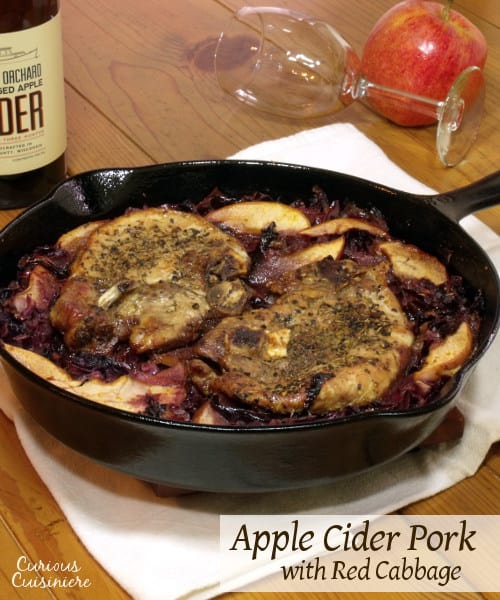 If you liked this recipe, here are some similar dishes you may enjoy!