Our Cajun Pizza is bursting with New Orleans flavors of andouille sausage, bell peppers, and a Creole-spiced sauce.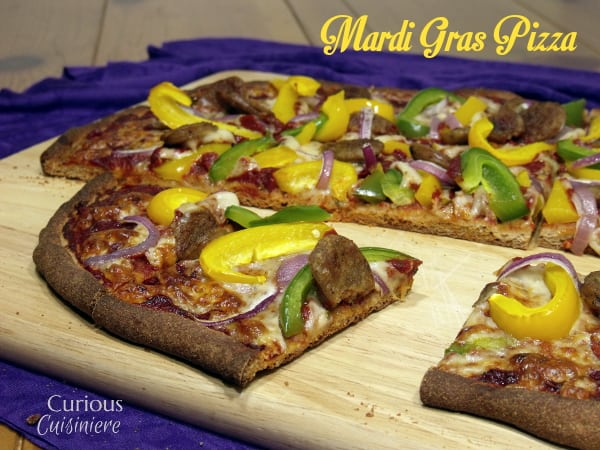 This pizza may not be decked in beads, but it's showing off its Mardi Gras colors in a much tastier fashion.
Mardi Gras Pizza!
We're keeping les bonnes temps rolling today with yet another New Orleans-inspired Mardi Gras recipe.
(Ok, the botching of that classic phrase did make me cringe a bit, but it was just too good to pass up.)
We had fun creating a Cajun pizza for Mardi Gras by using Cajun Andouille sausage and a Cajun-spiced tomato sauce. (Take a look at our Cajun/Creole Seasoning Mix post if you're curious what makes the sauce Creole.)
Yellow and green bell peppers and colorful red onions bring the classic green, gold, and purple Mardi Gras colors to life in this easy and festive dinner recipe!
Our Cajun Pizza Recipe
We used a whole wheat pizza crust for our Cajun pizza, which gave a nice nutty flavor to the pizza and complemented the moderately-spicy tomato sauce quite well.
You can buy a par-baked pizza crust, or make your own by hand or using the dough setting of our bread machine.
How to Find Good Andouille Sausage
One final comment about the sausage.
Finding a good quality Andouille sausage can be tricky. Because they're made up of ground meat, it is easy for manufacturers to cut corners when making sausage. Cutting corners means sub-par in ingredients and sub-par taste.
Not a win in our books.
When picking out sausage, Andouille for this Mardi Gras pizza or any other for that matter, PLEASE turn the package over and look at the ingredients.
Andouille sausage is a pork sausage with garlic, pepper, onions, and water or wine.
If you're eating something other than that, make sure you at least know what you're eating.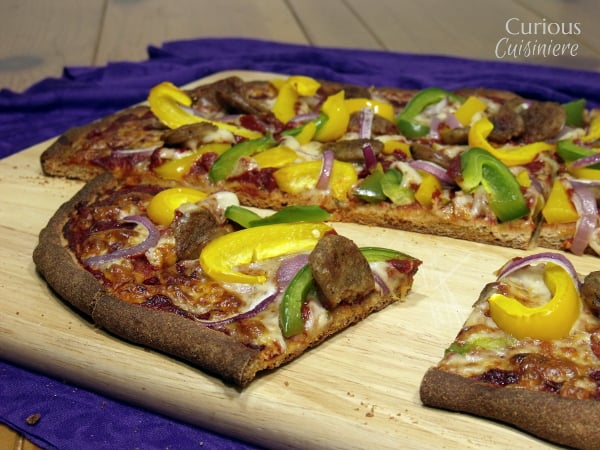 Hopefully you're all set with quick and easy recipes to fuel your Mardi Gras fun.
But, if you're still looking for a sweet treat, why not celebrate Shrove Tuesday the way the Polish do, with a big plate of filled doughnuts: Paczki!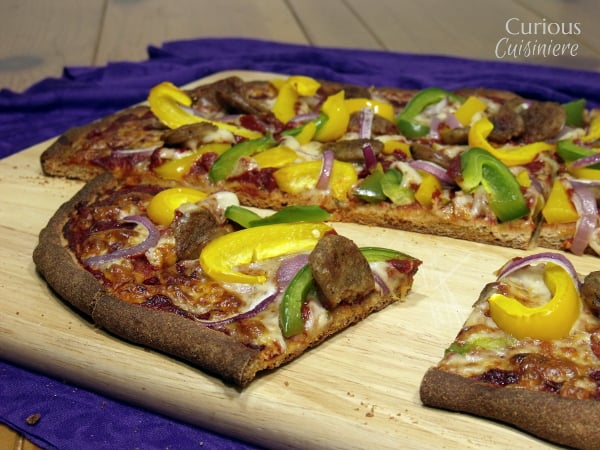 Cajun Pizza
Our Cajun Pizza is bursting with New Orleans flavors of andouille sausage, bell peppers, and a Creole-spiced sauce.
---
Ingredients
1/3

lb

andouille sausage,

uncooked*

1

(6 oz) can

tomato paste

1

Tbsp

Cajun Creole Seasoning Mix

1

(12 inch)

pizza crust

½

green pepper,

sliced

½

yellow pepper,

sliced

½

red onion,

sliced and halved

1

c

pepper jack cheese,

shredded
Instructions
Preheat oven to 400F.

Place the whole sausages in a skillet and cover with water. Bring to a boil. Reduce heat to medium-low, cover skillet and simmer until sausages are firm (10 min).

While the sausages are simmering, mix together tomato paste and Creole seasoning. Set sauce aside.

When sausages are cooked, remove from the skillet and let cool slightly. Drain skillet. Once cooled, slice sausages roughly ¼" thick and return to the pan. Sauté over medium-high heat until the slices are golden (5 min).

Spread sauce over the pizza crust. Top with shredded cheese, peppers, onions, and sausage slices.

Bake pizza for 10-12 minutes, until cheese is golden.
---
Recipe Notes
*Be sure to check the ingredients on your sausage for real ingredients, rather than fillers and corn syrup. It will make all the difference in flavor!
If you liked this recipe, here are some similar dishes you may enjoy!