Looking for the perfect warming dish to celebrate Mardi Gras, or just add a little Louisiana comfort food to your weeknight? Our Shrimp and Ham Creole Jambalaya is a hearty and flavorful dish that is sure to warm you up.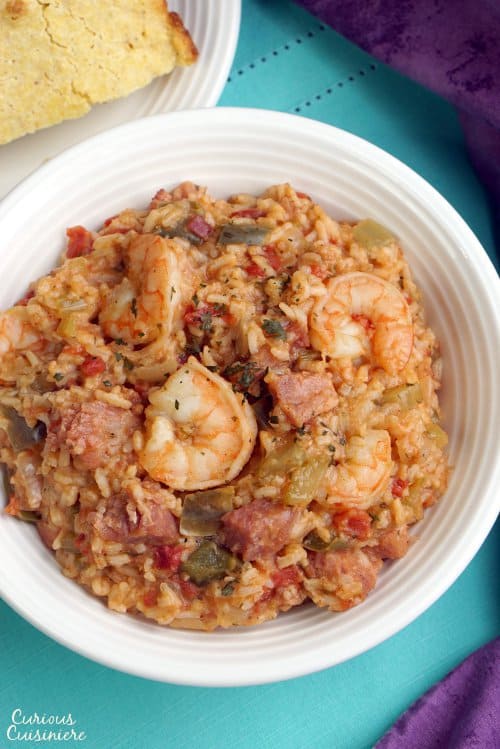 (DISCLOSURE: We received samples of  Wine Awesomeness wine mentioned below. As always, all opinions are our own.)
Creole vs Cajun
We're getting in the Mardi Gras spirit today with some good ol' Creole food.
When it comes to New Orleans cuisine, the line between Creole and Cajun sometimes gets blurred.
Cajun originated as more of the rustic, bayou food. Creole, on the other hand, came from a blending of immigrants who were more upper class.
That's a VERY brief nutshell, but we talk more about the difference between Cajun and Creole food and culture in our post where we also share an easy Cajun Creole Spice Mix. If you're curious, check it out!
Creole Jambalaya
When it comes to jambalaya, Cajun jambalaya and Creole jambalaya have some very distinct differences.
Cajun jambalaya is typically brown in color. It doesn't have tomatoes, and the color comes from the way the ingredients are added to the pot: the meat is sauteed first to introduce some nice browned bits into the pot, which will caramelize and color the rest of the dish.
While the Cajuns have adapted jambalaya, it was most likely the combination of Spanish and French cultures of the New Orleans Creole people that the dish originates from.
The Spanish couldn't make traditional paella in the New World due to the lack of saffron, so they improvised with tomatoes. With the increase of French and Caribbean influence, spices were added to the dish to create the jambalaya we know today.
The tomatoes in Creole jambalaya give it its characteristic red color, making it known as "red jambalaya."
Our Shrimp and Ham Creole Jambalaya Recipe
What we love about jambalaya is how easy it is to make. And, it's super easy to make a big batch too, which is perfect for feeding you throughout the week.
Traditional jambalaya (Cajun or Creole) will include some type of smoked sausage along with seafood (like crawfish or shrimp) or another meat (like chicken or pork).
We decided to use some leftover smoked ham instead of smoked sausage in our recipe. And, we loved the way the flavors of the ham paired with the juicy shrimp and tomatoes.
Doesn't it make you want to turn on some zydeco music and dive right in?
Pairing Wine with Creole Jambalaya
While you might think of pairing a nice boozy Hurricane cocktail with your creole jambalaya, we love pairing jambalaya with wine.
When pairing jambalaya with wine you need to take the spice level into consideration, a jambalaya that has more spice is going to need a sweeter wine to balance out the heat. Since we made our jambalaya more on the mild side, we needed a wine that would pair well with the robust savory flavors and the smoky ham.
We were recently introduced to Wine Awesomeness, a monthly wine club that sends you specially chosen bottles of wine around a fun new theme each month. February's theme was Film Noir, and we received 6 bottles that had been chosen to be the perfect pairing for a Film Noir movie night. Their pairing guide came complete with movie suggestions and specialty popcorn recipes to pair with the wines.
We'll pop another bottle for a movie night, but we chose one of their wines to pair with our creole jambalaya.
The VI Novell that we chose was a red blend from Montsant, Spain. (How fitting with the Spanish roots of jambalaya!) It was a beautifully fruity red with a robust body that paired perfectly with the ham and tomatoes in the jambalaya.
If you'd like to give Wine Awesomeness a try to see for yourself what fun wine inspiration they can bring to your table, we're excited to be able to offer our readers a free extra bottle of wine when you sign up before the end of February!
Why not explore some new wine!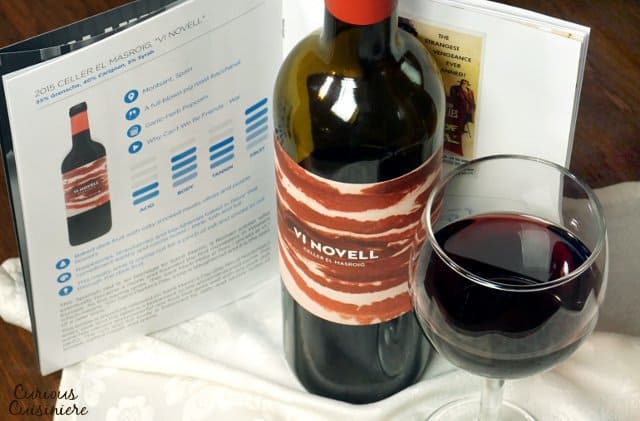 Shrimp and Ham Creole Jambalaya
Yield: 8 cups of Jambalaya
Ingredients
2

Tbsp

unsalted butter

2

onions,

coarsely chopped

2

stalks

celery,

diced

2

garlic cloves

or ½ tsp garlic powder

½

green pepper,

cored, seeded and diced

4

c

cooked ham

roughly 1 lb, diced

1

can (14.5 oz)

diced tomatoes,

un-drained

2

Tbsp

tomato paste

1

bay leaf

1

Tbsp

parsley

½

tsp

thyme

½ -1

tsp

cayenne powder

(depending on your heat preference)

1 ½

c

white rice,

dry

2 ½

c

chicken broth

(we prefer low sodium)

½

lb

raw shrimp,

shelled

½ -1

tsp

salt
Instructions
In a Dutch oven or large soup pot, heat the oil. Add the onions and sauté over medium high heat, 2-3 minutes.

Add the celery, garlic, and pepper, and sauté an additional 3-4 minutes, until the onions are lightly golden.

Add the ham and mix well.

Add the tomatoes, paste, and seasonings (except the salt). Mix well.

Add the rice and broth. Bring the mixture to a boil.

Reduce the heat to medium low. Cover the pot and simmer for 15-20 minutes, until the rice is tender. (Checking near the end of the cooking time to be sure the jambalaya doesn't need more broth.)

Add the shrimp and mix to combine. Cover and cook for 5 minutes more, over low heat, until the shrimp is pink and cooked through.

Taste the jambalaya and add salt and extra cayenne powder as desired.
Notes
This recipe was updated February 2017. We made the Jambalaya even tastier! Enjoy!
---
This is one of the recipes from the early days of Curious Cuisiniere. We've updated our pictures since we first made it, but we've left the original images here as a fun throwback and shout out to how far we've come. Enjoy!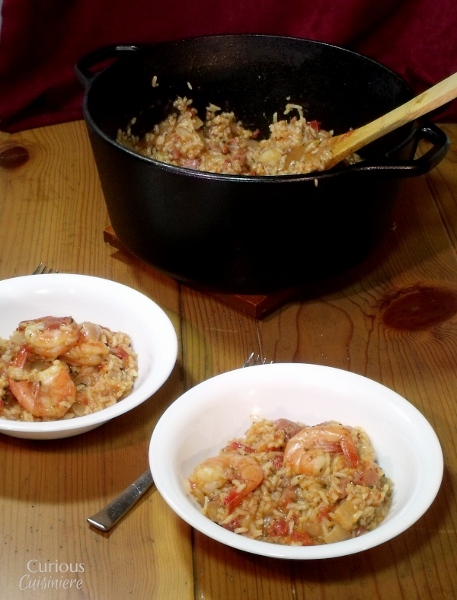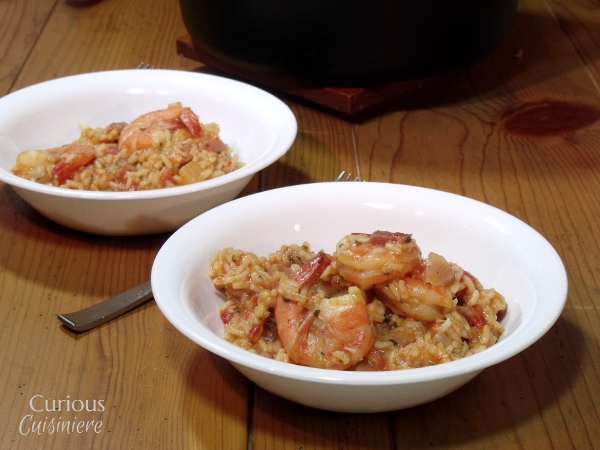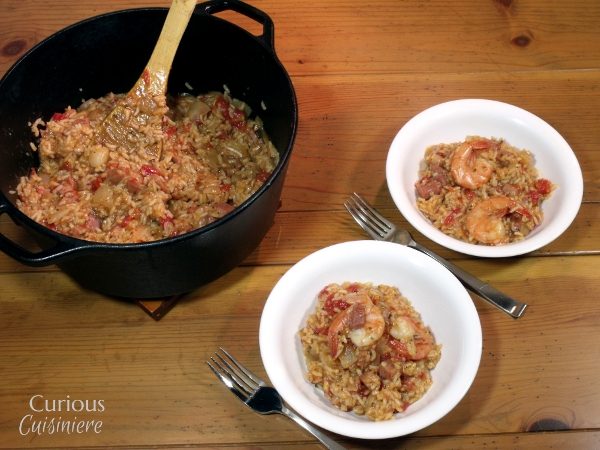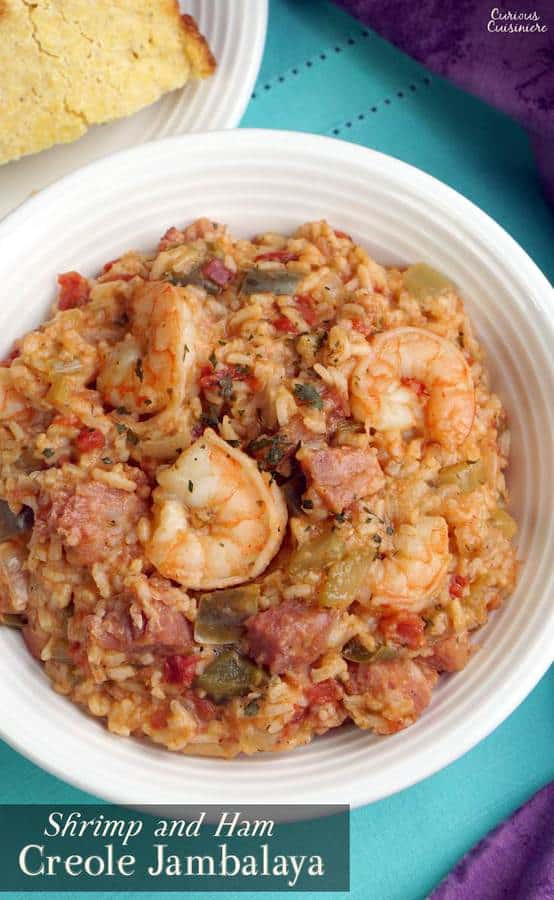 If you liked this recipe, here are some similar dishes you may enjoy!