This colorful, veggie-laden New Orleans pasta bake is a quick and easy way to bring Creole flavors to your table. 
Our New Orleans Pasta Bake
While it might not be a traditional Creole dish, the ingredients in this pasta bake are all singing Zydeco, making it the perfect dish for celebrating Mardi Gras or just bringing some fun flair to you dinner table.
We've loaded this pasta bake with tomatoes, green peppers, and Andouille sausage and topped it off with just enough cheese to smooth out any heat from the Cajun seasonings.
What is Andouille sausage?
We're glad you asked!
If you haven't tried Andouille sausage, you really should.
Andouille sausage is a spicy sausage, typically made from smoked pork butt. It is a staple ingredient in Cajun and Creole cooking, where you will find it in dishes like Gumbo and Jambalaya.
Like most element of Cajun and Creole cuisine, the sausage speaks to the fusion of cultures that settled in the southern Louisiana region.
Andouille sausage originated in France, but it was the German settlers who brought it to the New World. You can still find Andouille in France, but the sausage is made from different cuts of pork and it is typically less spicy than the Cajun/Creole version.
Making our New Orleans Pasta Bake
To get the New Orleans flavors into our pasta bake, we cooked the Andouille sausages whole first, to keep them moist and make slicing them easier.
Then, we sauteed our veggie base, the "holy trinity," in the grease that the sausages released as they cooked. This infused all parts of this dish with the flavor of Andouille.
If you love baked pasta, you'll want to give this New Orleans inspired version a try!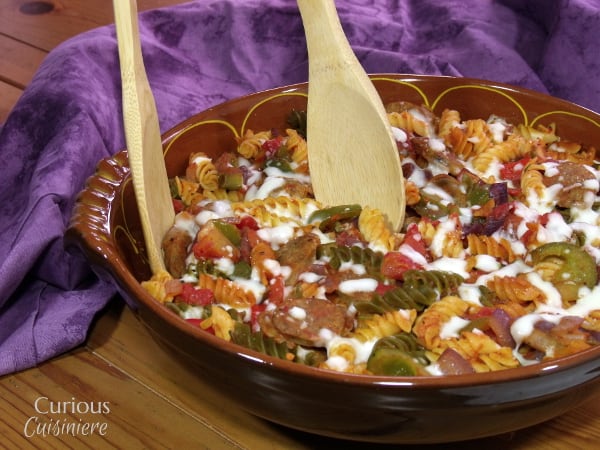 New Orleans Pasta Bake
This colorful, veggie-laden New Orleans pasta bake is a quick and easy way to bring Creole flavors to your table.
Ingredients
2

quarts

water

8

oz

whole wheat pasta,

dry

½

lb

Andouille sausage,

whole

½

red onion,

diced

1

celery stalk,

diced

½

green pepper,

diced

½

red pepper,

diced

1

Tbsp

unbleached all-purpose flour

2

c

diced tomatoes

(or a 14 oz can, undrained)

¾

c

milk

1 ½

Tbsp

tomato paste

1

Tbsp

Cajun seasoning

1/3

c

mozzarella cheese,

shredded
Instructions
Preheat oven to 350F.

Bring 2qts of water to a boil in a large saucepan. Add pasta and simmer, uncovered 6-7 minutes, until the pasta just begins to soften. Drain and set aside.

In a large skillet, cook sausage over medium heat, covered, until firm, 5-7 minutes. Remove from the pan and slice. Set aside.

Add onion and celery to the sausage grease that is left in the skillet. Sauté the vegetables until they begin to soften, 2-3 minutes. Add peppers and continue to saute 2-3 min.

Add flour and stir until moistened.

Add the sliced, cooked sausage and stir to mix.

Add diced tomatoes, milk, tomato paste, and Cajun spice blend. Simmer 4-6 minutes, stirring often, until the sauce has thickened slightly.

Toss the drained pasta with the veggie and sausage mixture, and place everything into a greased, oven-proof, 3 qt baking dish.

Cover with aluminum foil and bake for 10 minutes, until bubbly. Top with mozzarella cheese and return to the oven to bake, uncovered, for an additional 5-7 minutes, until the cheese is melted and golden.
Nutrition
Calories:
497
kcal
|
Carbohydrates:
56.4
g
|
Protein:
23.8
g
|
Fat:
19.9
g
|
Saturated Fat:
7
g
|
Cholesterol:
41
mg
|
Sodium:
826
mg
|
Fiber:
7.5
g
|
Sugar:
9.5
g
If you liked this recipe, here are some similar dishes you may enjoy!