This recipe for Cajun Gumbo with andouille sausage is hearty and comforting. Serve it over rice for a warm and satisfying taste of the Louisiana bayou.
What is gumbo?
Gumbo is a fusion dish that brings together cooking techniques and flavors of West African, French, Spanish, German, and Choctaw Native American cultures.
These were the people settling southern Louisiana in the 18th century, and this dish is a wonderful medley of their influences.
Gumbo is typically made up of a dark broth, flavored with meat or fish, vegetables, and a thickener. The thickener can be okra (an African vegetable), filé powder (a Choctaw contribution of ground sassafras leaves), or a roux (a classic French thickener).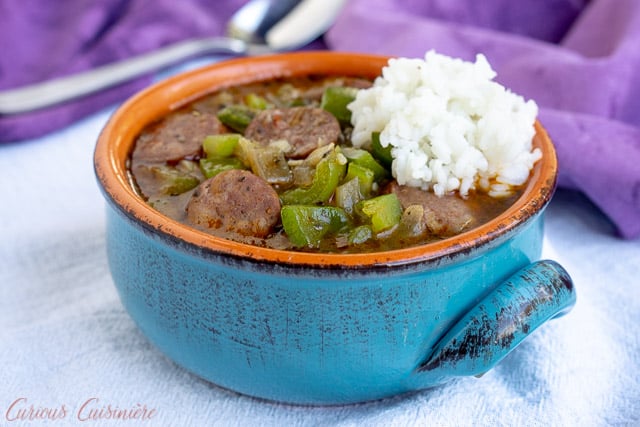 Originally, okra and filé powder were the most common thickeners. However, nowadays, you are more likely to find a roux used to thicken the gumbo. Okra and filé powder are more often used simply for flavoring and texture.
Is gumbo Creole or Cajun?
Technically that's a trick question because you will find both Cajun gumbo and Creole gumbo.
Creole gumbo traditionally contains tomatoes and shellfish. And, you are more likely to find recipes that still use filé powder as a thickener.
Cajun gumbo uses a dark roux for a thickener and often includes shellfish or poultry.
We're classifying this gumbo as 'Cajun' because it contains a dark roux and doesn't use tomatoes.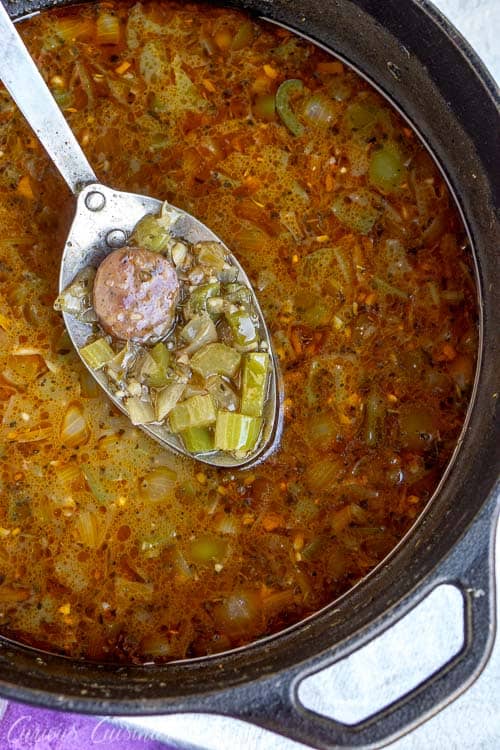 To read more about the subtle difference between Cajun and Creole food take a look at our article on Cajun Creole Seasoning Mix. (Even if you're not curious, head over there anyway, because you'll be using that seasoning mix to make your gumbo!)
What is the difference between gumbo and jambalaya?
Here is where you do have quite a big difference.
Jambalaya is a rice-based dish. Think of it as a pilaf or biryani.
Gumbo, on the other hand, is a broth-y stew or soup that is thickened with a roux and contains larger chunks of meat. You typically serve gumbo with a side of rice, so diners can add it in separately.
What is a roux?
We've talked a couple of times now about this word 'roux'.
What is a roux? We're glad you asked!
A roux is a classic French thickening agent. And, while it's French, it's quite simple.
To make a roux, you cook flour in fat until it gets nice and toasted. It is a wonderfully fragrant paste that not only thickens, but also adds a deep, toasted flavor to dishes.
The longer a roux is cooked, the darker in color it becomes, and the more flavor it will give to your dish.
However, as the roux darkens, it loses some of its thickening power. So, you need more of a dark roux to thicken a cup of liquid than you would a light roux.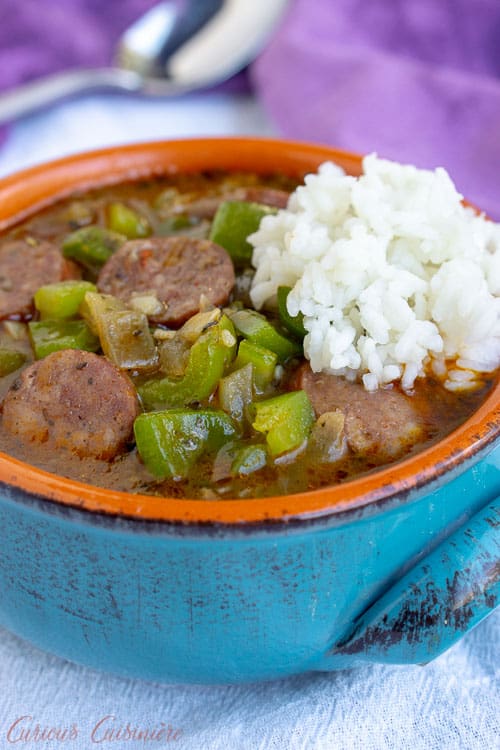 Our Andouille Sausage Cajun Gumbo Recipe
This Cajun gumbo gets a deep and rich flavor from a dark roux that we cook for 10-12 minutes to get a nice toasted aroma.
Combine that roux with Andouille sausage and the New Orleans "holy trinity" of green peppers, onions, and celery, and you have an incredibly flavorful and comforting dish!
It's traditional to serve gumbo with rice, which is the perfect accompaniment to make sure you get to enjoy every last drop of that delicious broth.
Andouille Sausage Cajun Gumbo
This recipe for Cajun Gumbo with andouille sausage is hearty and comforting. Serve it over rice for a warm and satisfying taste of the Louisiana bayou.
Instructions
Cook the rice according to package instructions. Set aside for serving.

Heat the oil in a Dutch oven. Add the flour and cook over medium heat until the flour is very dark and smells toasted (10 minutes), stirring constantly. (This is the roux that will flavor and thicken your gumbo.)

Add the diced onions, green peppers, celery, and garlic. Sauté 4-5 minutes, until softened.

Add the Andouille slices, Cajun seasoning, and water, scraping the bottom of the pot to deglaze and loosen up any stuck bits. Simmer the mixture for 10 minutes, until thickened slightly.

Remove the mixture from the heat and let stand, uncovered, for 2-5 minutes before serving.

Serve the gumbo with cooked rice. (A mixture of 1/3 rice to 2/3 gumbo is traditional.)
Notes
This recipe from 2015 was updated in February 2018. We made the gumbo even better! Enjoy!
Nutrition
Calories:
445
kcal
|
Carbohydrates:
40.5
g
|
Protein:
16.3
g
|
Fat:
23.6
g
|
Saturated Fat:
6.4
g
|
Cholesterol:
46
mg
|
Sodium:
1125
mg
|
Fiber:
3.8
g
|
Sugar:
4.2
g
---
This is one of the recipes from the early days of Curious Cuisiniere. We've updated our pictures since we first shared it, but we've left some originals here, in case you've found us in the past and are looking for that old, familiar image.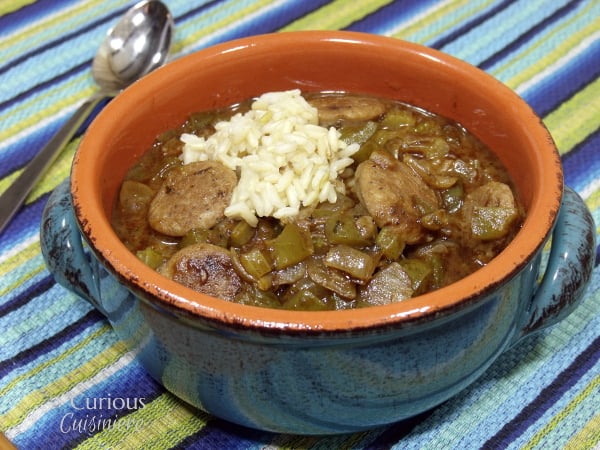 If you liked this recipe, here are some similar dishes you may enjoy!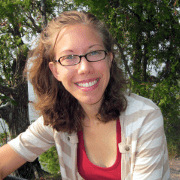 Sarah is one of Curious Cuisiniere's founding duo. Her love for cultural cuisines was instilled early by her French Canadian Grandmother. Her experience in the kitchen and in recipe development comes from years working in professional kitchens. She has traveled extensively and enjoys bringing the flavors of her travels back to create easy-to-make recipes.