This hearty, Cajun Gumbo with andouille sausage is served over rice for a warming and comforting taste of the Louisiana bayou.
What is gumbo?
Gumbo is a fusion dish that brings together cooking techniques and flavors of West African, French, Spanish, German, and Choctaw Native American cultures.
These were the people settling southern Louisiana in the 18th century, and this dish is a wonderful medley of their influences.
Gumbo  is typically made up of a dark broth flavored with meat or fish, vegetables, and a thickener. The thickener can be okra (an African vegetable), filé powder (a Choctaw contribution of ground sassafras leaves), or a roux (a classic French thickener).
Originally, okra and filé powder were the most common thickeners, however, nowadays, you are more likely to find a roux used to thicken the gumbo, with okra and filé powder used more for flavoring and texture.
What is a roux?
We're glad you asked!
A roux is simply flour that has been browned in fat, and this wonderful paste acts as a thickener and flavoring in the dishes that use it.
The longer a roux is cooked, the darker in color it becomes, and the more flavor it will impart to the dish. However, as the roux darkens, it loses some of its thickening power, so you need more of a dark roux to thicken a cup of liquid than you would a light roux.
Our Andouille Sausage Cajun Gumbo Recipe
We're classifying this gumbo as 'Cajun' because it contains a dark roux and doesn't use tomatoes.
To read more about the incredibly subtle differences between Cajun and Creole cuisines take a look at the information we shared in our article on Cajun Creole Seasoning Mix. (Even if you're not curious, head over there anyway, because you'll be using that seasoning mix to make your gumbo!)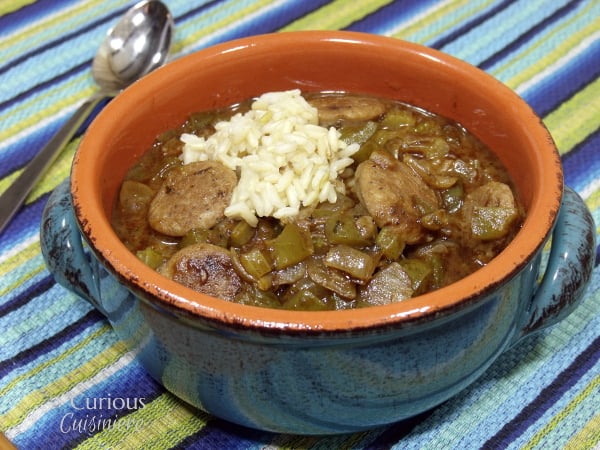 This Cajun gumbo gets a deep and rich flavor from the dark roux that thickens it. Combine that with Andouille sausage and the "holy trinity" of green peppers, onions, and celery, and you have an incredibly flavorful stew.
It's traditional to serve gumbo with rice, which is the perfect accompaniment to make sure you get to enjoy every last drop of that delicious broth.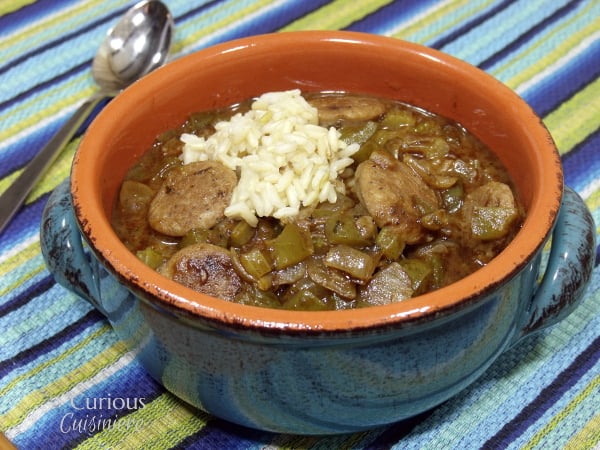 Andouille Sausage Cajun Gumbo
This hearty, Cajun Gumbo with andouille sausage is served over rice for a warming and comforting taste of the Louisiana bayou.
---
Ingredients
2

Tbsp

oil

or lard

3

Tbsp

unbleached all-purpose flour

1

onion,

diced

1

green pepper,

diced

1

celery stalk,

diced

4

garlic cloves,

minced

½

lb

Andouille sausage,

uncooked

2

c

water

1

Tbsp

Cajun seasoning

1 ½

c cooked

rice

(for serving)
Instructions
Heat the oil in a Dutch oven. Add the flour and cook over medium heat until the flour is very dark and smells toasted (10-12 minutes), stirring constantly. (This is the roux that will flavor and thicken your gumbo.)

Add the onion, green pepper, celery, and garlic. Sauté 4-5 minutes, until softened.

Add the whole sausages, water, and Cajun seasoning. Simmer the mixture 15 minutes, until the sausages are firm. Remove the cooked sausage and slice it into rounds. Return the slices to the pan and simmer for an additional 5 minutes.

Remove the mixture from the heat and let stand, uncovered, for 2-5 minutes. Skim the fat from the top of the gumbo, if desired.

Serve the gumbo with cooked rice. (A mixture of 1/3 rice to 2/3 gumbo is traditional.)
---
If you liked this recipe, here are some similar dishes you may enjoy!