Pan de Jamon is a traditional Venezuelan Christmas bread filled with ham and olives. Its robust flavors are a unique tribute to Venezuelan culture.
Pan de Jamón
Pan de Jamón (pronounced PAN de HAM-on) is a savory rolled bread that is a staple on Venezuelan tables during the December holiday season.
This bread is thought to have originated in 1905 in Caracas, the capital of Venezuela, at Gustavo Ramella's Bakery.
Gustavo was looking for a way to use up leftover pieces of holiday ham, so he rolled them in a soft and fluffy dough and baked it! The result was a savory, rolled bread that exploded in popularity.
As it grew in popularity, people began to make their own adaptions on the bread, and ham with olives and raisins became the most popular version.
Venezuelan Ham Bread: Unique Flavors
A simple filling of ham, raisins, and olives. That's all that is traditionally rolled into this soft and slightly sweet dough.
Honestly, when we first heard about this combination, we turned up our noses a bit. Really? Salty olives and sweet raisins?
Less traditional versions had you use ham and cheese. Now, that sounded tasty. But, olives and raisins? It was almost enough to turn us off from the recipe completely.
But, we decided to stick it out. We figured, the Venezuelans must be on to something, if the bread is so wildly popular for the holidays.
And, we are here to tell you, that they really are.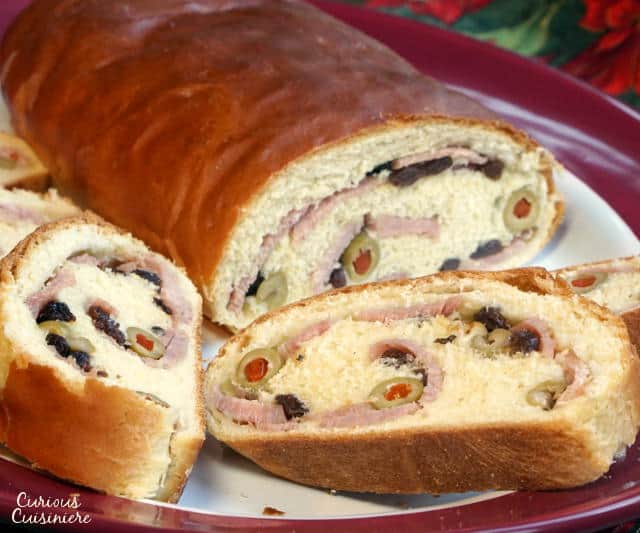 Something about the way the sweet raisins and salty olives blend together with the sweet and salty ham makes the flavors in this roll INCREDIBLE.
The amount of olives is just enough to give a pleasant saltiness to the bread. And then, as you bite into your slice, you are greeted with the familiar flavor of ham with a little extra pump of sweetness from the raisins.
As long as you like olives and raisins on their own (those can be really dividing ingredients for some people), we're pretty sure you'll find the flavors of this roll surprisingly wowing.
Our Pan de Jamón Recipe
This bread comes together incredibly easily. The dough is soft and rich. (You can't go wrong with milk, eggs, and butter!) And, it rises nicely.
For the filling, you can use any sliced ham you have on hand. We used leftovers from a ham dinner, but deli sliced ham would work as well.
Some recipes will have you soak your raisins, but we chose not to because we wanted those raisins to soak up any excess moisture that was released from the ham and olives while the bread baked. We were very happy with our decision, because the inside filling was perfectly dry and the raisins were nice and plump.
Serving Pan de Jamón
We read that it is traditional to make this bread ahead of time and eat it either slightly warm or chilled. So, we resisted slicing into the (wonderfully fragrant) freshly baked loaf.
And, we were glad we did.
A fresh loaf of bread can be a bit tender, and letting this bread cool almost completely before serving it gives the filling and the roll time to set up.
By the time we sliced it, it sliced beautifully, no tearing or erupting filling pieces, leaving us with perfectly decorated, spiral slices.
Yield: 1 (18 inch long) loaf (8 - 10 servings)
Pan de Jamon (Venezuelan Ham Bread)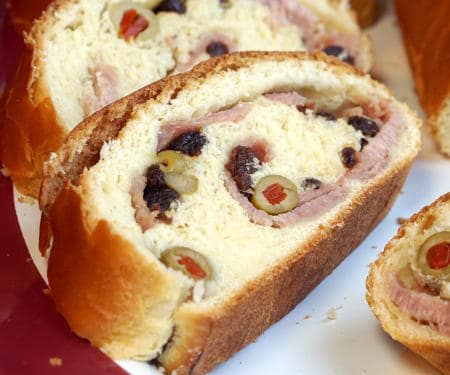 Pan de Jamon is a traditional Venezuelan Christmas bread filled with ham and olives. Its robust flavors are a unique tribute to Venezuelan culture.
Prep Time
3 hours
30 minutes
Total Time
4 hours
10 minutes
Ingredients
For the Bread
¼ c water, warmed to 90F
¼ c sugar, divided
1 Tbsp active dry yeast
4 c all purpose flour, divided
1 tsp salt
¾ c milk, warmed to 80-90F
2 eggs, lightly beaten
4 Tbsp unsalted butter, melted and cooled
For the Filling*
¾ lb ham, deli sliced
½ c raisins
1 jar (5.75) pimento stuffed green olives, whole, drained and patted dry
1 egg white beaten with 1 Tbsp water (for egg wash)
aluminum foil (for baking)
Instructions
Making the Dough
In a medium bowl mix the warm water and 1 Tbsp sugar, until the sugar dissolves. Sprinkle the yeast over top and set aside for 5-10 minutes, until the yeast is softened and slightly foamy.
Place 3 cups of flour in a large bowl along with the remaining 3 Tbsp sugar and salt. Mix to combine.
Stir the yeast mixture and add it to the flour. Add the milk, beaten eggs, and butter. Mix until combined.
Continue adding the remaining cup of flour until a soft dough comes together.
Turn the dough out onto a lightly floured surface and knead for 8-10 minutes, until the dough is soft and smooth, adding flour as necessary to keep the dough from sticking to the counter or your hands.
Place the dough in a clean, greased bowl. Cover it with a damp tea towel and let it rest in a warm, draft free place until doubled (generally 1-2 hours).
Filling the Bread
Once the dough has risen, lightly dust your counter with flour and roll the dough out into a rectangle, roughly a ½ inch thick (10x15 inches).
Cover the dough with the ham slices, arranging them almost to the edges. Sprinkle the raisins and olives over the ham.
Once the fillings have been layered over the dough, tightly roll the dough up from the long edge. Tuck the edges under the roll and place it, seam side down on a greased baking sheet.
Brush the loaf well with an egg wash of 1 egg white beaten with 1 Tbsp water.
Let the dough rise, uncovered, in a warm, draft free place for 45 minutes to 1 hour, until very puffy.
Near the end of this final rising time, preheat your oven to 375F.
Bake the bread for 25-27 minutes, until the loaf starts to turn golden brown. Then, loosely tent the bread with aluminum foil (to keep it from browning too much) and continue baking for an additional 15 minutes. (It will bake around 40 minutes in total.) When finished, the loaf should feel firm when tapped. The internal temperature of the loaf should be 180-190F.
Remove the bread from the oven. Let it cool on the pan for 10-15 minutes before carefully transferring it to a wire rack. Cool completely before slicing and serving.
The bread will keep in an air tight container in the refrigerator for 1 week.
Notes
*As some of our readers have noted, bacon and capers are also common additions to the filling.
Nutrition Information:
Yield:
10
Serving Size:
each of 10 slices
Amount Per Serving:
Calories:

143
If you liked this recipe, here are some similar dishes you may enjoy!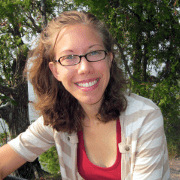 Sarah is one of Curious Cuisiniere's founding duo. Her love for cultural cuisines was instilled early by her French Canadian Grandmother. Her experience in the kitchen and in recipe development comes from years working in professional kitchens. She has traveled extensively and enjoys bringing the flavors of her travels back to create easy-to-make recipes.