Asaditos are crispy fritters made with ground beef and shredded cassava. A quick snack, they are a popular Bolivian street food in the eastern part of the country.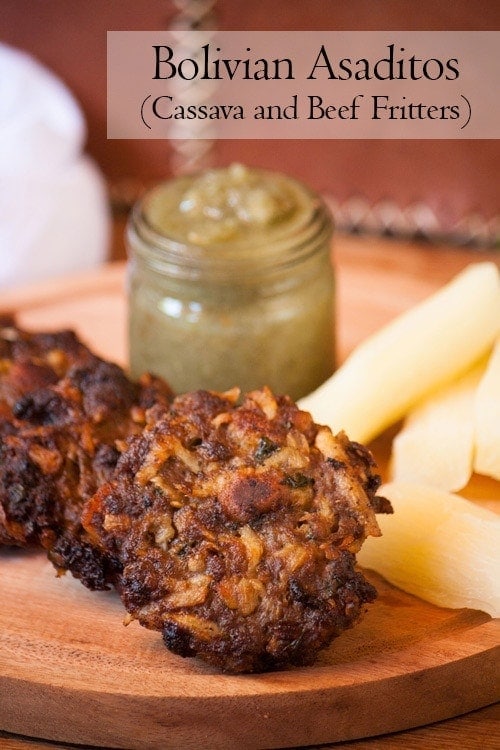 Whenever we would travel by bus to the big city of Santa Cruz (4 hours ride), my parents would get some kind of snacks for us to munch on. The bus would stop at every town to pick up more passengers, and we would wait until we got to Portachuelo, halfway to Santa Cruz, to get some delicious asaditos (ah-sah-DEE-toes).
What are Asaditos?
Asaditos are crispy patties made with ground beef, some veggies, and shredded cassava. These patties are then deep fried and served with a piece of boiled cassava root.
The street vendors would pass these asaditos through the bus window; 2 asaditos and a piece of cassava on a small napkin.
Asaditos are sold all throughout the day. In the same food stall, you'll find empanadas de pollo (fried Bolivian chicken empanadas) or cheese empanadas as well.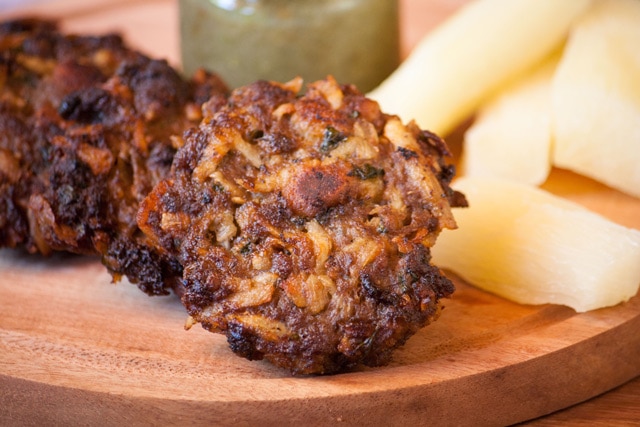 Bolivian Street Food
There are so many street stalls throughout the cities in Bolivia that serve a delicious variety of food for very low prices. I think one of the best ways to experience a culture is to eat your way through it.
Bolivian cuisine is known mainly for the variety of dishes that differ from region to region, because of the landscape.
In Santa Cruz you can start your day eating salteñas, empanadas (or meat pies) filled with chicken or beef that have a sweet crust.
At noon, when Bolivians have their main meal, fried or barbecue chicken served with French fries and fried plantains are a delicious option.
In the evenings, pacumutos (a type of shish kebab) are very popular.
Throughout the day you'll find vendors selling fresh, cut up fruit in little bags, ready to eat and lots of fresh fruit juices.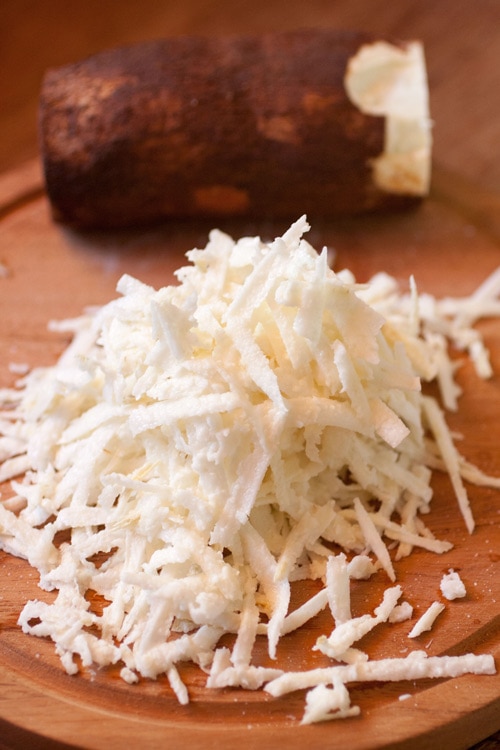 Our Asadito (Cassava and Beef Fritter) Recipe
Some of the main ingredients for these asadito fritters are:
Ground Beef: For these patties, we are using ground chuck that has 15-20 percent fat. It's tender and moist.
Cassava: Cassava is a tuber with a brown outer skin and white flesh. You can find it fresh in many grocery stores in the US. It is often sold covered with a thin layer of wax.
Bread crumbs: You can make your own bread crumbs by toasting 2 slices of bread, letting them cool completely and then crumbling them with your fingers. Or use plain, store-bought bread crumbs.
Onion: Red onions are very popular in Bolivia. If you can find them, use them. If not, use yellow onions.
Traditionally, asaditos are deep fried. For our recipe today we are shallow frying or pan frying them.
With shallow frying, you use enough fat to immerse about one-third to one-half of each piece of the patty. It still gets the crispiness that characterizes these asaditos, but with much less oil needed than for deep frying.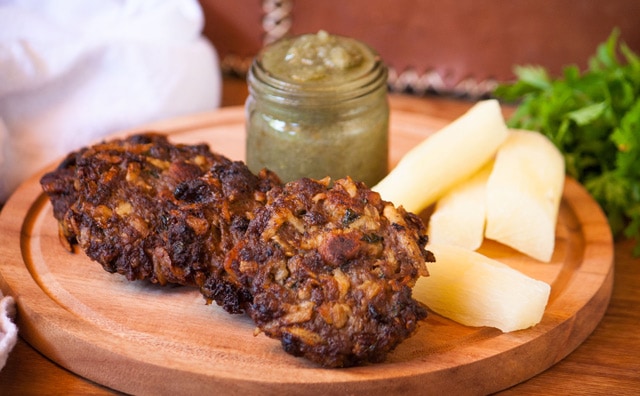 How To Serve Asaditos
Asaditos are served with a piece or two of boiled cassava and some llajua (Bolivian spicy sauce).
You can find frozen and already peeled cassava in many supermarkets.
To cook cassava, add a few pieces of peeled cassava to a big saucepan and cover with water. Bring to a boil and cook until tender (this might take between 10 to 20 minutes). Drain and enjoy.
Llajua, is a fresh spicy sauce eaten all over Bolivia. Easy to make and with only 3 ingredients.
Asaditos are great snacks or finger food for any get together.
Yield: 30 fritters
Asaditos (Bolivian Cassava and Beef Fritters)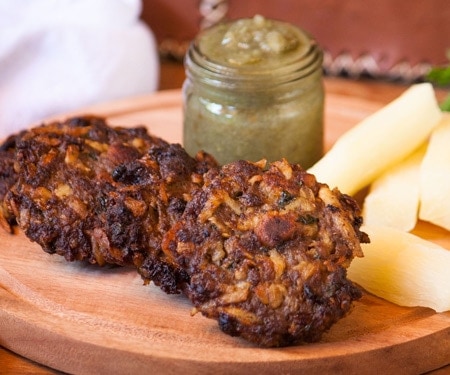 Asaditos are crispy fritters made with ground beef and shredded cassava. A quick snack, they are a popular Bolivian street food in the eastern part of the country.
Ingredients
1 1/2 lbs ground beef (80-85% lean)
10 oz fresh cassava, shredded
1 egg
1/2 c plain bread crumbs
1 medium red onion, chopped
1/4 c fresh parsley, chopped
1 tsp salt
1/2 tsp ground black pepper
1/4 tsp ground cumin
Vegetable oil for frying (about 1/2 - 1 cup depending on pan size)
Instructions
In a big mixing bowl, add all the ingredients (expect vegetable oil) and mix well.
Shape into patties with about 2 tablespoons of mixture in each.
Using a big frying pan, heat oil on medium heat.
Add the patties to the hot oil (they should pop and sizzle if it is hot enough). Don't overcrowd the oil with patties.
Fry each patty for 3 minutes each side. When golden, drain on paper towels.
Serve hot with boiled cassava and spicy sauce.
Recommended Products
As an Amazon Associate and member of other affiliate programs, We earn from qualifying purchases.
Nutrition Information:
Yield:
15
Serving Size:
2 patties
Amount Per Serving:
Calories:

240
Total Fat:

16g
Saturated Fat:

4g
Trans Fat:

1g
Unsaturated Fat:

10g
Cholesterol:

53mg
Sodium:

231mg
Carbohydrates:

11g
Fiber:

1g
Sugar:

1g
Protein:

14g
If you liked this recipe, here are some similar dishes you may enjoy!