Soft and pillow-y potato gnocchi combine with a veggie-laden tomato sauce in this Ñoqui con Tuco, an Argentine take on an Italian favorite recipe. It's no surprise that Argentine wine is the perfect pairing for this dish!
Italian Food In Argentina
When you think of the cuisine of Argentina, Italian food might not be the first thing that comes to mind, but it shouldn't be too far behind grilled meats, matambre, and chimichurri sauce.
Argentina saw an influx of Italian immigrants starting in the mid 1850s. With them, they brought their traditional favorites like pizza, pasta, and potato gnocchi.
Argentinian Ñoqui Day – Dia de Ñoquis
In fact, on the 29th of every month it is traditional for Argentinians to eat ñoquis for good luck.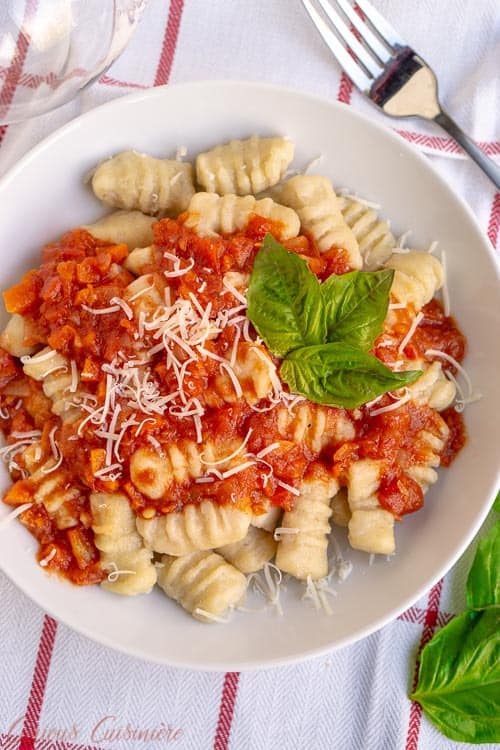 This tradition comes from those Italian immigrants. They would receive their paychecks on the first of each month. So, by the end of each month, there was not much money left to feed the family.
It became common to eat ñoquis on the day before they received their next month's paycheck because the meal was inexpensive and also quite filling.
The 29th is also a day that Italians traditionally celebrate Saint Pantaleon. A simple meal of gnocchi was the traditional way to remember the miracles he performed as he traveled around Italy.
The tradition has continued, and now it is common to put money under your plate while eating ñoquis on the 29th. This money and eating the ñoquis is supposed to bring you good luck for the month ahead.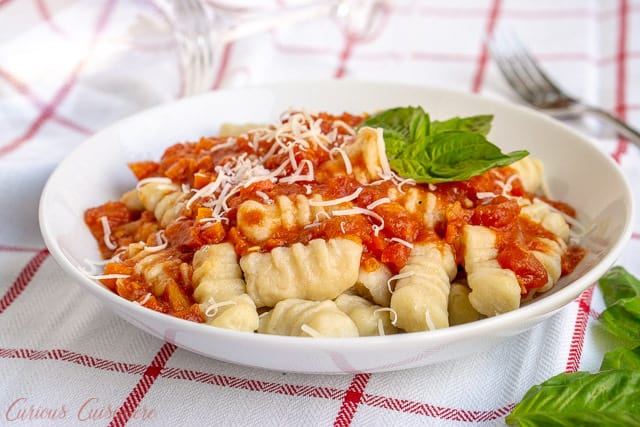 How To Make Ñoquis (Gnocchi)
Making ñoquis is quite straightforward, but it does take a bit of time.
First you need to cook your potatoes to very soft. This can be done by boiling or baking.
For this recipe we're baking them, because it doesn't add extra liquid to the potatoes, allowing us to add in some ricotta and an extra egg for richness in our ñoquis.
Once your potatoes are cooked, you need to mash them into the smoothest mashed potatoes you've ever made. We find that mixing and pressing your mashed potatoes with a spatula is a great way to ensure that they are very smooth.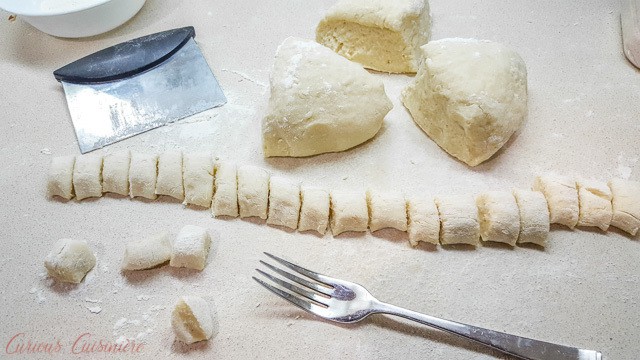 Any firm bits of potato will show up in your dough and impact the texture of your ñoquis, so you want to smooth it out all you can in this step to set your dough up for success.
How To Roll Ñoquis
After you mix the dough, you need to roll it into ropes, cut it, and then roll the gnocchi to create ridges that are nice pockets for the sauce.
Now, for the longest time we thought that rolling ñoquis (gnocchi) was all about giving each piece those little ridges on the outside.
But, while those do their share at holding the sauce, the real reason for the rolling is what you don't see from the top of your ñoquis.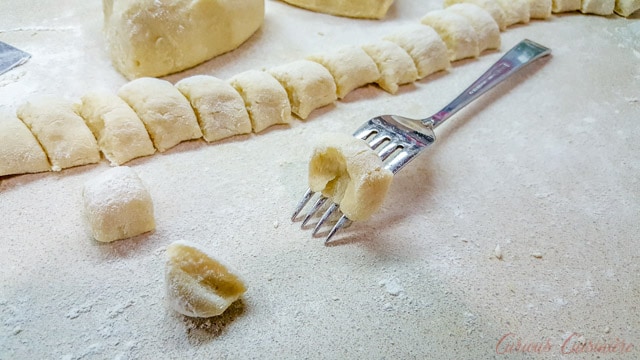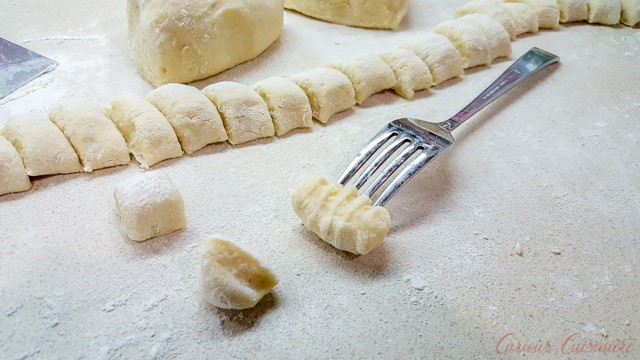 As you roll each ñoqui against your fork (or gnocchi board), you create another, deeper indentation in the back side of the ñoqui.
This indentation holds even more sauce, but also helps the ñoqui to cook evenly and quickly.
Ñoquis con Tuco – Gnocchi with Tomato Sauce
While Argentine ñoqui is very similar to Italian gnocchi, what makes the Argentine version really special is the sauces they are served with.
You will find an array of sauces from simple tomato, tomato and meat (chicken is common), or even stew-like.
The sauce we chose today is a simple tomato sauce in the Argentine fashion, which means it includes carrots and red peppers. For seasoning, we're using some paprika, cumin, and oregano.
It's definitely not your classic Italian tomato sauce. But, we do love the Argentine spin!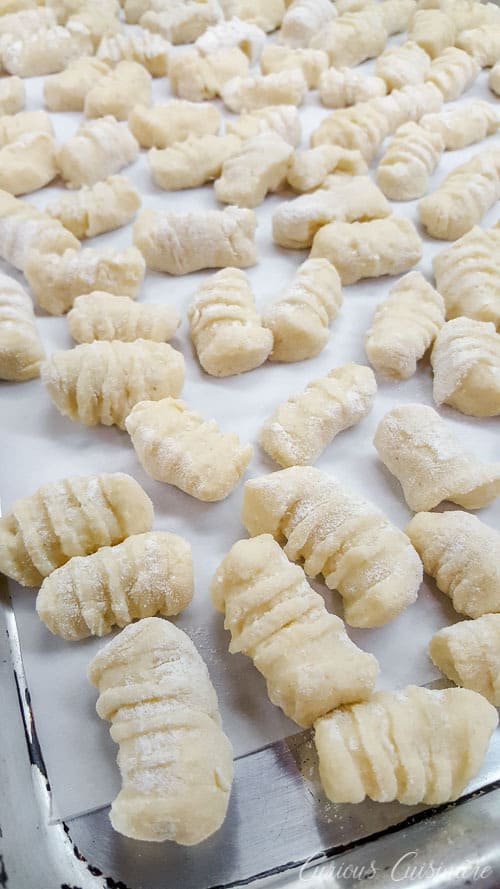 Wine Making In Argentina
DISCLOSURE: We received samples of  the wine mentioned below. As always, all opinions are our own.
When you think of Argentine wine, you probably think of Malbec, but Argentina has been emerging recently on the wine scene, (they're actually the 5th largest wine producing country in the world), and it's more than just Malbec that they're producing.
Mendoza (about smack dab in the middle of the eastern side of the country) is the largest wine region in Argentina. Its location near the Andes provides irrigation and shelter from harsh temperatures, as well as high altitudes, giving the grapes a cooler climate to grow in.
The most common grape varietals in Mendoza are Malbec and Cabernet Sauvignon. But you will also find Tempranillo, Chardonnay, and many others.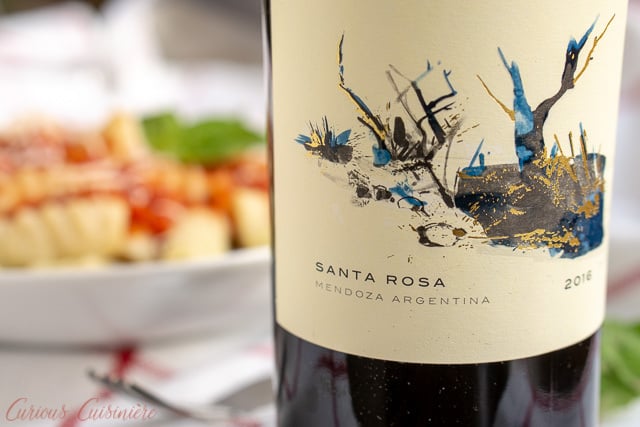 We received samples of Argentine wine from Winesellers, Ltd, a family-owned importer based in the US. They import wines from all around the world  made by family-owned wineries. (You may remember them from our German wine pairing article a few months ago.)
We were sent wine from Zuccardi Family wines, a family-owned company that started in 1963 and is now in their third generation of family ownership. Their vineyards are in the Uco Valley, in the Mendoza wine region, at the foot of the Andes mountains. It is an oasis that provides a range of climates, altitudes, and soil types for their vines.
It is notable that 35% of Zuccardi Family wines' vineyards are organic and those that are not are still very committed to sustainable production systems. The Zuccardi Family is considered a pioneer in wine production in Argentina, often experimenting with varietals that are not typical of the region.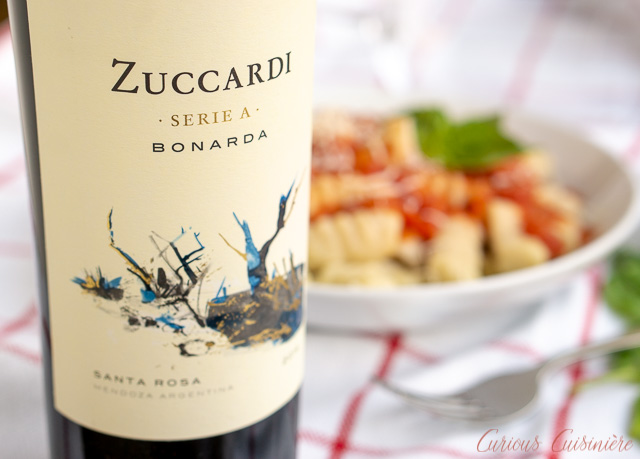 Our Argentine Wine Pairing With Ñoquis
Wine-making started in Argentina much earlier than the Italian immigrants, with the Spanish colonizers it the 15oos, but the Italian immigrants did bring their touch to the wine industry in Argentina, so it's no surprise that we find grape varietals in Argentina that are traditionally Italian, like Bonarda.
We found the Zuccardi Bonarda to be very fruit forward on the nose with notes of blackberry and plum. The fruit carried through to the palate with a full-bodied, juicy acidity and a smooth finish.
This wine was a nice pairing with our ñoquis. The oil in the sauce and the Parmesan cheese we used to top our bowls smoothed the acidity of the wine and brought out more of the fruit flavors.
We also served this wine the following day with a beef roast and found that it did really shine with the extra fat and dept of the beef.
Either way, we quite enjoyed the wine and are excited to dive deeper into wines from Argentina!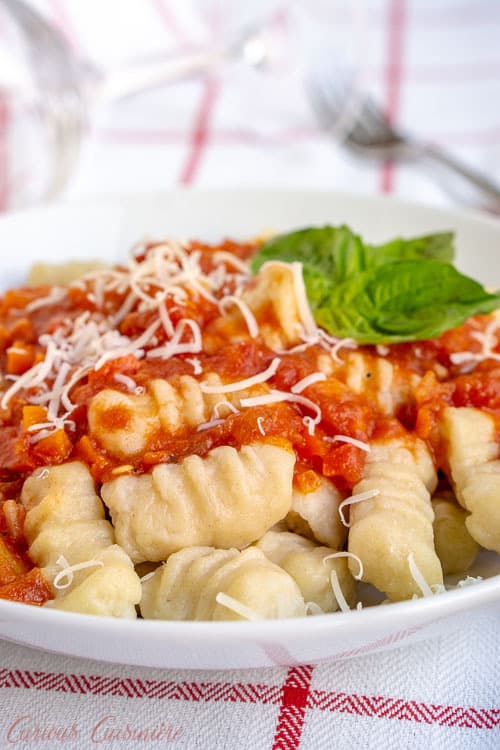 Ñoqui con Tuco (Potato Gnocchi with Tomato Sauce)
Soft and pillow-y potato gnocchi combine with a veggie-laden tomato sauce in this Ñoqui con Tuco, an Argentine take on an Italian favorite recipe.
Yield; 2 – 2.25 lbs of ñoqui
Ingredients
For The Ñoquis
2

lbs

russet potatoes

2

eggs

½

c whole milk

ricotta cheese

½

tsp

salt

Pinch

nutmeg

Parmesan cheese,

to top (optional)
For The Sauce
3

Tbsp

olive oil

1

large

onion,

diced

1

large

carrot,

diced

2

cloves

garlic,

minced

½

large

red pepper,

diced

2

(14.5 oz) cans

diced tomatoes

2

c

water

or unsalted vegetable stock

2

bay leaves

1 ½

tsp

paprika

1

tsp

cumin

1

tsp

oregano

½

tsp

salt

¼

tsp

ground black pepper
Instructions
Preheat your oven to 400F.

Wash the potatoes and bake for 1 – 1.5 hours, until very soft.

Remove the potatoes from the oven and let cool to the touch.

While the potatoes are baking, make the sauce. Heat the olive oil in a large saucepan over medium high heat. Add the onion, carrots, garlic, and red pepper. Sauté until softened, 5-10 minutes.

Add the tomatoes, water (or stock), and seasonings. Simmer for 10-15 minutes.

Remove the sauce from the heat and blend slightly with an immersion blender, just until slightly chunky. (Alternately, transfer the sauce to a stand blender and pulse carefully until the desired consistency is reached.)

Set the sauce aside until ready to serve. (This sauce can be made ahead of time and reheated before serving.)
For The Ñoquis
After your potatoes are baked and cooled to the touch, slice them in half and scoop the soft insides into a bowl. Mash the potatoes until smooth. (We find that finishing our mashing by pressing and stirring with a rubber spatula helps to press out any last potato lumps.)

Add the eggs, ricotta, salt, and nutmeg to the mashed potatoes. Mix well.

Mix in the flour ¼ - ½ cup at a time, until a soft, but not too sticky, dough comes together. As you near the end of the flour, turn the dough out onto your counter and knead it with your hands to incorporate the last of the flour. (The amount of flour needed will vary depending on the moisture content of your potatoes. Your dough should be soft, but not sticky. It should be easy to work with and shape.)

Divide your dough into 4 sections. Working with one section at a time, roll it into a rope roughly 1 inch in diameter. Cut the rope into ¾ - 1 inch pieces for your ñoquis.

Take each ñoqui and roll it on the back of a fork (or a gnocchi board), pressing with your thumb to create an indentation in the back of the ñoqui, then wrapping the side with the ridges imprinted from the fork around the indentation.

Place the shaped ñoqui on a parchment-lined baking sheet. Continue with the remaining dough.

Once all your ñoquis have been shaped, you can boil them immediately or freeze them for later use*.

To boil the ñoquis, bring a large pot of water to a boil. Add about ¼ of your ñoquis to the pot, stirring the water as you add to keep them from sticking to the bottom. Simmer the ñoquis for 3-4 minutes, until they float to the top of the water.

Transfer the cooked ñoquis to a serving bowl using a slotted spoon to drain out any excess water.

Top the ñoquis with your sauce and serve with Parmesan cheese, if desired.
Notes
*If freezing your ñoquis, freeze them in a single layer on a parchment-lined baking sheet for 12 hours, until firm. Once firm, they can be transferred into an air-tight bag or container. They will keep in the freezer for 2-3 months. Cook directly from frozen as directed above, they may just take a minute or two more to cook from frozen.
If you're as excited as we are to learn more about wines from Argentina, check out these other pairings from other Wine Pairing Weekend (#WinePW) members.
If you liked this recipe, here are some similar dishes you may enjoy!