Matambre Arrollado is a flavorful Argentinian Stuffed Flank Steak that makes a unique and beautiful main dish or appetizer.
What is Matambre?
Matambre is a cut of beef that is commonly found in the cuisine of Argentina and Uruguay.
Literally translated from Spanish, the word "matambre" is a combination of two words: "matar" and "hambre".
"Matar" means "to kill", and "hambre" means "hunger". Therefore, "matambre" is literally a "hunger killer".
It is thought that this thin cut of meat was so named because it cooked quickly on a hot grill, making it the perfect appetizer to serve while the other meat is cooking.
The matambre cut comes from the bottom of the ribs, and while it's near impossible to find in the States, a flank steak makes for a great substitute.
What Is Flank Steak?
Flank steak is a lean and flavorful cut of beef taken from the flank, under the loin.
Like matambre, it is a thin cut that is great for marinating and grilling. This is the way it is traditionally used in Colombian cooking, where it is a very common cut of meat on the menu.
How To Make Matambre Arrollado: Argentinian Stuffed Flank Steak
Matambre arrollado is an Argentnian preparation of matambre where it is rolled with vegetables, eggs, and herbs. After rolling, the cut is grilled or roasted, bringing all the flavors together in one beautiful presentation.
There are many variations on matambre arrollado. Some marinade the meat before rolling, some don't worry about a marinade and simply go straight to rolling.
Some spread the meat with a tangy, herbed chimichurri sauce, others opt for a layer of chopped spinach greens, and still others stay away from the green layer and go straight for the more colorful ingredients.
As for the other filling ingredients, the more colorful the better.
Red peppers, carrots, and hard boiled eggs are some of the most common additions. Their lightly sweet, smooth flavors blend well together and work as a perfect complement to the meat.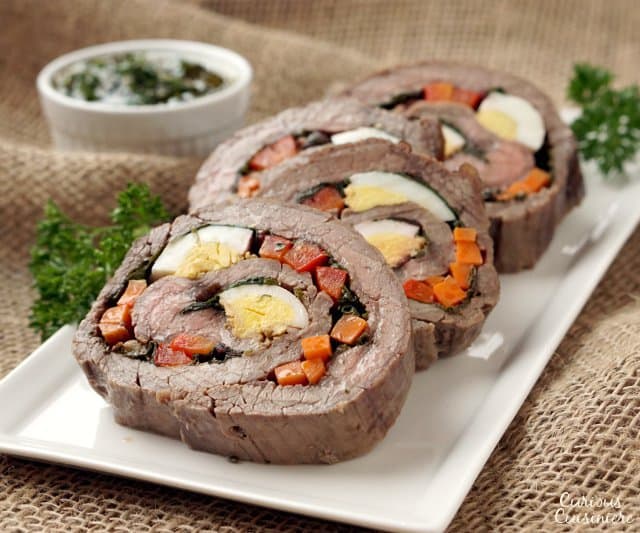 How To Butterfly Flank Steak
The key to matambre arrollado is a large, thin piece of flank steak.
To achieve this, it is necessary to butterfly the flank steak, making it thinner and larger.
Your goal in butterflying is to carefully slice through the side of the steak, so that it opens up like a piece of paper that has been folded in half. (We like to use a narrow, sharp knife, so that we don't have to apply too much force as we carefully slice through the meat.)
If your butterflying job isn't perfect, don't worry, because after your cut is made, you are going to pound the steak to get it to an even thickness.
Just remember to leave one edge connected to act as a hinge! We're trying to make one large steak, not two! smaller ones
Our Argentinian Stuffed Flank Steak Recipe
For our stuffed flank steak, we opted to marinate the flank steak overnight in a mix of vinegar, oil, and lime juice.
These acidic ingredients worked to tenderize the meat, ensuring that our arrollado would be incredibly tender and flavorful.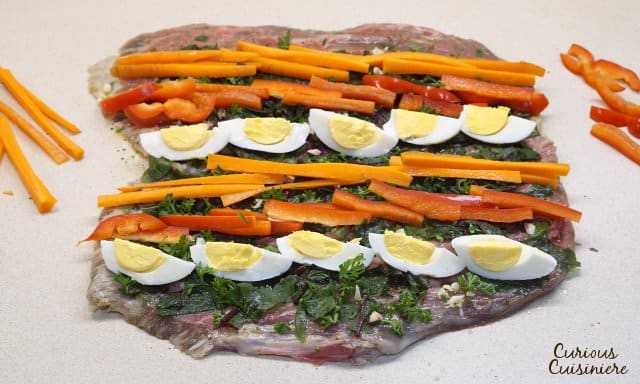 The important thing to keep an eye on when laying out the ingredients for your roll is the direction of the grain of the meat. You want to lay your filling ingredients in rows that go with the grain of the steak.
This way, you will be rolling the steak up with the grain as well, ensuring that when you slice the roll you are properly cutting your slices against the grain.
The nice thing about the flank steak is that it is incredibly easy to tell which direction the grain is running!
Serving Matambre Arrollado: Argentinian Chimichurri
Matambre arrollado is traditionally served with a fresh Argentinian condiment called chimichurri.
Argentinian chimichurri consists of finely chopped parsley that is mixed with minced garlic, oregano, red pepper flakes, salt, and pepper. These ingredients are made into a sauce with the addition of olive oil and red wine vinegar.
Chimichurri is an incredibly satisfying tangy, smooth, and herby sauce that gives an extra POP of flavor to grilled or roasted meats, particularly beef.
It's quick to make too! And, it's a great way to use up the extra parsley that you'll have on hand from the matambre filling!
Go Forth And Make Matambre!
It's time to get into the kitchen and get your matambre started!
While this dish requires a bit of a longer prep time (with the overnight marinade), after you get your steak butterflied, the work is pretty minimal.
And, the result is an impressive dish that would make a beautiful dinner centerpiece or a fun and colorful appetizer.
Matambre Arrollado (Argentinian Stuffed Flank Steak)
Matambre Arrollado is a flavorful Argentinian Stuffed Flank Steak that makes a unique and beautiful main dish or appetizer.
For best flavor, marinate the flank steak overnight before making and cooking your roll.

Yield: 1 (2 lb) roll
Servings:
4
people as a main dish
Ingredients
The Night Before
2

lbs

flank steak

1/4

c

white vinegar

1

large

lime,

juiced (roughly ¼ c juice)

2

Tbsp

olive oil
Putting It Together
Salt and pepper

3

c fresh

spinach,

chopped

¼

c

fresh parsley,

chopped

2

cloves

garlic,

minced

1

carrot,

julienned

½

red bell pepper,

cut into strips

3

hard boiled eggs,

peeled and quartered
Instructions
The Night Before
Place the flank steak on a cutting board. With a sharp knife, butterfly the steak by gently slicing it in half through one of the long sides so that you can unfold the steak like a piece of paper that has been folded in half. Leave one side connected, creating one large, flat steak.

Once butterflied, pound the steak with a meat mallet until it is an even thinness throughout.

In a small bowl, combine the vinegar, lime juice, and olive oil.

Place the steak in a large, seal-able container (or Ziploc plastic bag). Pour the marinade over the steak, making sure it is evenly coated. Cover the steak and refrigerate for 6 hours or overnight.
Putting It All Together
Preheat your oven to 350F.

Remove the steak from the marinade and place it on a flat surface so that the grain of the meat is parallel to you.

Season the steak lightly with salt and pepper.

Evenly distribute the chopped spinach, chopped parsley, and minced garlic over the whole steak, leaving a 1 inch edge (the edge furthest from you) free of filling.

Lay rows of sliced carrots, pepper strips, and quartered eggs parallel to you (with the grain of the meat). Leaving a 2 inch edge at the end the steak.

Carefully, tightly, roll the steak up around the filling, starting with the edge that is closest to you.

Place the roll seam-side down on an aluminum foil lined baking sheet.

Tie the roll in three places with kitchen twine or thread.

Bake the roll at 350F for 1 hour.

Once done, remove the meat from the oven and let it rest for 10 minutes before slicing.

Serve hot or cold with chimichurri sauce (see the recipe below).
Argentinian Chimichurri
This tangy condiment is a great way to use up excess fresh parsley. It is a fantastic accompaniment to grilled meats or fresh bread.

Yield: ½ c
Ingredients
¼

c

olive oil

1

Tbsp

red wine vinegar

½

c

fresh parsley,

finely chopped

2

cloves

garlic,

minced

1/8

tsp

red pepper flakes

2

tsp

oregano,

dry

½

tsp

salt

⅛

tsp

pepper
Instructions
Pour the olive oil and vinegar into a small bowl.

Add the chopped parsley and garlic, along with the remaining seasonings. Mix well.

Transfer the chimichurri to an airtight container and let it rest for at least 2 hours before serving.
Notes
The chimichurri will last in the refrigerator for up to a week.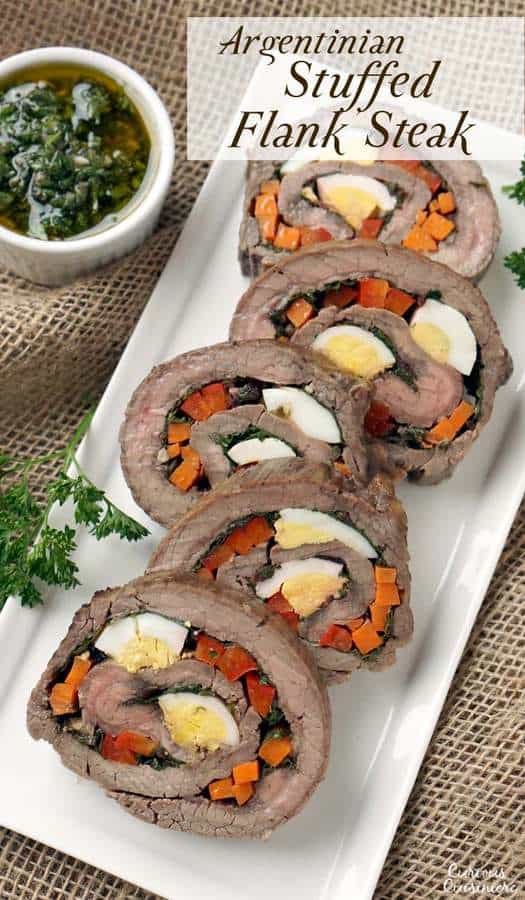 If you liked this recipe, here are some similar dishes you may enjoy!