Sarawak Laksa is a comforting Malaysian noodle soup that is spicy, bright, warming, and full of flavour.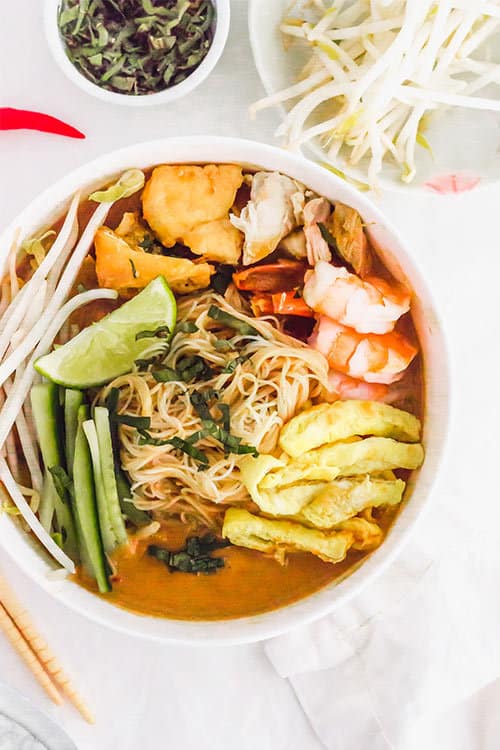 Ask me what my favourite noodle dish of all time is, and I will tell you time and time again, it is my Mom's laksa.
I remember my parents making laksa for special occasions (and they still do!) and before, they would get their laksa paste from a famed hawker in Malaysia. We'd have packages of the aromatic laksa paste stashed frozen in our deep freezer.
But of course, as time would pass, the stash would dwindle. And, without relatives coming overseas to bring us packages of the laksa paste, my Mother resorted to creating her own version, which is much more healthy and fragrant, as with everything made from scratch! (The packaged laksa paste contains a lot of palm oil and saturated fats, which isn't heart healthy at all).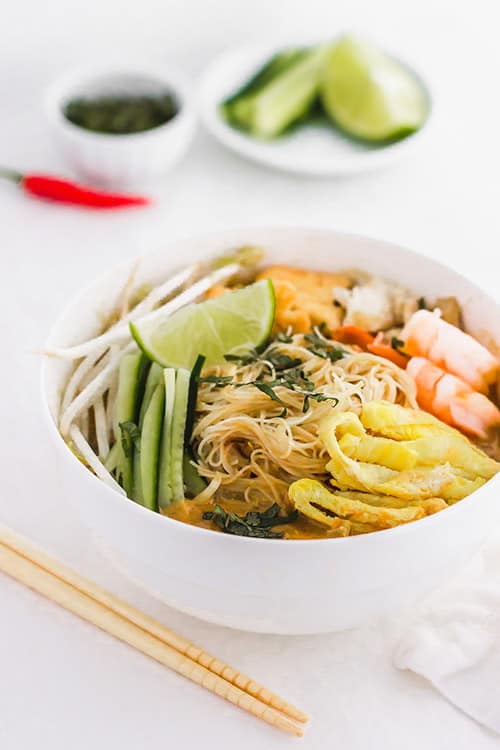 What Is Laksa?
Laksa is a spicy, curry or coconut-based noodle soup that originated from the Peranakans, who are of mixed Chinese-Malay heritage.
Chinese men would set out onto the spice trade route and settle in their new villages, marrying the local Malay women. The result was a blending together of Chinese and Malay heritage.
It is common to find traditional Chinese dishes that have been reformed using local spices and ingredients, thus creating a hybrid cuisine.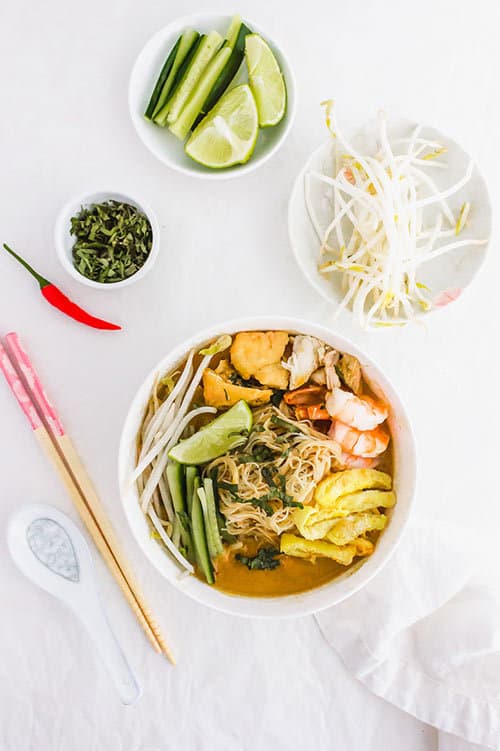 Types Of Laksa
There are many styles of laksa; it is most commonly differentiated into 3 categories: Curry, Asam, and Sarawak.
Curry laksa is a coconut milk-based laksa.
Asam laska does not contain coconut milk, and it uses tamarind paste, which gives it a more sour/acidic taste.
Sarawak laska is a combination of the two, where coconut milk is used, as well as tamarind paste. (Sarawak is a Malaysian state on the island of Borneo.)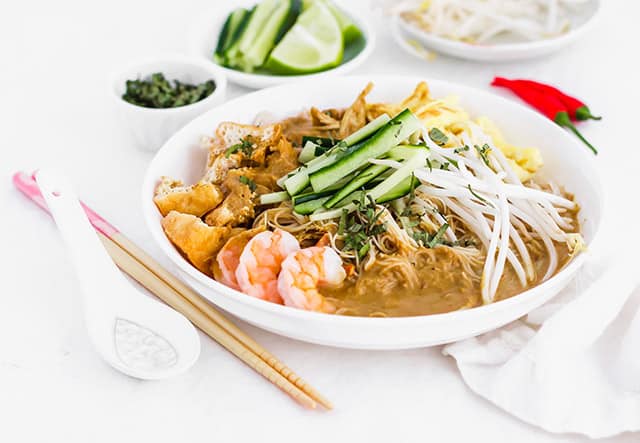 How To Prepare My Mom's Sarawak Laksa Recipe
The foundation of laksa is the paste on which the soup is built. Laksa paste is where all that robust flavour is developed.
The key ingredients in laksa may sound intimidating, but they can be found at specialty Asian supermarkets.
My Mom's version of Sarawak laksa contains:
Thai chilies
Shallots
Fresh lemongrass
Ginger
Galangal, also known as blue ginger (which is similar to ginger — if you're unable to find it, substitute with ginger)
Tamarind pulp, which has a sweet and sour taste. (If you can't find tamarind, try using brown sugar and lime juice instead to give an acidic and sweet tone to the laksa soup).
I also love the earthiness from cumin, so I've added that as well, lending a little more of a curry vibe.
This laksa paste is blended all together in a food processor and then cooked in a little oil over medium heat for close to 40 minutes. That's where all that delicious flavour comes through.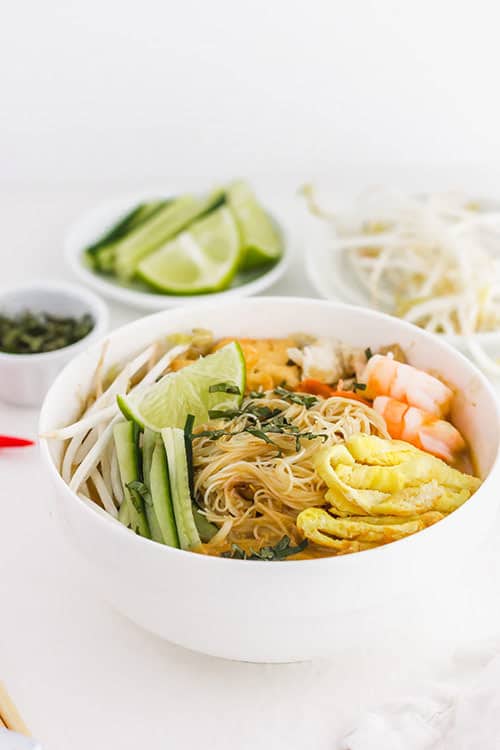 It's rounded off with coconut milk, chicken stock, and some palm sugar to balance the flavour, and thus becomes laksa soup.
Sarawak laksa is primarily composed of thin rice vermicelli noodles, shredded chicken, thin beaten egg omelette strips, boiled shrimp, tofu puffs, bean sprouts, thinly sliced cucumbers and finished off with a squeeze of fresh lime.
If available, finely chopped laksa leaf (or Vietnamese coriander, also known as rau ram) ties the dish together. If not, garnish with cilantro instead, if you wish.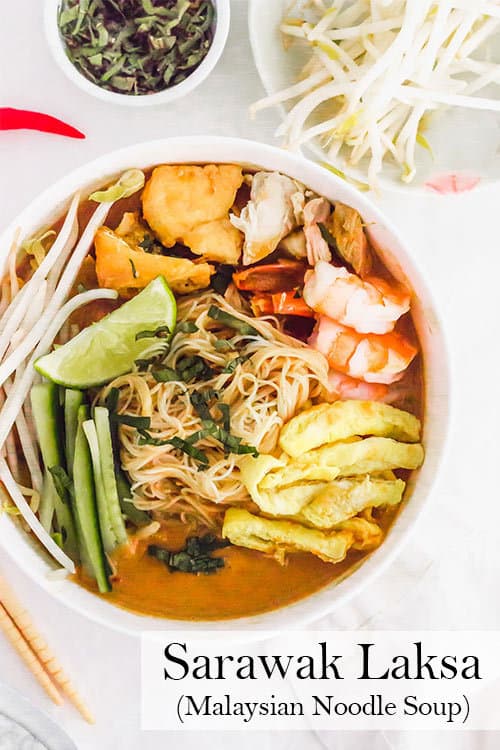 Comforting on a cold rainy day, my Mom's Sarawak laksa noodle soup is spicy, bright, warming, and full of flavour.
It's a noodle soup like no other. In fact, it even topped Anthony Bourdain's Top 10 dishes for his food market he had planned in New York City. And, if Anthony Bourdain calls the dish the "breakfast of gods," you know it's a dish that's well-deserving.
Mom's Sarawak Laksa
Sarawak Laksa is a comforting Malaysian noodle soup that is spicy, bright, warming, and full of flavour. 
For a quick and easy meal, prepare your sauce and your topping ingredients ahead of time and refrigerate until ready to use.
Ingredients
Laksa Paste
5

small red thai chilies,

stems removed

4

shallots or 1 medium onion,

chopped

1

Tbsp fresh

ginger,

chopped

1

Tbsp fresh

galangal (blue ginger),

chopped (or more fresh ginger)

3

cloves

garlic,

peeled

2

stalks

lemongrass,

cut into large chunks

6

macadamia nuts

(or a handful of cashew nuts)

2

Tbsp ground

coriander

1

Tbsp ground

cumin

3

Tbsp

tamarind paste*

¾

C warm

water

2

Tbsp

canola oil

(or vegetable oil)

1

Tbsp

coconut palm sugar

(or brown sugar), packed

1

Tbsp

curry powder

1

Tbsp

paprika

2

tsp coarse

sea salt
For The Laksa Soup
4

C

chicken broth

1

(13.5oz) can

coconut milk
Toppings For Laksa
1

package

rice vermicelli noodles,

cooked and drained

2

seasoned

chicken breasts,

cooked and shredded

12

large

shrimp,

boiled and sliced in half

4

eggs,

scrambled and fried omelette-style, cut into thin strips

1

pkg

tofu puffs,

boiled and drained

1

cucumber,

julienned

1

pkg

bean sprouts,

washed and lightly cooked with hot boiled water

2

limes,

cut into wedges

laksa leaves (ram rau),

cut into thin strips (or fresh cilantro leaves, chopped)
Instructions
Make The Laksa Paste
In a food processor, combine all the red thai chili, shallots, ginger, galangal, garlic, lemongrass, macadamia nuts, coriander, cumin, tamarind paste, water, and canola oil. Pulse until a smooth paste is formed.

Transfer the pureed paste into a large pot and cook over medium heat for about 30-40 minutes, stirring intermittently.

Add in the sugar, curry powder, paprika, and salt, and stir for another 5 minutes.

If not using the paste right away, let the laksa paste completely cool and store in an airtight container in the fridge for up to 1 week, or freezer for up to 6 months.
Make The Laksa Soup
If ready to make the laksa soup, add in 4 C of chicken broth and 1 can coconut milk to the laksa paste. Stir and bring to a simmer. If the consistency of the soup is a little too thick, add a little more chicken broth or water. Keep the soup warm.
Assemble The Laksa
Place the rice vermicelli noodles into a serving bowl. Top with shredded chicken, shrimp, egg, tofu puffs, cucumber, and bean sprouts.

Add the hot soup over top of the noodles.

Squeeze some lime juice over top and garnish with laksa leaves.

Serve immediately.
Notes
*Tamarind paste can be difficult to find in some grocery stores. Look in Asian grocery stores or World Market.
If you can't find tamarind paste, you can substitute 1 ½ Tbsp fresh lime juice, 1 ½ Tbsp water, and 1 tsp brown sugar, mixed well, for the 3 Tbsp tamarind paste called for in this recipe.
If you liked this recipe, here are some similar dishes you may enjoy!