This lightened up Chicken Tetrazzini packs just as much flavor as the original version.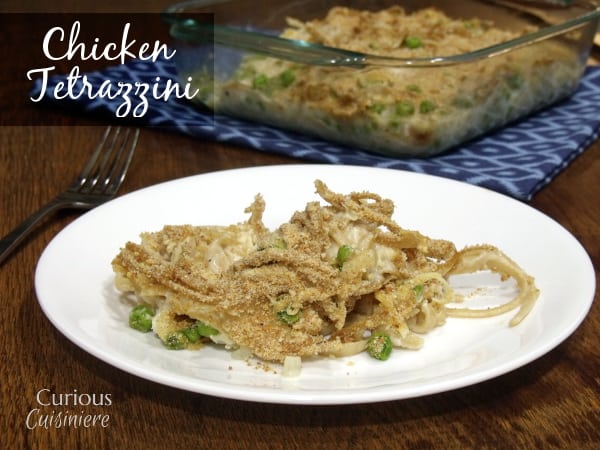 Baked Pasta And Chicken Tetrazzini
I really can't believe that I've never had Chicken Tetrazzini before now.
Tim is a huge fan of baked pasta dishes (the depth of that fan-hood I'm just now coming to understand), and while I do love those crispy top edges of a baked pasta, I never really understood the general fascination with baked pasta.
If everything's cooked, why wait another half hour for the whole thing to cook… again?
Apparently, it's partially for the deep, almost roasted, flavor that the second cooking gives to tomato-based dishes. But, mostly it all comes down to love of the crisp pasta top.
I thought I understood.
And, then we made Chicken Tetrazzini.
About Chicken Tetrazzini
While Chicken Tettrazini might look like a classic, Italian baked pasta dish, it is actually a good old American invention.
The dish was named after Italian opera star Luisa Tetrazzini, and was invented in the early 1900s by a chef at a San Francisco hotel that the opera star often frequented.
Past that, no one really knows why or how the dis was created, only that after Good Housekeeping published a recipe for it, tetrazzini became a quick hit in American kitchens. (The dish… not the opera singer)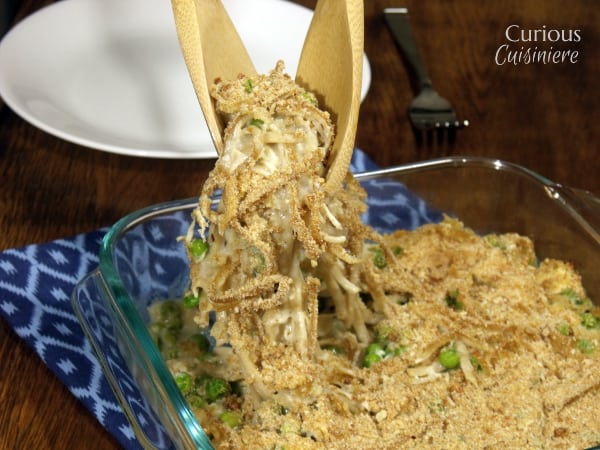 Making Lightened Up Chicken Tetrazzini
This month we were introduced to the blog My Judy The Foodie. The blog is written by Shari, a wife and mother of two, who writes about her journey from 'kitchen-clueless to comfortable cook.' It's a journey she is traveling in her mother's memory, with the help of her mom's recipes. Her story of memory and family connection is beautiful, and you really should check out her About Me video.
It was Tim who insisted we try her Chicken Tetrazzini. And, I can't say I was disappointed at his choice.
We adapted Shari's recipe slightly, making it a bit lighter and adding some white wine to go for more of the classic flavor that Tim is used to.
The only thing better than the creamy and bright flavors of this pasta dish was the crisp and slightly crunchy top layer of noodles.
The extra time it takes to bake this dish is well worth it for those crispy noodles.
Trust me.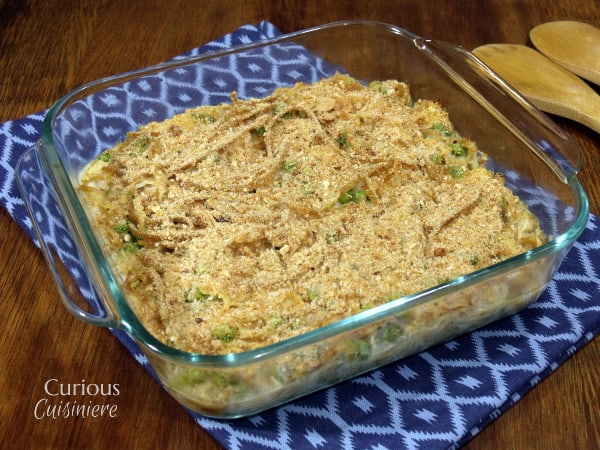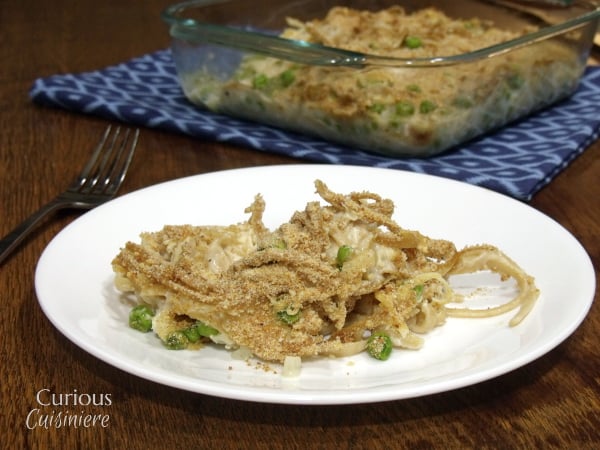 Chicken Tetrazzini
Yield : 1 (8x8) pan (Double the recipe to use a 9x13 pan.)
---
Ingredients
4

oz

linguini,

dry

1

Tbsp

salted butter

1/2

onion,

diced

3

garlic cloves,

minced. or ¾ tsp garlic powder

2

Tbsp

unbleached all-purpose flour

1

c

milk

½

c

chicken or vegetable stock

(we prefer low sodium)

¼

c

dry white wine

1

oz

Parmesan cheese,

fresh grated

1

Tbsp

1/3 fat cream cheese,

room temperature

½

tsp

salt

1/8

tsp

ground black pepper

2

c

cooked chicken,

shredded

1

c

frozen peas,

thawed

2

Tbsp

bread crumbs
Instructions
Preheat oven to 375F.

Bring a large pot of water to a boil. Add pasta and cook 7-9 minutes, until just tender. Drain and set aside.

While the pasta is cooking, heat butter in a large, non-stick sauté pan. Add the onions and garlic. Sauté over medium heat 4-5 minutes, until onions are softened.

Add the flour, and mix until all the flour is moistened.

Add milk, stock, and white wine. Bring to a simmer and mix until the flour has been dissolved. Stir in parmesan cheese, cream cheese, salt, and pepper. Simmer 7-10 minutes, stirring often, until the sauce is thickened and the cream cheese has melted.

Remove pan from heat. Stir in shredded chicken, peas, and cooked pasta.

Turn mixture into a greased 8x8 baking dish.*

Top with breadcrumbs and place in preheated oven. Bake for 20 minutes, until bread crumbs are golden.

Serve warm with a green salad.
---
Recipe Notes
*Recipe can be made up to this point ahead of time and refrigerated until you are ready to bake. Top with breadcrumbs and bake covered with foil for 10 minutes, then uncovered for 20 min.
If you liked this recipe, here are some similar dishes you may enjoy!