The classic Argentinian flavor combo of beef with herby and tangy chimichurri takes center stage in this Top Round Roast Beef with Chimichurri recipe. Wow your guests with this economical, incredibly flavorful, and out-of-the-ordinary beef roast.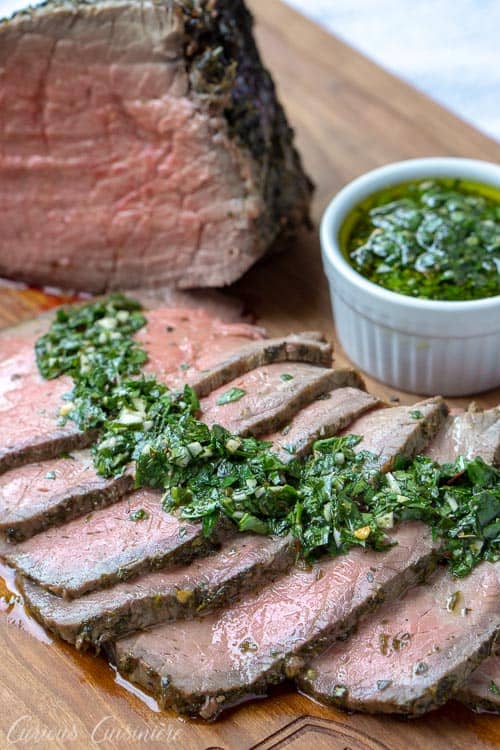 Disclosure: This post is sponsored by the Certified Angus Beef ® brand in conjunction with a social media campaign through Sunday Supper LLC. All opinions are our own.
This article contains affiliate links. These links are provided to help you find some of the more specialty products we mention in the recipe.
What Is Chimichurri?
Chimichurri is thought to have originated from Argentina and Uruguay, but today it is widely used across Central and South American cuisine.
This sauce is most often used as an accompaniment to grilled meats.
Chimichurri is a combination of finely chopped parsley, garlic, oregano, olive oil, and vinegar. Different countries' versions may change up the supporting herbs, chiles, or acid, but the base of parsley and garlic nearly always remain.
(Check out our Nicaraguan Style Steak Skewers with Chimichurri for another take on the sauce and flavor combo.)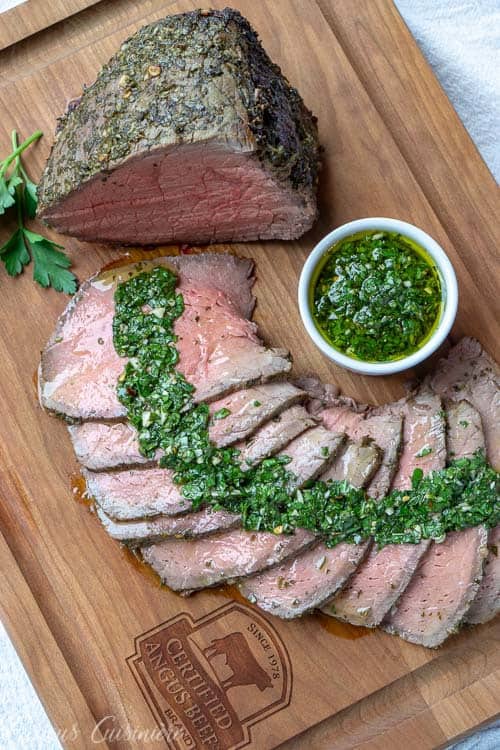 The important thing to remember when making a chimichurri is that the ingredients need to be minced finely. They shouldn't be pureed into a paste. (This isn't a pesto!)
Rather, the parsley and garlic just need some good, old fashioned, time under the knife to mince them to a consistency that makes this a loose condiment with the perfect spoon-able consistency.
Using The Roast Perfect App To Find A Roast
We do love chimichurri with a good grilled steak, but in the winter months (or if you're serving a crowd) a beef roast makes more sense.
When deciding which roast to make we went to our local Fox Brothers Piggly Wiggly, were we get all of our beef because they carry Certified Angus Beef ® brand, so we know the beef is always going to be quality.
We often see Top Round Roasts on sale and so I looked in the Certified Angus Beef ® brand #RoastPerfect app to see how they recommend cooking it and how big of a roast to buy.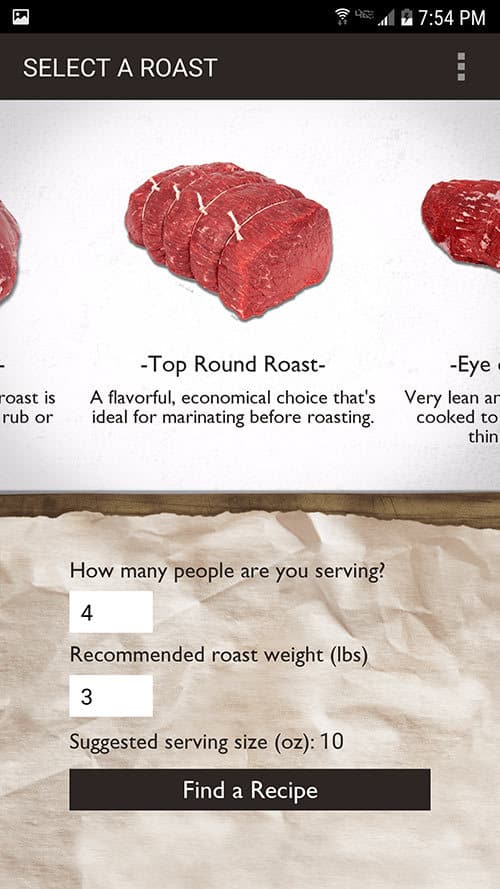 The #RoastPerfect app suggested a 3 lb roast for 4 people, and since we like leftovers, this is the route we went.
It also says that Top Round Roasts are great for marinating before roasting, which was perfect because we knew we wanted to use the chimichurri as a marinade to really infuse the roast with flavor.
If you haven't downloaded the free #RoastPerfect app yet, make sure you do so before this Holiday roasting season!
It takes all the mystery out of roasting, from deciding what and how much meat to buy all the way through giving you a timer and recipes for your roast. (But, you know you really want to make this recipe, so we've got you covered there .)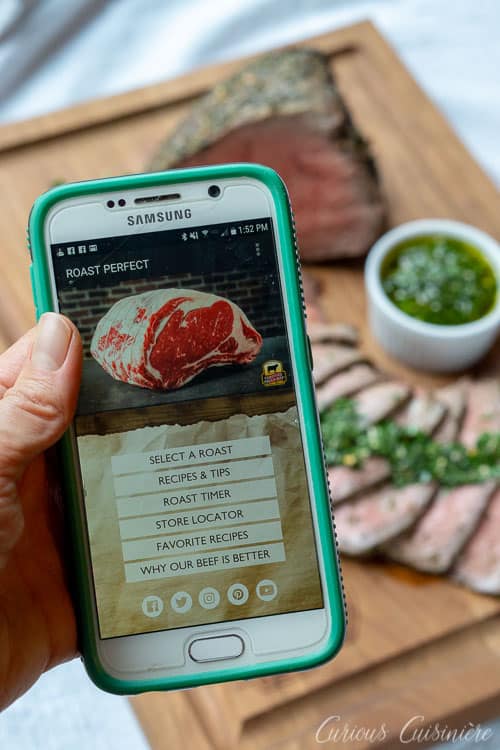 Which Is Better Top Or Bottom Round Roast?
If you're at the supermarket, you may see two round roasts, top round and bottom round, and wonder which is best.
Lets back up a minute and talk about the 'round'.
The rounds are the muscles of the steer's hind legs. These muscles do a lot of hard work, and so they are the largest and leanest of the cow. Because of all the work they do, they won't be as tender and juicy as a less worked muscle, like the loin or rib.
Top round is relatively lean and more tender than the bottom round, making it a better choice for roasting. (It's actually the go-to cut for deil-style roast beef.)
The bottom part of the round is typically divided into two smaller roasts, one called the "bottom round roast" and the other called the "rump roast". This bottom part of the round is a bit less tender than the top, so is a good candidate for braising low and slow.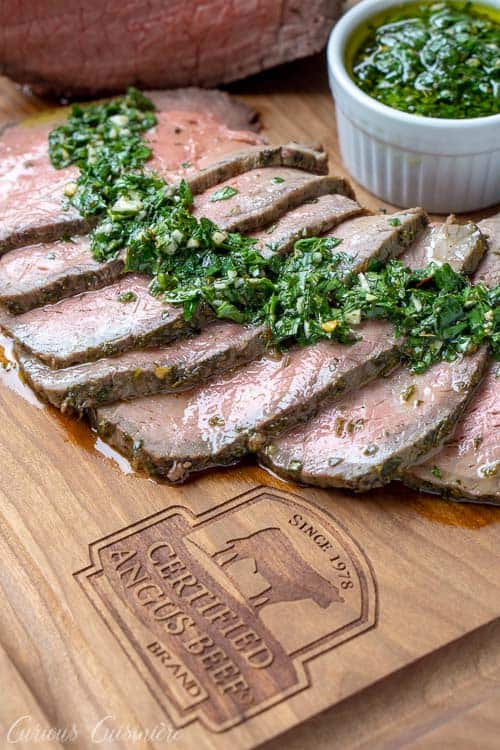 How Do I Cook A Top Round Roast?
Since the top round roast is lean and moderately tender, it is a great cut of meat to roast. It's not as tender as, say, the tenderloin or rib roast, so it's best if sliced thin against the grain for serving.
To prepare a top round roast, the Certified Angus Beef ® brand #RoastPerfect app recommends marinading.
Marinating a cut of meat does so much more than just infuse the meat with flavor. The acids in the marinade go to work starting to breaking down the fibers of the muscle, helping to increase the tenderness of the finished roast.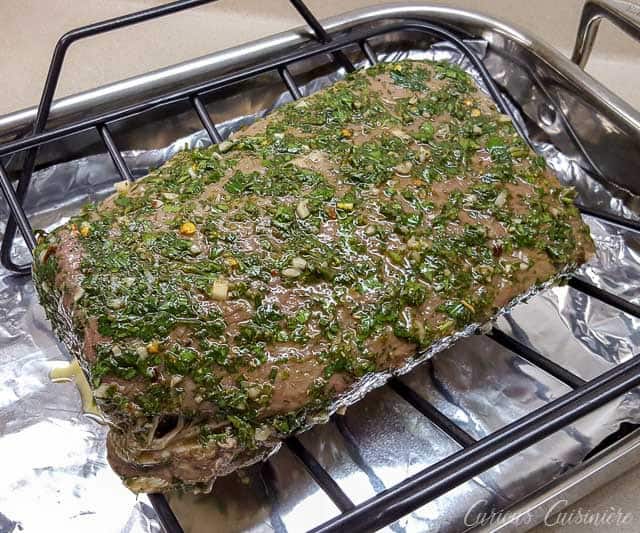 We used the oven sear method recommended by the #RoastPerfect app to cook our top round roast. In this method, you start your roast at 450F for 15 minutes, to get a good crust.
Then, the oven it turned to 325F to continue cooking the roast at a lower temperature for the remainder of the cooking time.
After cooking, it's important to rest your roast for 10-15 minutes to let the juices settle before you slice it.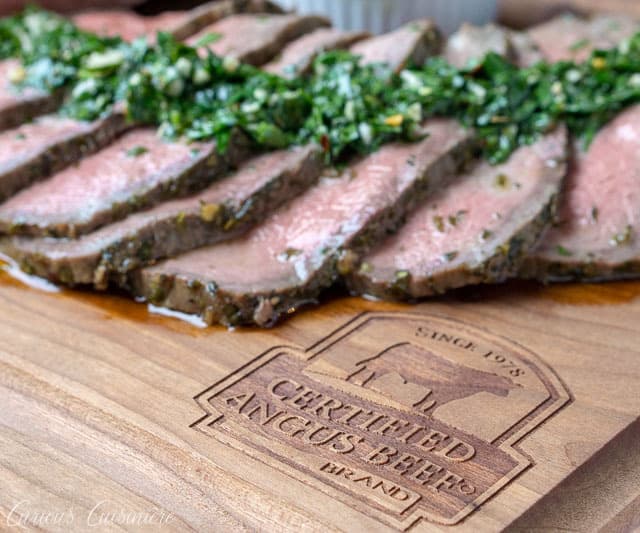 Our Top Round Roast Beef With Chimichurri Recipe
For our top round roast beef with chimichurri recipe, we're letting the chimichurri sauce do double duty.
Get your parsley and chopping knife ready, because we're making a big batch of chimichurri sauce!
Half of the chimichurri we use to marinate the beef overnight. The other half we reserve for serving the beef.
This way, the top round roast gets the flavor and tenderness of some nice marinating time. And, each bite of the roast you serve is accented with bright and fresh chimichurri.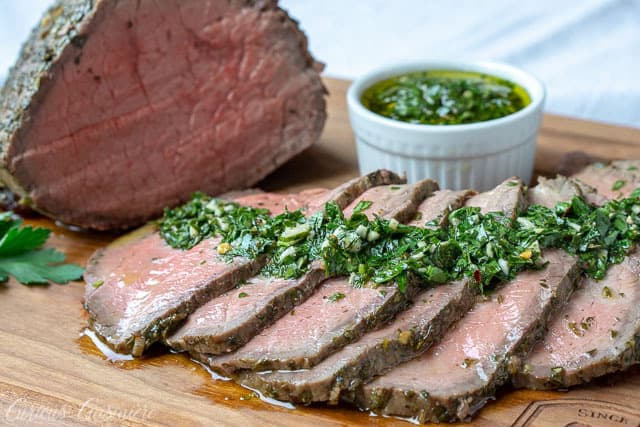 This roast is a fantastic way to change up your roasting game with an economical cut and an impressive presentation.
And, definitely make enough for leftovers, because thinly sliced chimichurri roast beef sandwiches made from leftover roast and chimichurri are something to swoon over!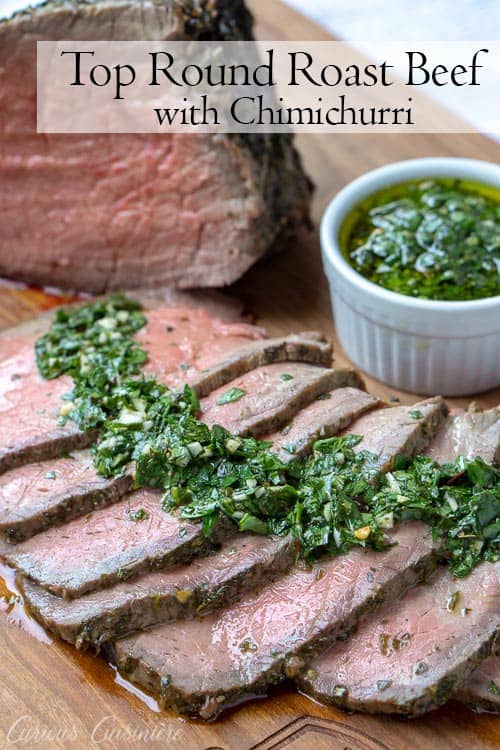 Top Round Roast Beef with Chimichurri
The classic Argentinian flavor combo of beef with herby and tangy chimichurri takes center stage in this Top Round Roast Beef with Chimichurri recipe. Wow your guests with this economical, incredibly flavorful, and out-of-the-ordinary beef roast.
For best flavor and tenderness, marinade the roast for at least 12 hours (up to 24 hours) before roasting.
Yield: 1 (3 lb) roast and 2 cups of chimichurri sauce
Ingredients
1 ½

c minced

parsley

(roughly 2 bunches)

8

cloves

garlic,

minced

1

Tbsp dried

oregano

1 ½

tsp

salt

½

tsp

red pepper flakes

½

tsp

ground black pepper

1

c

olive oil

½

c

red wine vinegar

3

lb Certified Angus Beef ® brand

top round roast
Instructions
Mix minced parsley, minced garlic, oregano, salt, red pepper flakes, and black pepper in a bowl.

Add oil and vinegar. Mix well. Taste and adjust the salt and pepper as desired.

Reserve ½ of chimichurri (1 c) in an airtight container. Store it in the refrigerator until ready to use as a garnish for the roast.

The other half (1 c) of the chimichurri, use to marinade the meat. Place the meat in a zipper sealed bag and pour in the marinade. Marinade overnight, at least 12 hours (up to 24 hours).

Remove the roast from the refrigerator 1.5 - 2 hours before roasting for it to come to room temperature.

Preheat your oven to 450F.

Line a roasting pan with aluminum foil. Drain the marinade from the roast and place the roast on the roasting rack in your roasting pan.

Cook the roast at 450F for 15 minutes.

Reduce the heat setting of your oven to 325F. Cook the roast for an additional 60-70 minutes, for medium doneness, or until your desired doneness is reached. Use an

insta-read thermometer

, inserted into the side of your roast (not in fat), to check the doneness of your meat. You should remove the roast 5-10 degrees lower than your desired temperature, as the roast will continue cooking as it rests.*

When your desired doneness has been reached, remove the roast from the oven and let it rest 10 minutes before slicing.

Take the reserved chimichurri out of the refrigerator and let it come to room temperature before serving.

After resting, slice roast thinly against the grain and serve with the reserved chimichurri.
Notes
*Desired ending temperatures -- Rare: 125F, Medium Rare: 135F, Medium: 145F, Medium Well: 150F, Well Done: 160F.
If you liked this recipe, here are some similar dishes you may enjoy!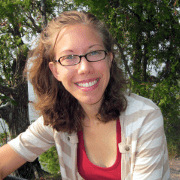 Sarah is one of Curious Cuisiniere's founding duo. Her love for cultural cuisines was instilled early by her French Canadian Grandmother. Her experience in the kitchen and in recipe development comes from years working in professional kitchens. She has traveled extensively and enjoys bringing the flavors of her travels back to create easy-to-make recipes.