Gougères, or French Cheese Puffs, are light and airy, cheese-filled pastry bites with a crisp outside and a soft, buttery inside. Once you make them, you'll want to serve this recipe as an appetizer at every party! 
Gourgeres: French Cheese Puffs
A Gougère (pronounced GOO-zher) is basically a savory cream puff. If you've ever had a sweet cream filled cream puff or a chocolate-topped éclair, the pastry you're eating is called pâte à choux (pronounced PAT ah shu) or choux pastry. This pastry is the base for so many wonderful treats, and its light and airy texture might make it seem like something difficult to recreate at home. But, the first time we made pâte à choux, we were AMAZED at how easy it was.
Making Pâte à Choux
Choux Pastry is an incredibly basic dough made of just butter, water, salt, flour, and eggs. What makes it different than your basic risen dough is the way it comes together.
Liquid: First, the butter water and salt are simmered together, until the butter is melted.
Flour: Then, the flour is added and stirred, quickly and with a lot of force because we don't want it to stick. After the flour has been stirred in, the dough will come together into a fairly stiff ball. We continue stirring the dough, on the heat, for 1 minute to remove just a little more moisture from the dough. Once the dough has cooked, it is removed from the heat to cool slightly so it doesn't cook the eggs when they are added.
Eggs: Finally, the eggs are beaten in, one at a time, until the dough becomes silky and smooth. As you start beating in each egg, the dough will turn lumpy, but just keep beating, and it will come back together.
French Cheese Puffs
After you have your basic Pâte à Choux, it's time to turn it into Gougères by folding cheese into the silky, sticky dough. We used Parmigiano-Reggiano because we love the way its sharp and strong flavor permeates through the pastry. Other cheeses that are commonly used are the French cheeses Gruyère, Comté, or Emmentaler, but any dry, aged cheese with a good, strong flavor would work well.
You can also get creative an add in herbs or spices like black pepper or chives. Some people will also fold in chopped, cooked bacon for an extra salty, smoky burst.
Puffy Cheese Puffs
Pâte à choux doesn't contain any chemical leavening agents. So how do these French Cheese Puffs puff? It all comes down to the moisture content.
By cooking the pastry first in a very hot oven, you start to turn the moisture inside of the batter into steam. The steam inflates the sticky batter, which then sets into its inflated state as the pastry continues to cook.
This process does make the pastry fragile while cooking, so it is important to only take them from the oven when they are completely golden and feel set. If they are removed from the oven too soon, they will fall as they cool. And, while fallen Gougères are just as tasty, they're just not quite as pretty as the nicely puffed ones.
Serving Gougères with Wine
Gougères have a long history of pairing with wine. They originate from the French wine region of Burgundy, where they have been eating version of these light, cheese puffs since the eighteenth and nineteenth centuries. In Burgundy, they are typically served cold as an appetizer with a glass of wine or as a nibble to go along with a wine tasting.
While the Gougères are incredibly tasty at room temperature or chilled, right out of the oven they are a heavenly combination of the crisp exterior and steamy, eggy interior. We would never pass up the opportunity to grab one still steaming from the oven!
Pairing Our French Cheese Puffs with Wine
We paired our Gougères with Saint-Hilaire Blanquette de Limoux Brut. If you have never tasted a Blanquette de Limoux, you are missing out. Blanquette de Limoux is one of the oldest sparkling wines around. Its production can be traced back to Benedictine Monks at the Abbey Sainte-Hilaire in the 1500s. Which makes it a sparkling wine that is nearly a century older than Champagne! This sparkling wine from the foothills of Southern France, in the Languedoc region, became a favorite of Thomas Jefferson in the late 1700s and, soon after, found its way to popularity in America.
We loved the crisp, dry, and refreshing qualities of the Brut Blanquette de Limoux. It is well balanced and flavorful in itself, but its dryness and acidiy act as a wonderful palate cleanser, making it a perfect wine for serving with food. It is particularly suited for rich, salty, cheesy foods with big flavors because the light bubbles refresh your palate and get you ready for another bite.
With the Gougères, it was heavenly. The dryness of the wine complemented the salty, cheesy notes of the pastry, and the wine's acidity cut nicely though the Gougères' eggy, creamy texture.
What really blew us away about the Blanquette de Limoux was the price. For such incredible quality in a sparkling wine, you're talking a fraction of what a quality Champagne would cost. If you love Champagne, this is a great way to get your bubbly fix without breaking the bank. And, if you're not a Champagne person, it's quite possible that you just haven't had a GOOD Champagne yet. (We've all been there at one point or another.) If that's the case, keep an eye out for these bottles, because, at their price, there's no harm in giving them a try. Who knows, they just might transform the way you think about sparkling wine!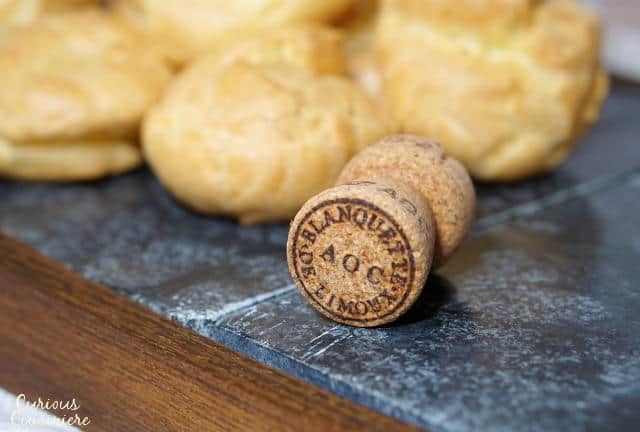 Gougères (French Cheese Puffs)
Yield: 24 (2 1/2 inch) Gougeres
Instructions
Preheat your oven to 450F.

In a medium saucepan, bring the water, butter, and salt to a simmer over high heat.

Reduce the heat to medium and add the flour. Stir hard. The dough will clump and pull from the sides of the pan, continue cooking and stirring for 1 minute. Remove the pan from the heat and let it cool for 2-3 minutes.

Once the dough is warm, but not hot, add the eggs, one at a time, stirring hard or beating with an electric hand mixer after each addition to fully incorporate each egg before adding the next. (The batter will first become lumpy, but after a minute or two, it will become a smooth batter again.)

Add the grated cheese. Stir or beat until well-mixed.

On a parchment or silicone lined baking sheet, spoon or pipe roughly a tablespoon of batter. Wet your finger with water and pat down any peaks that form. (These will burn more easily.)

Bake the Gougères for 10 minutes at 450F, then turn the oven down to 350F and bake for an additional 17-23 minutes, until they are nicely golden brown and feel firm when tapped.

Let the Gougères cool slightly on a wire rack before serving. (The Gougères are best served warm.)
Notes
To Reheat: If you want to make the Gougères ahead of time, you can warm them in a low (170F) oven for 5-10 minutes before serving. To Freeze For Later: Scoop the batter into individual Gougères on a baking sheet and freeze them for later. Once frozen, the Gougères can be removed from the baking sheet and stored in an airtight container. Thaw the Gougères on a baking sheet for 10-15 minutes before baking them per the recipe directions. They will need to bake an additional 5-10 minutes at 350F than indicated in the recipe above.
DISCLOSURE: We received samples of  the sparkling wine mentioned in this post. We were not compensated for our time. As always, all opinions are our own.
---
Celebrate Valentine's Day food and wine pairings! 
Camilla from Culinary Adventures with Camilla –
Christy from Confessions of a Culinary Diva –
David of Cooking Chat started this event in June of 2014, and every month since then this group of wine and food lovers have had a great time! For more background, check out the original post announcing Wine Pairing Weekend. You can see the full list of past and upcoming #winePW events here.
If you liked this recipe, here are some similar dishes you may enjoy!