Chipa is a savory bread made with cassava flour and cheese. It is a favorite Paraguayan snack sold all over the country. Chipa 4 Quesos is a four cheese version that is a very special treat.
Chipa History
In the late 1500s, in the time of the Spanish colonies in South America and of the Jesuit missions, the historical records mention several times that the Guarani people (the native tribe in the eastern part of what is now Paraguay) made a cake with cassava flour and corn flour.
During the time of the Jesuit-Guarani Missions, the Guarani diet was complemented with other foods that the Jesuits brought with them from the old continent. Some of the new foods were beef, lamb, mutton, milk, eggs, and cheese.
The combination of the Guarani cassava flour cakes with the milk, eggs, and cheese from the Jesuits, lead to the creation of chipa and its different variations.
The Jesuit-Guarani Missions were in the territories that are currently divided in the border area of 3 countries: Argentina, Brazil, and Paraguay. That is why you find chipa so common in all three of those countries.
In fact, some would say that chipa is a dish with no nationality.
In Paraguay, chipa was elevated as a sacred bread, even being present in the rituals of the first Guaraní Catholicism.
And because it has no leavening, the consumption of chipa was included in the rituals of Christmas and Holy Week, or the Day of the Cross.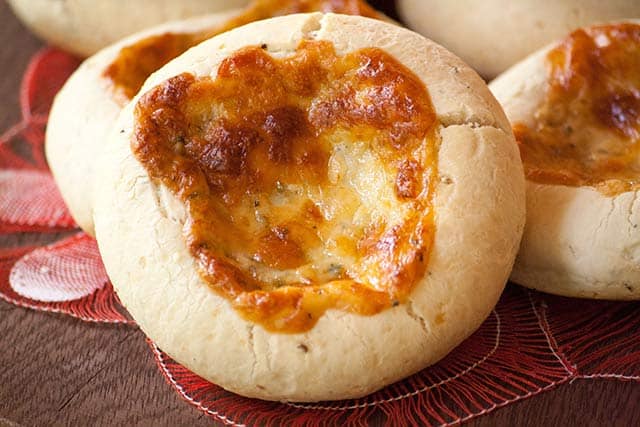 Paraguayan Chipa
Traditional Paraguayan chipa (pronounced CHEEP-ah) is sold on the streets every day, throughout the year.
This bread consists of cassava flour/starch, fresh corn flour, Paraguayan cheese, lard, eggs, and anise seeds.
Chipa is then formed into a donut-shape bread before baking it in a brick oven.
In the morning, chipa is served before tereré (cold tea made with yerba mate). This meal is called tereré rupá ('bed' or 'base' for tereré)
In the afternoon, chipa is eaten for merienda (snack or coffee time) with cocido (hot tea made with yerba mate).
As an appetizer, a variety called "chipita" is very much appreciated. It is crispy and small, ideal for meetings or get-togethers.
Chipa 4 Quesos
Chipa 4 quesos is sold in special bakeries in Paraguay.
Is not a common variation.
The fact that it has 4 different kinds of cheese, makes it more expensive than regular chipa, so it is enjoyed as a special treat.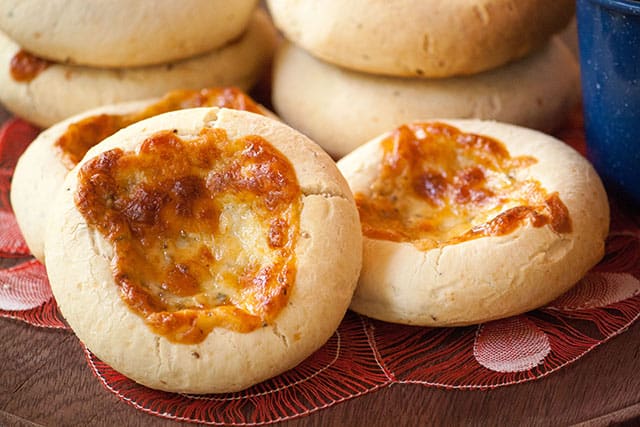 Cheese for this Paraguayan 4 Cheese Bread
The 4 cheeses used for Chipa 4 Quesos are: Paraguayan cheese, mozzarella cheese, queso sardo, and blue cheese.
Paraguayan cheese – Fresh, soft cheese that is mild in taste (use queso fresco as a substitute)
Mozzarella cheese – A slice-able, curd cheese originating in Italy. It has a mild flavor
Queso Sardo – This Argentinian cheese is a hard cheese, with a strong and salty flavor. This cheese is an imitation of Pecorino Romano, an Italian cheese made with sheep's milk. (use Pecorino Romano cheese as a substitute)
Blue cheese – Crumbly, with a strong flavor and very salty
Mix the 4 kinds of cheese in one bowl before adding it to the chipa dough. That way, you can reserve some for the topping.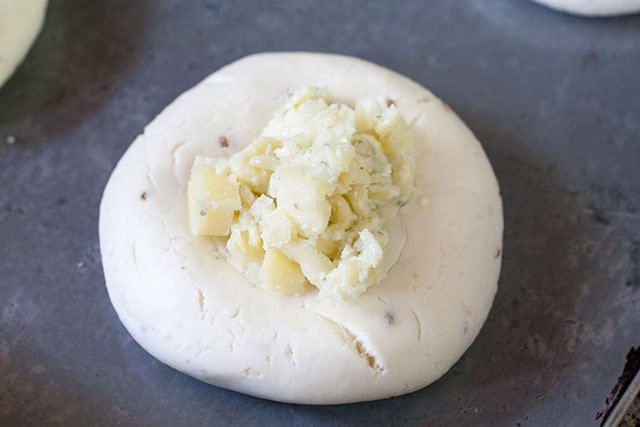 How To Make Chipa Dough
Chipa is very easy to make. You will just need one big bowl and your hands.
It's important to bake chipas in a very hot oven. So always start with preheating the oven.
Butter or lard? Traditional chipa is made with lard, but you can use butter instead. I think lard gives it a better crust.
The dough comes together pretty easily. It might seem dry at the beginning, but keep kneading and the dough will come together. The finished dough should have the texture of playdough.
How To Store Chipa
This chipa dough can be frozen for up to 3 months. Shape the chipas and freeze them on a tray. Once frozen, transfer them to a zip-lock bag and freeze until ready to bake as directed in the recipe.
Baked chipa can be frozen too. Let them cool completely and freeze. Pop them in the microwave for 30 seconds and they are ready to eat.
Chipas are best if eaten while they are still warm, so if you won't eat all the chipa right away, freeze the dough (or baked chipa) for later!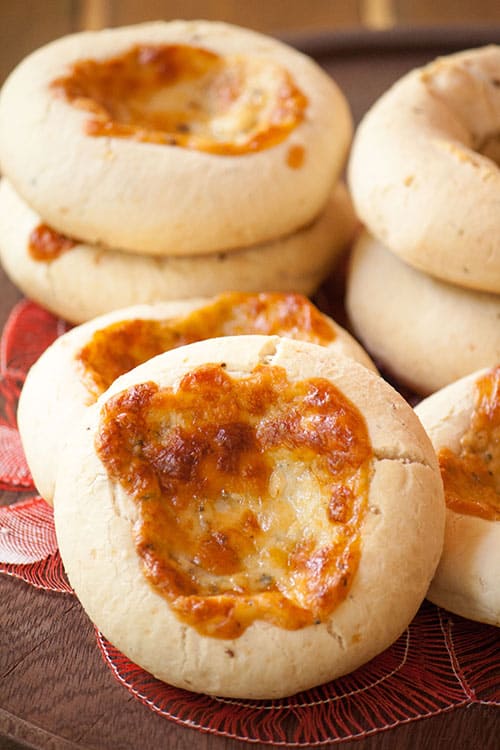 Chipa 4 Quesos (Paraguayan 4 Cheese Bread)
Chipa is a savory bread made with cassava flour and cheese. This 4 cheese bread version is a favorite Paraguayan snack sold all over the country.
Yield: 10 chipa
Ingredients
3/4

cup

queso fresco

3/4

cup shredded

mozzarella cheese

3/4

cup shredded

Pecorino Romano cheese

1/2

cup

blue cheese

5

cups

cassava flour

1

teaspoon

salt

1

teaspoon

ground anise seeds

1/4

cup

lard

or butter, at room temperature

1

egg

1

cup

whole milk
Instructions
Preheat the oven to 450F and grease 1 baking tray.

In a small bowl, mix all 4 cheese. Set aside 1/3 cup of this cheese mixture, to use for a topping.

In a big bowl, add cassava flour, salt, anise seeds, lard or butter, egg, milk and cheese mixture.

The mixture might look too dry, but using your hands, bring the ingredients together until you get a uniform dough.

Place the dough on a flat surface and knead for about 5 minutes. (This dough has the texture of playdough.)

Divide the dough in 10 equal portions. Roll each portion into a ball between the palms of your hands. Flatten the ball slightly.

Place chipas on the baking tray. Top each chipa with some reserved cheese mixture.

Bake for 25 minutes at 450F.

Let it cool for 5 minutes before eating. Chipas are best eaten while hot.
Notes
Chipa dough can be frozen up to 3 months.
If you liked this recipe, here are some similar dishes you may enjoy!