Soft bread, flavorful cheese, and a runny egg combine to make Adjaruli Khachapuri, a Georgian cheese bread that is sure to win your heart (and your stomach).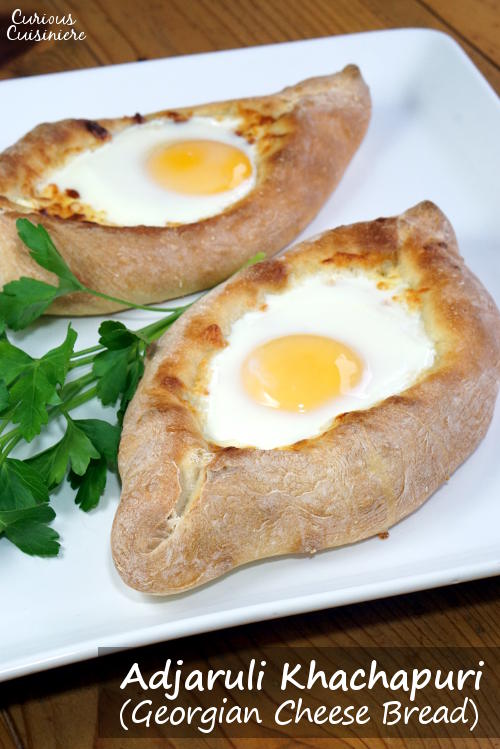 Khachapuri: cheese bread
Khachapuri (pronounced HA-cha-PUR-ee) is a cheese bread from Georgia, a country to the north of Turkey and Iran. It is considered one of Georgia's national dishes, and once you taste one bite of the soft and crusty bread, covered in cheese, you'll know why.
The name comes from the words khacho meaning "cheese curd" and puri meaning "bread." These cheese breads can be small enough to serve one for breakfast or large enough to be shared as an appetizer or even as a meal.
A regional dish with many shapes
Different regions in Georgia have different variations of khachapuri. For the most part, the dough and the cheese mixture stay the same among the variations, it is just the shape and way it is eaten that change.
Imereti, the region in west-central Georgia, makes probably the best known khachapuri: Imeretian khachapuri. This version is like a double-crusted pizza, or a circular calzone, with the cheese stuffed inside. It is cut into wedges, like a pie, and meant to be eaten with a group.
Samegrelo, the region on the west coast of Georgia, kicks Imeretian khachapuri up a notch by putting more cheese on top. This version is called Megrulin khachapuri.
Ajara, the region in the south west corner of Georgia, serves a version of khachapuri in which the dough is shaped into a boat that is then filled with the cheese mixture. This bread is topped with a raw egg and a pat of butter before serving.
While these three versions are the most well known, many other regions have their own variations, changing up the shape or adding ingredients like polenta, potatoes, or hard boiled eggs.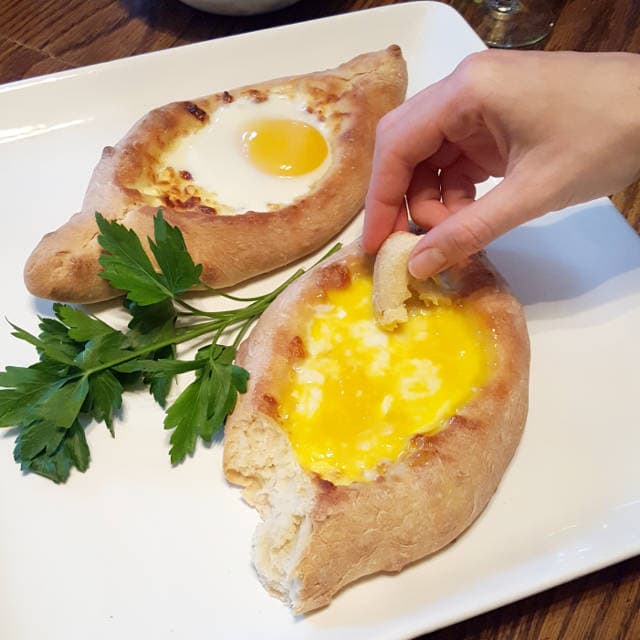 Adjaruli khachapuri
The khachapuri from Ajara is the variation we are making today.
This Adjaruli (or Acharuli) Khachapuri (pronounced ad-JAR-ool-ee HA-cha-PUR-ee) starts with a soft dough that is shaped into a boat. Be sure your boat has good sturdy sides, because these keep the gooey cheese and runny egg contained!
The boat is then filled with a cheese mixture which bakes into bubbly, gooey goodness.
To finish the bread off, an egg is cracked into the boat before serving.
Traditionally the bread is also served with a pat of butter on top as well, just to make it even richer. (We left off the extra butter, and didn't miss it. But, if you feel so inclined, give your khachapuri a little extra butter love.)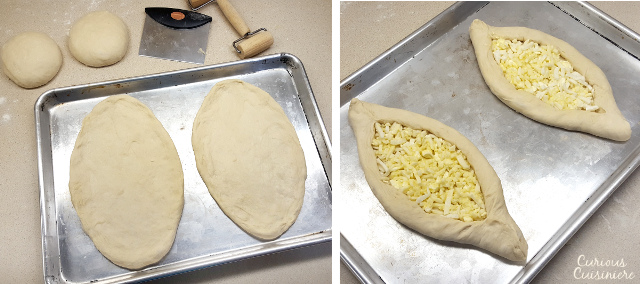 The cheese traditionally used for khachapuri is a local, fresh, cow's milk cheese. This cheese is soft, allowing it to become one with the soft inside of the bread. Some people will combine the fresh cheese with a more stretchy type of cheese, similar to mozzarella.
Feta cheese is a common substitution for the traditional soft cheese, so we combined some feta with mozzarella for a beautiful, cheesy, flavor and texture.
Georgian cheese bread: Better than pizza?
It's crusty.
It's cheesy.
It's simply delicious.
Think of it like a brunch pizza.
Warm from the oven with a ton of crisp crust and a soft, chewy, bready interior that is perfect for dipping in a warm, runny egg and melted cheese.
Is it better than pizza? You'll have to try it out and let us know!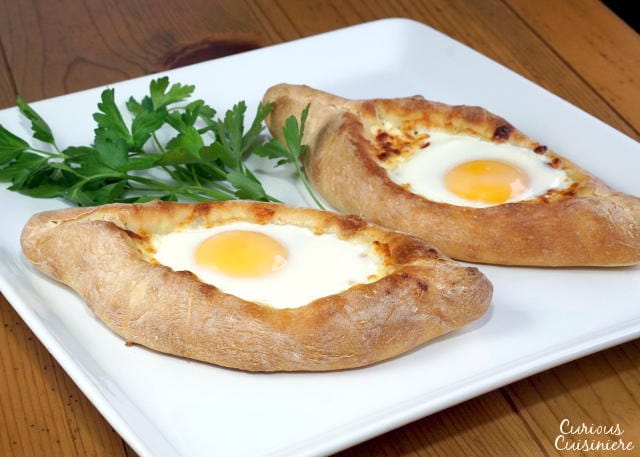 Yield: 4 (10x15 inch) breads
Adjaruli Khachapuri (Georgian Cheese Bread)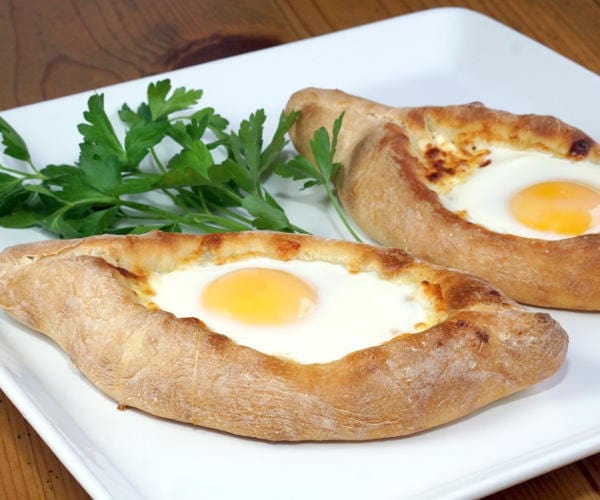 If you love feta cheese and chewy, fresh bread, get ready to fall in love with this Georgian Cheese Bread topped with a runny egg. Serve it as a brunch pizza, appetizer, snack, or dinner. Whatever time of day, this bread is simply delicious!
Total Time
2 hours
24 minutes
Ingredients
For the Dough
¾ c water, warmed to 80-90F
¾ c milk, warmed to 80-90F
1 tsp sugar
1 tsp active dry yeast
1 Tbsp olive oil
4 - 4 ½ c unbleached all purpose flour
1 ½ tsp salt
For the Topping
5 eggs, room temperature, divided
2 oz (1/2 c) feta cheese, crumbled
2 c shredded mozzarella cheese
1 Tbsp unsalted butter
Instructions
Mix the water and milk in a large bowl. Add the sugar and mix until dissolved. Sprinkle the yeast over the liquid and let it stand for 5-7 minutes, until the yeast becomes foamy. Mix the yeast into the liquid. Add the oil and mix well.
Mix 2 cups of flour into the yeast mixture. Mix in the salt. Add the remaining flour, a little at a time, mixing after each addition, until the dough starts to come together.
Turn the dough out onto a lightly floured surface and knead by hand for 5-7 minutes, adding flour as necessary to keep it from sticking to your hands or the counter, until a soft (but not sticky) dough forms.
Place the dough into a greased bowl. Cover it with a damp tea towel. Place the bowl in a warm, draft-free place to rise for 1 – 1 ½ hours, until bubbly and doubled in bulk.
For the Topping
While the dough is rising, make your filling. In a small bowl, mix the shredded mozzarella and feta cheese with one egg. Set aside.
Putting It All Together
For best results, move your oven rack to roughly 6 inches from the top heating unit. Preheat your oven to 475F.
Once the dough has risen, punch it down and turn it onto a floured surface. Divide the dough into 4, roughly even, pieces.
Shape each piece into an oval, roughly 11 x 6". Place the dough ovals onto greased baking sheets, leaving an inch between each bread.
On the baking sheet, fold ¾ of an inch of dough inwards to create a thicker border, a crust that will keep the melted cheese and egg inside. Pinch the two small ends into points to create a boat-shape.
Spoon ¼ of the filling into the center of each "boat". Smooth the filing with a spoon.
Place the khachapuri into the oven and bake for 12-15 minutes, until lightly golden.
Remove the khachapuri from the oven and crack one egg into the center of the bubbling cheese in each boat. Return the khachapuri to the oven and bake for an additional 3-4 minutes, just until the egg has set.
Serve the khachapuri warm, with a small pat butter on top or brush the crust with a little melted butter before serving. It is traditional to mix the egg and melted cheese with a fork and dip torn off pieces of the crust into the cheesy, eggy goodness in the middle.
If you liked this recipe, here are some similar dishes you may enjoy!