The classic meatball sub, transformed into a stunning dish to serve a crowd. Perfect for game day or any party day!
Who loves a Meatball Sub?
Have you met anyone who doesn't love a meatball sub?
I don't think I have.
To be completely honest, that was my go-to meal from Subway for a long time.
Now, that Tim and I make meatballs from scratch, I can't quite go back to the chain-store version of a meatball sub. But, homemade, they make for a fun dinner, and are a great way to turn an easy meatball appetizer into a filling meal for a crowd.
Meatball Subs for a Party
But, we're not quite talking meatball subs today.
No, we've taken it up a notch, because, why not wrap the meatballs in soft and fluffy dough to make a stunning ring that will have everyone clamoring for a bite?
Making Homemade Meatballs
Making meatballs from scratch may seem intimidating, but, if you have ever made meatloaf, you've pretty much made meatballs.
I'm serious!
The only difference is the shaping and pre-cooking to get them to hold their shape. Take a look at our recipe here! (Since posting that recipe, we've discovered that baking the meatballs is WAY easier than pan-frying them. You can learn how to bake the meatballs here.)
We love making big batches of meatballs, because they freeze so well. Once frozen, it becomes incredibly easy to reach for the homemade stuff rather than heading to the store when the craving hits. (And, they become REALLY  handy if you have a big crowd of last-minute guests!)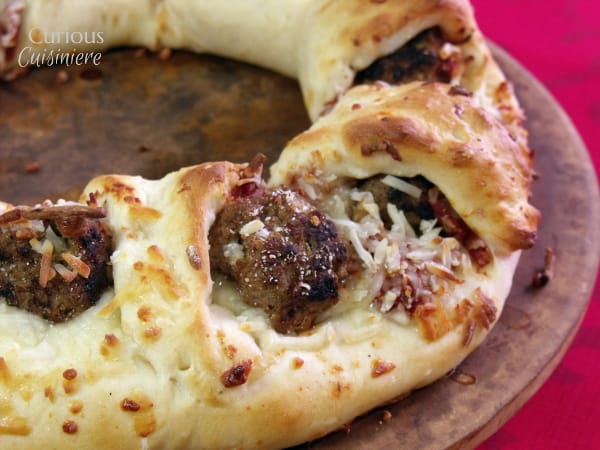 Meatball Sub Ring
Author:
Sarah | Curious Cuisiniere
Yield:
12" ring (8-10 servings)
Ingredients
For the Dough
¼ c warm water
1 Tbsp sugar
1 tsp active dry yeast (1 packet)
½ c warm milk
1 Tbsp butter, softened
2 c all purpose flour
½ Tbsp salt
For the Sauce
1 (6oz) can tomato paste
1 tsp garlic powder
1 tsp onion powder
1 tsp oregano
¾ tsp salt
½ tsp basil
Putting It All Together
12-15 large (2") meatballs (¾ – 1 lb) (thawed if frozen)*
1 c part-skim shredded mozzarella cheese
milk (to brush the top of the dough)
Instructions
For the Bread Machine: Layer the dough ingredients in your bread machine bowl according to the manufacturer's instructions. Process on the dough setting. Check the dough a couple of minutes into the first knead to be sure a soft dough is forming. Add more flour or water, a Tbsp at a time if the dough looks too sticky or dry.
By Hand: In a large bowl, dissolve sugar and yeast in warm water, allow to set for 5 minutes until foamy. Add milk and butter, and mix to combine. Add flour and salt, mixing well until the dough comes together. When the dough is too stiff to stir, turn onto a lightly floured counter-top and knead by hand for 7-10 minutes, until a soft, pliable dough forms, add more flour or water, a Tbsp at a time if the dough looks too sticky or dry. (Alternately, use your stand mixer to blend the ingredients together, and knead using a dough hook for 3-4 minutes, until the dough is smooth.) Cover the dough with a damp towel or plastic wrap and let rise until doubled in bulk, 1 hour.
While the bread is rising, make your sauce by combining the tomato paste and seasonings in a small bowl. Set aside.
Take the dough out of the bread machine or the rising bowl, and knead a few times by hand to deflate. Roll the dough into a 12" circle. Place the circle of dough on a greased pizza stone or pan. Spread a ring of sauce roughly ½ inch inside the outer rim of your circle of dough. Place meatballs in a ring on top of the sauce. Sprinkle the shredded cheese over the meatballs and sauce, carefully, so it doesn't go all over the place.
Cut the middle of the circle of dough four times to create triangles that you can fold over the meatballs. Fold each triangle of dough over the meatballs, stretching it slightly wider, to cover more area. Moisten the dough at the tip with some water and pinching it firmly into the dough on the outside of the ring to secure it as it bakes. Brush the dough with milk and set aside to rise for 10-15 minutes.
Preheat oven to 400F.
Bake ring 12-15 minutes, until bread is golden and cheese is melted.
Let cool slightly on a wire rack before serving.
Notes
*If your meatballs are smaller, go ahead and use more. You want to fill the ring!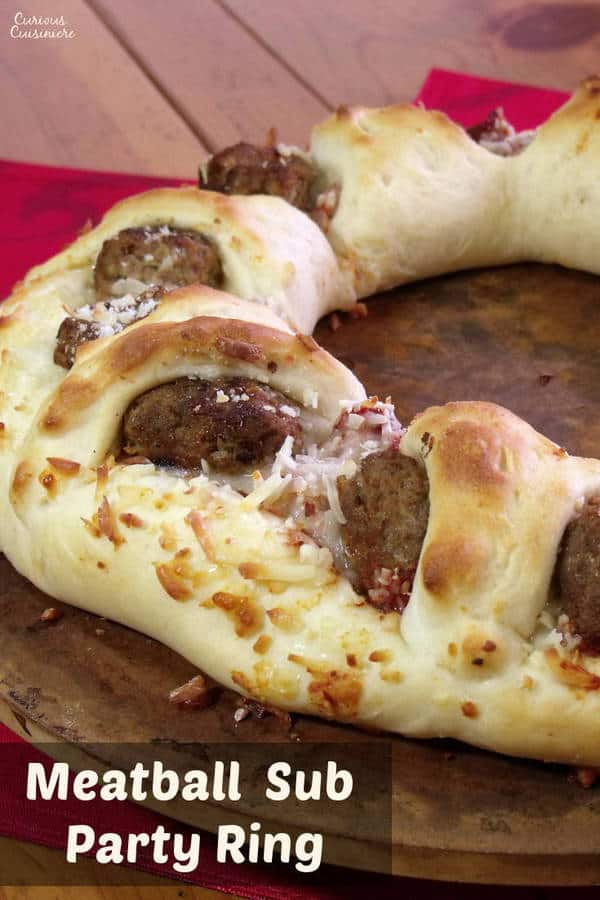 If you liked this recipe, here are some similar dishes you may enjoy!