Mexican-spiced ground chicken makes for a fun twist on meatballs. Serve these Chicken Meatballs with some spicy queso for a fun and tasty appetizer!
Wine Pairing for Game Day
No matter what team you typically root for, it seems like everyone is getting excited for next week's Big Game.
Even if 'your team' isn't playing, it's always a fun game to watch and a perfect excuse to get the gang together for an afternoon filled with our favorites: game day foods!
Today the Sunday Supper crew has partnered with Gallo Family Vineyards to bring you some fun and unique game day food and wine pairings that will make your Sunday a bit out of the ordinary.
Homemade Chicken Meatballs for Game Day
We love meatballs as an appetizer. They're tasty, snack-able, so versatile, and everyone loves them. Plus, they're a hot appetizer that you can keep warm in a crock pot, so you don't have to worry if they're still hot when the fourth quarter munchies start to hit. (Although, we don't promise you won't have to worry if there are any left by fourth quarter.)
Typically, we make our meatballs out of beef or a combo of beef and pork, but this time we were inspired by Gallo Family Vineyard's Red Moscato to try something a bit different. The Red Moscato is a lighter red wine with all the bright fruit flavors of a Moscato, paired with the deep juiciness of a red wine. It is incredibly sip-able all on its own. But, it is excellent when paired with a light and slightly spicy dish like these Mexican Chicken Meatballs.
You could pick up a package of ground chicken for this recipe. But, if you have the means to grind your own meat (and if you have a Kitchen Aid, you probably have a meat grinding attachment) we'd encourage you to grind your own. It's really not as scary as it sounds, and when you look at the price of boneless, skinless chicken breast compared to pre-ground chicken breast, you might just be convinced to give it a try. (By us, the price difference is crazy!)
Follow the instructions that came with your Kitchen Aid, using the fine grinding disc. Just be sure everything is tightened well and you cut your chicken into strips that easily fit in the feeder.
Not Just Any Meatballs: Mexican-Spiced Meatballs!
For the meatballs, we used a mixture of onions and Mexican-inspired spices like cumin, oregano, paprika, and chili powder. Instead of breadcrumbs, we used cornmeal to give the finished product a lighter taste, with a hint of corn tortilla flavor.
Making Baked Meatballs
Typically, we pan-fry our meatballs, but this time we decided to give oven-baking a try. And, let me tell you, I don't think we will ever go back to pan frying.
Why?
First, the shape. When we pan-fry, our meatballs end up with more flat sides than rounded ones. I have no idea how you pan-fry something into a round shape. By baking, the meatballs keep their rounded shape on all but one side. And, that's enough for me to actually call these guys meatballs.
Second, the time. To pan-fry a few dozen meatballs in batches takes time. Meatballs become an afternoon affair. By baking, they all go in all at once and do their thing. You can then clean up the mess you made while mushing around in ground meat, so that by the time the (mostly) round balls come out of the oven, you have a clean kitchen on your hands.
I'm really trying to think of a reason we'd pan-fry our meatballs again. But, I just can't.
Mexican Meatballs with Queso Blanco
And then, there's the Queso.
Mexican cheese is a thing of beauty. Queso Blanco (white cheese) and Queso Fresco (fresh cheese) are soft, creamy, and mild cheeses that crumble perfectly over a taco.
But, when you hear "Queso Blanco Dip," they're probably not talking about either of these cheeses. Queso Blanco doesn't melt particularly well, so Americans have taken to using white processed cheese to create a dip that we call "Queso Blanco Dip," probably because of its white color. This dip typically contains green chilies and diced tomatoes to give it a bit of spice and extra Mexican flair.
Since we're not too partial to processed cheeses, we decided to take our queso in a bit of a different route. (Hey, we were already on a kick with different, why stop now?)
Our Non-Processed Mexican Queso Blanco Dip
By making a basic white sauce and blending in shredded Pepper Jack, we achieved a nice white cheese sauce with the peppers built in. If you like an extra kick in your queso, feel free to add extra chopped jalapenos to the sauce just as it is finishing.
The slightly spicy queso is a perfect dipping sauce, creating a creamy and cheesy addition to the light and flavorful meatballs. The sweetness of a sip of Gallo Red Moscato adds everything necessary for the finishing touch.
We're pretty sure this pairing would change the mind of anyone who still thinks that game day is exclusively for beer.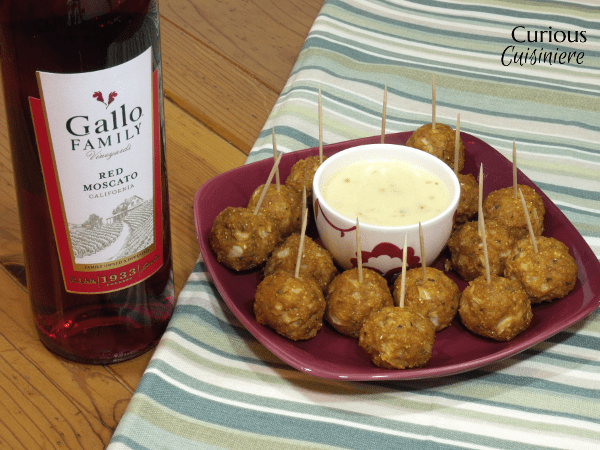 Mexican Chicken Meatballs
Mexican-spiced ground chicken makes for a fun twist on meatballs.
Yield: 2 dozen meatballs
---
Ingredients
1

lb

ground chicken breast

1

egg

½

onion,

finely minced

½

c

cornmeal

2

Tbsp

skim milk

1

Tbsp

paprika

2

tsp

chili powder

1 ¾

tsp

salt

1

tsp

oregano

1

tsp

parsley

¾

tsp

cumin

¼

tsp

ground black pepper
Instructions
Mix all the meatball ingredients in a large bowl, until just combined.

Take a slightly rounded Tablespoon of meat mixture and roll it into a ball, using your hands. (If your hands get too sticky to form a smooth ball, moisten them slightly with water.)

Place the balls on a greased, aluminum foil lined baking sheet.

Bake for 15-20 minutes, until firm and golden.

Serve immediately, refrigerate up to 1 week, or freeze for later.*
---
Recipe Notes
*To freeze the meatballs once completely cooled: Keep them in a single layer on their baking sheet and freeze for 30 minutes. Then, the meatballs can be removed from the baking sheet and placed in a freezer bag. Store in the freezer for up to 6 months. Frozen meatballs can be placed in a sauce and gently simmered to thaw, or they can be thawed completely on the counter (or in the refrigerator) and heated in a skillet over medium heat.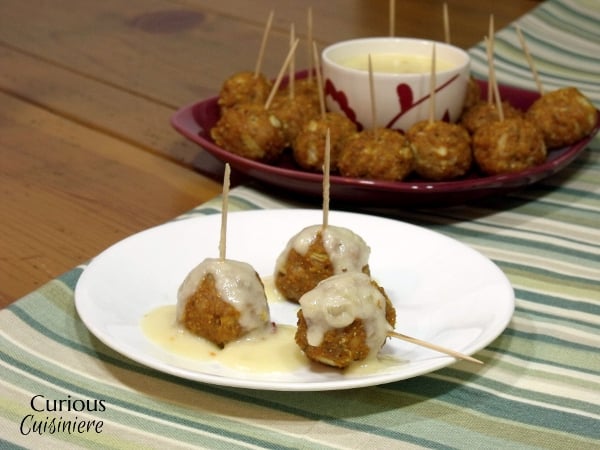 White Queso Sauce
A classic Mexican Queso Blanco sauce. Perfect for dipping and without processed cheese!

Yield: 1 1/2 c of queso
---
Ingredients
1

Tbsp

salted butter

1

Tbsp

unbleached all-purpose flour

1

c

skim milk

4

oz

Pepper Jack cheese,

shredded (roughly 1 c)

1-2

tsp

jalapenos,

diced (optional)
Instructions
In a medium saucepan, melt butter over medium heat. Whisk in the flour, until a smooth paste forms. Cook the flour, whisking often until the flour begins to darken and smell slightly toasted, 2 min.

Add ¼ c of milk. Whisk the mixture until the flour has dissolved and the mixture begins to thicken. Add the remaining milk, ¼ cup at a time, whisking as you add to ensure no clumps of flour remain after each addition. Heat the milk over medium heat until it thickens slightly, 10-12 minutes.

Remove the pan from the heat and let it cool slightly. Add the shredded cheese, ¼ cup at a time, mixing after each addition until the cheese has melted. (If the sauce cools to the point where the cheese isn't melting, return the pan to low heat, just until it begins to melt again.)

Once all the cheese has been incorporated, stir in the jalapenos, if using.

Serve warm.*
---
Recipe Notes
*This sauce can be made ahead and re-heated. Be sure to re-heat the sauce over very low heat, stirring often.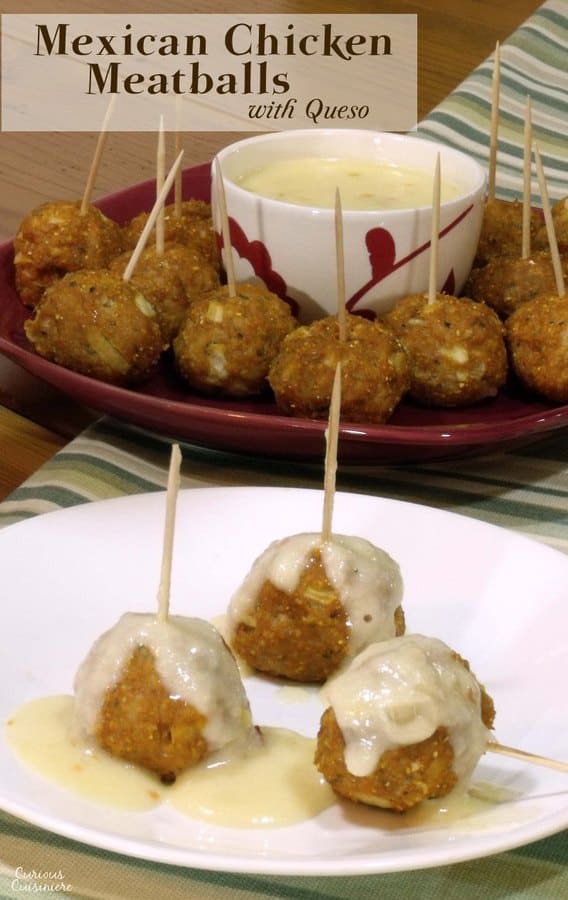 ---
With this Sunday Supper lineup, you're sure to be prepared to break out the wine and tasty eats at your Game Day party!
Join the #SundaySupper conversation on twitter on Sunday! We tweet throughout the day and share recipes from all over the world. Our weekly chat starts at 7:00 pm ET. Follow the #SundaySupper hashtag and remember to include it in your tweets to join in the chat. To get more great Sunday Supper Recipes, visit our website or check out our Pinterest board.
Would you like to join the Sunday Supper Movement? It's easy. You can sign up by clicking here: Sunday Supper Movement.
Compensation was provided by Gallo Family Vineyards via Sunday Supper, LLC. The opinions expressed herein are those of the author, and are not indicative of the opinions or positions of Gallo Family Vineyards.
If you liked this recipe, here are some similar dishes you may enjoy!