This layered ratatouille brings a traditional preparation method together with a unique serving presentation in whole wheat savory crepes.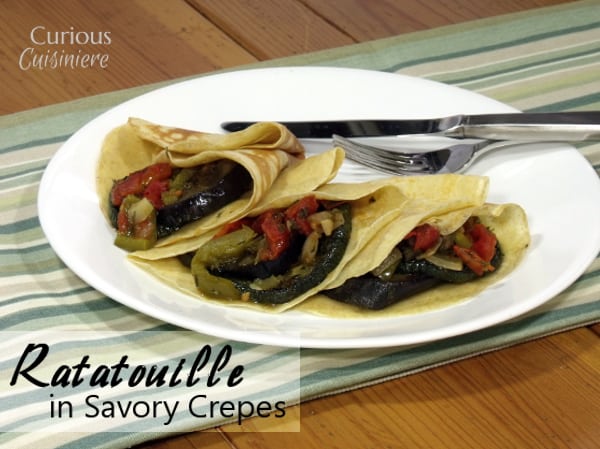 French Layered Ratatouille
Can you here the title Ratatouille without thinking about the cute little mouse-chef from the Disney movie?
I can't.
The dish served in the movie brings quite a elegant and high-class flair to this dish which started as a peasant's stew.
The warm, sunny climate of Nice, in the southern region of France, was perfect for growing the tomatoes, onions, zucchini, eggplant, bell peppers and herbs that are traditionally found in this dish.
How To Cook Ratatouille
While nearly everyone can agree on the ingredients, the cooking method has become a bit of a debate.
On one hand, there is 'the easy way.' This is simply to dice all  the vegetables and saute them together in one soup pot.
On the other side, there is the layered ratatouille approach, where each layer is cooked separately and layered together for the final cooking. That final cooking can be either baking in the oven or simmering on the stove top.
Does it make a difference?
Believe it or not, cooking everything separately first does work to seal in the flavors of each part of the dish. Then, when you bring them all together, you create a unity as the flavors meld. But, you will find that the zucchini still tastes like zucchini and the eggplant still tastes like eggplant.
When you cook everything together from the beginning, you end up every bite tasting like a bit of everything.
It's still very tasty, though. In fact, we use this method when we're craving the flavor of ratatouille, but don't have the time for the longer process. It is wonderful served with pasta, like in this recipe.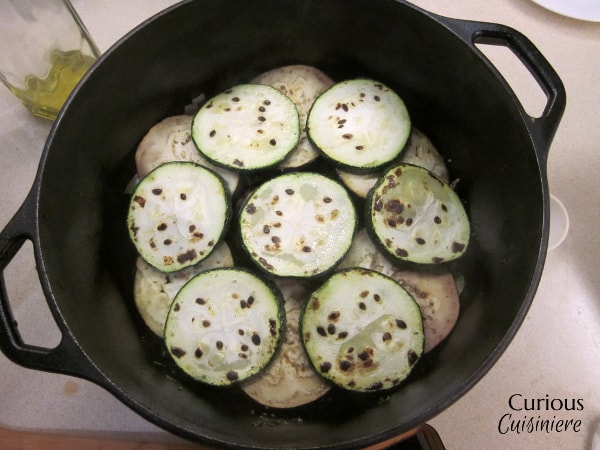 Serving Ratatouille in Whole Wheat Savory Crepes
It blew our minds to find out that ratatouille is traditionally served as a side dish. It is such a shame to make this beautiful, labor of love into an accent piece, like a nice side salad.
When we make ratatouille, it needs to take center stage.
And, using ratatouille as a filling for savory crepes makes very good use of this vegetable 'side.'
We make our savory crepes out of white whole wheat flour, making them more filling and nutrient dense than crepes made with all purpose flour. But, using white whole wheat means that they are still light and fluffy, like your sweet dessert crepes would be.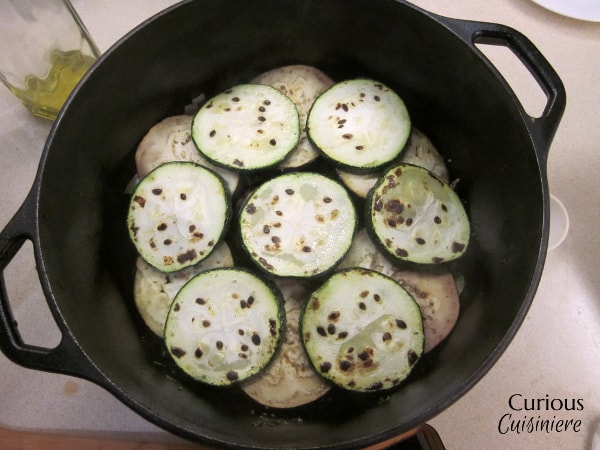 Layered Ratatouille
This layered ratatouille is cooked in the traditional method, where each ingredient is first cooked alone before being put into the pot to simmer together.
---
Ingredients
1

lb

zucchini,

sliced into ¼" rounds

1

lb

eggplant,

sliced into ¼" rounds

1

tsp

salt

1

tsp

olive oil

2

green peppers,

sliced

2

onions,

sliced

2

garlic cloves,

minced

4

tomatoes,

chopped

1/8

tsp

ground white pepper

5

tsp

olive oil

3

Tbsp

parsley
Instructions
Toss sliced zucchini and eggplant with 1 tsp salt. Place in a colander over a bowl and let sweat while you prepare the sauce.

Heat oil in a large, non-stick skillet or Dutch oven. Add peppers, onions and garlic and sauté over medium heat for 10 minutes, until the onions begin to caramelize. Add tomatoes and white pepper. Cover and simmer for 10 minutes. Uncover and simmer for 5-7 minutes until the juice reduces out. Transfer the sauce to a large bowl.

Pat the zucchini and eggplant dry. Sauté each in batches in your skillet or Dutch oven, with ½ tsp of oil, adding oil as needed to keep the veggies from sticking. Sauté until the slices are golden (2-3 min per side). Once golden, remove from the skillet and place on a paper towel.

When all the veggies have been cooked, spread ¼ of the sauce over the bottom of your Dutch oven or a medium soup pot. Sprinkle 1 Tbsp of parsley over the sauce. Layer 1/3 of the zucchini and 1/3 of the eggplant over the parsley and sauce. Repeat with the sauce, parsley, zucchini and eggplant, ending with the last ¼ of sauce.

Place the pot over low heat and simmer, covered for 35 minutes.

Remove the cover and summer for an additional 40 minutes, until most of the juices have evaporated.
---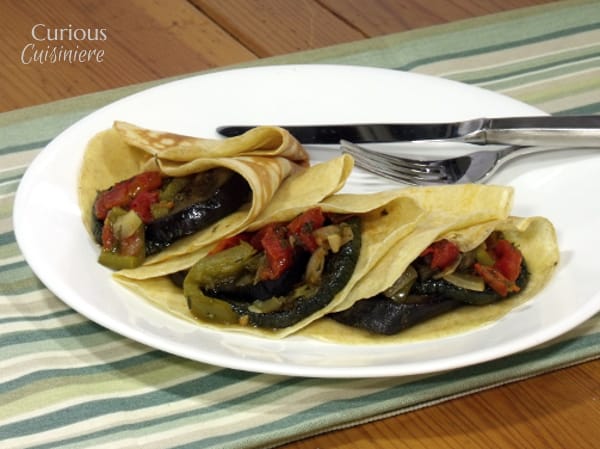 Whole Wheat Savory Crepes
We use white whole wheat flour to make these savory crepes more filling, but still just as light as those made with all-purpose flour.
Yield: 8-9 (6 inch) crepes
---
Ingredients
½

c

white whole wheat flour

or un bleached all-purpose flour*

¼

tsp

salt

2

eggs,

lightly beaten

½

c

skim milk

¼

c

water

1

Tbsp

salted butter
Instructions
In a medium bowl, mix together flour and salt. In a separate bowl, mix together egg, milk and water. Add wet mixture to dry mixture and mix until combined. (Your batter will be much thinner than typical pancake batter.) Set the batter aside to rest for 15 minutes.

When you are ready to cook your crepes, heat an 8" skillet over medium-high heat. Coat the bottom of the skillet with a little butter. Pour enough batter into the hot skillet to just barely coat the skillet, turning the pan so that the batter covers the entire bottom.

Cook the crepes for 1-2 minutes on the first side. (If the skillet has been properly greased, a firm shake will release the crepe from the skillet when it is ready to flip.)

Flip the crepe when the top is starting to look dry, and cook for an additional 10-15 seconds on the second side.

Remove the crepe from the pan and wrap in a tea towel to keep soft and warm. Re-grease the skillet if needed and repeat with the remaining batter.
---
Recipe Notes
*If using all-purpose flour, start with only 1 Tbsp of water and add more if needed to create a thin batter.
If you liked this recipe, here are some similar dishes you may enjoy!