This Skillet Zucchini Mushroom Lasagna is an easy, one pan recipe for a hearty vegetarian lasagna that is ready in an hour.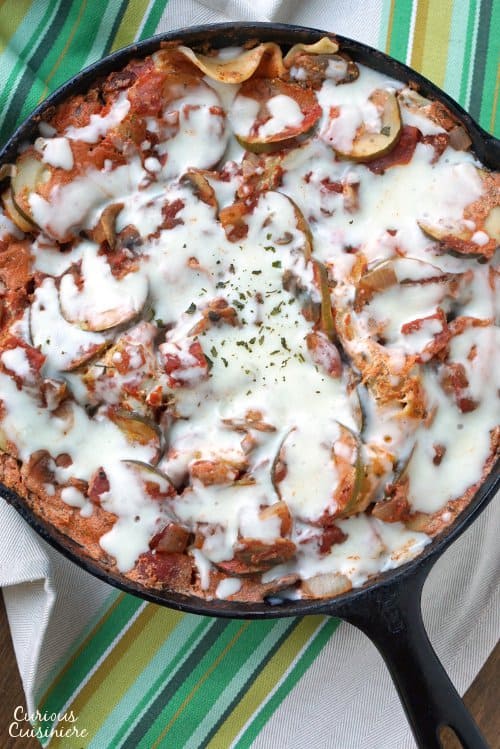 One Pan Lasagna In A Cast Iron Skillet
In our house, lasagna makes the list of ultimate comfort food dishes. And, I love going full out and making a big lasagna that will give us beautiful leftovers for a full week or more.
There's one downside to real lasagna.
It takes time.
And dishes.
A saucepan for the tomato sauce, a skillet for the meat, a bowl for the cheese. And that's not even counting the lasagna dish!
It's a sink full of dishes, and an afternoon's worth of work.
Don't get me wrong, it's worth it.
But, what if all those dishes could be condensed into one skillet? (Ok, and maybe a bowl too.)
Suddenly, the pile of dishes isn't that overwhelming.
We love using our cast iron skillet to make this skillet lasagna because it heats so evenly.
No hot spots of burned lasagna on the bottom.
The heat is evenly distributed. Bottom, sides, and top (since we have a cast iron lid). This means your lasagna cooks in a similar way that it would in the oven: from all sides.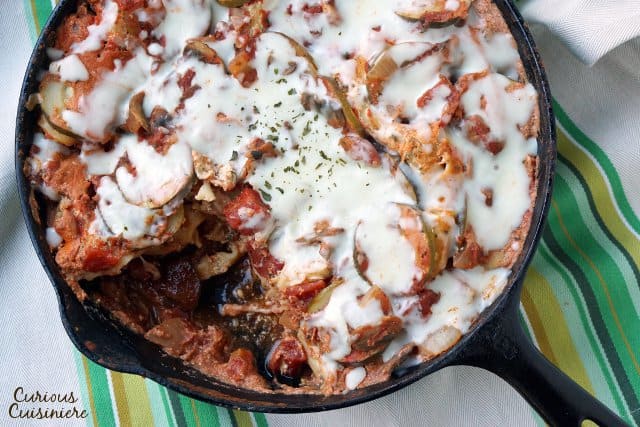 Why Make Stove Top Lasagna
So, we've already covered the #1 reason: less dishes.
Reason #2 to make stove top lasagna is time.
This lasagna can be on the table in a hour: prep and all.
What kind of lasagna takes an hour?!
Stove top!
Our Vegetarian Skillet Lasagna Recipe
For our vegetarian skillet lasagna, we first bring together an easy sauce full of zucchini and mushrooms. (Made in the skillet.)
Then, most of the sauce gets transferred to a bowl while you build your lasagna right in the skillet.
A layer of dry noodles. A layer of a ricotta cheese mixture. (Ok, there's a second bowl involved here.) More sauce. Noodles. Cheese. Sauce.
Done.
Cover that skillet and let it do its thing for 30 minutes, until the noodles are cooked.
Then add some cheese to the top and let the lasagna set until its melted.
Super easy. Super quick. Minimal clean up.
It might not be your traditional Italian Grandmother's lasagna. But, it's a great way to fill the craving when you don't have time to go all out.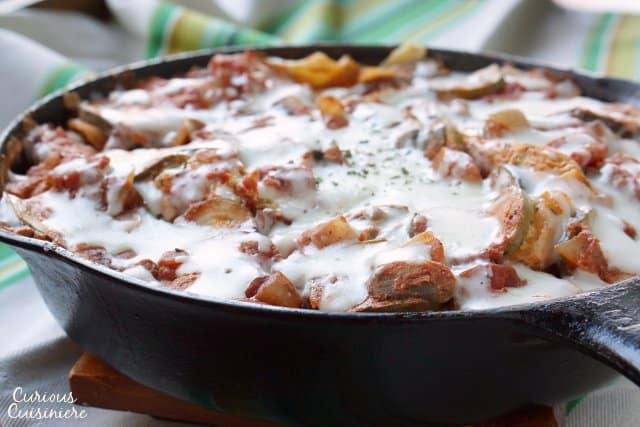 Zucchini and Mushroom Skillet Lasagna
Our Skillet Zucchini Mushroom Lasagna is an easy, vegetarian lasagna that is cooked on the stove top. This one-pot meal is sure to be a hit!

Recipe Yield: 1 (9 inch) skillet
Ingredients
For The Zucchini And Mushroom Sauce
1

tsp

olive oil

1

onion,

diced

8

oz

button mushrooms,

sliced

2

garlic cloves,

minced, or 1/2 tsp garlic powder

2

medium

zucchini,

sliced

1

(14.5oz) can

diced tomatoes,

un-drained

1

(6oz) can

tomato paste

1

c

water

2

tsp

oregano

1

tsp

marjoram

1

tsp

basil

1

tsp

salt

1/4

tsp

ground black pepper
For The Cheese Mixture
1

c

ricotta cheese

1

Tbsp

balsamic vinegar

1

Tbsp

parsley

1

tsp

salt

1

egg
Putting It All Together
6

oz

lasagna noodles

(roughly 6 large sheets), un-cooked

1/2

c

mozzarella cheese,

shredded
Instructions
For The Sauce
Heat the oil in a 9" cast iron skillet (or other non-stick skillet that is 2-3" deep) with a lid. Add the onions and sauté over medium heat until soft, 3 min.

Add the mushrooms and garlic and sauté 3 min.

Add the zucchini and saute for 5 minutes longer, until the onions are golden and the zucchini is starting to soften.

Add the tomatoes, paste, water, and seasonings. Bring the mixture to a boil. Reduce the heat and simmer for 5 minutes.

For The Cheese
While the sauce is simmering, mix the ricotta, balsamic vinegar, parsley, salt, and egg in a medium bowl.
Putting It All Together
Remove the skillet with the vegetable sauce from the heat. Transfer 2/3 of the sauce to a large bowl, leaving enough sauce in the skillet to coat the bottom.

Place a single layer of lasagna noodles over the sauce in the skillet. Top the noodles with half of the cheese mixture. Spread half of the remaining sauce over the cheese. Top with another layer of noodles, the remaining cheese, and the remaining sauce.

Cover the skillet and return it to the heat. Bring the mixture to a simmer, then reduce the heat to low. Simmer, covered, 30 min.


After 30 minutes, check the lasagna by inserting a knife in the center of the lasagna. If it goes through all the layers with ease, then the pasta is cooked.

Remove the skillet from the heat. Sprinkle the mozzarella cheese over the lasagna. Re-cover the lasagna and let it stand, for 5-10 min before serving, for the cheese to melt and any last moisture to be absorbed.

Notes
This recipe from 2014 was updated in October 2017. We made the lasagna even easier and tastier. Enjoy!
Nutrition
Calories:
227
kcal
|
Carbohydrates:
29.8
g
|
Protein:
13.3
g
|
Fat:
6.7
g
|
Saturated Fat:
2.9
g
|
Cholesterol:
59
mg
|
Sodium:
1480
mg
|
Fiber:
2.7
g
|
Sugar:
4.2
g
---
This is one of the recipes from the early days of Curious Cuisiniere. We've updated our pictures since we first made it, but we've left the originals here, in case you've found us in the past and are looking for that old, familiar image.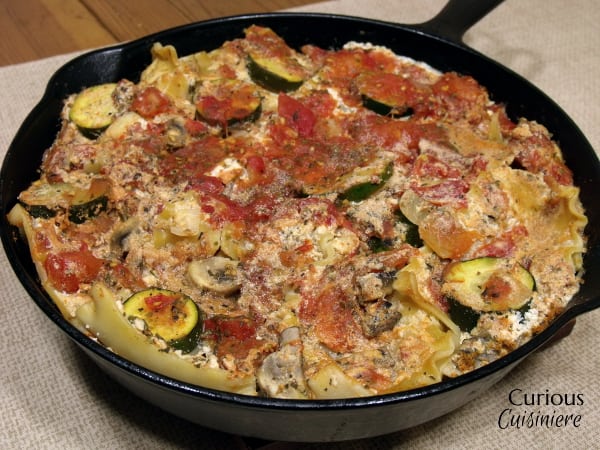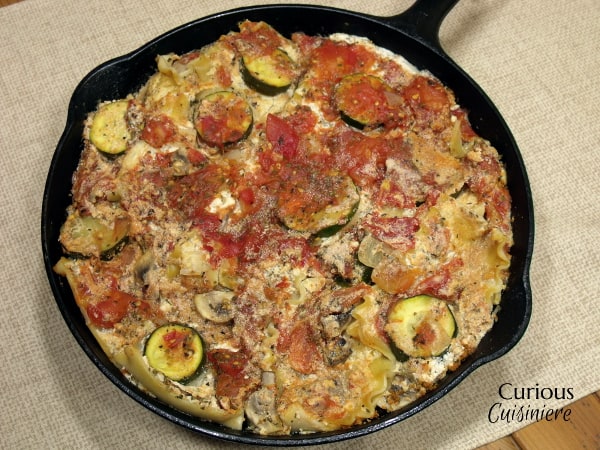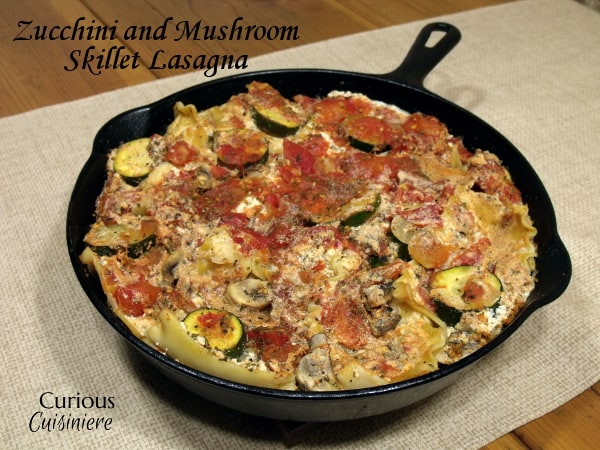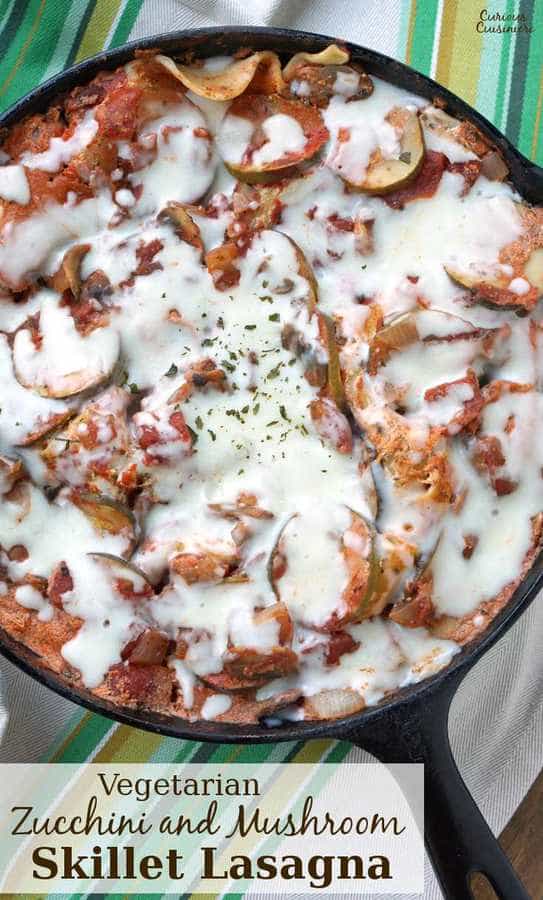 ---
Save
Save
Save
If you liked this recipe, here are some similar dishes you may enjoy!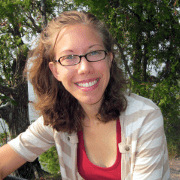 Sarah is one of Curious Cuisiniere's founding duo. Her love for cultural cuisines was instilled early by her French Canadian Grandmother. Her experience in the kitchen and in recipe development comes from years working in professional kitchens. She has traveled extensively and enjoys bringing the flavors of her travels back to create easy-to-make recipes.