Balsamic Marinated Strawberries give this spring inspired Grilled Cheese a crazy and unique burst of flavor. Trust us, this is a combo you need to try!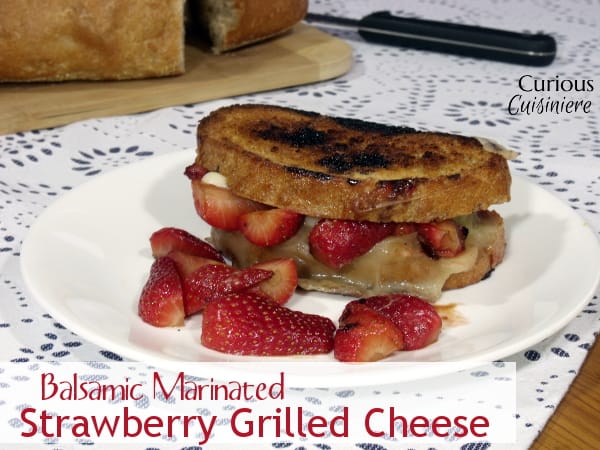 Grilled Cheese Month
Did you know that April is Grilled Cheese Month?
You have our permission to go crazy and eat a grilled cheese every day.
Would you?
Could you?
We probably could.
Something about toasted bread and gooey cheese just makes us melt inside.
I'd be willing to bet many of you share that same feeling.
We decided we needed to kick of Grilled Cheese month with something extra special. Something a bit outside of the box. Something that would call out to the spring we desperately wish would come to Wisconsin.
A Strawberry Grilled Cheese!
Strawberries!
And cheese?
But of course!
Have you ever put a light and creamy brie together with honey and berries to make one irresistible appetizer cheese spread?
If not, you should. And that's the concept we're taking for a spin in today's crazy grilled cheese!
Balsamic Marinated Strawberries
This grilled cheese sandwich doesn't get just any strawberries either.
We're talking about balsamic marinated strawberries!
We love using balsamic vinegar to give sweet berries a little acidic burst. And strawberries are no exception.
The sweetness of the berry mingles with the deep sweetness and light tang of the balsamic vinegar.
It is a match made in heaven!
Choosing A Cheese To Go With Balsamic Marinated Strawberries
For this spring grilled cheese you need a cheese that doesn't overpower the sandwich. One that adds creaminess and flavor, but not too much bite.
Provolone cheese was our answer.
Provolone is mild enough that it doesn't compete with the balsamic strawberries, but flavorful enough that you know you're eating a grilled cheese sandwich.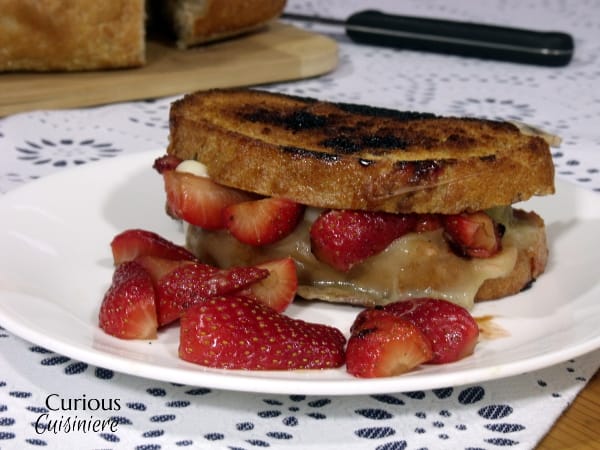 Sweet. Tangy. Creamy. Crispy. (And don't forget warm and gooey.)
Go ahead. Give this combo a try!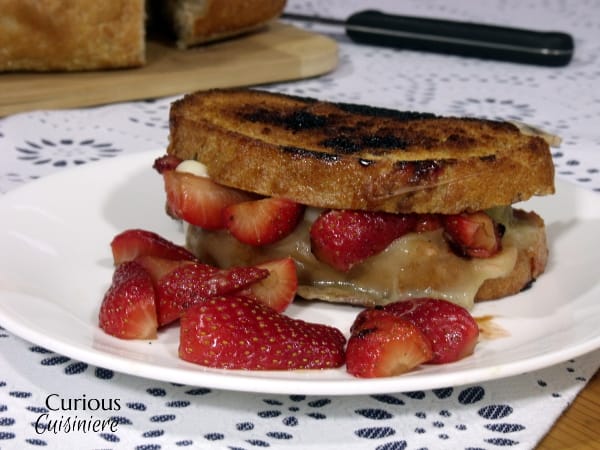 Balsamic Glazed Strawberry Grilled Cheese
Balsamic Marinated Strawberries give this spring inspired Grilled Cheese a crazy and unique burst of flavor. Trust us, this is a combo you need to try!
Yield: 2 sandwiches
---
Ingredients
2

c

strawberries.

washed, stemmed, sliced

2

Tbsp

balsamic vinegar

4

slices

whole grain bread.

preferably a crusty, artisan bread

1

Tbsp

salted butter

4

slices

Provolone cheese
Instructions
In a small bowl, combine chopped strawberries and balsamic vinegar. Mix to coat the strawberries, and set aside to marinade for 5-10 minutes.

Heat a large, non-stick skillet (with a lid) over medium heat until warm.

Spread one side of each slice of bread with a little butter.

Reduce heat to medium low.

Place two slices of bread, butter side down into the hot skillet. Place one slice of cheese on each slice of bread. Top with roughly 1 cup of the berries per sandwich, drizzling some of the balsamic marinade onto the sandwich as well.

Add another slice of cheese to each sandwich, and top with the final slice of bread, butter side up.

Cover the skillet and cook for 3-4 minutes, until the cheese just begins to melt.

Using two rubber spatulas, carefully flip each sandwich. Cover the skillet and cook for an additional 2-3 minutes, until the cheese is melted and the bread is toasted and golden.
---
If you liked this recipe, here are some similar dishes you may enjoy!