This green soup is traditionally served on Holy Thursday. With a mix of fresh herbs and greens, it is Herb Soup perfect for spring.
Green Soup for Green Thursday
In Germany, the Thursday before Easter is called Gründonnerstag, or Green Thursday. This day commemorates Christ's Last Supper, the last meal he ate with his disciples, and the institution of the Eucharist.
While German word grün does mean "green," the grün in Gründonnerstag actually comes from an ancient German word, greinen, meaning "to cry or moan."
The tradition of calling Holy Thursday (or Maudy Thursday) Green Thursday has a number of possible origins.
Before the thirteenth century, priests would wear green vestments for Mass on Holy Thursday. It was also common to refer to the penitents who participated in the Lenten fast as "the Green Ones" since they would wear green herbs on Holy Thursday to express their joy that Easter was near.
In addition, Holy Thursday used to be a day of fasting, in which only a single, meatless meal was eaten. So, green, spring vegetables made up a large part of that one meal.
German Herb Soup
In Germany, it is common to eat a green herb soup, like this Seven Herb Soup, Sieben Kräutersuppe, on Holy Thursday.
It is a light soup that is bursting with flavor and perfect for a spring day.
Traditionally you will find a combination of leek, watercress, chives, sorrel, parsley, spinach, dill, and dandelion greens used in this soup. However, arugula, kale, celery greens, tarragon, or chervil could also be used.
Go ahead and grab any combination of herbs and greens that sounds appealing to you, using roughly 1 cup (or one large handful) of each.
But, make sure you include seven as a reminder of the last seven words of Jesus as he hung on the cross.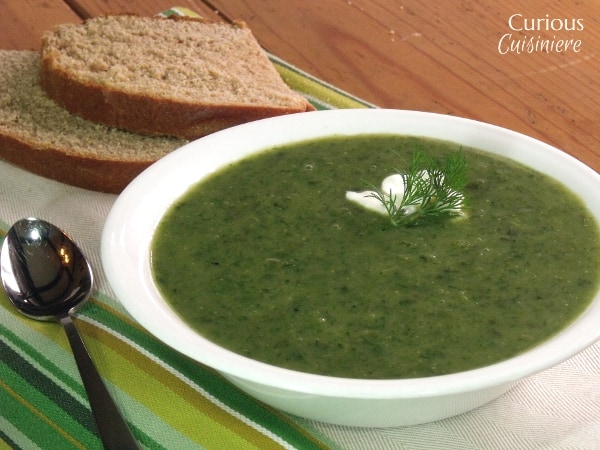 More comforting winter soup recipes
If you love greens in soups, you'll want to try Caldo Verde (Portuguese Green Soup).
And, if brothy soups are your cup of tea on a cool evening, you'll want to give these a try:
German Seven Herb Soup
This green soup is traditionally served on Holy Thursday. With a mix of fresh herbs and greens, it is Herb Soup perfect for spring.
Yield: 7 cups of soup
Ingredients
1

Tbsp

unsalted butter

2

shallots,

minced

1

medium

leek,

chopped

4

c

water

2

russet potatoes,

peeled and chopped

2

c

fresh spinach,

chopped

1

c

fresh parsley,

chopped

1

c

chives,

chopped

½

c

fresh dill,

chopped

½

c

celery leaves,

chopped

½

c

sorrel,

watercress, or arugula leaves, chopped

½

c

milk

1 ½

tsp

salt

¼

tsp

ground black pepper
Optional Garnishes
Sour cream

Croutons

Extra herbs
Instructions
Melt butter in a 3 quart soup pot. Add shallots and chopped leek and sauté over medium heat until the onions are soft, 5-7 min.

Add the water and chopped potatoes. Bring the mixture to a boil and reduce the heat to a simmer. Simmer the potatoes until tender, 20 min.

Add the greens and herbs and simmer for 10 minutes.

Puree the soup using an immersion blender (or transfer the soup to a traditional blender and blend until smooth). Add the milk, salt and pepper. Mix well.

Serve the soup as is, or topped with sour cream, croutons, or extra herbs.
Nutrition
Serving:
2
cups
|
Calories:
221
kcal
|
Carbohydrates:
38.7
g
|
Protein:
8.1
g
|
Fat:
5.7
g
|
Saturated Fat:
3.1
g
|
Cholesterol:
14
mg
|
Sodium:
1293
mg
|
Fiber:
6.9
g
|
Sugar:
5.5
g
If you liked this recipe, here are some similar dishes you may enjoy!