Tender beef steak marinated in a sweet Korean sauce makes this Bulgogi Sandwich anything but ordinary.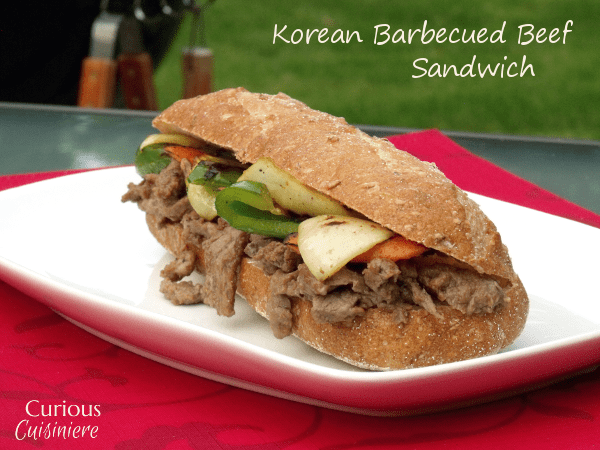 Tim loves any kind of steak, thrown straight on the grill, maybe with a little salt and pepper and a good steak sauce for dipping. While I do enjoy a good steak every now and again, I'm more of the leftovers girl.
Why leftovers? Because that means steak sandwiches!
Growing up, my mom always gave the rest of the family the choice servings for dinner, but when we had leftover steak, we all knew that it was hers. I think that's one of the reasons I have such a fondness for steak sandwiches. Now that I'm adult enough to have leftover steak in the house (if any gets past Tim's dinner plate), I get to be just like my mom and make up next-day steak sandwiches.
As we've been grilling up more steaks this year at Tim's request, memories of my mom's steak sandwiches have come flooding back.
What is Bulgogi?
Bulgogi (bul-go-gee) is a traditional Korean dish of thinly sliced, marinated and grilled beef. Literally translated "fire beef," the meat is typically cooked over an open flame, although pan sauteing has now become a common way to cook these small, thin pieces of meat.
We're using our charcoal grill to cook up ours, giving it an added smoky flavor. And, really, as the marinade drips down and the meat sears, we do get a few flames to kiss our meat. So, we have the fire thing going for us too.
The Unique Bulgogi Marinade
Bulgogi always starts with a quality cut of beef, like a sirloin or rib eye, however any good quality cut of meat can be used, as long as it is sliced thin, across the grain. Certified Angus Beef® brand is what we always look for when purchasing beef. Only one out of four Angus cattle meets the high standards of Certified Angus Beef® brand, and their incredibly high quality standards are apparent in every tender bite.
And then there is the marinade.
Soy sauce, sesame oil, and garlic are pureed with onions and ginger. Pretty standard so far. But, then we go an mix things up by adding a pear. Yes, we're marinating our meat in pear puree.
The pear puree adds sweetness to the marinade and acts as a meat tenderizer. Pears as meat tenderizer? That's what we thought, but apparently some pears, particularly the round, yellow Asian pears, contain an enzyme that tenderize meat (as do pineapples, kiwi, green apple, and papaya for that mater). If you can't find Asian pears, Bosc will give a similar flavor profile to the marinade, but won't give you the same meat tenderizing effect. That's where good quality beef that has been sliced incredibly thin will be even more crucial to getting the fall-apart tender texture to this barbecue.
Grilling Bulgogi
Thin slices can be tricky to come by when working with raw meat. We found that freezing the meat for an hour or so gave it just enough firmness to help with the slicing. A sharp knife is also a must.
Since the meat is sliced so thin, you will need a grill pan or basket to keep your meet from falling through the grates.
Preheating your pan or basket is crucial to achieving the good sear we want on the meat and veggies. Since we are slicing everything so thin, cooking time will be fast. So, get everything prepped and ready to go.
Dinner will be ready in no time!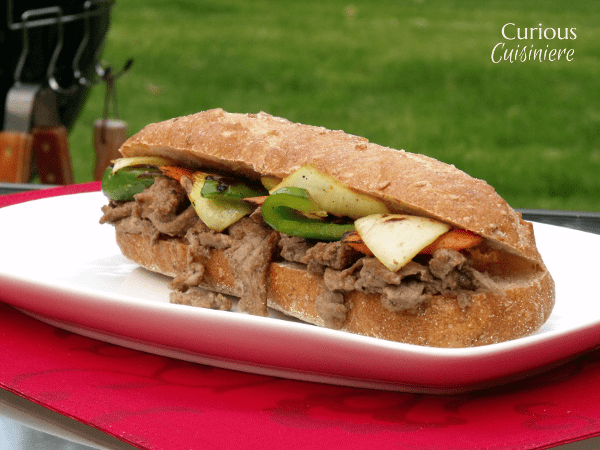 Bulgogi (Korean Barbecued Beef) Sandwich
Tender beef steak marinated in a sweet Korean sauce makes this Bulgogi Sandwich anything but ordinary.
Yield: 4 (6 inch) hoagie sandwiches
Ingredients
1

lb

good quality sirloin,

ribeye, or skirt steak
For the Marinade
1

Asian pear

(or Bosc pear), cored and coarsely chopped

1

small

sweet onion,

peeled and coarsely chopped

4

garlic cloves

or 1 tsp garlic powder

1

inch

fresh ginger,

, peeled and grated, or ½ tsp ground ginger

¼

c

soy sauce

2

tsp

brown sugar

(more if your pears are not very sweet)

2

tsp

sesame oil,

canola oil, or peanut oil

¼

tsp

ground black pepper
For the Veggies
½

medium

sweet onion,

peeled

½

large

green pepper,

cored

2

large

carrots

2

tsp

soy sauce

2

tsp

sesame oil,

canola oil, or peanut oil

2

garlic cloves,

minced, or ½ tsp garlic powder

1

inch

fresh ginger,

grated, or ½ tsp ground ginger
Putting It Together
4

hoagie style rolls or a baguette,

cut into 6 inch sections
Instructions
For the Meat
Slice the steak as thin as you can, against the grain. If you find the slicing tricky freeze the meat for an hour or so and slice is while partially frozen. Place the thin steak slices into a Ziploc bag.

Place all marinade ingredients into the bowl of your food processor. Process until a smooth paste forms. Pour the paste over the meat in the bag. Seal the bag and massage the marinade into the meat, making sure each piece is well coated. Let the meat marinade at room temperature for 1-2 hours.
For the Veggies
Cut the onion into eighths and separate the layers. Cut the green pepper into long strips. Cut the carrots into rounds on an angle. Place all the chopped veggies into a large bowl.

In a small bowl mix together soy sauce, oil, minced garlic, and grated ginger. Pour over the veggies and let marinade for at least 30 minutes.
The Main Event
Preheat your grill to a high heat, around 450-500F. (You should be able to hold your hand a few inches above the grill grates for only 2 seconds or so.) Place your grill basket over grates to let it pre-heat as well.

Place the veggies into the grill basket and grill for 5-7 minutes, stirring once about halfway through. Transfer the golden brown veggies to a bowl or serving platter.

Place the meat slices into the grill basket. Grill for 2-3 minutes on the first side. Flip the pieces and grill for 1-2 minutes on the second side. Transfer the cooked meat to your serving platter.

Enjoy warm or cooled. To serve, layer the meat and veggies onto sliced hoagie rolls.
Nutrition
Serving:
1
g
|
Calories:
535
kcal
|
Carbohydrates:
53.7
g
|
Protein:
40.8
g
|
Fat:
18.7
g
|
Saturated Fat:
5.5
g
|
Cholesterol:
67
mg
|
Sodium:
1096
mg
|
Fiber:
8.1
g
|
Sugar:
14.5
g
Disclosure: This recipe was entered in the Certified Angus Beef® brand recipe contest. We were ambassadors for the 2015 Food & Wine Conference and received a commission each time our discount code was used to purchase a ticket. The contest is an equal opportunity for all attendees of the 2015 Food and Wine Conference, and we receive no advantage for being an ambassador. As always, all opinions are our own.
If you liked this recipe, here are some similar dishes you may enjoy!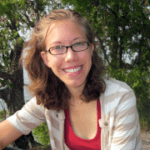 Sarah is one of Curious Cuisiniere's founding duo. Her love for cultural cuisines was instilled early by her French Canadian Grandmother. Her experience in the kitchen and in recipe development comes from years working in professional kitchens. She has traveled extensively and enjoys bringing the flavors of her travels back to create easy-to-make recipes.