Hasselback sweet potatoes make for a beautifully presented holiday side dish! Try these this year instead of your classic sweet potato casserole, and wow the family with something different!
What are Hasselback Potatoes?
Even if you're not familiar with the term hasselback, you've probably seen pictures of the fancy, accordion cut potatoes that make a beautiful presentation, perfect for a holiday dinner table.
Hasselback potatoes come from Stockholm, Sweden. They take the name of the restaurant where they were first introduced in the mid 1900's:  the Hasselbacken. After their initial debut, they quickly grew to popularity across Europe. In Ireland, they are known as "accordion potatoes."
How to make hasselback potatoes
While they look fancy and intricate, they are incredibly simple to create. They are made by cutting thin slices in the potato, nearly all the way through. As the potato cooks, the slices fan apart. Cutting the potato is the trickiest part, simply because one slip of your knife, and you have two pieces of potato, not a beautifully accordioned potato. To make the slicing easier we found a tip to place disposable chopsticks (like you would get from Chinese takeout) on either side of the potato. This creates a buffer, so that even if you cut deeper than you were hoping, you still stop before cutting all the way through.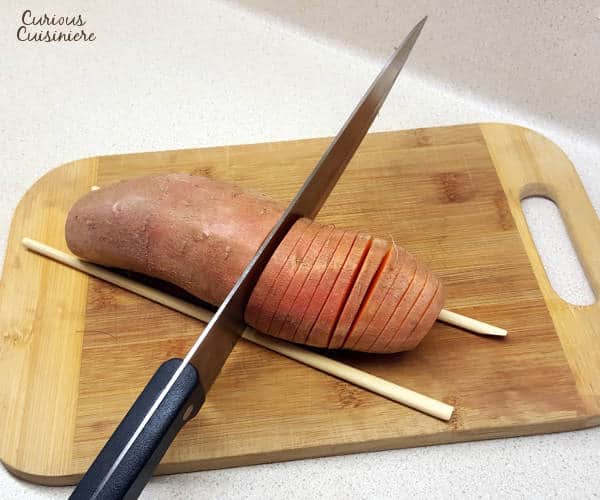 Be careful transferring these potatoes from the cutting board to the baking sheet too. Once accordion cut, the potatoes are quite fragile.
Our hasselback sweet potatoes recipe
After cutting our sweet potatoes, we base them with a seasoned honey glaze to create a sweet, caramelized exterior. Cinnamon helps accent that warm fall flavor, while thyme and salt add a bit of a savory element, making these potatoes a delicious sweet and herby/savory combo.
This sweet potato side dish will be less sweet than your classic Thanksgiving sweet potato casserole, but their presentation and complex flavor are sure to make them a hit!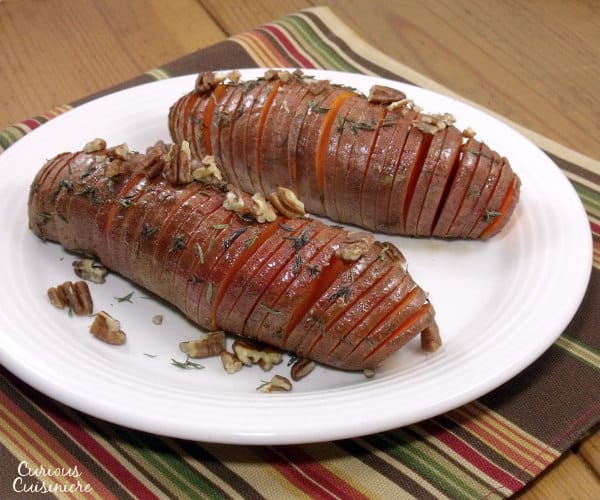 Hasselback Sweet Potatoes
Hasselback sweet potatoes make for a beautifully presented holiday side dish! Try these this year instead of your classic sweet potato casserole, and wow the family with something different!
Servings:
8
people (1/2 sweet potato per person)
Ingredients
4

large

sweet potatoes,

roughly even in shape and size

3

Tbsp

honey

2

Tbsp

salted butter

1 ½

Tbsp

fresh thyme

or 1 1/2 tsp dry

1 ½

tsp

cinnamon

¾

tsp

salt

¼

c

chopped pecans
Instructions
Preheat your oven to 425F.

Place a sweet potato, flattest side down, on a cutting board between two (disposable) chopsticks. Make a series of cuts, roughly 1/8 inch apart, cutting ¾ of the way through the potato. (The chopsticks will act as a buffer to stop your knife if you accidentally cut a bit too far.) Carefully transfer the cut potato to an aluminum foil lined baking sheet. Repeat with the remaining potatoes.

In a small saucepan, melt the honey and butter together until smooth and runny. Add the thyme, cinnamon, and salt. Mix well.

Brush roughly half of the honey glaze over the sweet potatoes, getting into the cuts, the best you can.

Place the potatoes into the oven and bake for 30 minutes.

After 30 minutes, remove the potatoes from the oven and gently fan out the slices with a fork. Brush the potatoes with the remaining glaze.

Return the potatoes to the oven to bake for an additional 20-25 minutes, until the potatoes are tender.

Top the sweet potatoes with chopped pecans before serving.
---
This recipe is dedicated to a fellow blogging friend, Lauren of Sew You Think You Can Cook. Lauren is having a baby in early November, and some bloggers have gotten together for a virtual baby shower! Lauren's favorite holiday is Thanksgiving, so we are celebrating with a collection of Thanksgiving recipes. Check out the recipes below for some Thanksgiving inspiration in Lauren's honor.
And, on to the Thanksgiving celebration!
Bacon Stuffed Mushrooms by I am a Honey Bee
Candied Walnuts by Love and Confections
Carmelized Pear Upside Down Cake by A Day in the Life on the Farm
Hasselback Sweet Potatoes by Curious Cuisiniere
No Bake Pumpkin Pie Cheesecake by Caleigh's Kitchen
Party Pecan Pie by Food Lust People Love
Pecan Pie by Tara's Multicultural Table
Pumpkin Spice Skillet Cinnamon Roll with Maple Browned Butter Glaze by Cooking with Carlee
Quince-Chevre Crostata by Culinary Adventures with Camilla
Congratulations Lauren!
If you liked this recipe, here are some similar dishes you may enjoy!