This recipe for Swedish Glögg creates the spiced, warming drink that is perfect for serving at holiday party.
Celebrate the Holidays with Swedish Mulled Wine
Today we're celebrating toasting life's big and small achievements with Libbey Perfect Signature Stemware Collection and their #CelebrateThis campaign. This time of year, there's always a reason to raise a glass, whether it's to celebrate the return of family and friends around your table or just to take some time to enjoy the snowflakes and this season in your own life as another year comes to a close.
Special occasions call for special drinks. You know, those drinks that just add that extra special feeling to whatever you're celebrating. When we received a set of the Libbey Perfect Signature Stemware Brandy Glasses, we immediately thought about one of our favorite brandy-spiked holiday drinks: Swedish Glögg.
We love sharing mulled wine at special occasions when the weather turns cooler. It's something everyone enjoys and takes things just a notch fancier than your everyday wine.
Swedish Glögg
Glögg (pronounced gloog) is an infused wine whose name means "glow." It is a combination of red wine, port, and brandy. Served warm, it is incredibly popular during the Christmas season, but makes for a great, warming drink whenever the temperatures turn chilly.
The legend goes that King Gustav I Vasa of Sweden loved a warm drink made from German wine, sugar and spices. His drink was later named "glödgag vin," meaning "glowing-hot wine," a name which was then shortened to glögg" in the later 1800's.
Many traditional Swedish recipes will call for aquavit, a vodka that has been flavored with caraway or dill seeds. Brandy is a commonly found alternative and we love the way the brandy flavor works with the spices. But, if you are an aquavit fan, go ahead and add it in!
Spices and Citrus: Our Glögg Recipe
Recipes for glögg vary greatly from family to family. We love warm spices, so we load ours up with ginger, cinnamon, cardamom, and cloves. We also love the play of spices and citrus, so we use fresh orange peel to give a wonderful citrus aroma.
Our glögg is also on the less sweet side. By using a red wine that we could easily drink straight up, we don't have to add as much sugar to the glögg itself. But, if you prefer your warm beverages more on the sweet side, feel free to double the sugar in the recipe or to add more sugar after the glögg as been mixed, as your taste desires. (If adding more sugar after making the glögg, simply mix equal parts sugar and water to dissolve the sugar before adding it to the glögg.)
One thing that we really love is serving this drink out of a wide mouthed vessel, like brandy glasses. The wide mouth lets you get your nose right in there to smell the wonderful aroma of the spices and citrus.
So, what are you waiting for? No matter how you're celebrating, raise your glass and celebrate this holiday season!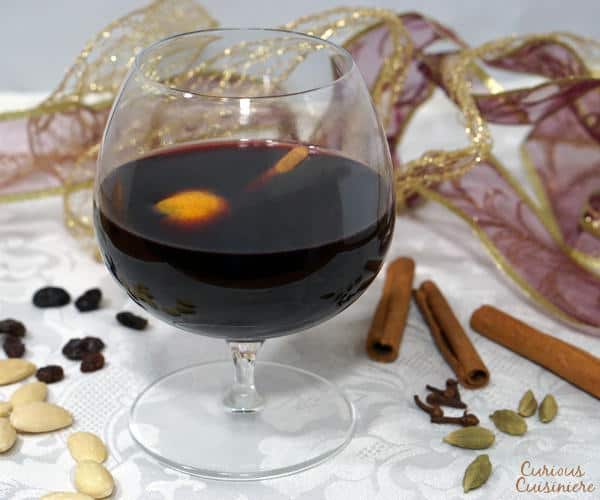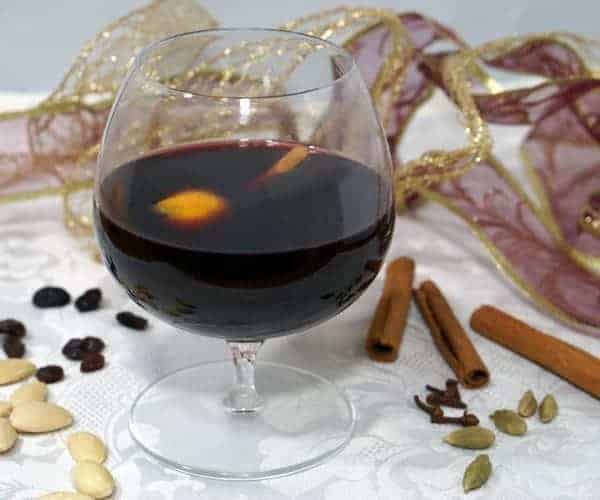 Glögg (Swedish Mulled Wine)
A warming mulled wine, perfect for Holiday parties!
---
Ingredients
½

c

sugar

(or to taste)

½

c

water

1

750 mL bottle

dry red wine

(Cabernet Sauvignon works well)

1

750 mL bottle

Port wine

1

c

brandy

1

c

raisins

1

c

blanched almonds*

Peel of ½ orange

2

slices

fresh ginger,

peeled

10

cardamom pods,

crushed

2

cinnamon sticks

8

whole cloves
Instructions
Heat sugar and water in a large saucepan until it has dissolved.

Add liquor, raisins, and almonds. Tie the spices and peel in a square of cheesecloth (or place in a tea ball) and place into the mixture.

Heat the mixture over medium-low heat until it begins to steam (do not let it boil), 30-40 min.

Taste and add more sugar if you would like, dissolving ¼ c sugar in ¼ c water at a time.

When the mixture is warm, remove the spices and serve it immediately, making sure to float some almonds and raisins in each glass. '

Alternately, remove the almonds and raisins and place the glögg into jars (or bottles). Store in the refrigerator to be used within 1-2 weeks.
---
Recipe Notes
*Be sure to use white, raw or blanched almonds without the skins. The skins could make your glögg bitter.
Disclosure: This post was sponsored by Libbey as part of an Influencer Activation for Influence Central. We received complimentary products to facilitate our review.
If you liked this recipe, here are some similar dishes you may enjoy!