Glühwein is a German mulled wine with flavors of citrus and warm spices. Keep a pot warming on your stove for the perfect taste (and smell) of Christmas!
Glühwein: A Taste of Christmas
Literally translated "glowing wine," Glühwein (pronounced GLUE-vine) is a mulled wine found at all the Christmas markets in Germany.
You will typically find it served in a cute ceramic mug, which you pay a deposit for when you purchase your Glühwein. You can keep the mug or return it and get your deposit back. Then you can buy more Glühwein!
German Mulled Wine
Many countries have a regional mulled wine recipe that begins to make an appearance at Christmastime. These mulled wines are a great way to warm up after a round of winter activities.
While Swedish Mulled Wine, or Glogg, is a combination of red wine, port, and brandy, German Mulled Wine sticks with the straight red wine. (Although, you can get your Glühwein mit schuss–with a shot– if you really want to warm things up!)
We also found Glühwein to be a bit heavier on the citrus (orange and lemon) than some other mulled wines we have tried, which makes is quite bright at the same time that is is warm and robust.
It is the perfect thing to serve with some German Stollen or Pfeffernusse cookies!
Our Glühwein Recipe
Making Glühwein is a very simple process. Wine, citrus juice, a little sugar, and spices go into a pot and heat, just below a simmer for 1 hour. Then the mixture comes off of the heat and steeps for a while longer.
You can adjust the sugar in our recipe to your taste preferences. If you use a bit of a drier wine, or like your drinks sweeter, you may need to add a bit more sugar.
I can just imagine coming in from a long winter hike or a run on the ski hills and warming up with a steaming mug of this fragrant wine.
And the smell!
As our Glühwein was warming, the house began to fill with the most incredibly Christmas-y smell. Somewhere between the cinnamon, the cloves, the oranges, and the deep, fruity scent of warm wine: THIS is what Christmas smells like!
Glühwein (German Mulled Wine)
You can't go wrong on a chilly night with a warm, mulled wine!
Ingredients
1

bottle red wine

(Pinot Noir, Merlot, un-oaked Cab Sauvignon)

1

lemon,

juiced (roughly 3-4 Tbsp of juice)

5

Tb

sugar

(more to taste)

3

whole cloves

1

cinnamon stick

1

orange,

peeled and cut into bite-size pieces

1

orange,

sliced for garnish, (optional)
Instructions
Put all the ingredients (except the orange garnishes) into a pot or large saucepan. Bring the mixture to a light simmer. Cover and reduce the heat to keep it just barely at a simmer. Simmer for 1 hour.

After simmering, turn off the heat and let the wine continue to steep for 30 minutes. (At this point you can take a small spoonful and taste your Glühwein. If it needs more sugar for your tastes, go ahead a mix some in!)

Remove the cloves and cinnamon stick.

Serve the mulled wine warm with an orange slice garnish, if desired.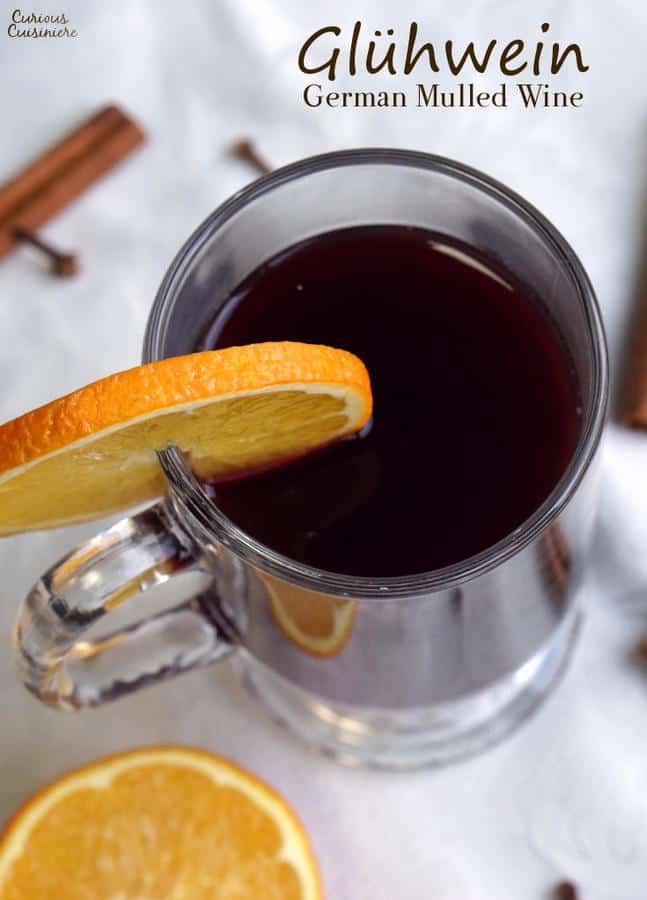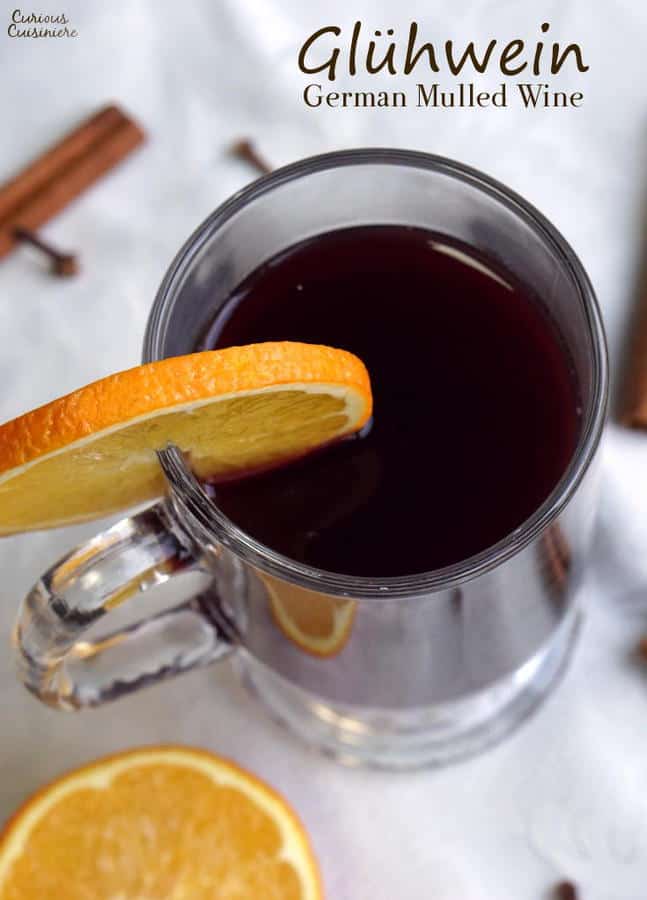 If you liked this recipe, here are some similar dishes you may enjoy!