Jamaican Rice and Peas (or Caribbean Red Beans and Coconut Rice) is an easy and flavorful side dish that brings a fun tropical flair to your meal.
Jamaican Rice and Peas
A common side in Jamaican cooking is a dish called "Rice and Peas". Jamaican dinners, particularly on special occasions, aren't served with plain white rice.
No way!
They jazz up their rice with beans (traditionally Pigeon peas), coconut milk, and a lot of flavor!
What are Pigeon Peas?
Pigeon peas are small round peas that can either be found green (fresh) or brown (dried). They are often used in Latin and Caribbean cooking, and can be found canned or dried in many Latin grocery stores.
Since pigeon peas are not particularly common in all parts of the world, red beans (like kidney) are very often substituted in this Jamaican rice and beans side dish.
Caribbean Coconut Rice and Beans
What really sets Jamaican rice and peas apart is that the rice is cooked with coconut milk, aromatic herbs, and Scotch bonnet chilies.
The coconut milk gives the rice a creamy and lightly sweet flavor. While the herbs and chilies give the dish a savory spice.
But don't worry, our recipe for rice and beans won't have you calling for the fire department from a chili pepper overload!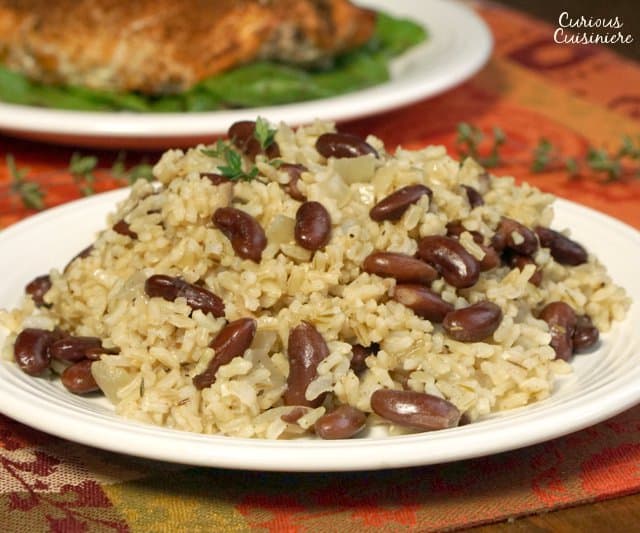 Our Jamican Rice and Beans Recipe
Instead of tracking down a whole Scotch bonnet pepper for our rice and peas, we've made the dish a bit easier by simply adding heat from ground black pepper.
If you have hot peppers on hand, feel free to throw a whole Scotch bonnet or Habanerro pepper into the pot with the rice as it simmers.
Since the pepper is left whole, it shouldn't add an alarming heat to the dish, rather a more subtle chili flavor and light spice. (But we'd recommend leaving out the black pepper until you taste your rice, just to be sure you like the heat.)
Serve Jamaican rice and peas with our Slow Cooker Jerk Pork or grilled, whole Jerk Chicken for a fun meal that will transport you to the island!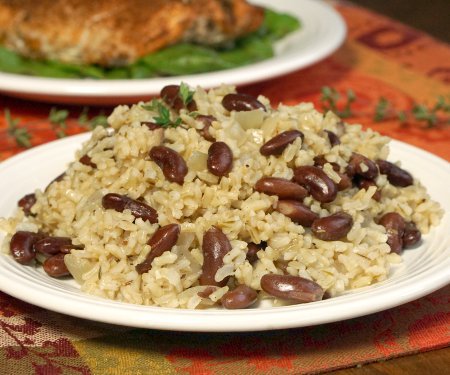 Jamaican Rice and Peas (Coconut Rice and Beans)
Jamaican Rice and Peas (or Caribbean Red Beans and Coconut Rice) is an easy and flavorful side dish that brings a fun tropical flair to your meal.
Yield 3 1/2 c
---
Ingredients
½

tsp

unsalted butter

½

onion,

diced

1

garlic clove,

minced

1

c

rice,

dry

1

bay leaf

½

tsp

thyme

½

tsp

ground black pepper

1

c

water

½

c

coconut milk

½

c

cooked red beans

(kidney beans or pigeon peas)

½

tsp

salt
Instructions
Heat butter in a medium saucepan. Add onion and garlic, and sauté 1-2 minutes over medium heat.

Add rice, bay, thyme, pepper, water, and coconut milk. Bring the mixture to a boil, reduce the heat and simmer, covered, 10 minutes.

Add the beans and continue to cook, covered, until all the liquid is absorbed and the rice is tender, 8-10 minutes.

Remove the bay leaf and mix in the salt. Let the rice stand, covered, for 5 minutes to finish steaming.

Taste the rice and adjust the salt and pepper as desired.
---
Recipe Notes
This recipe from January 2014 was updated in May 2015. We made the red beans and rice more authentic to the Jamaican flavors. Enjoy!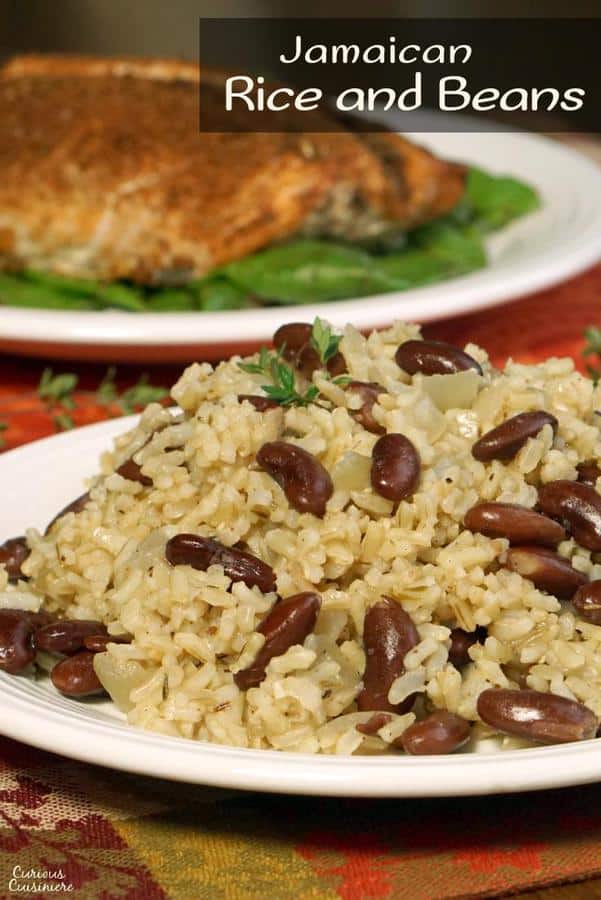 ---
This is one of the recipes from the early days of Curious Cuisiniere. We've updated our pictures since we first made it, but we've left the original images here as a fun throwback and shout out to how far we've come. Enjoy!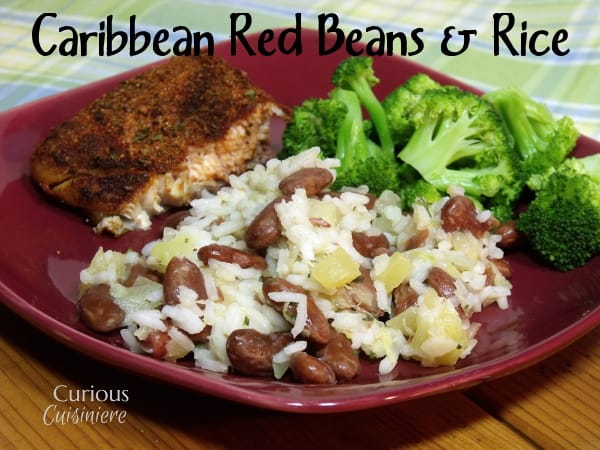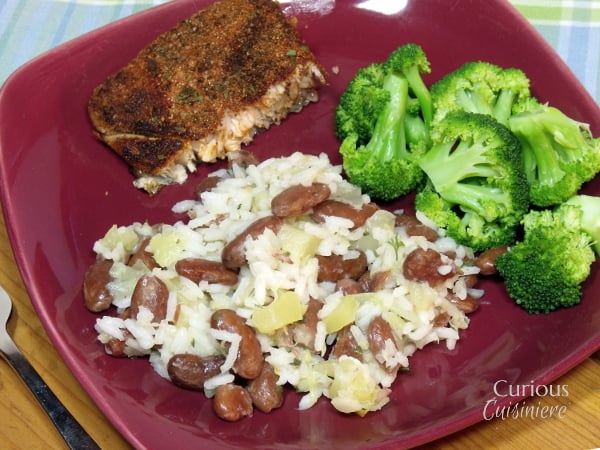 If you liked this recipe, here are some similar dishes you may enjoy!