If you like this dish, sign up for our newsletter to get tasty, cultural inspiration straight to your inbox. Where will you travel this week?
Paper thin Mandarin Pancakes are pleasantly chewy and incredibly light. These easy to make pancakes are perfect for filling with flavorful dishes like Moo Shu Pork and Peking Duck.
What Are Mandarin Pancakes?
Mandarin Pancakes (sometimes called Chinese Pancakes or Moo Shu Pancakes) are thin, light pancakes that are commonly used to serve dishes like Moo Shu Pork and Peking Duck. The pancakes are thin like a French Crepe, but have a chewier texture and a flavor similar to pasta.
How To Make Mandarin Pancakes
Mandarin Pancakes are incredibly simple to make. (You only need 3 ingredients!) But, the process is a bit different than making normal pancakes.
The dough is made from boiling water and flour. The water is worked into the flour to create a stiff, but workable dough that has a similar feel to play-doh. After the dough rests, it is divided and rolled into thin, 8 inch pancakes. This is where things start to get fun. To make the pancakes thinner and to help them steam, two pancakes are rolled out and cooked together.
Each ball of dough is flattened to roughly 3 inches. Then they pair up. One of the pair is brushed with oil and the other is placed on top. Then, the two pancakes are rolled out to 8 inches in diameter.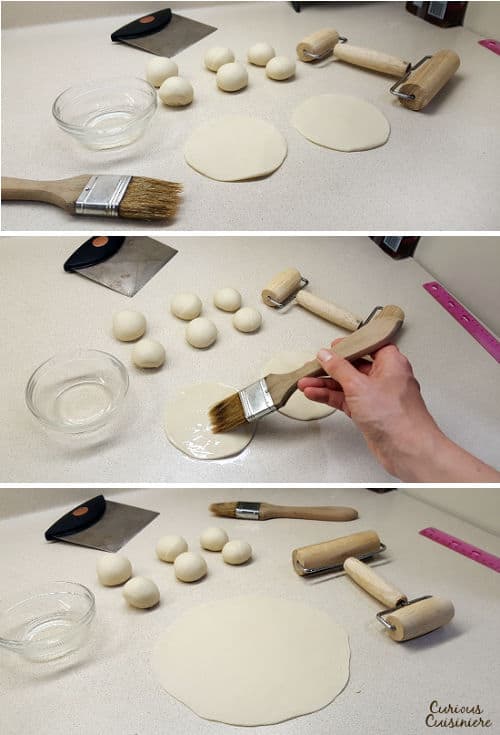 Cooking Mandarin Pancakes
The pancakes are then cooked in a hot, dry skillet for only 1-2 minutes per side, until they start to puff and get golden blisters on the bottom. Then, they are flipped and cooked briefly on the second side.
Once the pancakes are golden and puffy, they are placed in a tea towel to cool just enough so that they can be easily handled. When they are cool to the touch, it is time to find the seam that the layer of oil created between the two pancakes and gently pull them apart. This part can get tricky, so don't worry if some of the edges end up connected to the wrong pancake, they'll still be just as tasty wrapped around a flavorful filling.
Since these pancakes are so thin, it is important to keep them wrapped in a tea towel so they stay moist while you are cooking the remaining pancakes and serving them.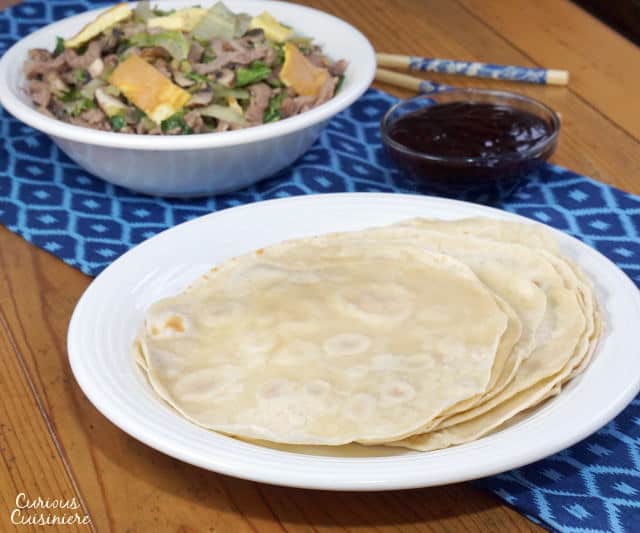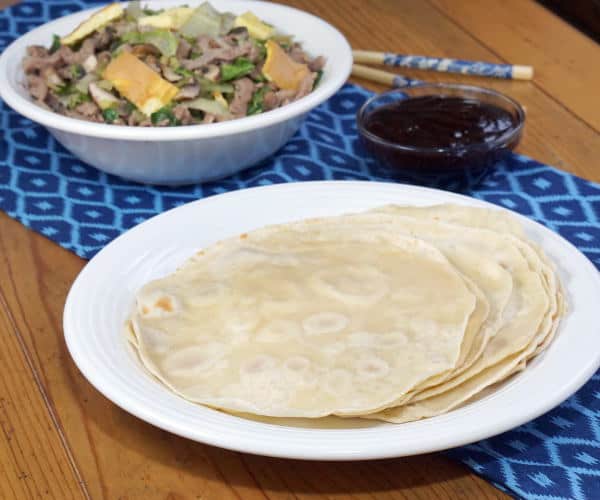 Mandarin Pancakes
---
Ingredients
½

cup

water,

boiling

1

tsp

sesame oil

or peanut oil
Instructions
Sift the flour into a medium bowl.

Slowly pour the water into the flour, stirring with a fork as you pour, until the dough starts to come together. (You may not use the entire ½ c of water.) Turn the dough out onto the counter and knead the mixture into a firm but pliable dough. If your dough is dry, sprinkle a little of the water over the dough and continue kneading until the dough is smooth and workable.

Cover the dough with a damp tea towel and let it rest for 20-30 minutes.

Divide the rested dough into 8 even pieces. Roll each piece into a ball. Keep the dough that you are not actively working with covered with your damp tea towel to keep it from drying out.

Working with two balls at a time, use your hands to flatten each into a 3 inch circle.

Using a pastry brush, brush oil onto the top of one of the pancakes and top it with the other pancake. Roll the doubled pancake into an 8 inch circle. Continue until you have 4 rolled out pairs.

Heat an 8 inch, skillet over medium heat. Place one pancake set into the hot, dry pan. Cook the pancakes for 1-2 minutes, until is starts to bubble and the bottom is golden. Flip the pancakes and cook for an additional 1 minute on the second side, until golden.

Remove the pancakes from the pan and wrap with a tea towel. Once they have cooled slightly but are still warm, gently separate the two. Stack the cooked pancakes and cover with a damp cloth until ready to serve.

Continue with the remaining pancakes.
---
Recipe Notes
Cooked pancakes may be frozen, with a layer of parchment paper in between each pancake.
To reheat, wrap the stack of pancakes in a damp tea towel and steam them in the microwave for 30 seconds to 1 minute.
If you liked this recipe, here are some similar dishes you may enjoy!