Moo Shu Pork is a traditional Chinese stir fry dish of pork, eggs, and mushrooms. This easy version comes together in a matter of minutes, making this recipe perfect for a weeknight dinner.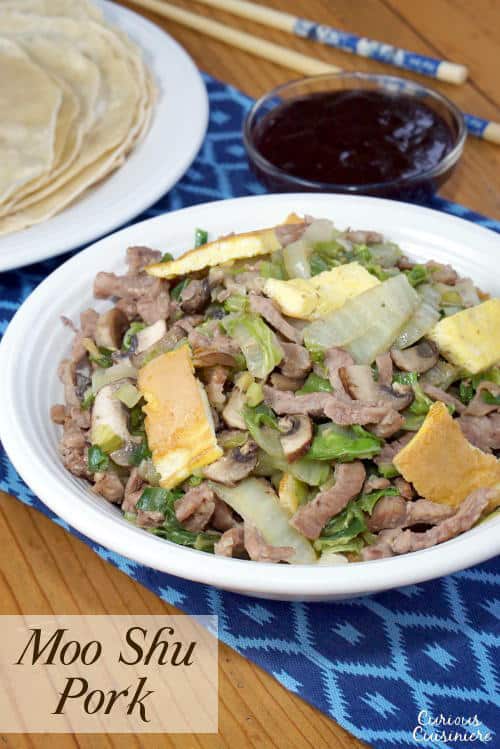 Moo Shu Pork (sometimes written Mu Shu Pork) is a dish from northern China. It is a quick and flavorful dish that has become a staple of many American Chinese restaurants as well. The traditional way of making the dish varies slightly from the American version, because of ingredient availability, but both versions are equally as tasty.
Traditional Chinese Moo Shu Pork
Traditional Moo Shu Pork is made with thin strips of pork that are stir fried with sliced cucumber, scrambled eggs, and wood ear mushrooms.
Wood ear mushrooms are a common ingredient in Chinese dishes, used for adding texture and for their medicinal benefits for breathing and circulation.
The American Chinese Version of Moo Shu Pork
Moo Shu Pork first appeared in Chinese restaurants in the United States in the 1960s. One noticeable difference in the dish was the use of cabbage rather than cucumber.  Since wood ear mushrooms weren't readily available, other mushrooms were substituted.
Nowadays, in the States, if you look hard enough, you can find dried wood ear mushrooms. These can be re-hydrated and used in this sir fry. However, baby portobello mushrooms add a nice texture to the dish as well, and are more easily available. (We have also made this dish with sliced white mushrooms, and it is just as tasty.)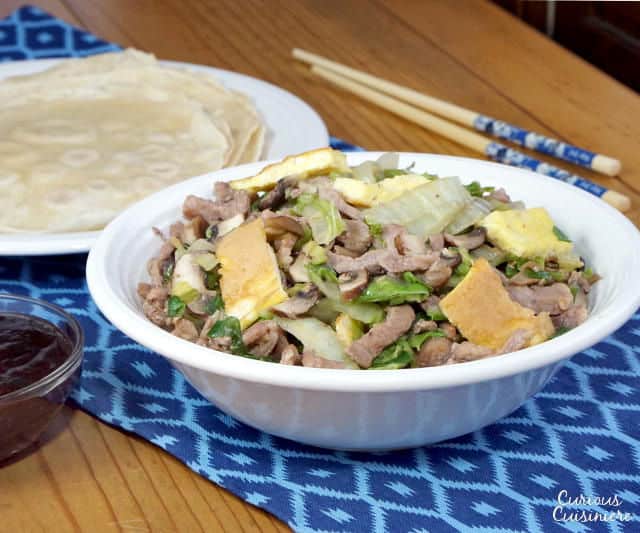 Since we love the combo of cabbage and pork, we decided to make the more American Chinese version of Moo Shu Pork for today's recipe. So, we're using Napa cabbage rather than cucumbers to fill out the dish.
Fragrant and Flavorful Moo Shu Pork
Both the American Chinese and traditional Chinese versions of Moo Shu Pork are seasoned with a fragrant and flavorful mix of ginger, garlic, scallions, soy sauce, and rice wine. This makes for a savory and lightly salty flavor that is the perfect complement to the sweet hoisin sauce that Moo Shu Pork is traditionally served with.
Serving Moo Shu Pork
Moo Shu Pork can be served over rice, but it is also commonly served with thin Mandarin pancakes and hoisin sauce. The pancakes are smeared with the hoisin sauce and then filled with the pork mixture. The filling is then wrapped, burrito-style, making for an easy, hand-held meal.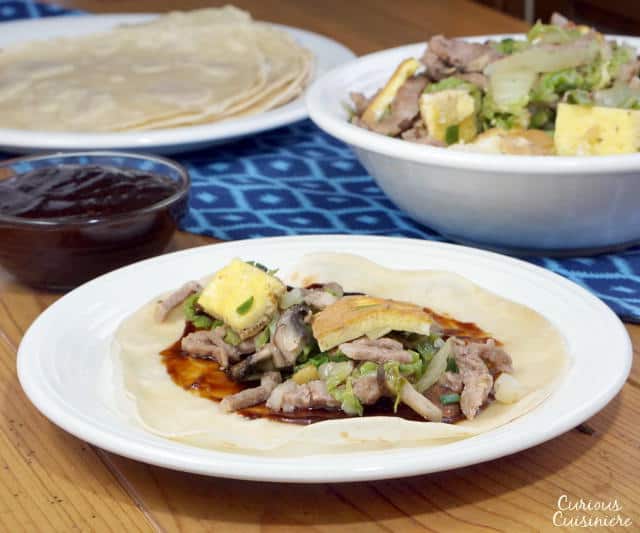 Moo Shu Pork
This easy version of Moo Shu Pork comes together in a matter of minutes, making this recipe perfect for a weeknight dinner.
Ingredients
3

eggs

2

tsp

peanut oil

or sesame oil

¾

lb

pork loin,

thinly sliced

1

garlic clove,

minced

1

Tbsp

fresh ginger,

minced, or 1/2 tsp dry, ground ginger

3

cups

Napa cabbage,

shredded

1

c

mushrooms,

sliced

3

scallions,

sliced

1

Tbsp

rice wine

or dry white wine or dry sherry

2

tsp

soy sauce

8

Mandarin pancakes

or flour tortillas (to serve)

Hoisin sauce

(to serve)
Instructions
In a small bowl, lightly beat the eggs with a pinch of salt. Set aside.

Heat about 1/2 tsp of oil in a skillet (or large wok) over medium low heat. Pour in the scrambled eggs and cook, undisturbed, until the eggs are set and feel dry on top, 3-4 minutes. Transfer the eggs to a plate and cut into strips.

Heat another ½ tsp of oil in the skillet. Increase the heat to medium high. Add the sliced pork, ginger, and garlic and sauté for 4-5 minutes, until the pork is cooked through. Transfer to a bowl and set aside. (Drain the liquid from the pan if necessary.)

Heat the remaining oil in the pan. Add the cabbage, mushrooms, and scallions. Sauté until the cabbage takes on a bright color, 2-3 minutes. Add the soy sauce and rice wine. Mix well and continue stirring for another 1-2 minutes until cabbage has wilted.

Add the egg strips and pork back to the pan. Stir to incorporate.

Remove the pan from the heat and serve.

Serve the Moo Shu Pork over rice or rolled in a thin pancake with Hoisin sauce.
If you liked this recipe, here are some similar dishes you may enjoy!